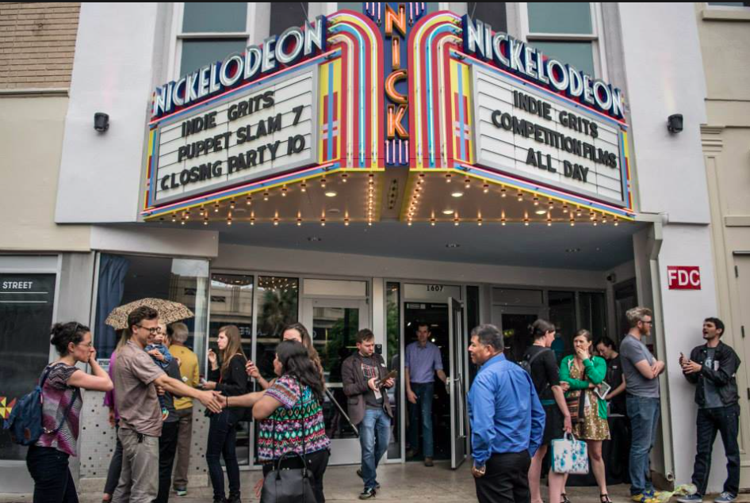 It's right there on the posters.
The bills, posted in windows of coffee shops and bars and other spots across Columbia, tout the 13th Indie Grits Film Fest. While it's not surprising there would be marketing materials promoting what has become one of Columbia's top annual cultural events, what is a small surprise — considering the seemingly ever-growing scope of the festival — is that the word "film" is featured prominently.
To be certain, this year's version of Indie Grits — which is set for March 28-31 — will stretch far beyond the bounds of the silver screen, such as with the Indie Bits video game and interactive media celebration [See page 18], or the March 30 Fist & Spoon Fair on Boyd Plaza featuring food trucks, a zine showcase, puppetry, live music and more.
But while it continues to showcase the diversity of creative offerings that has become the festival's hallmark in recent years, the 2019 version of Indie Grits also has a distinct bent back toward film. In total, there will be 127 films screened at the festival this year, a record, with 84 of those being in competition.
During a recent conversation with Free Times at Main Street's Drip coffee shop, Indie Grits Labs director and festival leader Seth Gadsden says the focus on films this year was intentional. He insists this is a particularly important time for documentaries. Of the 84 films in competition at Indie Grits this year, 48 are docs. Additionally, there are 13 documentaries that will come out of The Rural Project, the effort from this year's Indie Grits Labs artists' collective [See page 16].
Gadsden says this year's pivot toward film, particularly documentaries, is indicative of the moment in America and in the South.
"We're screening a lot of films this year," Gadsden says. "It's crazy. … With everything that's been happening politically, with everything that's been happening socially, it is the golden age of documentary. And guess how many organizations in the state of South Carolina are supporting documentary filmmaking? Zero. Unless somebody begins to step up and champion that and work with that and bring money here, South Carolina's voice is going to get left out of that movement. Or people are going to come here and tell our stories for us."
Among the South Carolina-based films that will be presented at the festival is director Emily Harrold's While I Breathe, I Hope, a documentary that follows former state representative and current CNN pundit Bakari Sellers during his 2014 push for lieutenant governor, and examines the politico's struggles to improve race relations in a red state. The film — which has been slotted for a prime 8:30 p.m. showing on Friday— initially played last November at the Nickelodeon Theatre, and is returning for Indie Grits.
While now based in New York, Harrold is originally from Orangeburg.
"That's what I mean by stories told by Southerners about Southerners," Gadsden says of Harrold's Sellers doc. "That's an example of that. That's exactly what we want to see happening here."
Lee Snelgrove is the director of One Columbia for Arts and History, the city-backed arts advocacy agency. He's taken notice that Indie Grits has leaned into its film roots this year, while also continuing to explore the arts in other realms. (He's particularly keen on the Fist & Spoon Fair.)
"While, yes, I think it is, at its heart, a film festival, and they're emphasizing that this year maybe more than they have in a couple recent ones, Indie Grits still has so much to offer," Snelgrove says. "Columbia needs this kind of indie event that really brings out some young people from all kinds of background to be around a lot of creative people. … I'm looking forward to there being that many films, but more importantly I'm excited to be able to show off Columbia to all the filmmakers that will come to town, and all the people who travel here for Indie Grits, and show them the cultural theme we've  been working so hard to foster and that Indie Grits represents."
A year ago, Indie Grits was — physically — more spread out than it was in previous years. The 2018 iteration leaned heavily into the Two Cities theme of its arts fellowship, which explored how racial and socioeconomic factors define the experiences and interactions between Columbians. Large portions of last year's event were held in mostly African-American North Columbia.
While the 2019 festival will still have ties to North Columbia — for instance, a total of 10 bands will play at Indah Coffee, The War Mouth and Curiosity Coffee Bar in Cottontown on the evening of March 28 — much of the festival will be centered in the Main Street District, with films at the Nickelodeon and events in spots like Boyd Plaza, the Columbia Museum of Art and the main branch of the Richland Library.
According to Gadsden, the shift back toward the city center was, at least in part, informed by finances.
"We don't have that mega placemaking arts grant that we get sometimes," Gadsden says. "We don't have the funding to placemake this year. So, we're coming back down [to Main Street]. We're strengthening some of our partnerships. We're doing an event at the library. We're doing [programming] at the [Columbia Museum of Art]. We're doing music shows in Cottontown.
"We're coming back here, reattaching to roots, strengthening our presence on Main Street. Who knows what next year will bring? We'll see."
Gadsden says the budget for this year's Indie Grits is just north of $100,000. He says there have been years in the past — including in 2018 — where the budget stretched above $200,000.
Snelgrove says he thinks having Indie Grits centered in the Main Street District will work just fine.
"I'm glad they shrank the footprint of it down," Snelgrove says. "That will make it more vibrant-feeling, and probably a little bit easier for them to manage."
Another significant shift for Indie Grits this year is the fact that it will take place in March after years of typically happening in early April. Gadsden says multiple factors made the move necessary.
One is that the Atlanta Film Festival, a larger fest than Indie Grits, takes place in April, and many of the same filmmakers who participate in Indie Grits also want to be a part of the Atlanta event.
But perhaps the chief reason for Indie Grits' bump into March is the large number of festivals that take place in Columbia in April. For example, in 2018, on the same weekend as Indie Grits, Columbia played host to the surging Hip-Hop Family Day, the Columbia International Festival, the Columbia Food and Wine Festival (co-presented by Free Times), and the River Rocks Music Festival.
"It was insane," Gadsden says, with a laugh. "I was like, 'You know what, let's go into March. There were all these reasons to go into March. Let's see what happens.'
"We'll just kick off the festival season here in Columbia."
The timing of this year's Indie Grits is also notable as it comes just two weeks after Anita Floyd was announced as the new executive director of the Columbia Film Society, the organization that oversees the Nickelodeon Theatre and Indie Grits Labs, as well as the annual festival.
Floyd's hiring ended a protracted search for a new film society leader, as former CEO Andy Smith resigned in January 2018 shortly after returning from a six-month sabbatical. Avni Gupta-Kagan came on as an interim Columbia Film Society CEO in February 2018.
Free Times asked Gadsden if it was difficult to continue organizing Indie Grits amid the uncertainty of the long film society leadership search. He says Gupta-Kagan made it possible for him to keep stirring the Grits.
"Avni has done a really incredible job of supporting me and protecting me from transition and helping me be able to continue to do our job," Gadsden says. "Has it been hard? Sure. But Avni has done a really good job of providing me the space to do that work, and taken some of the difficulty that comes with all that transition, for sure."
Let us know what you think: Email editor@free-times.com.