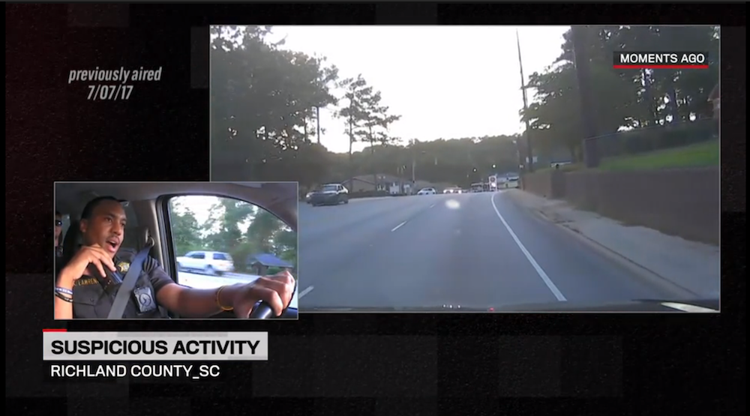 It's become a ritual in homes across America, every Friday and Saturday night.
The popcorn gets popped, the pizza gets ordered. Maybe a few steaks get tossed on the grill.
The big flatscreen gets turned on, the surround sound speakers optimized just so. Even though it's still a few minutes before 9 p.m., the channel gets turned to A&E. Hey, you don't want to miss the beginning, even for a moment, right? 
Twitter gets fired up, hashtags ever at the ready. There's even an online bingo game you can play simultaneously with the show. Sometimes one screen just isn't enough. Nope. Not on Friday and Saturday night.
Everyone scooches over to make room on the couch as the appointed hour arrives. Literally millions of eyes are trained on sets across the nation, awaiting the latest adventures of TV's newest "stars."
Finally, 9 p.m. is here. 
It's time to see some people get arrested on live television.
Welcome to a Live PD nation.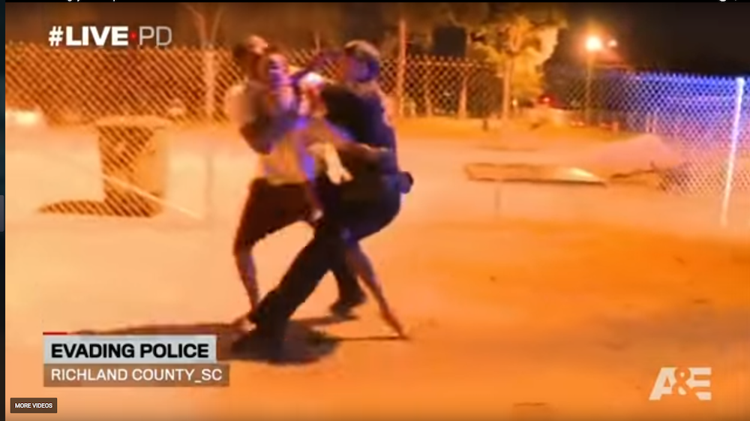 The show has taken cable by storm. Every Friday and Saturday, from 9 p.m. until midnight, the show's cameras go along for the ride with officers from six police departments across the country and beam those officers' exploits live — or as one career television technical director put it to Free Times recently, "plausibly live" — to the nation. 
The show, which actually began in fall 2016 but has seen its ratings rise in recent months as it has gained a foothold in the vast, fractured modern TV landscape, has drawn considerable interest in Columbia, for an obvious reason: Deputies from the Richland County Sheriff's Department are regularly featured on the program. (The Upstate's Greenville County Sheriff's Department also is a part of the show, as are departments in Jeffersonville, Indiana; Spokane, Washington and elsewhere.)
This isn't Richland County Sheriff's Department's first go-around on A&E. The department also has been featured on the network's Beyond Scared Straight. But the exposure RCSD has received from Live PD has soared far beyond anything generated by that previous program. 
"I don't think our deputies were quite prepared for the recognition and fame they've gotten," Richland County Sheriff Leon Lott told Free Times.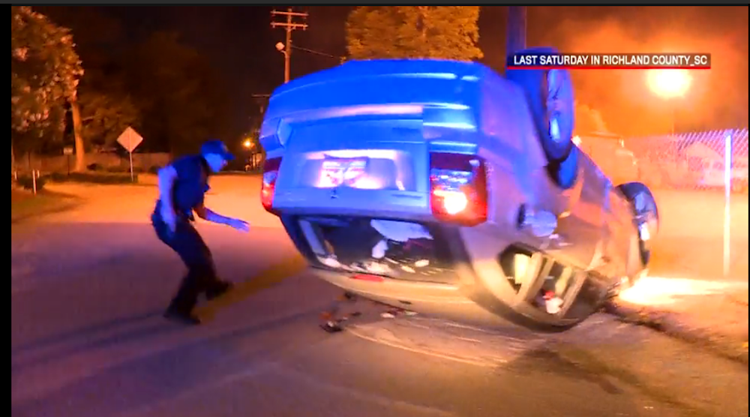 The media-savvy sheriff, who is in his sixth term, notes that the department had a party in May in which citizens were invited to meet the deputies who are featured on Live PD. Nearly 3,000 people turned out, with some lining up three hours before the event began. 
"We had people drive from eight different states," Lott says. "We had a family take a bus from Ohio just to meet our deputies."
And so we have entered the era of police officers as TV stars. Sure, there have been reality TV shows about police officers for years (Cops, The First 48, etc.). But here's the thing about those previous shows: They aren't live. With Live PD, audiences can watch officers work in real time (with a short delay), and follow the action much in the same way they would a live athletic event. The show even cuts away to analysts back in a New York studio, who provide commentary and offer insight, as if it were halftime of an NFL game.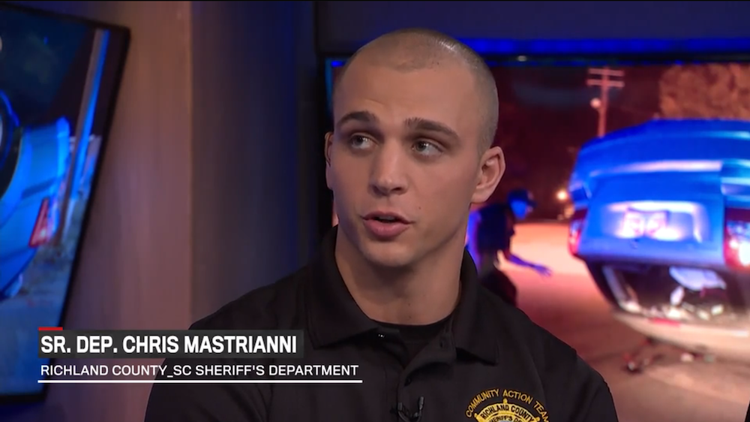 The show and its "live" conceit have drawn sharp criticism from some who say it exploits suspects, complainants and others who end up getting caught on Live PD's cameras and beamed almost instantly to the nation. Columbia author and activist Kevin Gray, who has often spoken candidly on police matters, has grave concerns about the show, which he says is entertainment at the expense of people of a certain socioeconomic status.
"They are riding around with a camera with the police, catching people at the worst times of their life," Gray says. "If you are out with the police, that could be one of the worst moments of your life. The ones [Live PD] seems to be dealing with the most are low-income black and white people. They are going to the projects and zip codes where they'll have the least resistance, where people don't really know their rights. Anywhere where poor black people and white folk are. People who are broken, that's who they are filming.
"It desensitizes people to poverty, it desensitizes people to how the police operate," Gray says.
Seth Stoughton is a law professor at the University of South Carolina and a former officer with the Tallahassee Police Department in Florida. He has often lectured on policing issues, particularly as law enforcement has come under increased scrutiny following a slew of incidents in which officers have been captured on camera shooting African-American people.
While he was quick to note that he believes the Richland County deputies who have been featured on Live PD have displayed professionalism, Stoughton, like Gray, worries about the exposure of suspects, victims and others who end up on the show.
"One of the priorities we have in society is treating people fairly, allowing people privacy, treating people with dignity and respect," Stoughton says. "It can be problematic for a television show to broadcast, in detail, what may be the worst five or 10 minutes of somebody's entire life. Where they've made a series of really stupid mistakes. Where they may be in the middle of a mental health crisis, an emotional crisis, or a substance abuse crisis. You don't know beforehand.
"One of the costs [of Live PD] is broadcasting individuals — witnesses, complainants and victims, as well as suspects — in situations that they might not have chosen to broadcast to the world."
Others are concerned about the image of Columbia the program projects, saying that showing officers chasing or apprehending suspects on live national TV every weekend just isn't a good look for the city.  
"I think it's an embarrassment," says Alexzena Furgess, a community activist and resident of the Jones-McDonald neighborhood. "Who doesn't? I think people are making money in the worst way. I'll just say it like that."
Lott says Richland County Sheriff's Department is not paid for being featured on Live PD. However, the program is proving quite fruitful for the A&E Network. According to TV industry website Multichannel, the show's ratings have increased 152 percent since it debuted last October. The July 15 episode was the most watched episode of the series so far, with 2.1 million viewers. The Hollywood Reporter noted on July 12 that the show has been picked up for an additional 100 three-hour episodes.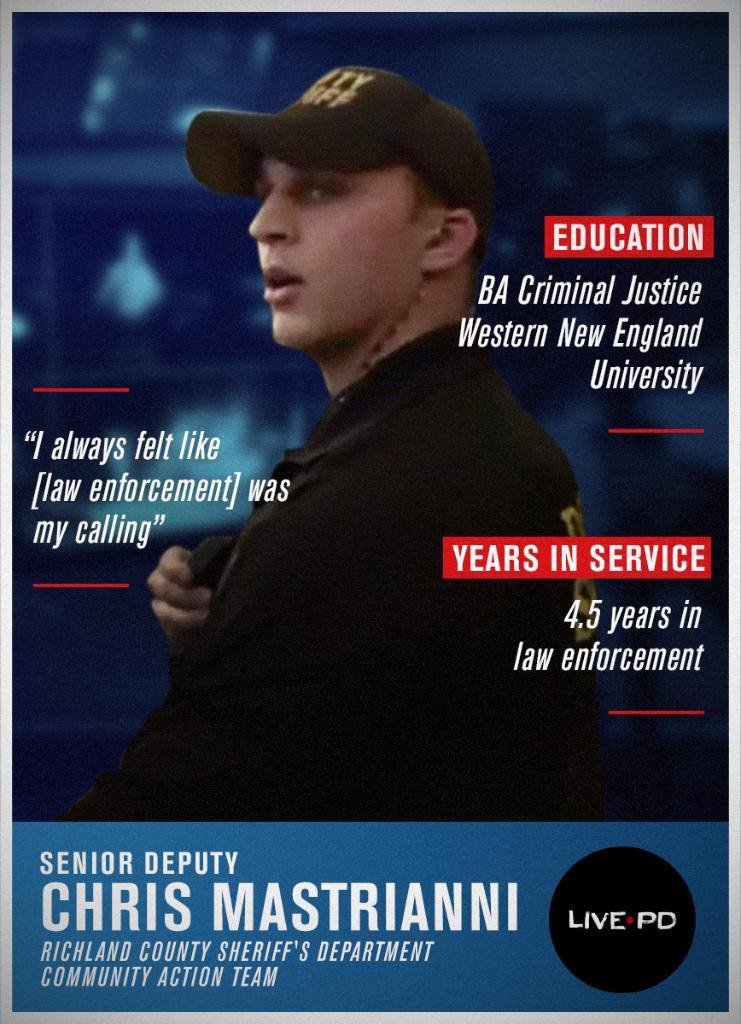 Despite the concerns of some, Lott says he's glad to be a part of Live PD. In fact, the Democratic sheriff says he thinks the show is at the leading edge of what will become common in law enforcement.
"I've realized that what Live PD is doing today is the future of law enforcement," the sheriff says. "Probably in the very near future you're going to see everything law enforcement does streaming live, all over. Whoever thought when I started that we'd have body cameras or cameras in cars and surveillance across Richland County? But we do. That's part of the new technology and life now. Everything you do is filmed by somebody. Law enforcement's no different.
"What you see on Live PD is the future of law enforcement. We are just doing it today."
Transparency or Entertainment?
Live PD has arrived at a time when scrutiny of the police has taken on new meaning, and shooting incidents — some of which, like the shooting death of motorist Walter Scott by North Charleston police officer Michael Slager, were captured on film — have sparked protests and unrest across America.
Lott insists Live PD is a vehicle for greater transparency at a time when people are demanding it, and that it was one of the chief reasons he was drawn to letting the program's cameras into his department.
"It shows transparency in our agency, lets the public see these deputies, what they are, who they are and how they do it," Lott says. "It's different when people read about an incident or something, but to be able to watch it and realize it's live, that puts a little bit extra to it. That's what this show's done. I think it's awakened a lot of people to what actually goes on out here."
But Gray doesn't see it that way. Not exactly. 
The activist allows that having cameras following officers in real time does offer a modicum of transparency. And he acknowledges that at least some of the public interest in Live PD is likely the result of the demand for greater scrutiny on the police and greater accountability for individual police departments. 
However, he thinks Live PD, in the end, is entertainment, pure and simple.
"What is A&E? Arts and Entertainment," Gray says, referring to A&E's long-ago moniker. "That's exactly what it is. You want to have the cops be entertainment. I like Leon. I like him. He's not an inhumane person. But, that's what this show is about: entertainment. 
"Look, it's not CSPAN. You can't compare Live PD to CSPAN. This creates stuff. They want to claim it's transparency. It's still just a snippet. This isn't an accurate reflection of a person who's being filmed. It's a snippet of everybody's lives.
"I just don't find catching people at the lowest points of their lives entertaining."
Stoughton, the USC law professor and former officer, notes Live PD walks a thin line between entertainment and depicting true, everyday policing. He says the show offers "teachable moments," where other agencies and other officers can look at how a given incident was handled on the show and discuss what went well and what might have gone better.
But, at the end of the day, Stoughton feels the show isn't a completely unfiltered look into the lives of officers.
"If people are looking at Live PD as more than entertainment, as providing answers about what police do and how they do it, they are barking up the wrong tree," Stoughton says. "Live PD is best viewed as entertainment, with the occasional lesson you can pull from it. … We shouldn't forget the fact that it's entertainment involving people who haven't necessarily agreed beforehand to be part of that entertainment, like the suspects who are arrested, or the victims, complainants or witnesses that officers may interact with."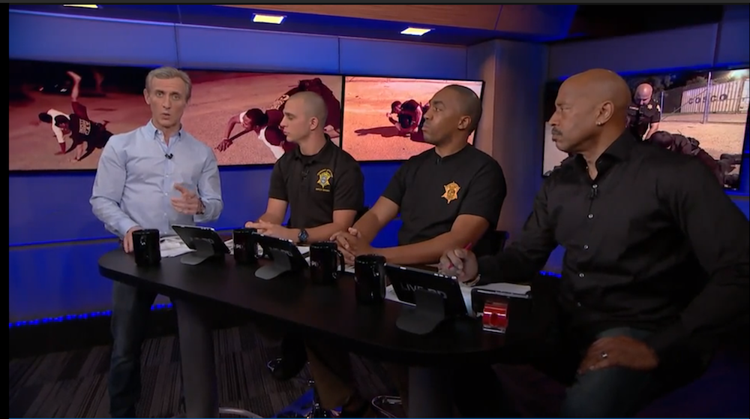 That said, some citizens seem completely at ease being on Live PD. On the July 21 episode, officers in Greenville responded to a civil disturbance at a home. As the officers attempted to sort out the situation, one of the suspects excitedly asked on multiple occasions whether the footage was going to be used on Live PD and expressed a desire to see herself on television. Again, she was one of the suspects in the incident.
Whether you view Live PD as a legitimate practice in transparency, or see it purely as an exercise in entertainment doled out in doses by producers in a New York studio, the fact remains that the officers and citizens who end up on the program are real people who sometimes get into genuine peril. While viewers at home use the show as a diversion on a weekend evening, what's unfolding on the screen in front of them has real-life consequences.
That fact was hammered home on July 8, when RCSD deputies were called to a disturbance at a house party. When they arrived at the party, 22-year-old suspect Bryan Allan Martin reportedly drove away from the scene. Senior Deputy Chris Mastrianni then pursued the suspect on a prolonged high-speed chase — with speeds reportedly topping 90 mph — through parts of Columbia before the suspect's car eventually flipped over on Elmore Street, near North Main. The chase and overturned vehicle would have been enough drama for most on a single night, but the incident was just beginning to heat up.
As Mastrianni approached the flipped car — and with Live PD's cameras beaming the whole scene into America's living rooms — the suspect emerged from one of the windows … with a toddler girl in his arms. 
"That's your baby! That's your baby!" Mastrianni screamed as the suspect tried to yank himself away from the officer. The suspect and Mastrianni struggled with one another on their feet for about 20 seconds, as the little girl was whipped around in the suspect's arms. Eventually Mastrianni was able to get the suspect on the ground for a moment, and the men were separated from the girl. (A Live PD producer reportedly swooped in and grabbed the child a moment later.)
Mastrianni (a former college wrestler) was eventually able to pin the struggling suspect on the ground for about a minute and a half before other deputies arrived to assist in getting handcuffs on the man. According to county records, the suspect was hit with a host of charges, including failure to stop, assaulting an officer while resisting arrest, unlawful conduct toward a child and marijuana possession. He's scheduled to appear in court in August. 
The temperature of the incident rose when it became apparent a child was involved, and thus made headlines across the nation. The vulnerability of the baby girl in that situation starkly underlined the weird gray area created by Live PD. While viewers were at home sipping beer and watching the action as if it were the latest episode of Game of Thrones, real folks — including the officer, the suspect and the little girl — were having, to say the least, a very tough night.
Stoughton, who has often spoken on police use-of-force issues, says the Mastrianni incident offered a window into the wildly unpredictable scenarios officers occasionally have to face.
"The officer's goal in that case changed very quickly from apprehending the fleeing suspect to all of a sudden protecting the preschool age child who was with the fleeing suspect," Stoughton says. "That's a very complicated situation to deal with." 
Gray, meanwhile, worries that the suspect in the high-speed chase will now forever be known around Columbia and elsewhere as the guy who got into a fight with a cop while holding a baby in his arms.
"They chased him through a metropolitan area," Gray says. "The most hard charges against that young man are the charges from him running from [RCSD].
"They are basically going to wreck that boy's life."
Phenomenon
Despite some of the questions it raises, Live PD has clearly resonated with viewers, to the point the show is actually bolstering its entire network. 
According to The Hollywood Reporter, the cop show helped deliver A&E its fourth straight month of ratings growth. The cable channel is now among the most watched in the coveted age 18-to-49 demographic.
For people who already have a particular interest in law enforcement, Live PD feeds their interest in an almost one-of-a-kind way.
Columbia's Timothy Graves is probably what you would call a "superfan" of Live PD. He's always had a fascination with what police officers do. He says he has participated in ride-alongs with law enforcement officers and attended citizens police academies. He's long been a fan of other police shows, like Cops. He says he never misses an episode of Live PD and adds that it's "pretty much [his] religion" to tune in from 9 to midnight every Friday and Saturday night.
"With Live PD you get to see the ins and outs of what really, really goes on as you are in the car with them," Graves says. "That's really what draws me to the show. … I know why Sheriff Lott wants to [be a part of this]. It's because they get to show a side the public doesn't get to see on a regular basis. For the most part, every single deputy they follow has been, to me, wonderful with all their stops."
Actually, that's not an accident. Lott tells Free Times he was selective with the deputies he has provided to be a part of the live show.
"Everybody who has been on the show has been handpicked," Lott says. "We actually do a little class with them and we emphasize that we are not there to create a show or create news. They are to go out and do their job. If something happens, it happens. If nothing happens, then nothing happens. We aren't going to create incidents or events just for TV."
There are also fans who say the hit A&E program is reshaping the way they think about law enforcement.
Christopher Nash is a West Columbia resident, businessman and professional church organist. He tells Free Times he's hooked on Live PD and watches it as often as he can. In fact, he says he was recently on a vacation in Surfside and made sure he got back to his hotel room each evening in time to tune into the real-life cop show.
Nash says the show has changed his opinion of police, in general.
"I wasn't one that overly liked police work," he says. "I've always thought there was a certain air about police that they are out there trying to find people doing wrong, or intentionally writing tickets and all this stuff. But I think this really shows exactly what they go through on a night when they are on duty out there. It shows a lot of good things police do. I think it keeps police honest. Instead of going out there and thinking that somebody has a bag of weed on them so they are going to get shot like we read about in the news, it's actually showing a lot more of the good police do and the emotion involved with being an officer."
And then there's Columbia's John Howard, who says he's wild about Live PD. However, Howard is looking at the show with a different eye than most. That's because he's spent a career working behind the scenes in live television. He worked at WIS for a decade, has been a technical director for instant replays in the Super Bowl, works behind the scenes for FOX on NASCAR races and is currently the technical director of NBC's highly rated Sunday Night Football broadcasts.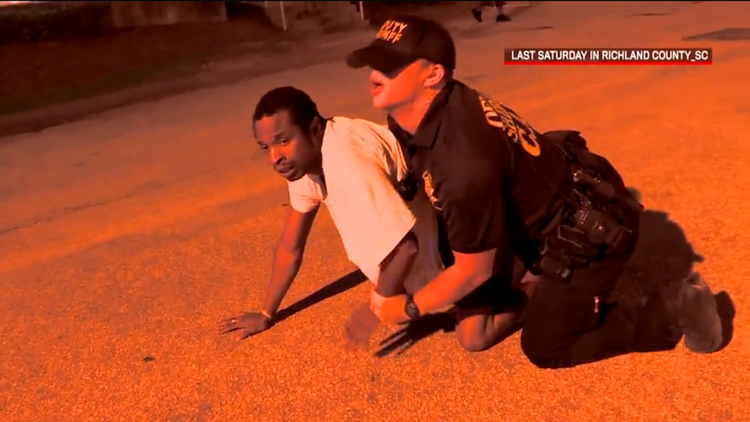 Howard says he watches Live PD "every time it's on" and if he can't see it live he watches the replays. One of the aspects that most intrigues him, personally and professionally, is the mostly live presentation.
"It's interesting because it's live, or I should say plausibly live," Howard says. "What you are seeing is happening in real time. There is [a short delay]."
When Free Times pressed Lott on just how "live" Live PD really is, the sheriff laughed heartily.
"I can't tell you that. I can't have you print that," Lott says. "It's close. There is a little bit of [a delay] in there, in case there's something that just can't be shown. There is a slight delay, for safety reasons. This is not Cops, where it's filmed and put on a week later and edited and all that stuff. What you see is actually happening."
No matter how long or short the delay is, Howard says Live PD is a television producer's dream.
"From a television production standpoint, you have the potential for everything you'd ever want in an episode," Howard says. "You have the comedy, you have the drama, you have the edge-of-your-seat chases. It is the ultimate in the emotional spectrum, as highlighted by officer Mastrianni's takedown [on July 8.]"
Howard also notes there is a second factor he believes is fueling the Live PD machine: social media. The longtime TV professional says he always watches the show with two screens going: one showing Live PD and the other dialed into Twitter and Live PD Bingo.
Yes, Live PD Bingo. Available at livepdbingo.com, the game works like regular bingo except that, instead of cards full of numbers, the cards are lined with things viewers can look or listen for on the show. Like "handgun." Or "stolen tags." Or "footchase." Players who get a "bingo" are encouraged to share photos of their winning card on Twitter with the hashtag #LivePDBingo.
"I think that's the greatest thing ever," Howard says.
Interestingly, the livepdbingo.com site also features a page of collectible cards — which are literally made to look like baseball cards — featuring officers who are on the show. There is, predictably, a card for Mastrianni.
Furthering the idea that Live PD is presented to viewers as something they would consume in the same vein as an athletic event, on Friday and Saturday nights studio host Dan Abrams will often tweet out a "lineup" of officers who are set to appear on a given episode.
"Police officers are not baseball players," wrote Twitter user @DoubleDogRick last weekend in response to one of Abrams' "lineup" tweets. (@DoubleDogRick is a self-proclaimed media critic who also stumps for longtime WIS sportscaster Rick Henry to bring back his old Double Dog Dare segment. Because Columbia.)
For all the fandom out there for Live PD, there are those who just can't get on board. Furgess, the neighborhood activist, says she had to stop watching the program because of the image it offers of Columbia.
"I've looked at it, but I make it a point not to look at it now," Furgess says. "The reason I stopped looking at it is because I'm so angry when it's over. I just feel better when I don't look at it."
Despite how Furgess and others might feel about the reality show, Lott says he has no regrets about taking part in it.
"None whatsoever," he tells Free Times. "Everybody watches this. Families do their Friday and Saturday nights around watching Live PD. … There are bingo games for Live PD. People are watching it. Families are taking an opportunity to talk to their kids about drugs and drinking and crime and stuff. So many positives come out of it."
Gray doesn't see quite so many positives. He's pretty sure why so many people are so comfortable watching their fellow citizens get arrested on live television.
"Because it's not them," he says, flatly. "They are divorcing themselves from it because it is not them. In our culture, they are thinking that [the suspects being arrested] are the 'other people.' They say, 'I'm glad it's not me.' 
"Well, it could be you."