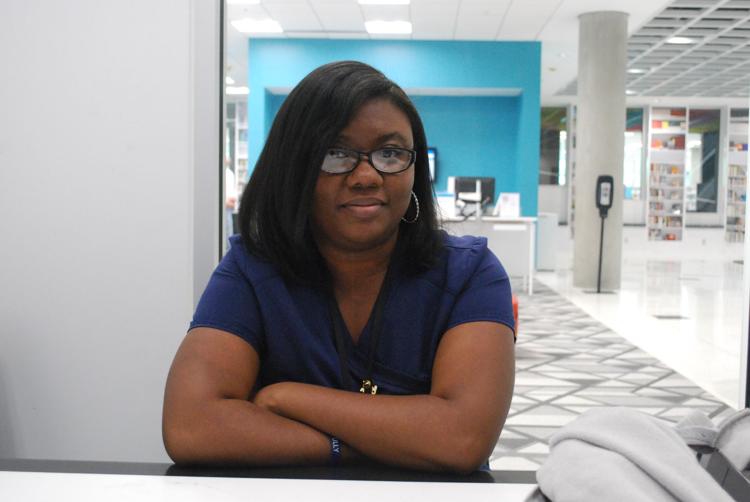 Two months after the evacuation of Allen Benedict Court, Diamond Herbert is burned out.
Since January, when two people died of carbon monoxide poisoning in separate apartments at the housing project, the 25-year-old has been helping her mother, brother, sister, nephew and new niece rebuild their life while she works two jobs for over 12 hours a day.
Herbert herself lived with her family at Allen Benedict Court from age 11 to 23, when she moved in with her grandmother to pursue her careers as a library associate in Richland Library's teen center and a medical scribe. She does not have fond memories of her previous home.
Herbert says that when she lived in Allen Benedict Court, there were constant maintenance problems that were fixed too slowly or ignored altogether, echoing experiences other residents have relayed to Free Times and other media. Herbert had firsthand experience with the selective maintenance process from a high school work-study job she had as a Columbia Housing Authority secretary. She worked in the same office as the maintenance crew, and she says a lot of the work orders went through her boss, the head secretary. She says she didn't see a lot of enthusiasm for the requests that came in.
When she was able to move out, Herbert felt like she was taking the next step toward what she wanted in life.
But when the gas leaks forced her family out of their apartment and into the same house Herbert shared with her grandmother, Herbert had to put her own life on hold to help. She assumed responsibility for helping them find a new place to live while navigating the web of bureaucracy and outside aid that has sprung up in the wake of the incident.
The Columbia Housing Authority has some 15,000 clients in the Midlands. Using federal funds, the agency provides housing to low-income families and elderly and disabled people. Some of those clients live in housing authority properties, while others use Section 8 vouchers to help them pay for rent at other properties.
After the county coroner ruled the Jan. 17 deaths of Derrick Roper and Calvin Witherspoon the result of carbon monoxide poisoning, and the Columbia Fire Department issued a scathing letter about the conditions at Allen Benedict Court, the project was evacuated and will be permanently closed. Columbia Fire Chief Aubrey Jenkins told the housing authority's director there was evidence at the apartments of roach and possible bed bug infestations, "a high volume of rodent droppings," and evidence of stoves leaking gas, among other health, maintenance and fire code issues, and that natural gas or carbon monoxide was detected in 63 units and all 26 buildings at the complex.
The housing authority itself has come under scrutiny. The Columbia Police Department is investigating the Allen Benedict Court incident, with help from the Columbia Fire Department, SLED, the Fifth Circuit Solicitor's Office, and Housing and Urban Development's Office of the Inspector General. The authority's longtime director, Gil Walker, announced he will retire in June after 50 years with the agency. Columbia City Council appointed new board members to the housing authority board after two resigned and two saw their terms expire. And the fire department inspected all other housing authority properties as well.
Gas leaks are only one of the persistent health and maintenance problems that residents have described to Free Times in the months since. They've also had to scramble to find new homes, and navigate other services.
Cynthia Hardy, the Columbia Housing Authority's public relations representative and owner of OnPoint Media, says that the agency's response has largely had to be reactive to what has transpired because of the urgency of the situation.
"I think that the issue of affordable housing in Columbia and the Midlands and the nation is not getting enough attention," she says. "We're 'all hands on deck' trying to relocate residents," she says.
The housing authority is using alternative methods of relocation when they can, such as moving residents to areas of Lexington County that have room for them, but putting residents in Section 8 housing is not a one-step process. Hardy says on average each relocation has been taking about six to eight weeks to get through finding a place, getting approval from Section 8 funding, making a security deposit, and completing inspections.
She says that out of the 239 families displaced from Allen Benedict Court (totaling 411 people), 150 families had been relocated so far, with 89 remaining.
Former Residents Search for Housing, Services
Although Herbert has found help, the process is extremely stressful for her because she had to piece together a lot of it on her own. Her mother has ongoing health issues — some of which Herbert says were exaggerated from living at Allen Benedict — and her sister had a second child just a week after the official evacuation. So Herbert, single without kids, was their best hope.
Herbert got help from outside agencies because she found communication with the housing authority unclear. She says independent donors of food and other items have been more successful in distributing items of need, and she and her mother looked for new places on their own after the ones offered by the housing authority seemed worse than what they lived with in Allen Benedict.  
"It's very taxing on my brain," she says, describing how she's had to use whatever breaks she's had to help file paperwork, find information, and worry about things like whether her nephew would be able to continue going to the same high school.
Herbert has been able to move her mother into an apartment at The Waters at Long Creek, which she says is "so much better" than their previous situation.
But some former Allen Benedict residents are still waiting to be able to make their next move.
Kevin Bachelor, the father of two school-age children, has been moved to three different hotels since January's evacuation, landing at a room in the Extended Stay America off Greystone for the past three weeks as he tries to figure out how to get back into a stable situation.
He's had to deal with a longer commute to work, which means burning more gas that's gotten more expensive as he was moved closer to downtown prices, and making sure he can still take his kids to school. He's been squeezing himself and his children into one room at Extended Stay while listening out for housing authority updates, but has not heard much of anything through official channels.
He says the food quality has declined, while some of the promised help, like gift cards for non-food items, hasn't materialized since the first week after the evacuation.
He says the housing authority staff who visit the long-term hotel haven't been helpful, but the staff of the hotel have been kind, moving him, his daughter, and his son to a more spacious room when they saw how cramped they were.
Bachelor says he's visited seven or eight new permanent places, but none have been what he needs so far. He was visiting one more and hoped for the best since his relocation vouchers are about to expire.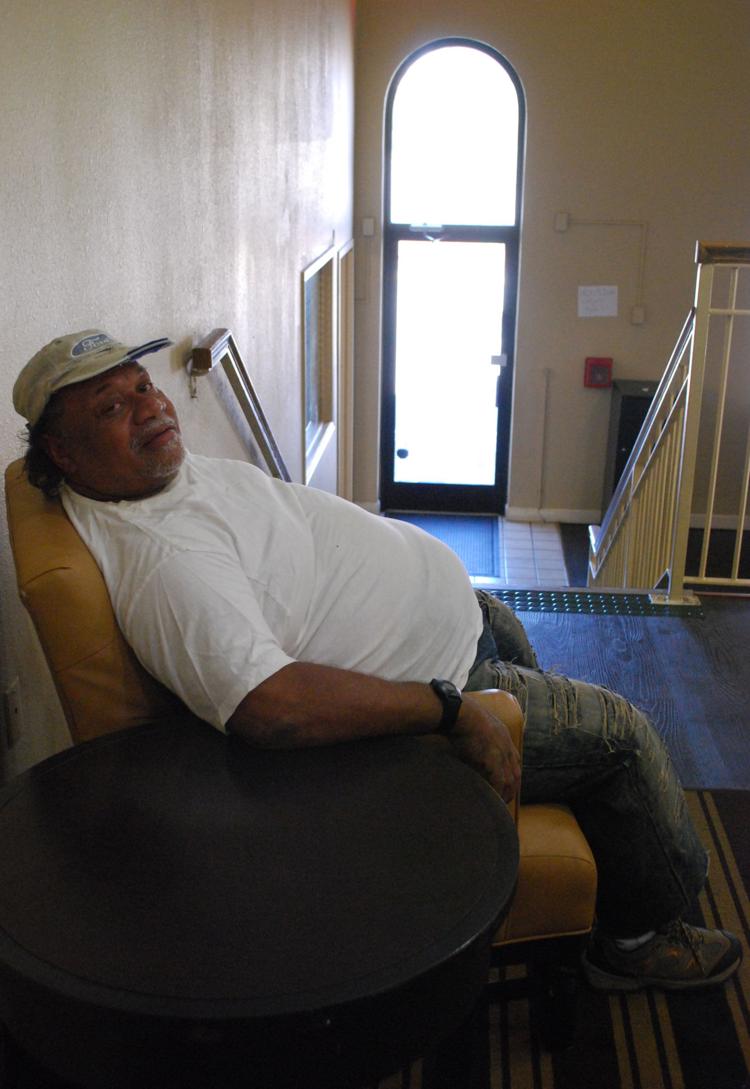 Donald Coleman has found a place but was worried about the rushed timeline he had for getting his belongings from Allen Benedict into his new apartment. Without his own vehicle, Coleman has to stick with the housing authority's transportation, or a ride from Bachelor if he could spare it. Coleman says the 15 minutes he was allotted to take what he needed from his old apartment did not let him retrieve more than very basic clothing for himself. It took him about six weeks to find a new place, and he says once the inspection was completed, he had to move in quickly without much time to repack.
Beyond needing assistance to find new homes, residents are feeling the strain of going so long without the stability of permanent housing. That's where Richland County Council's recent approval of a $150,000 grant comes in. At their Feb. 19 meeting, the council voted to divide $150,000 from the county's emergency fund among five community partners (Richland Library, United Way of the Midlands, Harvest Hope Food Bank, Richland County Recreation Commission, and Christ Central Ministries) so they could give residents assistance beyond what the housing authority offered, like finding new furniture to replace what they had to leave behind.
"There's a specific kind of dignity in being able to walk into the store and buy your own toothpaste," says Richland County Council Vice Chair Dalhi Myers, one of the original proposers of the funding.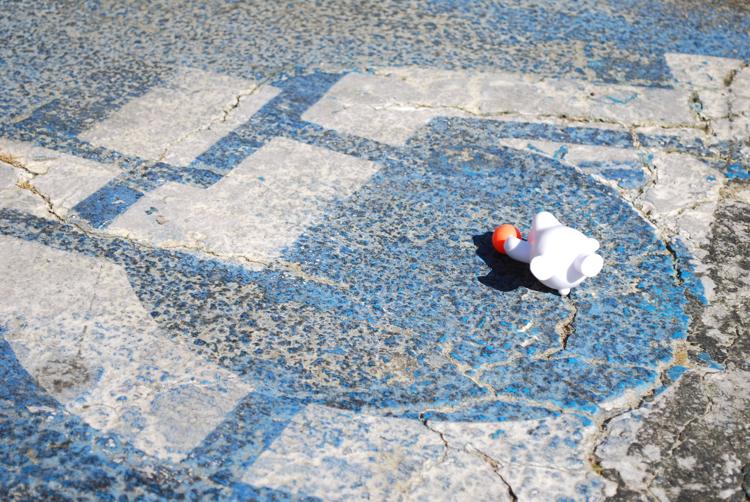 The county funds were voted on as an emergency motion, which meant it did not have to go through three readings and a public hearing to be approved. That amount represents about half of what Richland County Council has in their emergency fund, says Myers, the Council's vice chairwoman. She says the council wanted to give as much as they could while keeping in mind that this is only the first quarter of the year that fund is meant to cover.
Lee Patterson, library social work manager at the Richland Library, has become the first stop for residents looking to pull together what they need. Her department received $25,000 of the grant and used some of it to hire a temporary extra worker. Some of the money also went to help buy replacement items for displaced residents. [online copy clarified]
She says they take stock of where each resident is and go from there; for example, if they've already found a place to live, the social workers see if the resident needs help with any paperwork, if they need help getting together a security deposit, if they need transportation to take their things to their new place, if they need to secure food from Harvest Hope Food Bank, another partner that also received $25,000 from the county. Patterson and her employees then help the residents figure out who to contact and where to go for their next steps.
"We want to get residents out of the motels," Patterson says. "Once they start to feel normal again, we reevaluate once they are in their new homes to see where they are."
However, some residents haven't heard about the services to take advantage of them. Bachelor says the text and phone update line the housing authority set up to keep residents informed has not been useful, and Herbert says communication "just hasn't been clear" throughout her experience helping her family. 
"It's hard to get through to people you need to speak directly to," she says.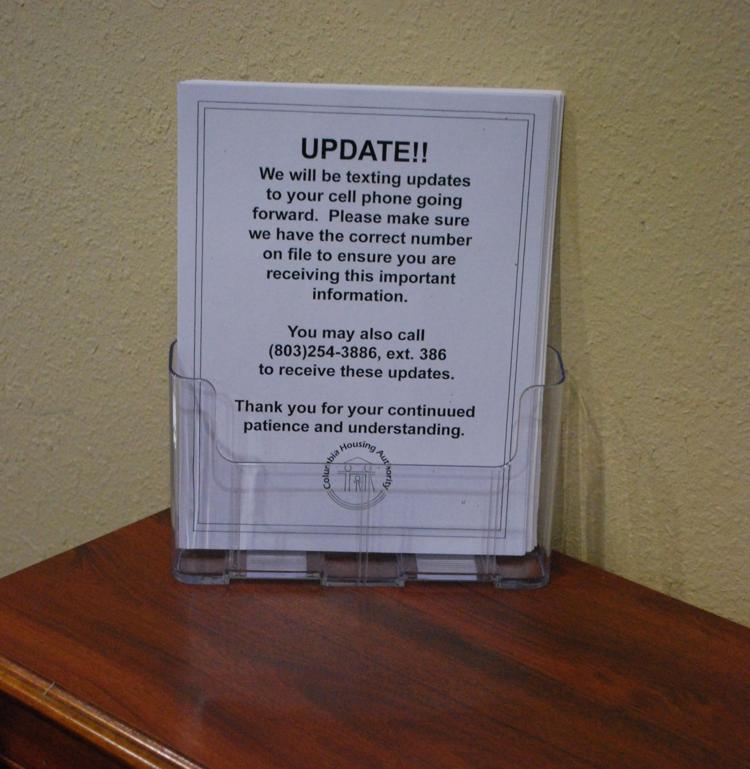 The Health Costs of Housing
One thing the county council grant money won't cover is medical costs. Helen, a stay-at-home-grandma in her 50s who asked that her last name not be used, says that her experience with Allen Benedict Court has been "sweet and bitter." She says while living in Allen Benedict Court, her skin dried up so much she had to go to a dermatologist for medicine. But now that she's in Extended Stay and slated to move into a new apartment next week, she's noticing a difference for the better.
Helen was not the only resident to mention a health issue that has started to clear up once she got out of Allen Benedict Court. Bachelor says he would get bad headaches and be drowsy a lot of the time, symptoms that have not followed him from his old apartment. Herbert says that her family experienced those symptoms as well, and that they were leaving a lot of their belongings in their old apartment because they were afraid to continue exposing themselves to things that had absorbed carbon monoxide.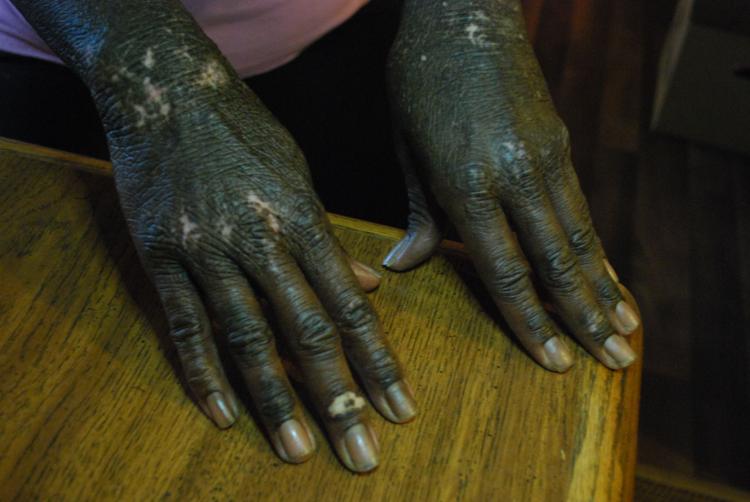 A 2004 study by Dr. Stephen Thom, Professor of Emergency Medicine and Chief of Hyperbaric Medicine at the University of Pennsylvania's School of Medicine, found that long-term exposure to carbon monoxide causes an overzealous autoimmune reaction to the protein that protects neurons. Basically, a person's internal disease defenses eat away at healthy tissue that helps conduct brain waves, lowering cognitive function and reaction time.
And that's where the lawsuits come in.
Three pertaining to the Allen Benedict Court were filed on Jan. 23, Feb. 7, and Feb. 12: one against Gil Walker personally, and two against the Columbia Housing Authority. All three accuse the housing authority of willful negligence of their Allen Benedict property.
Ron Cox, who is a partner in the Columbia law firm Proffitt and Cox, is helping Tammy Basinger and Khaylis Scott lead the way in filing a class-action suit meant to get retribution for all those who held Allen Benedict Court leases at the time of the evacuation. He says the case is meant to obtain compensation for residents who didn't "get what they were paying for" — the safe, clean, habitable living space they were legally entitled to under Section 8 housing.
"Based on everything we've heard, the housing authority failed to provide that," he says.
Cox says his firm has spoken to many residents to get their accounts of their specific situations, and although it's early in the lawsuit's timeline, they believe the case has merit. Herbert, Coleman, Bachelor, and Helen are all planning on joining the class action based on medical experiences of their own and their families.
Hardy says she has not been made aware of health issues from residents, but says that anyone who feels sick should be screened. She says that the housing authority is in the planning stages of a partnership with Prisma Health (formerly Palmetto Health) to set up a more uniform effort for health screenings in the second half of April.
The long-term future for Allen Benedict residents remains unclear. Hardy says the housing authority has a property on Carter Street that they were planning on renovating to transition Allen Benedict residents into. These plans were set into place before the evacuation and are now the organization's top construction priority, but that does not make the rebuilding process go any faster. And the addition of James Chatfield, Georgia Mjartan, Kara Simmons, and Anne Sinclair as new members to the housing authority board itself has sparked a small hope to see improvement happen soon.
The housing authority did not comment on ongoing litigation, but residents are anticipating finally being on the way toward getting settled into their new normals.
"We're hoping for positive change," Herbert says.
Let us know what you think: Email editor@free-times.com.