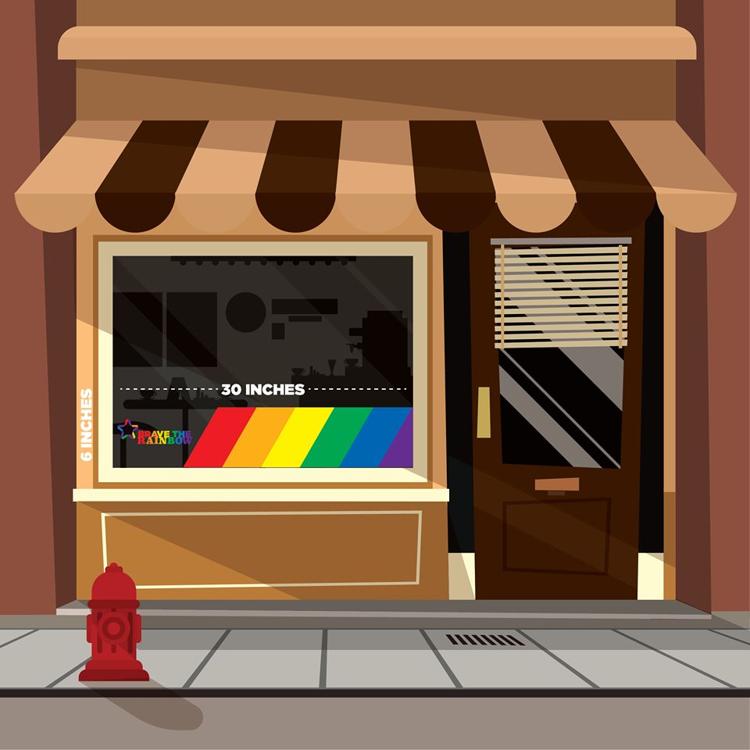 Instead of painting the town red, Columbia residents and business owners are going for the whole rainbow.
For an initiative called Brave the Rainbow, South Carolina Pride leaders have acquired 30-inch-by-6-inch rainbow-colored window clings for area businesses to display in support of the LGBTQ community.
"The objective is to make this more commonplace so it's not seen as so out of the ordinary," says Jeff March, president of Famously Hot South Carolina Pride. "The more commonplace it seems, the less negative reaction we get."
The window clings are free, and the business with the best window decorations will be rewarded at the annual Pride festival, which takes place in Columbia in October.
Brave the Rainbow was originally set to kick off on Sept. 1, March says. But since the Pride chapter announced the initiative on social media last week, the downtown Columbia office hasn't stopped getting calls from people looking to get started.
March got the idea for the initiative after attending the World Pride festival in June in New York, which drew 5 million people. He noticed corporations there either decorated their windows in rainbow or put one on their product. Nike, for example, sold rainbow-decorated shoes.
In Columbia, support for the community is there but not quite as visible. Several years ago, hundreds of anti-LGBTQ protestors would stand outside the South Carolina State House with banners protesting Pride. Now, that crowd has dwindled to almost no one, March says.
The Nickelodeon Theatre on Main Street and Art Bar in the Vista entertainment district have both placed the clings in their windows.
"Whether you know it or not, we are among you every day," March says.
Members of the LGBTQ community have historically, socially and politically struggled in the United States, particularly in the South, and that struggle isn't over. Two transgender women of color were killed in South Carolina since the start of 2019. 
"I had clients who'd been with me for years ask me to do their hair for their wedding," says March, a hair stylist. "And in the same breath, say that I wasn't entitled to marriage. So I said, 'What am I, Cinde-f#!ing-rella?'"
South Carolina is also one of four states that does not have a hate crime law.
Despite some negative attitudes, Columbia is an overall safe place for the LGBTQ community, March says. Support for the community can be seen as more of an every-day thing through Brave the Rainbow, easing people into the idea that equality is nothing to fear.
Phill Blair, co-owner of The Whig on Main Street across from the State House, says it can be tough to differentiate large corporations who support marginalized groups just to profit off of them from those who truly care, but it's easier to tell with a more local business.
"If you see people that suddenly rally around everything, like they might rally around Pride and they're also rallying around the World Cup, and any other thing they could possibly celebrate to get people in the door," Blair says, "then suddenly the message is not as genuine."
Creating a genuinely welcoming atmosphere for the LGBTQ community is also important to Art Bar and its co-owner Andy Rodgers
Art Bar has actually often been mistaken for a gay bar, Rodgers say. He responds to phone calls asking if it's a gay bar by saying, "No, but we're gay friendly."
Efforts like Pride and the Brave the Rainbow are important because a lack of exposure makes prejudice easier for people, Rodgers says.
"To the people who say, 'Hey, why are you always putting this in my face?' part of the reason might be because you don't get it yet." Rodgers says. "If you would get it, then we could all just party together."
Brave the Rainbow was originally meant for Columbia only, but calls have come in from all over the state, March says. 
The S.C. Pride parade is set for Oct. 4 and the festival begins Oct. 5, but March says he hopes this new initiative stretches beyond those events and continues indefinitely.
"Every action that you do creates a reaction in some way that you are responsible for," March says. "A rainbow … it's never caused me any harm, and I wear it every damn day, like it or not."