Best After School Program
Boys & Girls Clubs of The Midlands
Runner-up: Shandon Presbyterian Child Development Center
Boys & Girls Clubs of the Midlands have a lot of great ways to help kids, including programs about the environment, health, the arts, careers, alcohol/drug and pregnancy prevention, gang prevention, leadership development and athletics. Kinda hard to argue with that list, and their success rate is through the roof.  Honorable mentions: Horizons at East Point Academy, Palmetto Animal Assisted Life Services
Best Place for Music Lessons
Columbia Arts Academy/Lexington School of Music/Irmo Music Academy
Runner-up: Freeway Music
The Columbia Arts Academy (and associated locations) is South Carolina's largest music school, with over 1,300 students age 4 and up. Suitably, they offer lessons on a broad array of instrument instruction including guitar, bass, piano, drums, mandolin, ukulele and more.  Honorable mentions: Bill's Music Shop & Pickin' Parlor, Carolina Music Academy
Best Martial Arts School
Capital Karate
Runner-up: Genova Family Karate
From developing your roundhouse kick and sparring skills to learning the self-defense discipline of Krav Maga, the instructors at Capital Karate will put you through your paces and have you come out swinging with discipline.  Honorable mentions:  Columbia Tai Chi and Kung Fu Center, Legacy Martial Arts
Best Gymnastics/Cheerleading School
ACX
Runner-up: Lake Murray Gymnastics
ACX calls itself the most intense cheerleading/tumbling school in both Summerville and Irmo, and the roll call of skills it teaches, including team choreography, team training, tumble classes, cheer classes, stretch classes, routine clean ups and competitive teams, makes our backs hurt just thinking about it. But the students are probably more limber than us. Honorable mentions: Carolina Gymnastics Center, Soda City Gymnastics
Best Continuing Education Institution
University Of South Carolina
Runner-up: Midlands Technical College
There's nothing we can really tell you about USC that you don't already know at this point, but the Gamecocks continue to rule the roost (see what we did there?) as Columbia's most trusted higher-learning institution. Whether you're part-time, full-time, adult or a high school grad, USC's still got you covered. Honorable mention: Columbia College
Best Bank or Credit Union
Palmetto Citizens Federal Credit Union
Runner-up: SC State Credit Union
The credit union model of community investment and ownership is a hard one to beat, not just because there's a strong local presence but because they can often serve customers that bigger banks can't or won't. Plus their rates are usually better. Hence Palmetto Citizens' presence on this list, along with two other credit unions.  Honorable mentions: Allsouth Federal Credit Union, First Community Bank
Best Mortgage Lender or Broker
Palmetto Citizens Federal Credit Union
Runner-up: Guild Mortgage Company
It's probably not a coincidence that people chose an S.C.-based credit union as the best source for mortgage lending. It's hard to beat the small-bank feel, collective approach and (typically) better rates that a credit union offers. Honorable mentions: Assurance Financial, Mortgage Network, Inc.
Best Real Estate Agency
The ART of Real Estate
Runner-up: Coldwell Banker
The ART of Real Estate takes top spot in this category not just because it has an expansive array of homes for sale, but it also dives deeper into the Columbia culture, providing a hands-on guide to dining, entertainment, shopping and more. This agency moves you into a community, not just a house. Honorable mentions: Medley Realty, RE/MAX Purpose Driven
Best Real Estate Agent
Jeff Lawler
Runner-up: Sarah Bennett
Jeff Lawler has been at the top of the Real Estate list for a while now, and that's because he has the experience to take potentially a terrifying process — buying or selling a home — and make it as painless as possible.  Honorable mentions: Mary Lane Sloan, Trey Whitmire
Best Heating & Air Service
Cool Care Heating & Air
Runner-up: Brian's Heating & Cooling
OK, so it's like 1,000 degrees outside, and in a few months, it'll be below freezing. The joys of living in the South, right? That's why a good heating and air service is crucial. Cool Care Heating & Air will keep yours functioning, and thus keep you from lashing out at everyone around you. Honorable mentions: 2nd Wind Heating & Air Conditioning, Cassell Brothers Heating & Cooling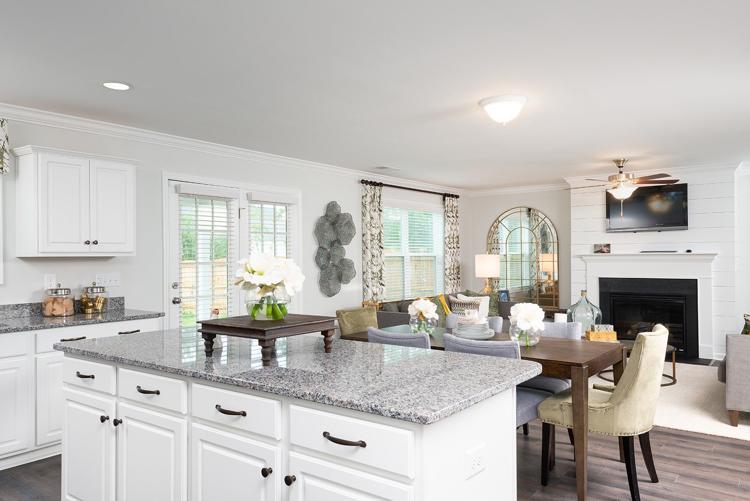 Best Home Builder
Mungo Homes
Runner-up: Great Southern Homes
At this point, we should probably just rename this the Mungo Homes Best Home Builder category because it doesn't seem like anyone's knocking this reliable, highly regarded home building company off the top of the heap anytime soon. But you can't argue with results, and Mungo Homes' reputation for building quality homes is rock-solid. Honorable mentions: Essex Homes, Lawbridge Construction
Best Landscaping Company
KB Landscaping
Runner-up: ProScapes
The thing is, you probably kind of suck at keeping your lawn in good shape, and it's probably because you don't really want to do it. So why not call KB Landscaping for your commercial and residential landscaping needs? They handle irrigation and tree work as well, so you don't have to. Honorable mentions: Mid-Carolina Yard Care, Trifecta
Best Moving Company
Two Men and A Truck
Runner-up: Soda City Movers
Let's say you need a couple of guys and a truck to help you move, and you're not sure where to turn. If only there was a company literally called "Two Men & A Truck" that fit your needs. Oh wait, there totally is, and they're one of the best-known and best-priced moving services around.  Honorable mentions: Gentlemen Movers, The Moving Squad
Best Electrician
Columbia Electric Service
Runner-up: Sunrise Electric
When your you have problems with electricity, don't mess with that s#!t. You're liable to kill yourself. Call Columbia Electric Service instead and rest easy with somebody who actually knows what they're doing knocking out the repairs. Honorable mentions: Creations Electrical
Best Pest Control
Clark's Termite & Pest Control
Runner-up: Terminix
If you have bugs in your house, you want to get rid of them, we presume, and you want to do that as quickly as possible. Clark's Termite & Pest Control will get them there critters out of your home fast. The company's only been doing that since 1963, so one would assume it's doing something right. Honorable mentions: Home Pest Control, Modern Exterminating
Best Plumbing Repair
Meetze Plumbing
Runner-up: Freedom Plumbing
Look, we don't need to get into how that Hot Wheels car got wedged into the toilet, or what exactly you tried to cook that had to be scraped into the kitchen sink drain. Just know that Meetze Plumbing can take care of whatever's wrong with your pipes. And the less said about it, the better. Honorable mentions: Cottrell & Co. Plumbing, Heating & Air, Superior Plumbing & Gas
Best Roofer
Premiere Roofing
Runner-up: Crescent Construction
Do you wanna just get a new roof, or do you wanna get one that actually doesn't leak and keeps the sun out of your eyes and provides a shelter for your family and whatnot? Premiere Roofing is here for you if that's the kind of roof you want, and if you don't, we have some follow-up questions. Honorable mentions: Burgin Roofing Services, The Red Shirt Guys Roofing
Best Alarm/Security Company
ADT Security Services
Runner-up: CPI Security Systems
Keep your possessions, your home or your business safe with Columbia's most trusted ADT alarm systems. You never know when someone's going to see that sweet end table you've got next to your living room window and think, "That would go perfectly with my couch." Honorable mentions: Legends Security & Sound
Best Dry Cleaners
Tripp's Fine Cleaners
Runner-up: Ed Robinson Laundry & Dry Cleaning
Let Tripp's Fine Cleaners get that impossible stain out of your delicate dry-clean-only clothes quickly and reliably. You know, that stain that you thought was mustard, but you can't remember the last time you would've had something with mustard on it. Honorable mentions: Burnette's Cleaners, Columbia Cleaners
Best Law Firm
LawyerLisa, LLC
Runner-up: The Jeffcoat Firm
Estate planning? Done Real estate closings? Also done. Wills, trusts, health-care planning, probate litigation? Yeah, that's all taken care of, too, if you choose LawyerLisa, LLC. And that's all before you get to the financial planning services this firm offers. That's a lot of stuff under one lawyerly roof. Honorable mentions: Blair Cato Pickren Casterline, LLC, Pozsik & Carpenter, LLC
Best DUI Law Firm or Attorney
Taylor Bell, The Jeffcoat Firm
Runner-up: Seth Rose, Attorney at Law
Look, we all know what a DUI is, and we all know that you should never, ever put yourself in a position to get one, but if it does happen, Taylor Bell is the attorney to contact. Don't make an additional mistake by choosing the wrong lawyer to represent you. Honorable mentions: Dayne Phillips, Attorney At Law, Leventis Law Firm, LLC
Best Escape Room
Escape Plan Columbia
Runner-up: Escapology
Escape Plan Columbia offers a host of different scenarios that are ideal for team-building workshops and learning who your true friends are (or the truth about your friends? We're not really sure which). Honorable mention: The Final Door
Best Event Space
701 Whaley
Runner-up: Koger Center for the Arts
Since its 2006 renovation and reinvention as an event space, 701 Whaley has been the go-to place for weddings and professional functions thanks to its luxuriously exposed brick walls and duct work, old-school grand staircase and gloriously unfettered floor-to-ceiling windows.  Honorable mentions: The Senate, Twelve Oak Estate
Best Farm
City Roots
Runner-up: Cottle Strawberry Farm
The urban farm City Roots nestles comfortably in the Rosewood neighborhood and will forever be seen as the genesis of the sustainable agriculture movement here in Columbia. The sight of numerous festivals and events, its bevy of produce, including its signature microgreens, are still as in-demand as ever. Honorable mentions: Fox Farm, Lexington SC;  Freshly Grown Farms
Best Florist
Blossom Shop
Runner-up: Something Special Florist
You can get flower arrangements for everything from birthdays to anniversaries to Women's Equality Day at Blossom Shop, and you can also just do it to say, "Miss You," or, "Love You," or, "I am so sorry, I never, ever should have said that thing about your new haircut." Honorable mentions: American Floral, Fern Studio
Best Funeral Home
Thompson Funeral Home
Runner-up: Caughman-Harman Funeral Home
Thompson Funeral Home takes the prize here because they're dedicated to helping you through the loss of a loved one, with a unique and personal approach to each person they work with. It's hard enough dealing with loss. Their goal is to make the burial or cremation process as easy as it can be. Honorable mentions: Leevy's Funeral Home, Shives Funeral Home
Best Golf Course
Cobblestone Park Golf Club
Runner-up: The Woodlands Golf & Country Club
Cobblestone Park has 27 gorgeous holes for you to play on featuring panoramic views, rolling hills and beautiful oaks and pines, all pristinely landscaped. It's also got a 28,000-square-foot clubhouse for you to retire to after you shoot a 105 and vow never to darken a golf course again.  Honorable mentions: Columbia Country Club, Country Club of Lexington
Best Hotel
Hotel Trundle
Runner-up: Aloft Columbia Downtown
While Columbia continues to add new luxury hotels at an impressive clip, there's really nothing else like the boutique Hotel Trundle anywhere in the city limits. Featuring an eclectic blend of new age and retro flourishes and a unique attentiveness to guest experience, it's easily the most distinctive experience a visitor can have and is a destination in its own right. Honorable mentions:  Hilton Columbia Center - Hotel, Sheraton Columbia Downtown Hotel
Best House Of Worship
St. Martins-in-the-Fields Episcopal Church
Runner-up: First Baptist Church-Columbia
Service is what keeps St. Martins on top of this category year after year, and it's not just the children's and family ministries. There's the drop-in nursery that provides childcare, and there's outreach to the community's homeless and needy children, summer camp programs, pet supply drives and much more. Honorable mentions: Midtown Fellowship-Downtown, NewSpring Church
Best Insurance Company
State Farm
Runner-up: Allstate Insurance, Steven Price Agency
State Farm's insurance policies might not have been enough to keep Chris Paul and James Harden together, but they will let you keep your home, business, auto and much more covered. Plus, there are locations and agents all over Columbia waiting to assist you.   Honorable mentions: Mappus Insurance Agency, Inc., Turbeville Insurance Agency
Best Local Insurance Agent
Jeremy Powers
Runner-up: Larry Lucas
You can pick up auto, home, renters, business and life insurance from this Allstate agent, and you will definitely need to get insurance for that boat you shouldn't have bought. Honorable mentions: David Watson, Morgan E. Faulkenberry
Best River Rental/Guide Company
Palmetto Outdoors
Runner-up: Adventure Carolina
Just off the Saluda River, Palmetto Outdoors is your reliable outfitter for everything from kayak excursions and tubing to whitewater clinics and a host of guided tours of everything from the famed spider lilies to the many sights and sounds of Congaree National Park.  Honorable mentions: Carolina Outdoor Adventures Inc., River Runner Outdoor Center
Best Outdoor/Camping Gear Retailer
Mast General Store
Runner-up: Half Moon Outfitters
Many have tried to topple the king, but no one has been able to knock Mast General Store off the outdoor-wear mountain. But if it helps, Mast General Store can give you all of the camping gear, stylish outdoor wear and accessories you need to try to climb that mountain and subsequently fail at toppling them. Honorable mentions: Academy Sports & Outdoors, Sportsman's Warehouse
Best Printing Company
K&K Printing
Runner-up: ApexGraphix
You send K&K the design, they make it look good. It's a simple transaction that applies to letterhead, business cards, brochures, training manuals, employee handbooks and much more. K&K also get it done quickly, something you can't say about your old Hewlett-Packard inkjet printer.  Honorable mentions: Copy Pickup, Pine Press Printing
Best Screen Printer
Custom Embroidery & Screen Printing
Runner-up: Image Ink
Whether you need custom-made shirts, hats, pants, baby-wear, handbags, whatever, Custom Embroidery & Screen Printing has got you covered. Now you can finally get that picture of your face perfectly screen-printed onto a shirt that will then go onto your body. Honorable mentions: Frazier Graphix, Graph-itti Inc.
Best Private or Charter School
East Point Academy
Runner-up: Hammond School
East Point gets the nod here, and it's probably because of the academy's approach to education. It does the three R's just fine, but its approach is as a "family of learners," who embrace diversity and different cultures. Might be a little message for all of us in there, just sayin'. Honorable mentions: Cardinal Newman School, Heathwood Hall Episcopal School
Best Place to Get Alterations
Jackie's Tailoring Alterations
Runner-up: Nick's Tailoring
Bust a zipper, pop a button, grow a couple of inches or (somehow) shrink down, and Jackie's Tailoring Alterations can fix your pants or your dress. They can also work on sleeves, cuffs, linings and more and make you look good after they've done it. Seriously, though, be more careful with your clothes. Honorable mentions: His & Her's Tailoring, Juanitas Design
Best Shooting Range
Palmetto State Armory
Runner-up: Shooter's Choice
If you're going to own a firearm, you'd better learn to aim it correctly and use it wisely, and the Palmetto State Armory can help you with that, along with providing accessories, ammo, even gift certificates and clothing.  Honorable mentions: Kilo Charlie Shooting Range, Sandhill Shooting Sports
Best Smartphone and Computer Repair
SmartPhone Medic
Runner-up: CPR Cell Phone Repair
We've used SmartPhone Medic twice. The first time, they were able to miraculously (in our mind anyway) fix our iPhone when a headphone jack broke off inside. The second time, they kindly informed us that our water-damaged iPhone was beyond repair. They'll tell you like it is, and fix anything fixable well. Works for us. Honorable mentions: Mr PC, That Computer Store
Best Staffing Agency
Creed Consulting Group
Runner Up: AppleOne Employment Services
Whether it's a temporary assignment or a permanent position, the last thing any company needs is a vacancy when there's work to be done. Creed Consulting Group helps fill those positions in various ways, from providing candidates to optimizing your own recruiting process.  Honorable mentions: Kudzu Staffing, Randstad Columbia Staffing Manufacturing & Logistics Office
Best Cleaning Service
Palmetto Commercial Services
Runner-up: Heather's Helping Hands
We're not saying Palmetto Commercial Services has their act together, but they're currently cleaning about 200,000 square feet of office space a week, including multi-tenant commercial office buildings, medical offices, CPA firms, restaurants, attorney's offices, churches and apartment communities. They also do hoarding cleanup, helping you figure out what to keep, donate or sell.  Honorable mentions: Cleaning To Perfection, Sparkle and Shine Cleaning Company, Blythewood
Best Wedding Planner
Meagan Warren Weddings
Runner Up: Melanie Murphy, By Invitation Only
Weddings are beautiful and all, but they are a giant hassle to plan. Meagan Warren Weddings takes all of that stress off of the lucky couple so that no one goes Bridezilla and ends up on the news.  Honorable mentions: Eventfully Chic by Parris, Events by Ladon
Best Videographer
Stephanie Tassone
Runner Up: Cinema Couture
Trust Stephanie Tassone with making a great video of your special day. Because nothing is worse than shelling out for a wedding and then finding out your visual record of it is out of focus. Get the memento video you deserve — so you can fight about other stuff. Honorable mention: Jeff Blake, Johnathan Tidwell
Best Photographer
Stephanie Tassone
Runner-up: Jeff Blake Photo/Columbia Wedding Photos
Stephanie Tassone is a seasoned professional as adept at graphic design and marketing as she is behind the lens, and her savvy commercial skills give all of her subjects a glamorous aura and crowd-pleasing plaudits.  Honorable mentions: JEDI Runner Photography, John Mann Photography
Best Upholstery Service
Kathy Nordan Foster Marine & Home Upholstery
Runner Up: Nordan's Trim Spot
There's not really a point in having a room full of expensive furniture if none of it looks very expensive, which is what Kathy Nordan is here for. Don't give up on that sofa, end table or comfy antique chair. See what Kathy and company can do for it.   Honorable mentions: New Coverings, Nye of the Needle