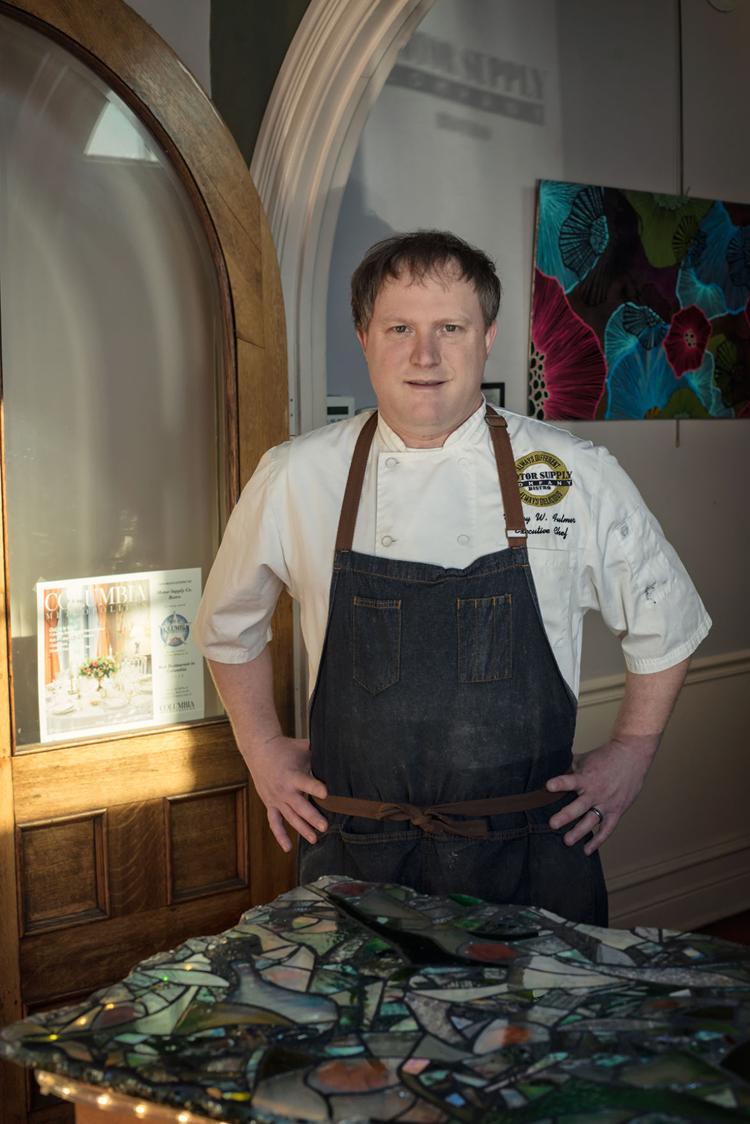 Best Restaurant
Motor Supply Company Bistro
Runner-up: Cantina 76
With more than 30 years in the same location, with the same mission of bringing upscale food to Columbia, Motor is in its prime these days. A top-notch team and menu that changes on the daily keeps Motor fresh and exciting in ways that keep locals coming back and tourists wanting to come check it out. Honorable mentions: Bourbon, Terra
Best New Restaurant
Halls Chophouse
Runner-up: Bone-In Barbeque
With more cuts of steak than we knew were possible, the opening of Halls Chophouse in Columbia was highly anticipated by locals who have been to one of the other locations in the Lowcountry or Upstate. With views of the State House and an impressive wine list, Halls is filling a finer-dining need in the Midlands food scene. Honorable mention: Hendrix, smallSUGAR
Best Restaurant — Columbia
Motor Supply Company Bistro
Runner-Up: Cantina 76
Between executive chef Wesley Fulmer's masterful ability to elevate local products and the creativity and ambition of the cocktail program led by head barman Josh Streetman, the team behind Motor Supply Company Bistro has long been the standard for consistency and excellence in Columbia's dining scene. Honorable Mentions: Halls Chophouse, Hendrix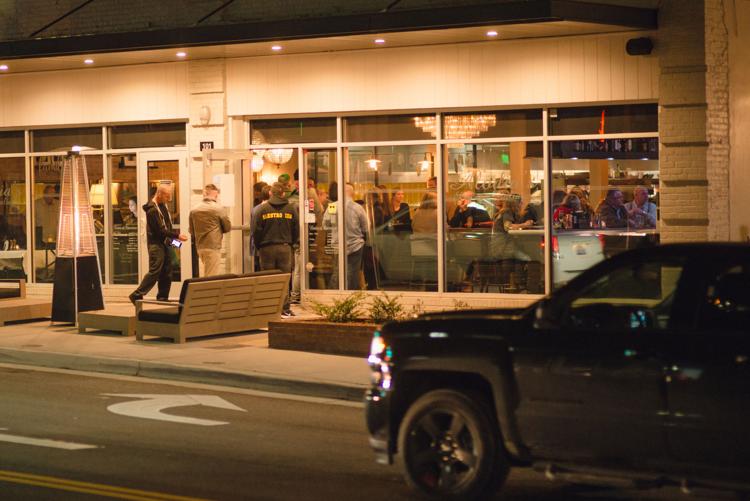 Best Restaurant — Irmo
Alodia's Cucina Italiana
Runner-up: Sun Ming Chinese Restaurant
Alodia's has quietly been a longtime go-to for locals craving Italian cuisine. Between old American favorites like baked ziti and fettuccine alfredo to more upscale dishes like the duck penne gorgonzola or seafood risotto, there's something for all palates here. Honorable mentions: Bistro on the Boulevard, Fire and Spice Irmo
Best Restaurant — Lexington
Alodia's Cucina Italia
Runner-up: Travinia Italian Kitchen
Alodia's has been a critical piece of the revitalization of downtown Lexington, occupying the former Shirey's building just in front of the Icehouse Amphitheater and dishing out classic Italian fare. The Main Street location features old favorites like lasagna and baked ziti, along with some unique offerings, such as the duck arrosto, made with pan-roasted Maple Leaf Farms duck breast. Honorable mention: Bodhi Thai Dining, Libby's
Best Restaurant — Northeast
Little Pigs
Runner-up: Solstice Kitchen & Wine Bar
Little Pigs serves up big flavor on its expansive Southern buffet that features smoked pork done with sauce styles to please any South Carolinian. Dozens of side dishes make standing in line to get into the lunch buffet worthwhile. Honorable mentions: Julia's German Stammtisch, Travinia Italian Kitchen & Wine Bar
Best Restaurant — West Columbia/Cayce
Cafe Strudel
Runner-up: Terra
Cafe Strudel is good for more than setting you right when you wake up hungover on Saturday or Sunday. From the decadent stuffed burger to the equally indulgent seafood mac and cheese and duck nachos, the restaurant brings equal flavor and creativity to its lunch and dinner menu. Honorable mentions: D's Wings, Kingsman Restaurant
Best Chef
Wes Fulmer, Motor Supply Company Bistro
Runner-up: Mike Davis, Terra
Chef Wes Fulmer burst onto the Columbia scene in 2014 at one of the city's most iconic restaurants, and he's proven himself time and time again to be worthy of the recognition he gets, both locally and nationally. Fulmer's daily use of in-season, local produce, meats and dairy — and the way he artfully combines them — make him a Columbia favorite time and again. Honorable mentions: David Grillo, Cantina 76 and Za's on Devine; Scott Hall, Bone-In Barbeque
Best Service
Halls Chophouse
Runner-up: Mr. Friendly's New Southern Cafe
We'll attest to the service at Halls by telling you how tired some of their servers look when they swing by The Whig for a drink after closing. We assume they're all tuckered out from courteously and attentively taking care of Columbia's steak eaters. Honorable mentions: Cantina 76, Lula Drake Wine Parlour
Best Place for a First Date
The Grand on Main
Runner-up: Lula Drake Wine Parlour
We may have, on the one date we went on at The Grand, gotten a little pouty because we weren't as good at bowling as we remembered. But the nice beer selection (perhaps it was the caffeine from those Steel Hands Coffee Lagers that threw us off our game) and comfortably sleek vibe of the Main Street restaurant, bar and bowling alley made it a good experience nonetheless. Honorable mentions: Cantina 76, Hendrix
Best Restaurant When Someone Else Is Paying
Halls Chophouse
Runner-up: Ruth's Chris Steak House
Halls Chophouse sells top-quality cuts of meat. And they charge a top-quality price. So go when somebody else is paying, and enjoy each tender, juicy morsel without thinking about the state of your bank account. Don't even look at the price. Just order blindly, and then cut off a delicious bite and eat it like Joe Pantoliano in The Matrix — sighing contentedly, "Ignorance is bliss." Honorable Mentions: Motor Supply Company Bistro, Terra
Best 'Farm to Table' Restaurant
Motor Supply Company Bistro
Runner-Up: Spotted Salamander Cafe and Catering
Anson Mills grains from outside Columbia, Watsonia Farms produce from Monetta, and Carolina Heritage Farms pork from the Pee Dee: these are just a few of the many producers Motor Supply criss-crosses the region to find in order to bring the highest quality ingredients possible to the table, always in a way that honors both the farmer and the product. Honorable Mentions: Terra, The Root Cellar
Best Wine List
Lula Drake Wine Parlour
Runner-up: Hampton Street Vineyard
The simple elegance that embodies the whole of Lula Drake extends to its wine list, with its descriptions that even a novice wine drinker can understand. The list, curated by owner and sommelier Tim Gardner, makes wine accessible and brings special, limited-edition bottles to Columbia. To that, we say cheers and thanks for the hooch. Honorable mentions: Halls Chophouse, Hendrix
Best Charcuterie Board
Gourmet Shop
Runner-up: Bourbon
What's more gourmet than a well-done charcuterie board? As the meat and cheese trays have become more ubiquitous in the dining scene, Gourmet Shop has put its signature gourmet touch on its spread of cured meats, sliced baguette and pickled treats, making it a lunch-time must when catching up with friends. Honorable mentions: Lula Drake Wine Parlour, Terra
Best Late Night Food
The Whig
Runner-up: Waffle House
What more could you possibly need to cure the late-night munchies than baskets of the crispiest, fluffiest fries; huge plates of hot, melty smoked gouda mac and cheese; a thick piece of fried chicken served on buttery toasted buns and topped with a heaping pile of warm, spicy pimento cheese' or the most seared burger possible, the size of your face, topped with beef gravy, bacon and a sriracha aioli? Honorable mentions: Bar None, Cook Out
Best Take-Out Food
Egg Roll Chen
Runner-up: Cantina 76
Multiple containers of giant steamed dumplings, massive egg rolls, killer Taiwanese street food specials, and honey sesame chicken piled high above Egg Roll Chen's perfectly fried rice isn't just a Friday night for locals, it's a way of life. Honorable Mentions: Capital City Kitchen and Grill, Drake's Duck-In
Best Bang for the Buck
Cook Out
Runner-up: The Devine Cinnamon Roll Deli
The waistlines at Free Times are in grave peril. This summer, our office moved from Main Street to the corner of Harden and Gervais, less than a block away from a Cook Out, where less than six bucks gets you a tray with a main (like a rock-solid burger or that legendary Cajun Chicken sandwich) and two sides ("sides" including quesadillas, corn dogs and chicken nuggets). This being August, we can also add on a seasonal Watermelon Shake. God help us. Honorable mentions: Cantina 76, The Whig
Best Fast Food Chain
Chick-fil-A
Runner-up: Rush's
That lightning-fast drive-thru. Those waffle fries. Those chicken nuggets. That peach milkshake they only have every once in a while. Those servers who speak in complete sentences and smile. Chick-fil-A's fast food dominance is not an accident. Plus it does that closed-on-Sunday thing that makes you want it all that much more. Honorable mentions: Cook Out, Wendy's
Best National Chain Restaurant
Chick-fil-A
Runner-up: Mellow Mushroom
Winner winner, chicken dinner. Chick-fil-A can certainly get past its controversial views and long drive-thru wait times in the Midlands, with many locations expanding to make more room for nug-lovers to get their fill. Honorable mentions: BJ's Restaurant & Brewhouse, Bonefish Grill
Best Kid-Friendly Restaurant
Chick-fil-A
Runner-up: Henry's Restaurant & Bar
Chick-fil-A has a menu of nuggets, waffle fries and milkshakes for the kids, plus squeaky-clean servers who will eternally tell you that waiting on you is their pleasure. But admit it: You're going there for the chicken sandwich combo. The kids' stuff is a bonus. Honorable Mentions: Cantina 76, East Bay Deli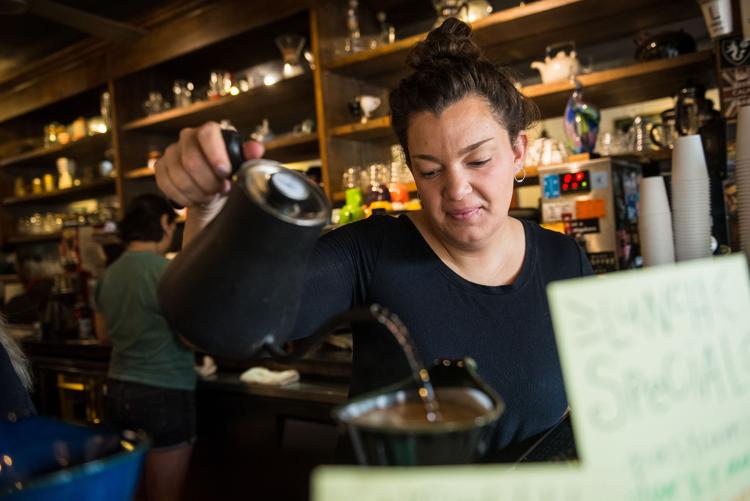 Best Coffee
Drip Coffee
Runner-up: Indah Coffee
Drip is so fully integrated into the fabric of Columbia that it's hard to imagine a time it didn't exist thanks to ts artful coffee creations, plus the hip vibes that cater to the specific crowd that frequents each shop on Main Street and in Five Points. The small but specially selected food menus complements the coffee and keeps us all returning for more. Honorable mentions: Curiosity Coffee Bar, Loveland Coffee
Best Barista
Mia Blanton, Drip Coffee
Runner-up: Travis Hoyt, Loveland Coffee
Coffee is amazing on its own, but when it's served up just the way you want, no questions asked, from a smiling face, it's like extra whipped cream on top. Mia Blanton is that smiling face that has earned the top vote from you, readers, as Columbia's best barista. Honorable mentions: Christian Lovell, Indah Coffee; Kamryn Kelley, Indah Coffee
Best Catering
Spotted Salamander
Runner-up: Southern Way Catering
Need a whimsical yet Southern touch for your catering? Spotted Salamander has been the go-to for events of all stripes. Unusual deviled eggs, dips and spreads, plus miniaturized versions of its cafe offerings make attendees excited for events from weddings to business meetings where Spotted has been spotted. Honorable mentions: Cantina 76, Capital City Kitchen & Grill
Best Barbecue
Little Pigs Barbecue
Runner-Up: Hudson's Smokehouse
Despite its somewhat hidden location in the Northeast, locals have long been making the journey out to have some of the Midland's best barbecue and sides. While the pork is great, it's the sauces that make their food standout: whether you go for their sweet and tangy mustard, peppery vinegar or zesty tomato, they've got something for everyone's tastes. Honorable Mentions: Bone-In Barbeque, Midwood Smokehouse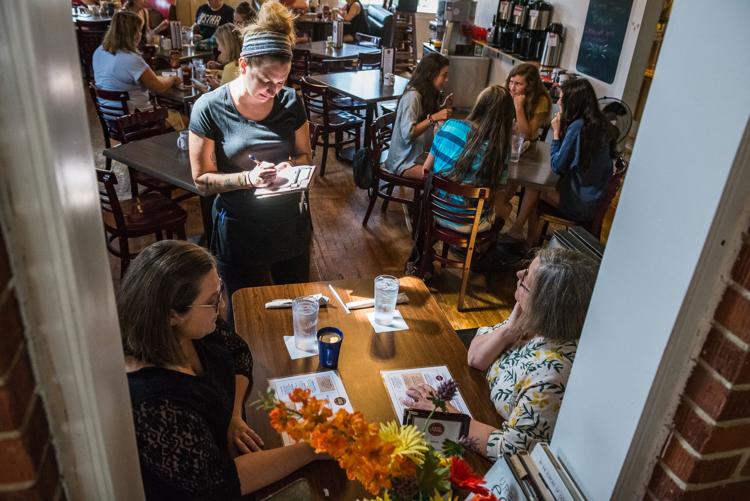 Best Breakfast
Cafe Strudel
Runner-up: Eggs Up Grill
If the weekend lines that form before the door opens don't say it, Cafe Strudel is still on top as the best breakfast in Columbia. The famous Hangover Hashbrowns, the unlimited coffee bar, plus the other classic breakfast dishes done Strudel-style keeps locals lining up regularly in West Columbia — and now Lexington, too. Honorable mentions: Creekside Restaurant, The Original Pancake House
Best Brunch
Cafe Strudel
Runner-up: DiPrato's
The inhumanity! To serve those damn crispy, cheesy Hangover Hashbrowns smothered in sweet sauteed onions, fresh tomatoes and delightfully tart banana peppers. They then have the tenacity to throw not just one, but two runny fried eggs on top, hand you an oversized bottle of hot sauce, and say have as much coffee as you want. The nerve! Honorable Mentions: Hendrix, Tazza Kitchen
Best Burrito
Real Mexico Restaurant
Runner-Up: Moe's Southwest Grill
Whether you want an everyday standby like carne asada or grilled chicken or feel the need to branch out to a special like the diablo (with sauteed shrimp cooked in chipotle sauce) Real Mexico has a monstrous wrap waiting to be covered in creamy queso just for you. Honorable mentions: Cantina 76, Moctezumas Taquiera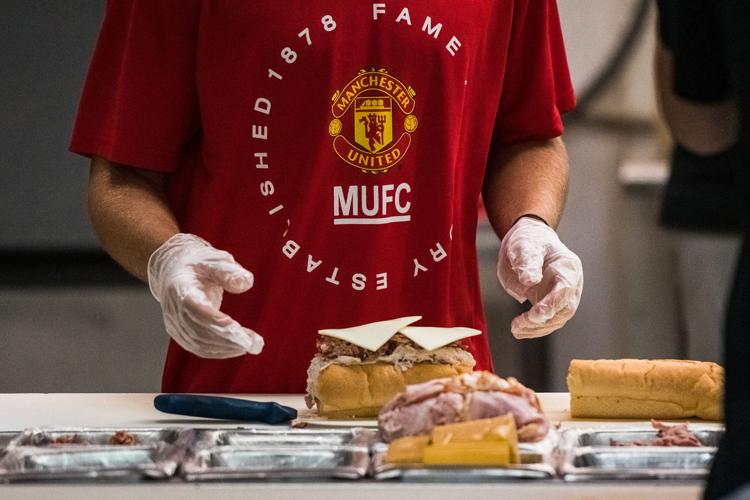 Best Deli/Sub/Sandwich Shop
Groucho's Deli
Runner-up: Sub Station II
Is there an experience more Columbia than dunking the STP dipper, a turkey and roast beef sandwich covered in melty swiss cheese and bacon bits, into a tub of Groucho's legendary Formula 45 sauce? No. Honorable mentions: 5th Avenue Deli, Swanson's Deli
Best Dessert
Kaminsky's
Runner-up: Nonnah's
If you look closely while driving past Kaminsky's on Gervais Street, you can see the dessert case, brightly lit and begging people to come in for coffee and a decadent slice of cake. The tempting must be working, since Columbians have voted Kaminsky's as the purveyor of the best dessert in the city. Honorable mentions: Ally & Eloise Bakeshop, Chickenbutt Donuts
Best French Fries
Five Guys
Runner-Up: The Whig
Five Guys is so serious about fries that they almost exclusively use a specific spud known as burbank that has to be grown north of the 42nd parallel in Idaho, because supposedly the warm days and cold nights make denser potatoes perfect for fries. It's that kind of dedication that keeps fans coming back for more. Honorable mentions: Chick-fil-A, McDonald's
Best Frozen Yogurt
Menchie's Frozen Yogurt
Runner-up: The Corner Blend
Vanilla? Check. Strawberry? Check. Pure chocolate? Big ol' check. Now let's get into the real deal stuff on the Menchie's Frozen Yogurt menu. Let's hear it for Paradise Fruit Punch Sorbet, Creamy Cocoa Hazelnut (made with Nutella!), Blueberry Taffy and Banana Pudding (with vanilla wafers), with a boatload of toppings at your disposal. Anyone else hungry? Honorable mention: Yogen Früz
Best Grits
Blue Marlin
Runner-up: Mr. Friendly's New Southern Cafe
Besides having the best shrimp and grits, Blue Marlin's grits stand on their own too. Buttery, fluffy, and satisfying, the ground corn that they use doesn't travel far — they use Adluh's stone ground grits for that taste that everyone can't get enough of. Honorable mentions: Cafe Strudel, The Devine Cinnamon Roll Deli
Best Gyro
Taziki's
Runner-up: Zorba's Greek Restaurant
Hanging out in Cross Hill Market, Taziki's is quietly serving up gyros that people describe as healthy but still extremely delicious. Chicken, beef, turkey or veggies come in a soft and fluffy wrapper. Honorable mentions: Greek Boys, Hunter-Gatherer Brewery & Alehouse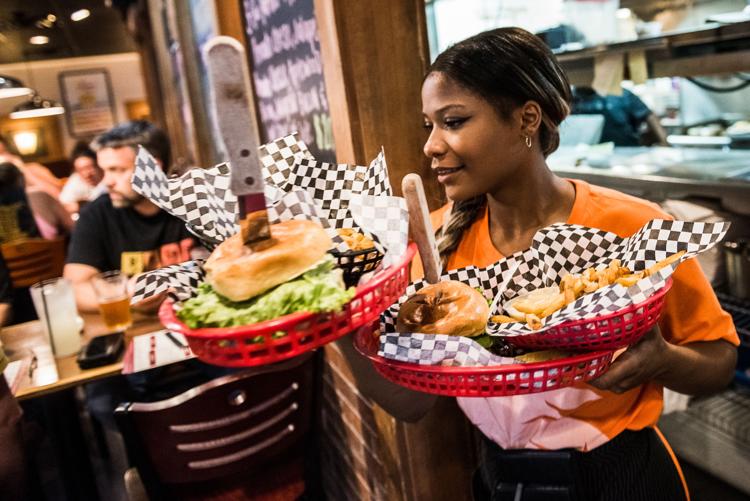 Best Hamburger
Pawleys Front Porch
Runner-up: Five Guys
Ever since the neon-blonde-haired Guy Fieri from the Food Network cruised into town and landed at Pawleys, everyone else has followed suit and found the burgers to be among the best around. With dozens of ways to eat a burger there (including loaded with pimento cheese), who are we to argue? Honorable mentions: Rush's, The Whig
Best Hot Dog
Sandy's Famous Hot Dogs
Runner-Up: Rush's
You can get a hot dog any old place, but you can only get the monstrous, quarter-pound super chili dog with a huge scoop of black cherry ice cream at Sandy's. Honorable Mentions: Evil Weiner, Jimmy's Mart
Best Ice Cream
Sweet Cream Co.
Runner-up: Marble Slab Creamery
Sweet Cream Co. took a gamble, when it opened up shop in 2012 on a stretch of Main Street that would become the place to be. Some might say it wasn't a gamble at all based on how truly good Sweet Cream is at what it does. The shop's highly creative, lovingly crafted ice cream continues to bring customers back time and time again. Honorable Mentions: Cold Stone Creamery, The Baked Bear
Best Milkshake
Cook Out
Runner-up: Rush's
As gets noted frequently by detractors, Cook Out milkshakes are thick, more a blended ice cream treat you enjoy with a spoon (at least for the first few pre-melted minutes) than a proper beverage. If that sounds like your thing, Cook Out has a prodigious amount of excellent flavors to check out (the seasonal watermelon, the several year-round cheesecake permutations). Honorable mentions: Grill Marks, Sweet Cream Co.
Best Mobile Food
The Belgian Waffle Truck
Runner-up: A Peace of Soul Vegan Kitchen (formerly Lamb's Bread Vegan Cafe)
There's something about a waffle that charms everyone, so it's no wonder that The Belgian Waffle Truck has been voted best mobile food. With the food truck market growing in Columbia, the competition is growing, but the quirkiness of the Belgian waffle creations made by real Belgians won your hearts and stomachs this year. Honorable mentions: Cha Cha's Food Truck, City Limits Q
Best Pizza
Village Idiot Pizza
Runner-Up: Dano's Pizza
Cheap beer and huge slices of New York-style pizza have helped Village Idiot continue to be a local favorite since 1990. $1.50 for a quick cheese slice at happy hour is about as good of a deal as any in the city. Honorable mentions: Nicky's PIzzeria Five Points, Za's on Devine
Best Ribs
Hudson's Smokehouse BBQ
Runner-Up: The War Mouth
Even when Hudson's isn't open it seems like their parking lot is full of patrons waiting to feast on its dry-rubbed or original-style ribs with its own signature sauce. Smoky, juicy and fall-off-the-bone tender, these are so popular that there's a whole night dedicated to them for the outrageous steal of a $1 a rib. Honorable Mentions: Bone-In Barbecue, Carolina Wings & Ribhouse
Best Salad
California Dreaming
Runner-up: Spotted Salamander Cafe and Catering
A salad bigger than your face, piled high with cheese, meat and bacon-tinged dressing, plus a honey croissant on the side? It's what keeps California Dreaming's signature salad at the top of the list for Columbia dwellers who are trying to pretend they're being healthy and getting their greens. Honorable mentions: J Peters Grill & Bar, Za's on Devine
Best Seafood Restaurant
Blue Marlin
Runner-Up: Oyster Bar Columbia
Even if locals haven't been to Blue Marlin, everyone knows that if someone asks where to get seafood the iconic Vista restaurant is always on the list. Serving Southern classics like shrimp and grits, fried flounder and crab cakes, the Marlin is the place to fill your sea-fare-ing needs. Honorable mentions: Pearlz Oyster Bar, Red Lobster
Best Shrimp and Grits
Blue Marlin
Runner-up: Mr. Friendly's New Southern Cafe
In South Carolina you might as well assume that all grits come with shrimp too, as is the case at the Blue Marlin, who has the title of the best grits in Columbia. Their lush tasso gravy clings to fat pieces of shrimp and pools into a smooth bed of grits below for a winning dish. Honorable mentions: The Devine Cinnamon Roll Deli, Yesterdays Restaurant & Tavern
Best Smoothie
Tropical Smoothie Café
Runner-up: Smoothie King
Yeah, Tropical Smoothie has a rainbow of delicious frozen concoctions on tap, from Watermelon Mojito to Mango Magic to Bahama Mama to something called Peaches N' Silk. But check that food menu. We're talkin' flatbreads, quesadillas, wraps, sandwiches, breakfast and more. And you can binge because the smoothies make it healthy. Right? Honorable Mentions: Clean Juice, Rosewood Market & Deli
Best Steak
Halls Chophouse
Runner-up: Ruth's Chris Steak House
The newcomer on the block isn't lacking for steak knowledge, with a deep history of it in their other Halls restaurants around the state. Dry-aged, wet-aged, prime rib, grass fed, even wagyu are steak options that are all available under one roof for the beef connoisseur in all of us. Honorable mentions: LongHorn Steakhouse, Texas Roadhouse
Best Sushi
Inakaya Watanabe (St. Andrews)
Runner-up: Inakaya Japanese Restaurant (O'Neil Court)
We hope every year that Best Of Columbia is at least somewhat instructive about the town you live in and what's in it — beyond reminding you how unilaterally popular Chick-fil-A continues to be. So here's one concrete fact you can take away from the 2019 issue: There are two sushi restaurants in Columbia called Inakaya, and one of them is, according to Free Times readers, better than the other. Honorable mentions: Camon Japanese Restaurant, Tsunami Sushi Restaurant
Best Sweet Tea
Groucho's Deli
Runner-up: McAlister's Deli
The 45 Sauce isn't the only amazing liquid at Groucho's. There's perhaps nothing better to wash down your Apollo Dipper than the deli's almost impossibly sweet iced tea, poured over Groucho's signature crushed ice. It is a scientific fact that the crushed ice makes the tea 27 percent better. (OK, we made that part up.) Honorable mention: Bojangles', Chick-fil-A
Best Taco
Cantina 76
Runner-up: Real Mexico
Taco fillings have gotten inventive as the years have gone by, and none are more fulfilling to Columbians than the ones at Cantina 76. Combined with their sturdy yet biteable tortilla shells, velvety guacamole, and salsa that won't dribble out of the end of the taco too much, they make Cantina's tacos a winner. Honorable mentions: Moctezuma Taqueria, Publico
Best Vegetarian Menu
Good Life Cafe
Runner-up: A Peace of Soul Vegan Kitchen (formerly Lamb's Bread Vegan Cafe)
With no meat, no dairy, no eggs, and a fairly recent kosher designation, you wouldn't think that the Good Life Cafe would be able to crank out as many magnificent and creative dishes as they do. This meatless Main Street cafe attracts vegans, the veg-curious, and even wins accolades from the sworn carnivorous too. Honorable mentions: Avocado Toast SC @ Soda City, Rosewood Market & Deli
Best Veggie Burger
Good Life Cafe
Runner-up: The Whig
While people have been up in arms about the Impossible Burger, Good Life has long been on the sweet potato and grain train. A perfectly robust patty that hits all the pleasure notes of a burger, with its spices and sweetness from the potato, is proof that you don't need meat to have a good meal. Honorable mentions: A Peace of Soul Vegan Kitchen (formerly Lamb's Bread Vegan Cafe), Rosewood Market & Deli
Best Fried Chicken
Zesto of West Columbia
Runner-up: Bernie's Restaurant
There might as well be a giant piece of fried chicken in the sky next to the famous Zesto's ice cream cone. The irresistible scent of fried chicken wafting down 12th Street keeps people coming back for more of the juicy-crispy pieces of poultry. Honorable mention: Drake's Duck-In, Rush's
Best Wings
D's Wings
Runner-up: Publick House
There's nothing fancy about the definition-perfect wings served up at D's. They're expertly fried, crispy on the outside and luxuriously moist within, and they're made even better when you order them covered in the surprisingly survivable Suicide sauce, which emphasizes a dynamic peppery, zesty flavor over mouth-scorching excess.
Runner-up: Carolina Wings & Rib House, Smokey Loggins
Best Asian Restaurant
Miyo's
Runner-up: Mai Thai Cuisine
Michelle Wang's Miyo's empire has shrunk a bit in the past few years, but with fewer restaurants comes more time to develop the menu and atmosphere at her current Miyo's locations. Remaining ones serving up reliable pan-Asian cuisine are in the Harbison area, Lexington, the Vista and on Forest Drive. Honorable mentions: Baan Sawan Thai Bistro, Inakaya Japanese Restaurant (O'Neil Court)
Best Caribbean Restaurant
Island Grill
Runner-up: Fire and Spice Irmo
In a space that's been known to turn over restaurants in a heartbeat, Island Grill has managed to earn a dedicated following thanks to humbly cooked Jamaican fare. The massive plates of flavorful curried goat and jerk chicken are easy winners, packing huge Carribbean flavors at reasonable prices. Honorable mentions: Legacy Caribbean Bar & Grill, Taste of Jamaica Cafe & Lounge
Best Chinese Restaurant
Egg Roll Chen
Runner-Up: Sun Ming Chinese Restaurant
While Egg Roll Chen may seem like just another Chinese fast food joint on the outside, longtime Columbians know about this local legend's secrets. The special Taiwanese menu of street food favorites like the fragrant beef noodle soup and highly addictive yen su jee (a crispy salt and pepper chicken dish covered in chilis) makes Egg Roll Chen a weekly must-stop. Honorable Mentions: Main Moon, Tea Pot Chinese Restaurant
Best Greek Restaurant
Mediterranean Tea Room
Runner-up: Zorba's Greek Restaurant
It feels really weird saying you should go to this Greek restaurant because it has a really special grilled chicken with salad, but you should go to this Greek restaurant because it has a really special grilled chicken with salad. A quiet local favorite that does simple Mediterranean food extremely well. Honorable mentions: Grecian Gardens, Greek Boys
Best Indian Restaurant
2Gingers
Runner-Up: Delhi Palace
It's easy enough to go to an Indian restaurant anywhere in the city and have a good meal. 2Gingers separates itself from the rest by offering well beyond the typical Indian menu, with a huge variety of vegetarian choices and special offerings unseen anywhere in the state let alone city. Honorable Mentions: Persis Biryani Indian Grill, Village of India
Best Italian Restaurant
Alodia's
Runner-up: Villa Tronco Italian Restaurant
With a second location now open in Lexington, Alodia's has the chance to serve twice as many people handmade noodles, comforting pasta dishes and other authentic Italian dishes. This charmingly versatile ristorante is just as suitable for date night as it is a large family gathering. Honorable mentions: Il Giorgione, Pasta Fresca
Best Japnaese Restaurant
Miyabi Japanese Steakhouse and Sushi Bar
Runner-up: Inakaya Watanabe
Hibachi food is ultimately always a good meal, but experiences like the Teppanyaki show at Miyabi's takes a fine meal and flips it — quite literally — into an unforgettable night for friends and family. Honorable mentions: Camon Japanese Restaurant, Inakaya Japanese Restaurant (O'Neil Court)
Best Mexican Restaurant
Real Mexico Restaurant
Runner-up: San Jose Mexican Restaurant
The city's love for Real Mexico is one of the sure signs that Columbia is moving in the right direction. There are few sounds as satisfying as the sizzling hot plates of tacos, burritos, tortas, fajitas and more flying in and out of the kitchen doors there daily. Honorable mentions: Cantina 76, Moctezuma Taqueria
Best Middle Eastern Restaurant
Mediterranean Tea Room
Runner-up: Arabesque on Devine
Being long-running doesn't always mean it's the best, but in the case of Mediterranean Tea Room, it certainly does. Heaping Greek salads, falafels, aromatic kebabs, hummus with fluffy pitas, and all of the Greek staples give Columbians a healthy yet tantalizingly delicious option for both lunch and dinner. Honorable mentions: Boeshreen, Green Olive Restaurant
Best Southern Restaurant
Lizard's Thicket
Runner-up: Mr. Friendly's New Southern Cafe
You're never far from a Lizard's Thicket living in the Midlands. And how lucky we are in that regard. It's not every town where you can quickly pop into a chain restaurant, or zip through the drive-through on the way home, and get yourself a legitimately great meat-and-three. #Blessed Honorable mentions: Bone-In Barbeque, Capital City Kitchen & Grill
Best Soul Food
Kiki's Chicken and Waffles
Runner-up: Yesterdays Restaurant & Tavern
Kiki's Chicken and Waffles started out pretty focused, but has since expanded its soul food offerings — to the joy of Midlands soul food lovers. Kiki's signature dish is only made that much better with a pile of mac and cheese and collards gracing your plate, as well. Honorable mentions: A Peace of Soul Vegan Kitchen (formerly Lamb's Bread Vegan Cafe), Capital City Kitchen & Grill
Best Thai Restaurant
Mai Thai Cuisine
Runner-Up: Basil Thai Cuisine
You go to Mai Thai innocently thinking you'll just grab some pad thai or red curry. Suddenly you're two Singhas and a bubble tea deep and there's a fried duck pineapple curry in front of you along with more spring rolls than you can handle. It's nights like these that make Mai Thai so popular in the West Columbia area. Honorable Mentions: Baan Sawan Thai Bistro, Duke's Pad Thai