Best Alternative Clothing
Urban Outfitters
Runner-up: Sid & Nancy
The corporate home of hipster cool, Urban Outfitters will get you the look you want for your person, your home or even your record collection.
Honorable mentions: Hip Wa Zee, Loose Lucy's
Best Children's Clothing
Target
Runner-up: Once Upon A Child
Free Times readers know what's up: Between growth spurts, messy meals and backyard fun, your kid churns through vestments faster than you can say "Carter's." Target it is.
Honorable mentions: The Children's Place, Little Lambs & Ivy II
Best Men's Clothing
Belk
Runner-up: Granger Owings Classic Clothiers
Long a Southern staple, Belk is a solid place for guys to shop for just about any clothing need. From suits and sport coats to activewear and casual offerings, Belk has all the current styles. The department store also has the belts, suspenders, cufflinks and various other accessories men need to go along with their gear.
Honorable mentions: Brittons of Columbia, Sid & Nancy
Best Women's Clothing
Belk
Runner-up: Urban Outfitters
Belk has been a go-to shopping hub in the South for decades. The department store has stylish options for women, including dresses, jeans, leggings, suits, swimwear, lingerie and much more. The cosmetics and perfume options are very solid, as well.
Honorable mentions: Copper Penny; Pink Sorbet, a Lilly Pulitzer Signature Store
Best Consignment Store
Revente
Runner-up: Roundabouts Consignments
What do you do when your vintage frocks need a new owner, or when this season's purchases just aren't doing you any favors? Take them to Revente, where they might give you some money in exchange for your clothes. The shopping is friendly and well curated, too.   
Honorable mentions: Blythewood Consignment, Sid & Nancy
Best Thrift Store
Goodwill
Runner-up: Palmetto Thrift Store
With 10 Midlands locations, Goodwill is an excellent and convenient spot for thrifting. And if you need to unload some stuff from your house — don't we all? — they'll take it off your hands.
Honorable mentions: His House Ministries Thrift, StyledbyNaida
Best Antique Store
Old Mill Antique Mall
Runner-up: ReFind
Looking for something authentic and unique, with character you likely can't find in new offerings? Check out the Old Mill Antique Mall in West Columbia. They have a wide range of collectibles, antiques and furniture from more than 75 dealers, all in one location. This place has been a Midlands fixture for more than three decades.
Honorable mentions: The Red Lion, Tucked Away Treasures Antiques
Best Adult Store
Nancy's Nook
Runner-up: Taboo
Maybe you're looking for some lingerie to rekindle the romance in your relationship. Maybe you need some lubricant, or a toy to make sure your partner gets off. And maybe you want to go somewhere that's discreet and not at all sleazy. Go here.
Honorable mentions: Lion's Den in Leesville, This Is It Video & Lingerie
Best Convenience Store
Circle K
Runner-up: The Other Store
Look, what you want in a convenience store is reliability. You want to know that whether you need a tank of gas or a scratch-off ticket or a Mars bar or a 12-pack of Coors or some condoms — or, on the best of nights, all of the above — you'll get what you need, no matter what ungodly hour you happen to stroll in. You get that at Circle K.
Honorable mentions: Pitt Stop, Spinx
Best Cycle Shop
Outspokin' Bicycles
Runner-up: Cycle Center
When you need a bike, Outspokin' will sell you a good one. When that bike needs fixing, Outspokin's knowledgeable, honest and friendly staff will diagnose and repair any problems your ride might have.
Honorable mention: Summit Cycles
Best Furniture Store
Whit-Ash Furnishings
Runner-up: Strobler Home Furnishings
If you are looking for furniture, chances are this longtime Vista mainstay will have what you need. The place is massive, after all: It's 40,000 square feet and is one entire city block long. From classic looks to contemporary flair, Whit-Ash has countless pieces that will transform your home.
Honorable mentions: Absolute Discount Mattress & Furniture, Copper Barn Furniture
Best Gamecock Store
Garnet and Black Traditions
Runner-up: Addam's University Bookstore at USC
Football season is right around the corner. You want to make sure the family (and your house and your car and even the dog) are decked out and ready for University of South Carolina football Saturdays. Garnet and Black Traditions is the place to go for apparel, car flags, framed photos and much more. Oh, and they've got those famous gameday stickers, too. BEAT GEORGIA.
Honorable mentions: Barefoot Campus Outfitter, Miss Cocky
Best Gaming Store
Firefly Toys & Games
Runner-up: Pulp Central Gaming
In addition to selling games, Firefly builds a community around playing them, offering at least one different in-store group competition every day of the week. Who's up for Pinball League?
Best Gift Shop
Uptown Gifts  
Runner-up: The Shoppes on Main
Whether you're looking for a cheese plate or wine glass decorated with a whimsical slogan, a custom gift basket, or just something adorned with a pineapple, Uptown is the place for you. Monogramming, naturally, is available.
Honorable mentions: Cotton Mill Exchange, Non(e)Such
Best Gun Shop
Palmetto State Armory
Runner-up: Shooter's Choice
If you want a gun, it's probably best to buy one from someone who knows what they're talking about. Palmetto State Armory is the place for you.
Honorable mentions: Academy Sports + Outdoors, Barron's Outfitters
Best Hardware Store
Lowe's Home Improvement
Runner-up: The Home Depot
Walk into Lowe's. Walk around for a few minutes acting like you can figure out how to make that home repair yourself. Get wise. Push one of those handy help buttons, and let one of the staff point you in the right direction. Repeat as needed.
Honorable mentions: Cedar Terrace Hardware, South East Ace
Best Jewelry Store
HandPicked
Runner-up: Sylvan's Jewelers
Known for its well-curated, affordable, fashionable jewelry, HandPicked is a great spot for gifts or for treating yourself. They do repairs, too, and have frequent sales.
Honorable mentions: Satterfield's Jewelry Warehouse, Sylvan & DuBose Jewelers
Best Place to Buy Comic Books
Heroes & Dragons
Runner-up: 2nd & Charles
Reborn with new ownership in its same old Boozer Shopping Center location last year, Heroes and Dragons is once again selling new comics in addition to its reliable selection of used titles, books, DVDs and toys.
Honorable mentions: Cosmic Rays, Scratch N Spin
Best Place to Buy Used Books
2nd & Charles
Runner-up: Ed's Editions
Looking to kill a Saturday afternoon? 2nd & Charles is a good place to do it. With shelf after shelf of used books across seemingly every genre, this is the spot for folks who still like to hold an actual book — you know, the paper kind — in their hands. They've got music, movies, comics and games, too.
Honorable mentions: The Book Dispensary, South Carolina Bookstore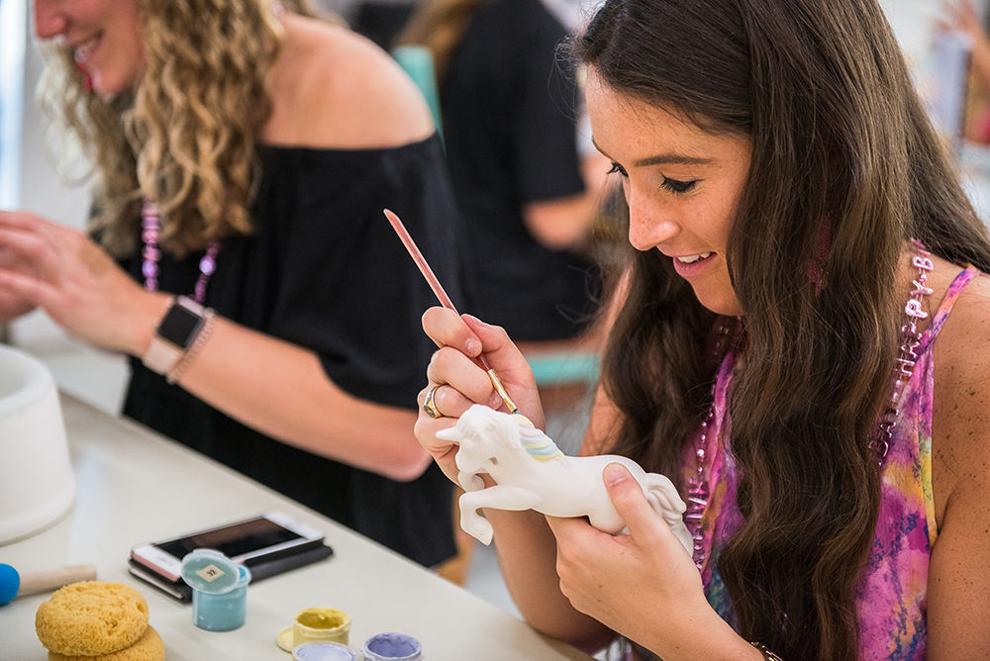 Best Pottery Studio
Mad Platter
Runner-up: City of Columbia Art Center
For more than two decades, Mad Platter has called the Midlands home, offering ceramics, glass fusing and wooden plaque painting in an open studio setting.
Honorable mentions: Kyle Smith Pottery, Southern Pottery
Best Sporting Goods Store
Academy Sports + Outdoors
Runner-up: Todd & Moore
This place has everything.   
Honorable mention: Half-Moon Outfitters
Best Bakery
Silver Spoon Bake Shop
Runner-up: Tiffany's Bakery & Eatery
In a land of flabby, pale croissants, Silver Spoon isn't afraid to push theirs a little further in the oven, turning out well-browned, shatteringly crisp, flaky miracles. That's only on Fridays, though, which are Croissant Days. The rest of the week, Silver Spoon deals in delectable cookies and bars, savory biscuits, cupcakes and more. They also serve great coffee, so you can make a morning of it.  
Honorable mentions: Ally & Eloise Bakeshop, Blue Flour Bakery
Best Meat Market
Ole Timey Meat Market (St. Andrews/Lexington/South Congaree)
Runner-up: Ole Timey Meats (Rosewood/Spring Valley)
This place is a grillmaster's dream and a vegan's nightmare. At Ole Timey Meat Market the shelves are stacked with various cuts and grades of beef, pork, poultry and seafood. Their offerings are fresh, never frozen, and the market prides itself on its customer service.
Honorable mention: New York Butcher Shoppe
Best Natural Food Store
Rosewood Market & Deli
Runner-up: Whole Foods Market
Despite the preponderance of natural foods as big business (see: the Whole Foods about two miles up Rosewood), Rosewood Market, the pantheon of the well-curated neighborhood natural food store, persists. And we're glad that it does, with its selection of perfect produce, vitamins and supplements, and hard-to-find foods.
Honorable mentions: Earth Fare, 14 Carrot Whole Foods
Best Place for Fresh Produce
Soda City Market
Runner-up: Publix Super Market
Want locally grown fruits, vegetables, mushrooms and more? Check out this weekly Main Street market, where farm vendors mingle amid the gifts and other goods. That Livingston Farms flat-rate produce box is a dang good deal.
Honorable mentions: City Roots, Rosewood Market & Deli
Best Beer Store
Green's Beverage Warehouse
Runner-up: Craft And Draft
Green's — in particular the location on Piney Grove Road — is an excellent source for all things beer, from the craftiest, freshest and rarest of craft beers to big ol' suitcases of your favored domestic.
Honorable mentions: Bottles, The Vino Garage
Best Liquor Store
Green's Beverage Warehouse
Runner-up: Morganelli's
Need to stock up for a big end-of-summer party? Green's has all the Malibu Rum, Sour Apple Pucker and budget vodka you need. If your drinking tastes tend toward the slightly more sophisticated, it also has plenty of single-malt scotches, cognacs, liqueurs and locally distilled cool stuff. In short, Green's is for everyone.
Honorable mentions: Bottles, Total Wine & More
Best Wine Store
Total Wine & More
Runner-up: Morganelli's
Look, it's right there in the name. Total, as in complete, as in comprehensive. Blanc or brut, chardonnay or cabernet, Total Wine stocks it. And more: Its selection of craft beers is also top-flight.
Honorable mentions: The Gourmet Shop, The Vino Garage
Best Cigar Shop
The Cigar Box
Runner-up: The Gourmet Shop
Within the walk-in humidors at The Cigar Box's two Columbia locations, you'll find a wide array of cigars in all different shades, shapes and sizes. Outside the humidor, you'll find attentive staff that will help you navigate the selection. Don't sleep on the choice craft beer selection, either, if you're hanging out in the shop.
Honorable mentions: Tobacco Merchant, Total Wine & More
Best Smoke Shop
Natural Vibrations
Runner-up: High Life Smoke Shop Columbia
The family-owned charm and excellent stock of Natty Vibez have made it a Five Points institution for more than 20 years. Find your 420 gear here, from glassware to hookahs, and don't miss the Rasta fashions and health tonics, either.
Honorable mentions: Purple Haze Smoke Shop, Tobacco Merchant
Best Vaping Store
Vaping Zone
Runner-up: Columbia Vapes (formerly Madvapes)
Do you even vape, bro? Oh, you do? Well then you need to check out Vaping Zone on Columbiana Drive. They've got everything you're looking for in regard to vaping, including e-cigarette starter kits, e-liquid flavors, vape accessories, vape coils and more.
Honorable mention: Whit E. Octopus Vapors