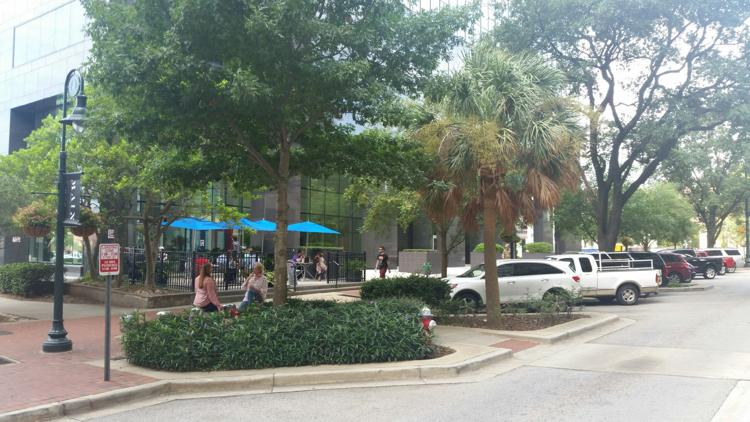 Biggest Improvement in Columbia This Year
Main Street
Runner-up: Riverwalk sections reopening after repairs
It says a lot about Main Street that it has won or placed highly in this category for multiple years. But the city center does continue to evolve. This past year has seen the continued restoration and rejuvenation of the historic Arcade Mall on Main, and the 1600 block continues to become a hotspot, as chic wine bar Lula Drake and bowling alley/restaurant/hangout spot The Grand have opened there in the last year.
Honorable mentions: Hunter-Gatherer at the Curtiss-Wright Hangar, River Rat Brewery's Rooftop Bar
Best Use of Public Funds
Paving Roads
Runner-up: Richland Library
Apparently our readers think area roads shouldn't tear up their suspension and tires, and they want their tax dollars to continue to go to fixing them. Nuts!
Honorable mentions: Main Street, Three Rivers Greenway
Biggest Waste of Public Funds
SCE&G's failed V.C. Summer nuclear project
Runner-up: Fifth Circuit Solicitor Dan Johnson
If you live in Columbia, it's not like you have a choice of who to get your electricity and gas from. So while SCE&G didn't technically use public money to finance its failed nuclear reactor project at the Virgil C. Summer Nuclear Generating Station, it certainly used the public's money. What's more, our tax dollars go to fund the state Public Service Commission and the General Assembly, both of which were supposed to be preventing debacles like this. Sheesh.
Honorable mentions: BullStreet Project, Richland County Penny Tax
Worst Road
All of them
Runner-up: Malfunction Junction (I-20/I-26)
Honestly, it's hard not to commiserate with y'all's choice on this one. It gets hard to keep track of what road you can take without rattling over some poorly placed metal plate covering some not-yet-fixed pothole. Godspeed to our tires.
Honorable mentions: North Main Street, I-26
Best Local Politician
Nikki Haley
Runner-up: James Smith
She's now the U.S. ambassador to the United Nations and lives in New York City, but Free Times readers still love them some Nikki Haley. The former governor once seemed a vaguely divisive figure, with her Tea Party credentials and finger-wagging at the Legislature — but these days, she's a true stateswoman. It seems South Carolinians are longing for the days of ol' job-creating, smart-talking Haley.
Honorable mentions: Steve Benjamin, Seth Rose
Worst Local Politician
Henry McMaster
Runner-up: Dan Johnson
Not only did Columbia's own Gov. Henry McMaster not make the runner-up list for Best Local Politician, but he also won Worst Local Politician. On his home damn turf. That's painful, sure, but it also speaks to just how lousy of a governor and politician McMaster is. Keep lickin' Trump's boots, though, Henry.
Honorable mentions: Steve Benjamin, Hardy King
Best City or County Council Member
Tameika Isaac Devine, Columbia City Council
Runner-up: Seth Rose, Richland County Council
These days, Tameika Isaac Devine is more than a 15-year veteran of Columbia City Council; she's a brand in her own right, with a successful speaking career and social media presence. Despite all that, she still manages to pick up the phone every time we — and her many constituents — call.
Honorable mentions: Howard Duvall, Columbia City Council; Barry Walker, Irmo Town Council
Worst City or County Council Member
Norman Jackson
Runner-up: Hardy King
Norman Jackson, who has represented portions of Lower Richland on Richland County Council for many years, often finds himself in the midst of controversy. As just one example, earlier this year SLED was asked to investigate claims that Jackson had bullied an assistant county administrator. But those who think he's the worst can take solace: Jackson was defeated in June's Democratic primary. So long, Norm.
Honorable mentions: Howard Duvall, Mark Pouliot
Biggest Local 'Hero'
A'ja Wilson
Runner-up: Dawn Staley
A'ja Wilson helped lead the Gamecocks' women's basketball team to a national championship in 2017. Now, she stars in the WNBA with the Las Vegas Aces, and she's stirring the pot by speaking out on the gender pay gap between the WNBA and NBA. Good on her.
Honorable mentions: Kassy Alia, Phill Blair
Biggest Local 'Zero'
Henry McMaster
Runner-up: Lindsey Graham
There were five highly eligible nominees in this category, but one elbowed his way to the top: the governor of the state, a Columbia-based career politician who gets by on his Nice Guy demeanor but ultimately can't govern his way out of a paper bag. Seriously, what does Henry do all day? Sanctuary cities, what? How about you stop messing with our access to birth control and ask your buddy in the White House to wise up about tariffs so we can hang on to some manufacturing jobs?
Honorable mentions: Dick Harpootlian, Dan Johnson
Best Troublemaker
Dick Harpootlian
Runner-up: Phill Blair
Harpootlian, the attorney and former chairman of the state Democratic Party, has never been shy about letting a juicy quote — or a lawsuit — fly. This year he's been a one-man wrecking crew in Five Points, suing bars, getting liquor licenses revoked and basically raising hell in an effort to curb what he sees as bad behavior in the nightlife district. Apparently people like that. Oh, and he's running for state Senate.
Honorable mentions: Daniel Adedokun, Elaine Cooper
Best Activist Group or Effort
Pawmetto Lifeline
Runner-up: Sexual Trauma Services of the Midlands
From the website of this category's winner: "Pawmetto Lifeline believes companion pets have value beyond economic measurement and are entitled to legal, moral, and ethical consideration." Damn right. Pawmetto upholds its commitment to our animal friends through adoption, medical, rescue collaboration and education efforts that have a considerable impact around the Midlands.
Honorable mentions: Congaree Riverkeeper, Indivisible Midlands
Best Charity
Harvest Hope Food Bank
Runner-up: Pawmetto Lifeline
Hunger is an issue that many face in our community. Since 1981, Harvest Hope has been integral to helping those in need. The nonprofit distributed nearly 28 million meals in 2017, and fed about 38,000 people each week. The organization helps hungry people in 20 counties across the state.
Honorable mentions: Be Kind Be Great, Sistercare
Best Place to Work
University of South Carolina
Runner-up: Palmetto Citizens Federal Credit Union
Let's be honest: As fast as USC is growing — physically and in terms of enrollment — the school will probably subsume the entire city one day. When it does, we'll all be working for USC. You might as well get started now.
Honorable mentions: Palmetto Commercial Services, Richland County Public Defenders Office
Best Green Business or Initiative
City Roots
Runner-up: Congaree Riverkeeper
City Roots is more than that place where you go drink a couple beers outside while hanging out or listening to bands at Mardi Gras Columbia or the Tasty Tomato Festival. And it's more than a venue for harvest dinners. City Roots is an urban farm yielding some produce and a bunch of beautiful flowers, all while seeking to educate the public about locally grown food and environmentally friendly farming.
Honorable mentions: Cola Town Bike Collective, Three Rivers Greenway expansion
Best Local Business Leader
Phill Blair, The Whig
Runner-up: Jim Hudson, Jim Hudson Automotive Group
Blair is the co-owner of The Whig, the underground bar at the corner of Gervais and Main, right across from the State House. Aside from establishing the bar as one of the top spots in the city for craft beer and delicious food, Blair also is integral in organizing community events, like the Columbia Museum of Art's regular Main Street bash Arts & Draughts, or fundraisers for groups like Congaree Riverkeeper.
Honorable mentions: Tracie Broom, Flock + Rally; Beach Loveland, Loveland Coffee
Best Small Business Owner
Phill Blair, The Whig
Runner-up: Beach Loveland, Loveland Coffee
Phill Blair does not hunker down in the cozy underground watering hole where he has cultivated one of the city's most consistently enjoyable beer selections. He's often out and about, helping put on events during the monthly First Thursday on Main art crawl, leading the charge in booking bands for the Jam Room Music Festival. Beyond owning one of its most recognizable benefits, Blair is a key leader in Main Street's cultural renaissance.
Honorable mentions: Lorri-Ann Carter, CarterTodd & Associates; Mike Young, Palmetto Commercial Services
Biggest "Our Dumb State" Moment
SCE&G's failed VC Summer nuclear project
Runner-up: SC lawmakers introducing a bill to secede over gun rights
There was really no contest when it came to the dumbest thing to happen in the Palmetto State this year: Utility companies SCE&G and Santee Cooper sank billions of ratepayers' dollars into new nuclear reactors at the Virgil C. Summer Nuclear Generating Station, all the while covering up just how behind schedule and flawed the project was. Then they called the whole thing off — but they're still trying to stick us with the bill. People should go to jail, though it seems unlikely they will.   
Honorable mentions: Raising the Confederate Flag on the State House grounds every year, Ralph Norman pulling his gun out while meeting with constituents
Best Place to Take Out-of-Towners
Soda City Market
Runner-up: Riverbanks Zoo
Strolling down Main Street on a Saturday morning, when the weather's nice and all of the vendors are out and the blocks are buzzing with life and Columbia feels like a big, vibrant city? There's something magical in that, y'all.
Honorable mentions: Congaree National Park, Fireflies baseball at Spirit Communications Park