Best Concert
Foo Fighters at Colonial Life Arena
Runner-up: Eagles at Colonial Life Arena
There went your heroes. They got the best of you. They're not the pretender. Can we stop making bad Foo Fighters references now?
Honorable mentions: Avett Brothers at the Township; Bernstein MASS, USC School of Music
Best Music Venue
The Senate at Tin Roof (formerly Music Farm Columbia)
Runner-up: Colonial Life Arena
With The Senate currently racking up an impressive fall calendar that includes the likes of Shovels & Rope, Toro Y Moi, Old 97's, The Breeders, Cannibal Corpse and more, this seems as good a time as any to point out that the club sounds good whether utilized for pop, rock, folk, hip-hop or heavy music.
Honorable mentions: Township Auditorium, New Brookland Tavern
Best Bar to See Live Music
The Senate at Tin Roof (formerly Music Farm Columbia)
Runner-up: New Brookland Tavern
In addition to its impressive concert calendar and comfortable room with first-class sound, The Senate also has a solid tap selection and a nice patio to escape to if you need a break from the music.
Honorable mentions: Tin Roof, Pearlz Oyster Bar
Best Local Band
Tokyo Joe
Runner-up: Prettier Than Matt
Look, lots of bands don't last two years, let alone 22. But that's how long Tokyo Joe's been rocking 'round these parts; that they're still performing — and perform an average of 200 shows per year — says a lot about just how affable Greg Bickley and company's tunes are.
Honorable mentions: Villanova, Shelby Raye Band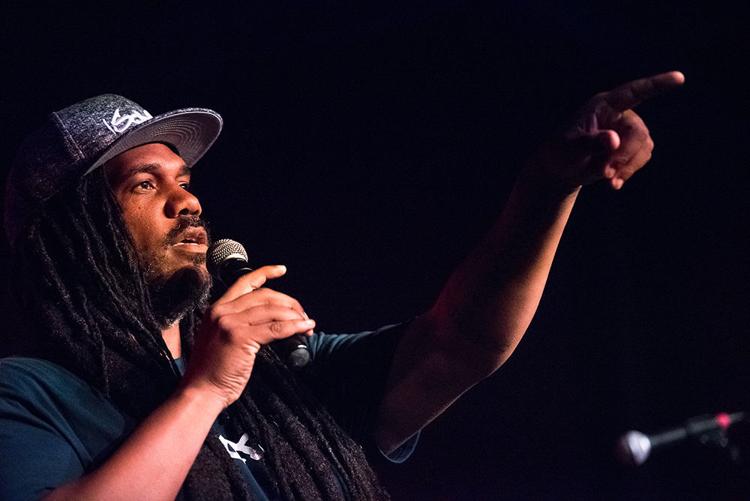 Best Local Hip-Hop Artist
Fat Rat da Czar
Runner-up: h3ro
Fat Rat is a rapper, with a burly, charismatic flow and whip-smart word play. Fat Rat is a producer, helping to shape some of Columbia's best new hip-hop sounds. Fat Rat is an event organizer, galvanizing huge crowds with the city's annual Hip-Hop Family Day. Fat Rat is indeed da Czar. Hail, hail.
Honorable mention: Cole Connor
Best Local Jazz or Blues Artist
Reggie Sullivan
Runner-up: Mark Rapp
In his confident, catchy mutations through jazz, funk, rock and beyond, eminently talented bassist Reggie Sullivan offers an open door to the Columbia jazz scene. He's also an energetic, engaging performer who never gives it anything less than his all.
Honorable mentions: The Terence Young Experience, Dante Lewis
Best Local Solo Artist
Jessica Skinner
Runner-up: Mark Rapp
Most often, Jessica Skinner is lending her talents to the tuneful folk-pop of Prettier Than Matt or the adaptable rock of Deleveled. But her bright, cheerful pipes are a treat no matter the context.
Honorable mentions: Jim LeBlanc, Shelby Raye
Best CD Store
Papa Jazz Record Shoppe
Runner-up: Manifest
There are still lots of people for whom a Spotify account just doesn't cut it. Folks who want to browse music and hold a CD in their hands and stumble upon something new (or new to them) as they thumb through a bin on a Saturday afternoon. Papa Jazz Record Shoppe, the institution on Greene Street that stocks thousands of CDs for artists across just about every genre, is nirvana for those people.
Honorable mention: Scratch N Spin
Best Store For Vinyl
Papa Jazz Record Shoppe
Runner-up: Manifest
Whether it's in the selection of new titles, which stretches from the shop's titular genre into pop, hip-hop and out into the weirder corners of rock and experimental music, or in the ever-impressive haul of used records, Papa Jazz has Columbia's vinyl heads in good hands.
Honorable mentions: 2nd & Charles, Scratch N Spin
Best Musical Instrument Store
Sims Music
Runner-up: Pecknel Music Co
Need to upgrade your acoustic guitar? Get a tour-ready electric rig? Grab some boutique noisemakers for your pedalboard? Build a sweet pro-audio setup? This long-standing local music shop has you covered.
Honorable mentions: Guitar Center, The Music Store
Best Karaoke
Art Bar
Runner-up: Uncle Fester's Sports Bar
At this point, Linda Carr's Carrarock Karaoke is a bonafide Columbia institution, with a bevy of dedicated regulars to back up — and belt out — the claim. Her gig at Art Bar is one of her longest-running.
Honorable mentions: Events by Snow — Kevin Snow; DJ Blake Arambula, New Brookland Tavern
Best Recording Studio
The Jam Room
Runner-up: Archer Avenue
The Jam Room turns 30 this year. And in that time they've turned out some pretty great music, much of it from nationally and internationally recognized artists. But they're most valuable to Columbia as a resource for the artists who live here, with their well-appointed main studio, dedicated hip-hop space, and mixing services helping many local musicians pursue their art.
Honorable mentions: High Fidelity Recordings, Plaugh's House Recording Studio