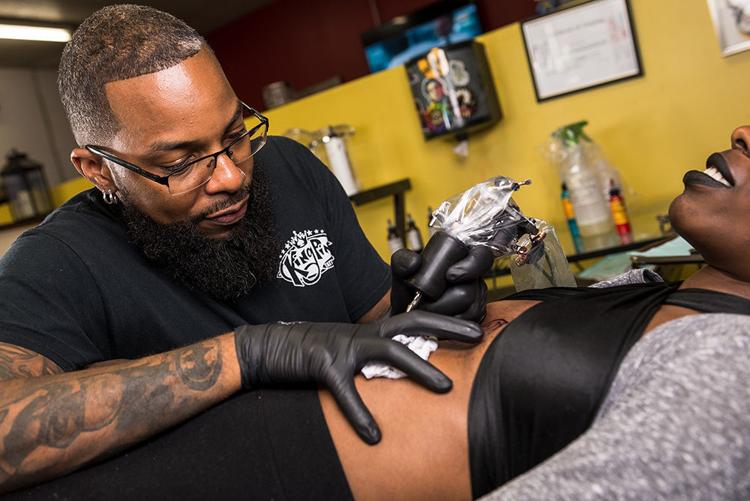 Best Barber Shop
Southern Gentleman's Barbering Co.
Runner-up: Circa Barber Shop
Southern Gentlemen is a great place to get a trim or a whole new 'do, what with its staff of excellent barbers and stylists. But the Five Points spot ups the haircut experience with Southern hospitality — and by that, we mean bourbon. Pro tip: Ask for Zayne.
Honorable mentions: Great Clips, Salon 85
Best Hair Salon
Urban Nirvana
Runner-up: process.
Simply put, Urban Nirvana offers a top-notch salon experience. If you are in need of a cut, coloring, styling or waxing (or all of that) they'll take care of you. They also offer massages, if you want to take the experience to another level.
Honorable mentions: Studio O2, Urban Beauty Salon
Best Hair Stylist
Hannah Church, Urban Beauty Salon
Runner-up: Kelsey Abercrombie, Image Makers Salon
Whether you want flowing mermaid hair or a sharp, sculptured cut, head out to Elgin, where Urban Beauty Salon owner Hannah Church will give you the style and color you're craving.
Honorable mentions: Laura Wissler, Urban Nirvana; Zachary Oswald, Five Points Salon
Best Day Spa
Urban Nirvana
Runner-up: OCCO Luxury Spa
With its day spa services, Urban Nirvana seeks to reduce stress and promote a balanced body and mind while also offering corrective benefits for the skin. Relax and reset.
Honorable mentions: Fuse Massage Therapy, Spa 131
Best Piercing Studio
Immaculate Body Piercing
Runner-up: Ouch! Studios
If there's a piece of flesh on your body that you want opened with a needle and filled with a piece of decorative jewelry, Immaculate can perform that service for you. And because its piercer training exceeds state requirements in a number of areas — including anatomy, wound care, piercing techniques and bedside manner — your experience will be, shall we say, immaculate.
Honorable mentions: Knotty Headz, RAW Body Piercing
Best Tattoo Artist
Spirit, Tattoo Trillionaires
Runner-up: Matthew Toto Davis, Animated Canvas
A first-time winner in this category, Spirit has a bold and beautiful style. He's versatile, too, with plenty of experience in cover-ups, colorful designs and working on a wide range of skin tones.
Honorable mentions: Steve Phipps, Vision Quest Body Art and Gallery; Josh Wiley, Gypsy Moon Tattoo
Best Tattoo Studio
Indigo Rose Tattoo Studio
Runner-up: Animated Canvas Custom Tattoo
Look, a tattoo? That s#!t is permanent. OK, not with lasers nowadays, but when you're getting an array of inks indelibly inserted under the dermis layer of your skin, you want to make sure that the person doing that will be able to fulfill your creative vision. Led by the indomitable Shannon Purvis Barron, the tattoo artists at Indigo Rose can handle everything you throw at them, whether it's a fractally complex design or the classic "Mom" tattoo.
Honorable mentions: Vision Quest Body Art & Gallery, Gypsy Moon Tattoo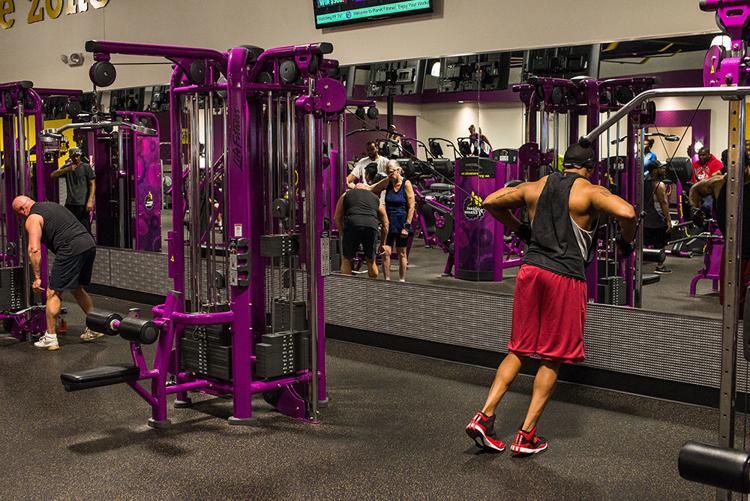 Best Fitness Club
Planet Fitness
Runner-up: MÜV Fitness
Free fitness training? Friendly staff? Spacious and clean facilities? A judgement-free experience? Looks like you don't have any more excuse to put off dropping those 20 pounds you've been meaning to shed for a while.
Honorable mentions: Burn Boot Camp, CrossFit Soda City
Best Crossfit
Carolina Crossfit
Runner-up: CrossFit Soda City
The community that arises when people participate in grueling workouts together is a key component of why CrossFit is so effective. Carolina CrossFit was the first CrossFit gym — or "box," in the CrossFit lingo — in South Carolina, and its community is a big part of its continued success. Maybe you can rip TnG PCs at twice your BW for reps. Maybe you don't know what the hell we're talking about. Either way: You'll be welcome at Carolina Crossfit.
Honorable mention: CrossFit Rivalry
Best Pilates
Bikram Yoga Columbia
Runner-up: The Pilates Studio
Bikram Yoga Columbia offers something called Inferno Hot Pilates. If you're the kind of person who reads those words and thinks, "Yeah!" rather than curling into the fetal position, then Bikram Yoga Columbia is clearly the place for you.
Honorable mentions: Pilates of Forest Acres, Pilates Bodies By Victoria
Best Yoga Studio
City Yoga
Runner-up: Pink Lotus Yoga Center
In its mission statement, City Yoga establishes that it is foremost "a community of unique individuals who foster a safe & nurturing environment to explore ... spiritual awakening, emotional growth, intellectual refinement, and physical unfolding." The practice is built on the foundations of alignment and Tantric Yoga philosophy, but all styles are welcome.
Honorable mentions: Bikram Yoga Columbia, Fit Columbia
Best Hospital
Lexington Medical Center
Runner-up: Palmetto Health Richland
Are you sick? Lexington Medical will help get you well again. The 438-bed hospital in West Columbia is the anchor of a massive health care network that includes five additional community medical centers and employs more than 6,500 people.
Honorable mentions: Palmetto Health Baptist Parkridge, Palmetto Health Baptist
Best Urgent Care
Lexington Medical Center
Runner-up: Doctors Care
Sometimes your medical issues just can't wait. If that's the case for you, then get to one of Lexington Medical Center's five urgent care facilities. If your need is immediate, they'll get you examined and on the way to the care you need for whatever it is that ails you.
Honorable mentions: MEDcare Urgent Care, Columbia; KershawHealth Urgent Care at Elgin
Best Acupuncturist
Dr. Li Huang, Integrated Health Center
Runner-up: Alison Beard, Palmetto Acupuncture and Holistic Health Clinic
Dr. Huang is the big name in Midlands acupuncture, and for good reason: He's trained in both Western medicine and traditional Chinese medicine, and he's a national board certified acupuncturist and chiropractor.
Honorable mentions: Meghan Cole, Palmetto Acupuncture and Holistic Health Clinic; Noemi Wilson, Anew Acupuncture & Wellness
Best Chiropractor
Fields Chiropractic
Runner-up: Capital City Chiropractic — Maximized Living
Want to feel better? Fields Chiropractic can help. The Devine Street office has a number of different services, including chiropractic manipulation, digital radiography, electrical muscle stimulation, decompression traction and more. Fields also touts its state-of-the-art equipment.
Honorable mentions: Midlands Health Center, Old Mill Chiropractic and Family Wellness
Best Dermatology Practice
Columbia Skin Clinic
Runner-up: Columbia Dermatology
With three locations in the Midlands, Columbia Skin Clinic is ready to meet your dermatological needs. The clinic offers dermatology, surgical dermatology, cosmetic dermatology and aesthetic services, and has an expertise in diagnosing and treating a wide array of skin conditions.
Honorable mentions: Palmetto Dermatology, Northeast Dermatology
Best Eye Doctor or Group
Columbia Eye Clinic
Runner-up: Devine Eyes
When it comes to something as important as your eyes and vision, you want to be sure you are in the hands of an organization that has been consistently excellent. That is certainly the case with Columbia Eye Clinic, which has been around for 90 years. The clinic has a team of 14 American Board of Ophthalmology certified physicians and more than 100 trained ophthalmic staff in three locations.
Honorable mentions: Carolina Eye Center, Ingram Comprehensive Eye Care
Best Family Practice
Lexington Family Practice
Runner-up: Palmetto Family Medicine — Lexington Medical Center
Lexington Family Practice has locations all over the Midlands — yes, even Richland County — meaning your family never has to go far for excellent care.
Honorable mentions: Providence Family Medicine, Northeast Family Practice
Best Massage Therapist
Nikki Barthelemy, Nikki B Massage
Runner-up: Josh Coates, Stacey O. Studio
Currently practicing in Lexington at Salon 85, Barthelemy is a doTERRA Wellness Advocate, certified oncology massage therapist, and a certified wellness coordinator, so if anybody can set you right with massage, it'd be her.
Honorable mentions: Jen Brown, Bliss Massage Therapy; Andrew Touzel, Fuse Massage Therapy
Best Orthopedic Practice
Palmetto Health-USC Orthopedics
Runner-up: Midlands Orthopaedics and Neurosurgery
Tennis elbow? Runner's knee? Uh, soccer player's foot? Whatever your musculoskeletal malady, Palmetto Health-USC Orthopedics can take care of it.
Honorable mention: Southeastern Orthopaedic and Sports Medicine
Best Pain Management Clinic
Palmetto Pain Management
Runner-up: The Acupuncture Clinic
No one likes to be in pain. If you are suffering, Palmetto Pain Management can help. The clinic offers comprehensive evaluation and treatment of challenging pain and spinal issues.
Honorable mentions: Midlands Health Center, Samsara Wellness
Best Pediatric Care
Sandhills Pediatric & Adolescent Clinic
Runner-up: Palmetto Pediatric and Adolescent Clinic
With five locations across the Midlands, Sandhills Pediatric is always convenient. They'll care for your child, whether it's those regular well child check-ups that let you know whether everything's progressing as it should, or illnesses and injuries.  
Honorable mentions: Pediatric Associates, South Carolina Center for Integrative Medicine
Best Physical Therapy Practice
Vertex PT Specialists
Runner-up: Pinnacle Physical Therapy and Personal Training
These are the folks who can get you back in the game. The therapists at Vertex are experts in movement and manual therapy who treat patients of all ages with health-related conditions to reduce pain and improve or restore mobility. They work with athletes from all backgrounds.
Honorable mentions: Progressive Physical Therapy, Fyzical
Best Dentist
Shivani Patel, 32 Dental
Runner-up: Drs. Charles Strauss & Thomas Hoffman
Dr. Patel provides a range of dental services, from implants to bridges to cosmetic dentistry to regular check-ups. Her patients are clearly huge fans.
Honorable mentions: Cottingham Family Dentistry, Alison Lockhart
Best Orthodontist
Boyd Orthodontics
Runner-up: Tompkins Orthodontics
Braces can make those awkward teenage years even more awkward. Dr. Boyd understands this, and offers clear ceramic and Invisalign braces options. And if you're grown? Well, he offers them to adults, too.
Honorable mentions: Pitner Orthodontics of Columbia, Davis Orthodontics