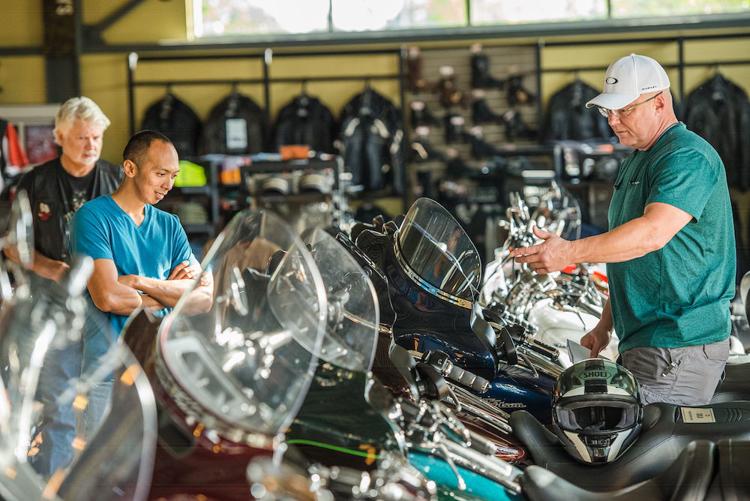 Best New Car Dealership
Runner-up: Love Chevrolet
What an empire of car dealerships. Eight locations with different makes and models of cars as well as service centers will ensure you keep rolling along. If you're looking for a new car, nobody in the Midlands knows better how to get you what you need.
Honorable mentions: Honda of Columbia, Dick Dyer Toyota, JT's Kia 
Best Used Car Dealership
CarMax
Runner-up: Jim Hudson
Driving up I-26 toward Irmo, you see that sprawling lot of cars, musing on all the possible new rides you might acquire. Yes, CarMax has used cars. A lot of them. And they're sitting out there, ready to try and cut you a deal.
Honorable mentions: Enterprise Car Sales, JT's Kia
Best Motorcycle Store
Harley Haven
Runner-up: Thunder Tower
Oh sure, you're a forensic accountant. And yes, during the week you drive a minivan. But on the weekend? You're a would-be badass who craves the power of a steel horse and the wind in your hair on the open road. And you know there's no substitute for a Harley-Davidson. In Columbia, Harley Haven will keep you riding in style. 
Honorable mentions: Capital City Cycles 
Best Auto Repair
Firestone
Runner-up: Complete Car Care
Getting a vehicle repaired is a stress and hassle. You never know if you're going to get a good mechanic or not. But Columbia's communal wisdom says that with Firestone you're likely to drive away happy.
Honorable mentions: Mooneyhans, Clark's Auto Clinic
Best Oil Change
Firestone
Runner-up: Express Oil
What, exactly, would happen if you never changed the oil in your car? Well, additives in oil break down over time; dirt and sludge would build up in the oil; and the various metal parts in your car would begin to grind against each other as the oil loses its ability to lubricate. Eventually, bye bye engine. Don't let that happen. Do your car a solid and stop in at Firestone.
Honorable mentions: Jiffy Lube, Pope Davis
Best Car Wash
Frank's Car Wash
Runner-up: Constan Car Wash
Frank's website touts the fact that its locations' "state of the art cloth system and touchless blowers leave your car squeaky clean," and we can personally verify that they will indeed give your car a great wash. And the friendly, attentive staff will make it as painless and quick a process as possible.
Honorable mentions: Sparkle, Sunset Car Wash 
Best Tire Dealer
Frank's Discount Tire
Runner-up: Nuttall Tire
Frank's provides excellent customer service, good prices and convenient locations. Also, sometimes we lie awake at night trying to get their ad jingle out of our heads, so it's obviously working. 
Honorable mentions: Pope Davis, Discount Tire
Best Driving School
Baldwin Driver Training, Inc.
Runner-up: ABC
With three convenient locations, Baldwin is a great school with great instructors, whether you're a teen learning the rules of the road for the first time, or an inexperienced adult looking for some confidence. 
Honorable mentions: Lake Murray Driving Academy, 911 Driving School
Best Cab or Rideshare Service
Uber
Runner-up: Lyft
You take out your phone. You open the app. And within a few minutes you've got a ride, for a reasonable price, typically in a comfortable vehicle with a polite driver. It's Uber's world now. We're just riding in it.
Honorable mentions: Shaw's Taxi, Checker Yellow
Best Limousine Service
Southern Valet
Runner-up: 5 Star Limousine and Sedan Service
What is it about an extra-long vehicle that says "special occasion"? Like, why not an extra-tall vehicle, or an extra-pointy vehicle? Whatever the reason, Southern Valet has a fleet of long vehicles, from luxury SUVs to mini-buses. It also provides valet service, shuttle service and more.  
Honorable mentions: Best Reliance Limo Service