Best Alternative Clothing
Runner-up: HipWaZee
One of the best things about a daytime trip to Five Points is checking out what's new at Sid and Nancy. This consignment shop collects cool clothes and accessories to round out your wardrobe. 
Honorable mentions: Bohemian, ReFind
Best Children's Clothing
Once Upon A Child
Runner-up: Little Lambs and Ivy
Dressing your kids at least somewhat fashionably can be a frustrating and expensive proposition. But Once Upon a Child can help. The store is filled to the brim with gently used kids' clothing, with plentiful options for both boys and girls.
Honorable mentions: The Children's Place, Belk
Best Women's Clothing
Belk
Runner-up: Bohemian
There are three Belk locations in the Midlands, and all of them have an outstanding selection of apparel for women. Whether you are looking for a new dress, activewear, lingerie, pajamas or shoes, Belk has it all and more. 
Honorable mentions: Revente, Fabrik Columbia 
Best Men's Clothing
Granger Owings
Runner-up: Belk
Granger Owings will keep you looking classy with their timeless men's styles. You can get a custom fitted suit or the latest fashions of outerwear and shoes as well as some snappy gear sporting the Gamecocks or Clemson logos. Tuxedo and suit rentals are also in their chest of clothing options. But the folks working there really make the place shine.
Honorable mentions: Brittons, Jos. A. Bank
Best Jewelry Store
Jewelry Warehouse
Runner-up: Handpicked
With three locations in the Midlands, Jewelry Warehouse has all the shiny things you need. Bracelets, rings, necklaces and more fill out the display cases in their impressive showrooms. The jeweler began retail operations four decades ago, in 1977.
Honorable mentions: Sylvan's, Reeds 
Best Smoke Shop
Natural Vibrations
Runner-up: High Life
They have a selection of glass and the latest tools for smoking. It also just feels rights to get these items at a store called Natural Vibrations. Fittingly, they rock a Bob Marley Uprising album cover re-creation at the top of their store. They celebrate 20 years as one of Columbia's most unique stores this year. Catch a vibe. 
Honorable mentions: Purple Haze, Illuminati
Best Cigar Shop
The Cigar Box
Runner-up: Gourmet Shop
There's nothing like settling in with a good cigar. In Columbia, The Cigar Box (with locations on Main Street and Rosewood) has everything the cigar aficionado needs. Both locations have walk-in humidors with a selection for more than 250 premium cigars. They also have beer, smoking lounges, HD TVs and free Wi-Fi.
Honorable mentions: Tobacco Merchant, Maduro Room
Best Vaping Store
Planet Vapor
Runner-up: Kure Vaporium
Planet Vapor is a vaping store for adults. So while you can get your cherry limeade-flavored vape juice and whatnot, you can also find house-blended premium e-liquids in much more subtle flavors, plus custom hardware. The shop's four Midlands locations have helpful staff and a low-key, non-vapor-filled vibe. 
Honorable mentions: Mad Vapes, 803 Vape
Best Gun Shop
Palmetto State Armory
Runner-up: Shooter's Choice
If you need a gun, it's probably best to buy one from someone who knows what they're talking about. Palmetto State Armory is the place for you.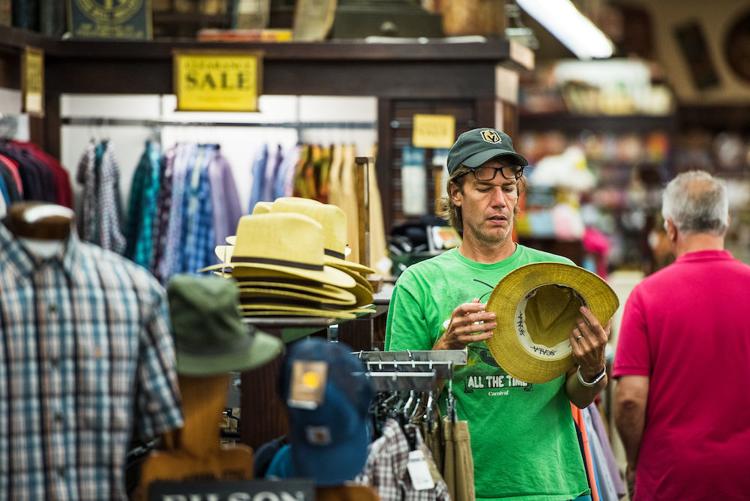 Best Gift Shop
Runner-up: Uptown on Main
Mast might not spring immediately to mind when it comes to gift shops, simply because it also sells everything from tents to old-fashioned candy. But it actually has a great, diverse selection of gifts, from Gamecock gear to jewelry to housewares to ornaments to fun T-shirts and tasty regional sauces and other condiments. Mast General Store is one of those places to go when you're not quite sure what gift to get for a person. 
Honorable mentions: non(e)such, Cottage and Vine
Best Antique Store
Old Mill Antique Mall
Runner-up: ReFind
Wandering through the Old Mill Antique Mall in West Columbia is one of those quintessential Midlands experiences: checking out the various pieces of furniture and collectibles, musing about the various stories behind them, the lives they were part of back in the day — and, you know, buying something now and again, because places like this don't stay open thanks only to people stopping by and browsing.  
Honorable mentions: The Red Lion
Best Thrift Store
Goodwill
Runner-up: Sid & Nancy
Sometimes you just need to hit up the biggest name in thrift stores. From couches to coats and many, many things in between, Goodwill is a treasure trove of used items at great prices. 
Honorable mentions: His House, Palmetto Thrift
Best Consignment Store
Runner-up: Roundabouts Consignments
Revente sells well-curated, gently used women's clothing in all kinds of sizes. You'll find vintage designer items here, and gowns for fancy events, along with just plain good fashion. 
Honorable mentions: Sid & Nancy
Best Furniture Store
Whit Ash Furnishings
Runner-up: Strobler
That new furniture smell when you walk into Whit-Ash's Vista storefront makes you feel like you're coming into a new and better era of your life. They can set you up for your first house or update your existing place — Whit Ash has the selection and service to make your home feel brand new. 
Honorable mentions: Nadeau, Soda City Mattress & Furniture
Best Hardware Store
Ace Hardware
Runner-up: Lowe's
They're locally owned, and that shows in their service. They know what they're talking about when it comes to tools, nuts, bolts — all that stuff that many people can't get straight. Plus, they're smaller than the big box stores and far less intimidating. You won't get lost and left overnight in a local Ace Hardware. They care. 
Best Pottery Studio
The Mad Platter
Runner-up: Southern Pottery
Open since 1997, The Mad Platter offers ceramics, glass fusing and wooden plaque painting along with summer camps for kids and other activities. Stop by and create something for yourself. 
Best Bakery
Tiffany's Bakery
Runner-up: Silver Spoon Bake Shop
It's more than a bakery — they serve breakfast and lunch at this hidden gem along Two Notch Road. While you're there you can grab any of the plethora of pastries. They've been around since 1977 and have become an area tradition. 
Honorable mentions: Blue Flour Bakery, Rise Bakeshop
Best Meat Market
Ole Timey Meat Market
Runner-up: New York Butcher Shoppe
Maybe you're happy just buying prepackaged meats out of the grocery store meat case. But if you want to up your meat cooking game, check out Ole Timey Meat Market, where they can help you pick out just the right cut of steak, or get you set up with something special like a beef brisket. 
Honorable mentions: Caughman's Meat'n Place
Best Place for Fresh Produce
Soda City Market
Runner-up: City Roots
Soda City Market is a wildly popular Saturday morning destination for Columbia residents and visitors alike. The Main Street market also remains a great spot to pick up produce from local vendors. 
Honorable mentions: Publix, Rosewood Market and Deli
Best Natural Food Store
Rosewood Market and Deli
Runner-up: Whole Foods
While natural foods stores have become big business — and just plain big — there are many of us who just want a well-curated neighborhood natural foods store. Rosewood has just the right selection and vibe, with its knowledgeable vitamin-and-supplement staffers, tasty deli and perfect produce. 
Honorable mentions: Earth Fare, 14 Carrot Whole Foods
Best Beer Store
Green's
Runner-up: Craft and Draft
At both of its Midlands locations, Green's offers some of the widest beer selection you will find in the area, along with a fun tap variety available for growler fills and a staff willing and able to answer all your brew-related questions. When you need a beer, you can't go wrong with Green's.
Honorable mentions: Bottles, Total Wine & More
Best Liquor Store
Runner-up: Morganelli's
Serious selection, competitive prices and great service make Green's a pleasing place to procure booze. 
Honorable mentions: Bottles, Total Wine & More
Best Wine Store
Total Wine & More
Runner-up: Vino Garage
The best chains endure by way of reliability, offering exactly the satisfying selection of the product you're looking for at whatever location you go to, with attentive service to match. Total Wine & More is exactly this best kind of chain.
Honorable mentions: Morganelli's, Green's 
Best Place to Buy Used Books
Runner-up: Ed's Editions
Remember books? No, not the things you download on your iPad or Kindle. We mean books. You know, words printed on paper. Well 2nd and Charles has books. Thousands and thousands of them. Their prices are more than fair, too. This is an amazing place to kill a lazy Sunday afternoon.
Best Place to Buy Comic Books
Runner-up: Heroes and Dragons
This large store just off Harbison Boulevard is a great place to pick up books, movies, LPs, T-shirts and toys. But it also has a tremendous selection of new and used comic books. They've got all the requisite Marvel and DC books, but they've also got plenty of lesser known titles from smaller labels.
Honorable mentions: Silver City Comics, Scratch n Spin
Best Gamecock Store
Garnet and Black Traditions
Runner-up: Addam's Bookstore
Like it or not, this is a Gamecock town. With football season right around the corner, you want to make sure you've got the gear you need to look good at the games. Garnet and Black Traditions has what you need, from T-shirts to hats to car flags and beyond. Plus, they've got those gameday stickers that are so popular. BEAT CLEMSON, indeed.
Honorable mention: Miss Cocky
Best Cycle Shop
Outspokin'
Runner-up: Cycle Center
Cyclists in Columbia have a treasure in this bike shop. Not only does Outspokin' sell bicycles of all shapes and sizes, but its knowledgeable, honest, friendly staff is also adept at diagnosing and repairing any problems your ride might have. If you are serious about bicycling, put Outspokin' on your list of places to visit.
Best Sporting Goods Store
Academy Sports
Runner-up: Todd & Moore
No matter what game you play, Academy has what you need. From running gear to soccer equipment to basketball goals to camping, fishing and outdoor wares, this national chain is a one-stop shop for those who want to get in the game in style.
Honorable mentions: Sportsman's Warehouse, Clothing World Outdoor Outfitters 
Best Adult Store
Nancy's Nook
Runner-up: Taboo
Believe it or not, what most people want in an adult store is a place that's low-key and not sleazy. Nancy's Nook has the finest selection of sex toys, lubes and lotions around; they've got a hell of a selection of boots and unique footwear as well, along with gag gifts and games. 
Honorable mention: This Is it! Video
Best Convenience Store
Circle K
Runner-up: The Other Store
Sometimes you need a tank of gas. Or a bag of pork rinds. Or a fountain soda the size of a bucket. Or a 12-pack of beer. Or a Black & Mild cigar. Or some sunflower seeds. Or a box of condoms. Sometimes, on the most special nights, you need all those things at the same time. When that night comes, go to Circle K.
Honorable mentions: Shiv Mart, Speedway
---