Best After-School Program
Runner-up: Club EdVenture
The Boys & Girls Clubs of the Midlands traces its history back to 1959. Since then, they've provided programs to help build character and leadership skills for young people. They also give kids an opportunity to get involved with community service projects.
Honorable mentions: Big Blue Marble
Best Place for Music Lessons
Runner-up: Carolina Music Academy
With an active enrollment of over 1,300 students, this organization's two locations constitute the largest music school in the state of South Carolina, offering instruction in piano, guitar, drums, voice, singing, bass, mandolin, banjo and more.
Honorable mentions: Freeway Music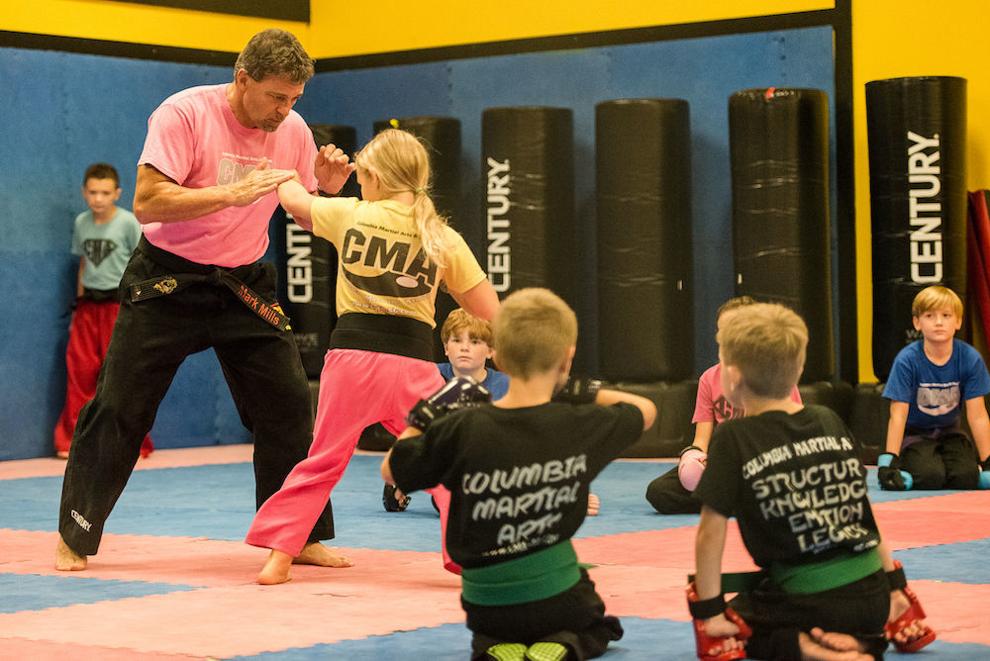 Best Martial Arts School
Runner-up: Capital Karate
With afterschool training and summer camp for the kids as well as fitness kickboxing and muay thai for adults looking to get into shape, Columbia Martial Arts and Fitness provides a host of martial arts classes. So whether you want the kid to learn a proper kick while having some fun or to start working on your abs, Columbia Martial Arts and Fitness has you covered.
Honorable mentions: Genova Family Karate, TNT Martial Arts & Fitness
Best Gymnastics/Cheerleading School
Brussell's Gymnastics
Runner-up: ACX
This school's afterschool camp is already filled for the 2017 and 2018 school year — just one sign of their popularity. That prominence comes from their dedication to providing gymnastic opportunities to kids from preschool aged to teenagers. They have a competitive program as well. If you want your kid doing the best cartwheel on the playground, send them to Brussell's.
Honorable mentions: Carolina Gymnastics, Lake Murray Gymnastics
Best Continuing Education Institution
University of South Carolina
Runner-up: Midlands Tech
With personal interest courses, professional education and certificate programs, test preparation, along with youth and teen pre-university programs, the University of South Carolina has pretty much every need you might have in the area of continuing education covered.
Best House of Worship
Downtown Church
Runner-up: Shandon Baptist
This church has been growing like crazy. In fact, the congregation has grown so quickly that it will soon be moving out of its meeting place at 701 Whaley: The church plans to move to into the former central energy facility on the BullStreet site.
Honorable mentions: NewSpring, Trinity Episcopal Cathedral
Best Local Insurance Agent
Brad Giles
Runner-up: Bill Turbeville, Turbeville Insurance Agency
Old Brad. What a dude. If you need insurance, well, he's one of the fellows who can get it to you. 
Honorable mentions: Ernie Yarborough, Nationwide; Larry Lucas, State Farm
Best Insurance Company
Allstate
Runner-up: State Farm
You're in good hands. That's what Allstate claims when you go with their insurance, and it would appear that the Midlands residents who use them for home, auto and other coverage feel they're living up to that promise.
Honorable mentions: Giles Insurance Agency, Nationwide 
Best Law Firm
Runner-up: LawyerLisa
You want an honest lawyer? Here's how honest LaLima Law Firm is: In announcing on the firm's own web page that they were one of the 2017 nominees for Best Law Firm, they added, "We may be the best for your case, but there are many fantastic lawyers in the Midlands. … There really isn't one 'best' law firm ... each case is different and different clients require different services." Wow. Anyway if you're looking for someone who specializes in personal injury law, probate, criminal defense and several other areas, Free Times readers think LaLima is tops.
Honorable mentions: Strom Law Firm, Mike Kelly Law Group
Best DUI Law Firm or Attorney
Leigh Leventis
Runner-up: Seth Rose
Have you made the mistake of driving after you've had one drink too many? Ending up in the back of a patrol car is no fun, but Leigh Leventis can expertly help guide you through the legal process in the aftermath of that arrest.
Honorable mentions: Alex Postic 
Best Bank or Credit Union
Runner-up: AllSouth Federal Credit Union
Look, we know you like keeping your cash in an old Adidas shoebox in the bottom of your closet. But it's probably not the best idea, for a number of reasons. When you're ready to put your money somewhere a lot safer, Palmetto Citizens Federal Credit Union's the place to go.
Honorable mentions: South Carolina State Credit Union, First Community Bank
Best Heating and Air Service
Runner-up: All American Heating & Air
There's a reason you see Cool Care trucks all over the Midlands: Air conditioning is basically non-optional in the Columbia summer, and heat is pretty important, too — and people trust Cool Care to fix 'em up right. 
Honorable mentions: Cassell Brothers, 2nd Wind
Best Plumbing Repair
Runner-up: Freedom Plumbing
The old days of the buttcrack-rocking, monkey wrench-toting plumber are gone. Meetze's plumbers tuck in their shirts. Whether it's clogged drains, busted hot water heaters or commercial services, they keep the water flowing.
Honorable mentions: Superior Plumbing and Gas
Best Landscaping Company
Exceed Landscape Solutions
Runner-up: Cornerstone Lawn Care
They do more than cut the grass and trim the hedges. They can build you a patio and 'scape it into an earthen work of art. They even do sprinkler repair, driveway maintenance and outdoor lighting. With that diversity of services, it's no wonder they got voted the best in the area. 
Honorable mentions: Lawn & Order, Palmetto Pro Landscape
Best Roofer
Runner-up: Burgin Roofing Services
It's hard up there on the roof in the Columbia heat. These folks do it tirelessly. More than just putting on new shingles, they also provide renovations and general contracting. They even sponsor youth sports teams. They're the official roofers of the Gamecocks, and that's got to mean something.
Honorable mentions: Heritage Roofing, The Red Shirt Guys
Best Moving Company
Two Men and a Truck
Runner-up: Soda City Movers
No one likes moving. But sometimes you have to. Do yourself a favor: When it's time to move, don't just call your buddy who happens to have the day off and a 1994 Ford Ranger. Call Two Men and a Truck, the moving company that's been around for more than 30 years and has more than 350 locations worldwide.
Honorable mentions: Gentlemen Movers
Best Shooting Range
Palmetto State Armory
Runner-up: Shooter's Choice
Want to go fire off some rounds in a safe environment? Palmetto State Armory on Fernandina Road can accommodate you. The armory's shooting range is 25 yards long and has 18 individual lanes. For $20 you can shoot all day long. They even allow reservations for large parties and offer a variety of gun training classes.
Honorable mentions: Lexington Gun Range
Best Real Estate Agency
Coldwell Banker Residential Brokerage
Runner-up: The ART of Real Estate
Sure, you could try to sell your house yourself. But do you really need all those headaches? Just call in the experts. Coldwell Banker Residential Brokerage will get your house on the market, get it sold and guide you all the way through closing.
Honorable mentions: Keller Williams Columbia, The Olivia Cooley Group 
Best Real Estate Agent
Runner-up: Olivia Cooley
Sloan knows Columbia. She grew up in Shandon, which gives her an intimate knowledge of the city and its real estate market. She's a former school teacher, and says the skills she honed in the classroom — diligence, patience, problem solving, organization, and a positive attitude — have helped supplement her real estate endeavors.
Honorable mentions: Matt Carroll, Savanna Brazell
Best Home Builder
Runner-up: Lake Shore Builders
The Midlands is a growing region, with new homes popping up all over the place in Lexington, Irmo, the Northeast and elsewhere. If you think you are ready to pull the trigger and build your dream home, Essex Homes is here to help. It's a hands-on home building company with loads of experience.
Honorable mentions: Fortress, Mungo Homes
Best Hotel
Hampton Inn
Runner-up: Hilton Columbia Center
Columbia's hotel market is booming of late, but Free Times readers still turn to one of the most established games in town: The Vista's Hampton Inn. Centrally located, with excellent service and cozy rooms, it's just a good place to stay. 
Honorable mentions: Columbia Marriott, Sheraton
Best Florist
Fern Studio
Runner-up: Blossom Shop
This Devine Street boutique is strictly an event florist, so you can't just stop by there and grab a bouquet of tulips. What you can do is have the most creative, gorgeous floral arrangements in town for your special day. 
Honorable mentions: Something Special Florist
Best Wine and Paint Studio
Studio Cellar
Runner-up: Grapes and Gallery
Sometimes you want to paint. Sometimes you want to drink wine. Sometimes you want to do both at the same time. When that need arises, seek out Studio Cellar. It offers instructional classes, or you can freestyle at the "paint bar." It also offers parties, so you can get your friends together for some mass painting and drinking. 
Best Farm
City Roots
Runner-up: Cabin Branch Organic Farm
City Roots is more than just a farm, as it hosts events and provides volunteer opportunities. But it is, at heart, a farm, bringing sustainably grown microgreens, mushrooms and more to the masses. 
Honorable mention: Heritage Farms 
Best Dry Cleaner
Tripp's
Runner-up: Ben's
Tripp's is the most prominent dry cleaner around the Midlands. With about a dozen locations, you can get your duds cleaned on almost any side of town. This year they turned 50 years old. You don't survive as a business since 1967 without a good reason.
Honorable mention: Ed Robinson
Best Pest Control
Runner-up: Clark's Pest Control
Everyone hates those giant flying roaches so big they should be our state bird. Cayce Exterminating can smash them for you. But aside from squashing your insect problems, they provide home repairs from water damage to tile replacement. 
Honorable mentions: Terminix, Modern Exterminating Company
Best Alarm/Security Company
ADT
Runner-up: AVSX Technologies
We don't know whether having one of those ADT signs in your yard will really scare off the bad guys, but the company sure does provide peace of mind to those in the market for a home security system. 
Honorable mentions: CPI, Vector Security
Best Staffing Agency
AppleOne
Runner-up: Recruiting Solutions
Whether you need to hire someone fast, or are in the market for a job yourself, AppleOne is great at connecting workers with employers. 
Honorable mentions: Strategic Staffing, Open Door Personnel 
Best Smartphone and Computer Repair
Runner-up: CPR Cell Phone Repair
From personal experience, the Free Times staff can tell you that Smart Phone Medic can remove a broken-off headphone jack from an iPhone and bring one back to life after water damage. And they remain there for you if you encounter these or many other problems with your devices.
Honorable mentions: That Computer Store, Wedge
Best Outdoor/Camping Gear Retailer
Half Moon Outfitters
Runner-up: Mast General Store
From backpacks to boots, from carabiners to rope, Half Moon Outfitters has a solid array of outdoor equipment. Plus, it has lots of performance clothing for you to wear while you're out in the elements — or just hoping to look cool. 
Honorable mentions: The Backpacker, Sportsman's Warehouse 
Best River Rental/Guide Company
Adventure Carolina
Runner-up: River Runner Outdoor Center
One of the most established river companies in the Midlands, Adventure Carolina sells and rents boat and offers guided tours of the three rivers. There are worse ways to spend a Saturday than kayaking down the Congaree.  
Best Golf Course
Forest Lake Club
Runner-up: Lexington Country Club
The private Forest Lake Club has occasionally found itself in the news because of the, um, extremely limited diversity of its membership, but it does have a nice golf course.   
Honorable mentions: Cobblestone Park, The Members Club at Woodcreek
Best Funeral Home
Dunbar Funeral Home
Runner-up: Shives Funeral Home
When a death befalls your family, it's good to know that Dunbar can handle the details of a funeral, burial, or cremation. It's a specialized job and to you, our readers, Dunbar does it the best.
Honorable mentions: Leevy's, Thompson Funeral Home
Best Place to Be Buried
Dust to Dust Green Burial Cemetery
Runner-up: Under the back deck at New Brookland Tavern
Dust to Dust has been a Free Times favorite ever since we wrote a story six years ago on the green cemetery's struggles to get established in the competitive, closed-off funeral world. And apparently our readers love the place, too. Dust to Dust believes burial shouldn't bankrupt a family, and it believes in protecting the environment, too. That means no vaults, no embalming — just a flat rate to bury your loved one in a natural wooded area near Swansea.
Honorable mentions: the ground, Greenlawn Memorial Park 
Best Screen Printer
Runner-up: The Half and Half
Per Image Ink's website: "People communicate ideas, emotions, knowledge, and understanding with images. The images we see everywhere attract us one way or another, excite us about our favorites, and give us a reason to support an organization. Our goal? Positive experiences with apparel, promotional items, and your work." Sounds like their heads are in the right place to us.
Honorable mentions: Graph-Itti, Frenzy Ts
---