Best New Restaurant
Devine Cinnamon Roll Deli
Runner-up: Tallulah
This bakery-café burst onto the local scene in 2016 with an endearing selection of big sandwiches and specialty cinnamon rolls. The massive lunch lines are a testament to just how much people love the place. The spot even made an appearance on the show Ginormous Foods, which featured its huge Cinnamonster party bun. 
Honorable mentions: Main Street Public House, Lula Drake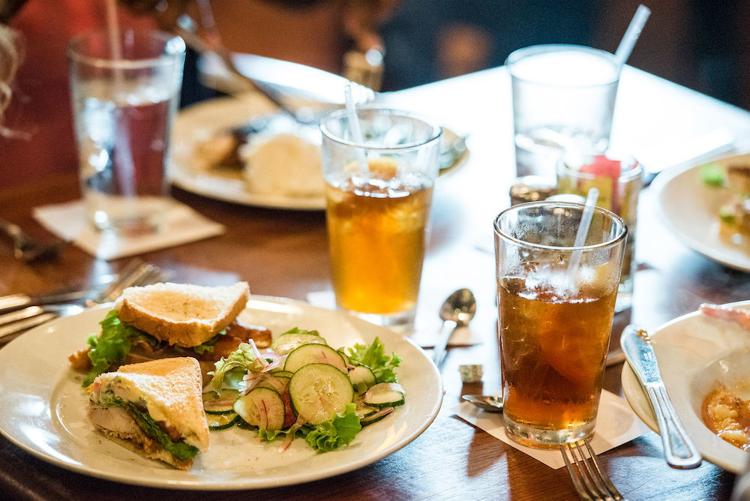 Best Restaurant
Runner-up: Mr. Friendly's
If you're looking for a fine dining spot, you can't go wrong with Motor, which for decades has been serving up top-quality creative food to Columbians and visitors alike. It has a spectacular bar program, too. 
Honorable mentions: Cantina 76, Terra
Best Restaurant — Northeast
Solstice Kitchen
Runner-up: Kiki's Chicken and Waffles
It wins nearly every year for a reason. In a part of town dominated by chains and bland sprawl, Solstice provides one of the few distinctive options in Northeast Columbia. With changing daily specials and a consistent menu of Southern revival dishes, Solstice would stand out on any side of town.
Honorable mentions: Travinia's, J Peters
Best Restaurant — Lexington
Old Mill Brewpub
Runner-up: The Kingsman Que and Brew
There's bar food that's just there to keep you from getting too drunk while you swill Natural Light, and then there's bar food that would hold its own at any restaurant, brewpub or otherwise. Old Mill's grub is in the second category. From glorious burgers to healthy salads and a tasty she crab soup, the fare complements the fine craft beers brewed on site. 
Honorable mentions: Flight Deck, Libby's
Best Restaurant — Irmo
Runner-up: Alodia's Cucina Italiana
This pub is way more charming than any place randomly stuck in a suburban shopping center has any right to be. But once you step through the door, the Bulldog oozes personality. It has a great atmosphere (especially when soccer is on the TV), a wide selection of beer and a solid menu, perhaps the highlight of which is the delectable beef and cheddar pasty with mustard mashed potatoes.
Honorable mentions: Zorba's, Primal Gourmet
Best Restaurant — West Columbia/Cayce
Runner-up: Terra
Yeah, they serve lunch and dinner. But, come on. With Café Strudel, it's all about breakfast and brunch. Just look at the lines on the weekend. Among the highlights are the Hangover Hashbrowns, which were featured in Southern Living back in 2006. The browns are served with cheddar cheese, onions, banana peppers, tomato and eggs. Perfect for bringing you back to life after a previous night filled with bad decisions.
Honorable mentions: The Kingsman, D's Wings
Best Chef
Runner-up: Wes Fulmer —Motor Supply Co. Bistro
If you were standing next to Mike Davis at a Phish show, you'd think he was a regular guy rather than a local culinary superstar. When Davis opened Terra a decade ago, he helped kick off a chef-driven restaurant revolution in the Midlands, raising the bar for good food with his clean Southern flavors and attention to detail. People like working for him, too — no small feat in a field full of big egos and high pressure. 
Honorable mentions: Dave Grillo — Cantina 76, Greg Martin — Primal Gourmet
Best Place for a First Date
Hunter Gatherer
Runner-up: Cantina 76
You don't want to get too fancy on a first date. For many a year, Hunter-Gatherer has been serving bar-food-that's-better-than-bar-food in a hip space south of the State House. Whether opting for a classic like the gyro or turning to the nightly specials board, you'll find something delicious and low-key at a reasonable price point.
Honorable mentions: Gervais and Vine, Cellar on Greene
Best Late Night Food
Waffle House
Runner-up: The Whig
Bow before the might of the All-Star Special. Two eggs. Two pieces of well-buttered toast. A mess of those famous scattered hashbrowns (Free Times loves grits, but in this case they're for chumps). Bacon, ham or sausage. And that delightful sweet cream waffle. It waits for you at any time of night. Succumb. Give in. Thank us later. 
Honorable mentions: Cook Out, Bar None 
Best Place to Dine Outdoors
Runner-up: Tazza Kitchen
There's nice, serene water reflecting the sun and a breeze blowing through the shade. No doubt, it's the nicest outdoor dining. The menu helps out, too. Tacos, including one with duck; a selection of pizzas; a variety of shrimp dishes like shrimp and grits; and diverse sides like Southern stewed collard greens all make for a nice dining experience with the view.
Honorable mentions: Terra, Pawleys Front Porch
Best Take Out Food
Tokyo Grill
Runner-up: Egg Roll Chen
We're gonna level with you. There are some members of the Free Times staff who eat Tokyo Grill a little too often. But when such rock-solid hibachi fare is right at your fingertips all the time — seriously, there are 12 Midlands locations — it's hard to resist taking it home.
Honorable mentions: Menkoi Ramen House, Primal Gourmet
Best Bang for the Buck
Cook Out
Runner-up: Cantina 76
Business Insider recently wrote about the affordable goodness of this Southern fast food staple: "The shockingly low prices make Cook Out a destination unto itself, and the quality of the food is solid. The barbecue pork is tender and juicy, and the burger is stalwart in its simplicity. Cook Out has a leg up on the competition thanks to the inclusion of Southern fast-food classics on the menu — and, of course, the more than 40 flavors of milkshakes." Damn straight.
Honorable mentions: The Whig, Devine Cinnamon Roll Deli
Best Restaurant When Someone Else Is Paying
Runner-up: Ruth's Chris
When our readers' rich aunts roll through town for some cousin's graduation and offer to take them out to dinner, they choose Motor Supply. That's because Motor is all but a sure thing — delicious food, great service and tasty drinks.  
Honorable mentions:  Oak Table, Tallulah
Best National Chain Restaurant
Chick-fil-A
Runner-up: Zoe's
There's something to be said for consistency. And while service and quality can undulate wildly at many chain fast food restaurants, that's not usually the case at Chick-fil-A. The chicken chain is always on point with hot, fresh food (waffle fries!) and famously refreshing iced tea, all served up with almost cartoonishly friendly, efficient service. 
Honorable mentions: Bonefish Grill, Longhorn Steakhouse 
Best Fast Food Chain
Chick-fil-A
Runner-up: Rush's
We're beginning to think you really like Chick-fil-A. It won quite a few categories this year. We're surprised you didn't also vote for Chick-fil-A as the best hardware store, men's clothing store and physical therapy practice. Anyway, they've got good chicken sandwiches.
Honorable mentions: Cook Out, Bojangles' 
Best Kid-Friendly Restaurant
Chick-fil-A
Runner-up: Flight Deck
Sure, your kids like the chicken nuggets at Chick-fil-A. (You probably do, too.) And, yeah, if they are at a restaurant location with a playground they like to climb and slide and tear that thing up. But let's get real on the reason your kids like Chick-fil-A so much: Because they can trade in the toy or book (usually educational) from their kids' meal for an ice cream. Duh.
Honorable mentions: Lizard's Thicket, Henry's
Best Wine List
Cellar on Greene
Runner-up: Lula Drake
Cellar on Greene is part restaurant, part wine shop, so it stands to reason that it has a stellar wine selection. Even more importantly, the staff is well trained to help you pick a wine that'll work with your palate and your meal, without intimidation.   
Honorable mentions: Gervais and Vine, Hampton Street Vineyard
Best Coffee
Drip
Runner-up: The Wired Goat
The beans clink in the metal cup as they're measured out and weighed for each fresh-brewed cup. The grinder whirs, then a soft murmur as the contents are poured out into the filter. Enjoy the aroma as you watch the barista ready your personal pour-over pot. You take your cup, gently blow, take that first tentative sip. Smile. You're at Drip, drinking the best coffee in Columbia.
Honorable mentions: Starbucks, Loveland Coffee
Best Barista
Rachael Harrison — Drip
Runner-up: Beach Loveland — Loveland Coffee
Why do the people of Columbia love Rachael Harrison so? Is it because of her spectacular pourover technique? Her infectious-but-not-irritating enthusiasm? Her Star Wars fandom? (Pro tip: She also loves Firefly.) Her skill with an espresso machine? Who knows, but they sure do love her. So do we. 
Honorable mentions: John Kimber ­— 116 Espresso and Wine Bar; Travis Hoyt —Loveland Coffee
Best Sweet Tea
Runner-up: Bojangles'
When Groucho's says "sweet tea" they mean "sweet tea." Even your grandma's sweet tea isn't this sweet. Even the neighbor kid who lives next door to you and exists solely on Kool-Aid and Fun Dip says, "Damn, this is sweet" when he sips Groucho's tea. But it's not only sweet. It's got a strong flavor and goes great with your Apollo Dipper.
Honorable mentions: McAlister's, Mr. Friendly's
Best Breakfast
Runner-up: Eggs Up Grill 
You might be inclined to ride by Cafe Strudel in the morning, look at the frequently imposing line waiting for tables, and think to yourself, "No breakfast can be that good." But if you park your car, get in that line and eventually park yourself in front a bowl of those deservedly famous Hangover Hashbrowns (with the over-easy egg, natch), you'll only be thinking, "Yum."
Honorable mentions: Original Pancake House, Devine Cinnamon Roll Deli 
Best Brunch
Runner-up: DiPrato's
The Hangover Hashbrowns have yet to let anyone down; they've been winning over Columbians and out-of-towners for years. But the true measure of a brunch is the Bloody Mary. Cafe Strudel puts bacon in theirs. That's enough said for many.
Honorable mentions: Motor Supply Co. Bistro, 116 Espresso and Wine Bar
Best Deli/Sub/Sandwich Shop
Runner-up: Beezers
A Columbia institution with several locations, Groucho's is the perfect spot for a lazy Saturday lunch after a long Friday night. The STP Dipper is the show here. It's a fat sub roll stuffed with roast beef, turkey and bacon bits and covered with melted Swiss cheese. It's kind of perfect. Of course, what really sets the sandwich off is the little cup of signature Formula 45 dipping sauce that accompanies it. 
Honorable mentions: East Bay Deli, Devine Cinnamon Roll Deli
Best Vegetarian Menu
Good Life Cafe
Runner-up: Rosewood Market and Deli
Columbia sorely lacks in this category, which makes Good Life Café all the more crucial for the food scene in town. Not only vegetarian, but all vegan with a robust selection of raw food, your meal tastes and feels good. Good Life's veggie burger of the day could stand over most in town almost any time. Beyond being healthy, these are some of the most unique items on a Columbia menu.
Honorable mentions: Blue Cactus, Lamb's Bread
Best Barbecue
Runner-up: Little Pigs
For many people, barbecue is basically synonymous with Shealy's. Way out in Batesburg-Leesville, the Midlands institution has a massive buffet and catering operation and lots of good slow-cooked pork. Its sauces proliferate locally, especially the mustard-based, Shealy's version of which is a bright yellow-orange with a basic, well, mustardy flavor. 
Honorable mentions: Southern Belly, Hudson's
Best Burrito
Real Mexico
Runner-up: Moe's
We're not exactly sure which burrito on the menu you were referring to when you voted for Real Mexico, the charming, low-key spot on Bush River Road, in this category. (The California burrito, perhaps? It is fairly incredible.) Whatever you have in mind, it's sure to be prepared fresh and dished out at a price that's more than fair. Also: THAT QUESO.
Honorable mentions: Cantina 76, Chipotle
Best Pizza
Mellow Mushroom
Runner-up: Village Idiot Pizza
That flavorful, sweet-and-wheaty crust dusted with parmesan cheese is just the beginning of what's great about Mellow Mushroom's pizzas. Toppings abound. We'd go with the pesto if we were you.  
Honorable mentions: Dano's, Thirsty Fellow
Best Wings
D's Wings
Runner-up: Publick House
D's is a great bar, and it has great wings. The hot wings likely aren't what you're expecting; they've got a tomato thing going, with some good kick (you can order the Cajun wings if you want traditional buffalo sauce flavors). There are plenty of other flavors, too. 
Honorable mentions: Wild Wing Café, Carolina Wings
Best Ribs
Hudson's Smokehouse
Runner-up: The War Mouth
Hudson's has a high-quality buffet with pulled pork, chicken and many great side, which can tempt a rib-lover away from ordering off the menu. Those ribs, though — so succulent, so consistent, so falling-off-the-bone. 
Honorable mentions: Midwood Smokehouse, True BBQ
Best Hot Dog
Runner-up: Rush's
If you're going to eat a hot dog, you might as well eat a hot dog — that is, your long, meaty, salty tube of processed meat should actually taste like something. Sandy's has great grilled dogs, fresh buns, and all the right fixins. 
Honorable mentions: Jimmy's Mart, Devine Cinnamon Roll Deli
Best Hamburger
Runner-up: Five Guys Burgers and Fries
This Five Points haunt is known for its Angus chuck roast burgers. They are, um, not small. The grand champion has to be the Wadmalaw, which tops the 8-ounce burger patty with barbecue sauce, fried pickle chips, Applewood smoked bacon and cheddar cheese. The fries with pepper jack cheese dip aren't bad, either.
Honorable mentions: Rush's, Henry's
Best French Fries
Five Guys Burgers and Fries
Runner-up: The Whig
Cut thin and fried just right in that rich peanut oil, the fries at Five Guys are legend for a reason. And not just because they give you a legendary, bag-filling amount of them with every purchase. Ask for the cajun seasoning and use plenty of ketchup.
Honorable mentions: McDonald's, Rush's
Best Salad
California Dreaming
Runner-up: Zoe's Kitchen
Seinfeld's Elaine Benes was ever pining for the "big salad." Well, she'd love California Dreaming. They've got the biggest damn salad in town. But, the restaurant's salads aren't only big. They're also fresh and delicious. The signature California Dreaming Salad is tops. BONUS: You get to eat in a castle.
Honorable mentions: Jason's Deli, Za's on Devine
Best Steak
Ruth's Chris
Runner-up: The Kingsman
A national restaurant chain dedicated to serving fabulous steaks has the best steak in town? You don't say. Make it a fancy night and hit Ruth's Chris.
Honorable mentions: Longhorn Steak House, Texas Road House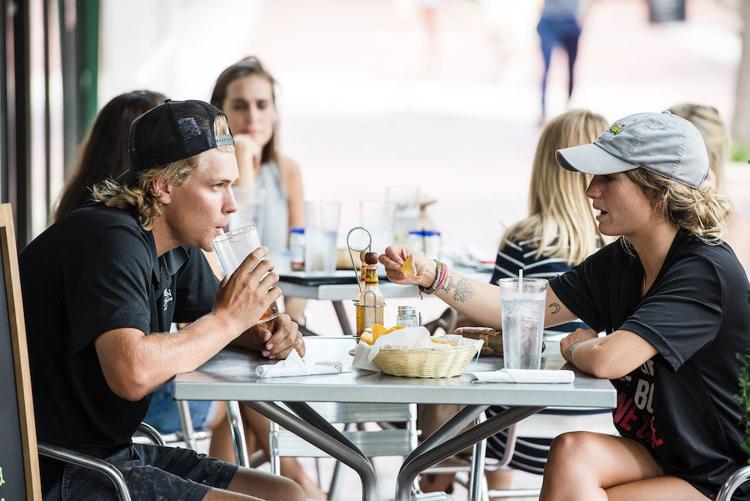 Best Taco
Runner-up: Real Mexico
The convenience of Cantina's two locations — on Devine and Main streets — makes for easy taco grabbing. Whether a simple, traditional taco or an eclectic shell stuffing like fried chicken, BBQ shrimp or smoked pork, diversity with surprise triumphs. But Peruvian Shrimp, which features lightly fried shrimp and sweet sesame chili sauce topped with coleslaw, could win all by itself. 
Honorable mentions: White Duck, Publico
Best Gyro
Taziki's
Runner-up: Devine Foods
Columbia dwellers love this chain's variety of gyros, from grilled lamb to chicken with basil-pesto. 
Honorable mentions: Grecian Gardens, Hunter Gatherer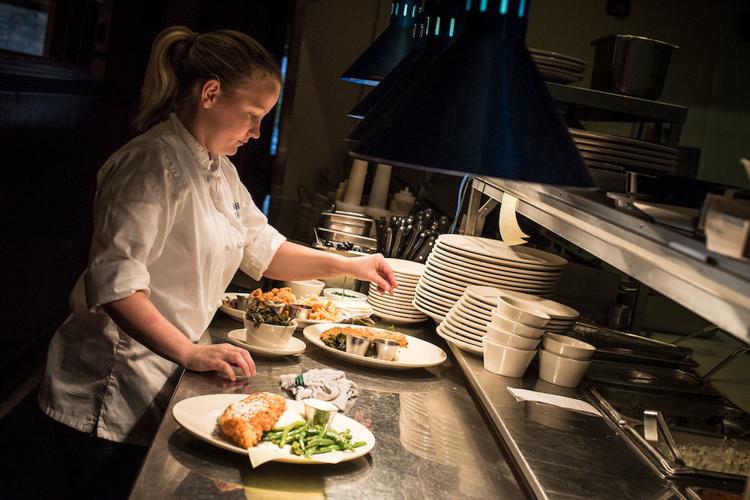 Best Shrimp and Grits
Runner-up: Mr. Friendly's
The grits are made by Adluh, which has a mill practically across the street. The shrimp are succulent, the sauce buttery and studded with tasso ham. No wonder Blue Marlin's shrimp and grits are a local favorite. 
Honorable mentions: Motor Supply Co. Bistro, Yesterdays
Best Asian Restaurant
Runner-up: Inakaya
For many people in Columbia, Michelle Wang's Miyo's empire is synonymous with Asian food. Drawing on Japanese, Chinese and sometimes other cuisines, Miyo's serves up healthy, tasty fare, from sushi to noodle soups. 
Honorable mentions: Baan Sawan, M Grille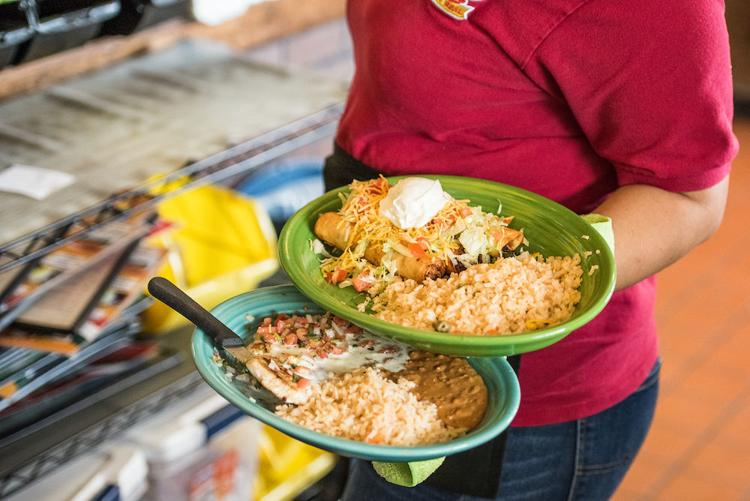 Best Mexican Restaurant
Real Mexico
Runner-up: San Jose
You've come a long way, Columbia. Voting Real Mexico the best Mexican restaurant in town means you appreciate authentic Mexican flavors, whether it be the sizzling molcajete or the nice traditional tacos — or the occasional caldo de res, posole or goat birria that pops up on special. The staff are friendly, too. It's probably good this place has a heinous parking lot or you'd never actually be able to get a table. 
Honorable mentions: Cantina 76, Moctezuma's
Best Chinese Restaurant
Runner-up: Egg Roll Chen
Miyo's does Chinese food right, from the ginger beef chow fun to the fried rice. 
Honorable mentions: Eggroll Station, Sun Ming
Best Italian Restaurant
Runner-up: Pasta Fresca
This Blanding Street staple is the oldest Italian restaurant in Columbia. It's also a fantastic place for a cozy date night. The veal parmigiana bursts with flavor, and the calamari is a more than worthy appetizer. Also, don't discount "Mama Tronco's" homemade pizza, which is sneakily one of the best pies in the city.
Honorable mentions: Ristorante Divino, Il Giorgione
Best Greek Restaurant
Devine Foods
Runner-up: Zorba's
Free Times acknowledges the varied and high-quality menu of Greek favorites on offer at Devine Foods, but we'd like to especially acknowledge the restaurant's chicken gyro, which doesn't go the lazier route of just throwing grilled chicken onto a pita opted for by many other joints, but instead uses a specially made chicken-based gyro meat that's as tasty as the eatery's traditional beef and lamb option. We appreciate the dedication.
Honorable mentions: Grecian Gardens, Greek Boys
Best Japanese Restaurant
Inakaya
Runner-up: Miyabi
Their sushi is classic with a unique touch, and they have an extensive menu of other Japanese dishes that are hard to find in Columbia. The udon is particularly good with its hardy rice noodles and rustic broth. It's a big place, too, so tables usually aren't hard to find, and they got those awesome private rooms where you have to take off your shoes.
Honorable mentions: Camon, Sato
Best Southern Restaurant
Lizard's Thicket
Runner-up: Mr. Friendly's
Sure, New Southern and fancy Southern have their place, but sometimes you just want Southern-Southern — chicken and dumplings, baby limas, collards and a biscuit. Lizard's Thicket serves up country cooking fast and right — and at a reasonable price. 
Honorable mentions: Yesterdays, The War Mouth 
Best Indian Restaurant
2 Gingers
Runner-up: Delhi Palace
With its second quick-service location now serving the downtown lunch crowd, 2 Gingers is making people across the city happy with its excellent curries and naan. 
Honorable mention: Persis Indian Grille
Best Thai Restaurant
Mai Thai
Runner-up: Basil
Sometimes good things come in surprising packages. Mai Thai is tucked into an older, unassuming shopping center in West Columbia. But a pleasant atmosphere and bold, flavorful dishes lie within. From favorites like pad thai and drunken noodles to house specialties like lava salmon, Mai Thai has what you need.
Honorable mentions: Baan Sawan, Thailand Restaurant 
Best Caribbean Restaurant
Island Grill
Runner-up: Fire and Spice
Convenient and tasty, Island Grill serves up the Caribbean classics at the corner of Harden and Taylor, from jerk chicken to oxtails to curry goat. You could do worse than an order of jerk wings with a side of plantains. 
Honorable mentions: MoBay, La Isla Bonita
Best Middle Eastern Restaurant
Runner-up: Mediterranean Tea Room
The best thing about Al-Amir is that each item is done just right, whether the smallest fattoush salad or the biggest bowl of tender lamb-topped Damascus hummus. Fresh-cooked breads and pizzas round out the experience. 
Honorable mentions: Arabesque, Green Olive
Best Sushi
Inakaya
Runner-up: Saki Tumi
Inakaya — whether you're talking about Inakaya Watanabe on St. Andrews Road or Inakaya on O'Neill Court — makes excellent sushi. The sashimi cuts are as fresh and delicious as you'll find in the Midlands, and the rolls run the gamut from simple pleasures to elaborate delicacies. Inakaya does sushi right.
Honorable mentions: Camon, Takosushi
Best Seafood Restaurant
Runner-up: Bonefish Grill
All the fuss over Blue Marlin largely centers around the stalwart restaurant's famed shrimp and grits, which are admittedly top-notch. But the rest of the menu contains a variety of Lowcountry-inspired plates that prove that some traditional flavor combinations are classic for a reason.
Honorable mentions: Pearlz, Red Lobster
Best Dessert
Runner-up: Kaminsky's
Get the bread pudding. Watch dessert never be the same. Find all other desserts inadequate. You'll want to roll your tongue around the dish. Find love in warm mouth softness. This edible tongue pillow causes language to vanish from the hole in your face.
Honorable mentions: Motor Supply Co. Bistro, Tallulah
Best Frozen Yogurt
Runner-up: 32 Degrees
Started in 2010 by a family of Columbians, Yoghut serves up a smorgasbord of frozen concoctions which include non-dairy, non-fat, and no-sugar-added options. Then you can throw on a plethora of toppings for a Jackson Pollock-looking cool down. They also have acai berry bowls and bubble teas. But at the heart, it's a local frozen yogurt shop, and that's pretty damn unique. "We're delighted Cola keeps us swirling," they say on their website. Indeed you do, Free Times readers.
Honorable mentions: Menchie's, TCBY
Best Ice Cream
Sweet Cream Co.
Runner-up: Marble Slab
This is some seriously fancy ice cream. But in a tasteful, understated manner. Go impress someone with flavors like sea salt and black pepper with local strawberries or sweet onion and fig. They've got simpler fare as well, such as Indonesian vanilla or dark chocolate, along with some delicious sorbets. You can really taste the dedication they put into the ice cream.
Honorable mentions: Cold Stone, Scoopy Doo 
Best Smoothie
Tropical Smoothie Cafe
Runner-up: Smoothie King
What a selection of blended fruit smoothness. Their list of Classic, Superfood, Supercharged, and Indulgent smoothies gives variety to drinking your fruit. You can even throw in supplements like Pea Protein, "Fatburner" and "Energizer." The mystery makes it more tempting.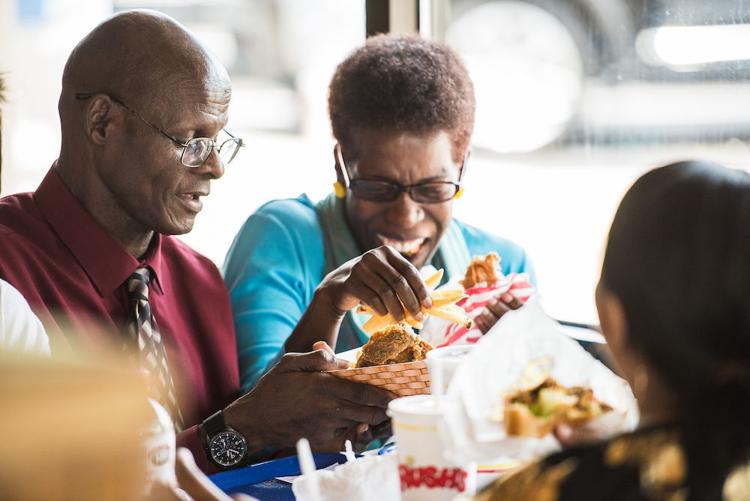 Best Milkshake
Cook Out
Runner-up: Rush's
Somewhere along the line, some milkshakes got all fancy, with whipped cream and booze and multiple ingredients and high prices. Cook Out has no use for that — this is the home of the cheap, simple milkshake. Pull up to the drive-thru, choose from the ample list (we're partial to peanut butter-fudge), fork over your hard-earned cash and drive away with a creamy, sweet wonder.
Honorable mentions: Kaminsky's, Zesto
Best Mobile Food
2 Fat 2 Fly
Runner-up: Wurst Wagen
There's nothing we can say that will quite prepare you for the giddy elation you'll get when you first bite into a juicy, perfectly spiced chicken wing to find it's also stuffed with rich, creamy mac and cheese. Yes, the wings are that good. Yes, your friends were right. Find the 2 Fat 2 Fly truck and try their plump little delicacies for yourself.
Honorable mentions: Pawleys Front Porch, Bone-In BBQ
Best Service
Chick-fil-A
Runner-up: Motor Supply Co. Bistro
Apparently "How may I serve you?" doesn't sound creepy to Free Times readers. 
Honorable mentions: Tallulah, Primal Gourmet
Best Catering
Spotted Salamander
Runner-up: Hudson's Smokehouse
If you want a personal touch and delicious, attractive food for your event, Spotted Salamander is the place to go. Plus, they've figured out about 800 different ways to serve pimento cheese. Mmm … pimento cheese.
Honorable mentions: Southern Way Catering, Cantina 76
---