Best Adult Store — Nancy's Nook
Second Place: Lion's Den
Do you need a 5-Piece Hog Tie and Cuff Set? What about a Booty Call Booty Glider? A Dr. J Prostate Massager? A Clone-A-Willy Kit? A Colt Multi-Speed Power Pak Silver Bullet? Hot and Spicy Party Dice? Japanese Drip Candles? A Lock N' Play Remote Panty Teaser? You do need those things? Well, Nancy's Nook can help you out.  
Honorable Mention: This Is It Video & Lingerie
Best Alternative Clothing — Sid & Nancy
Second Place: Loose Lucy's
It's not the cult classic film, it's the best dang alternative clothing store in Columbia. Located among Five Points merchants, Sid & Nancy may be in the college neighborhood, but it's got enough spunk and diverse stock to draw in alternative folks of all ages.
Honorable Mentions: Revente, Urban Outfitters
Best Antique Store — Old Mill Antique Mall
Second Place: Re-Find
Old Mill is the best distraction available when you're waiting for a brunch table in the State Street area of West Columbia, eyeing various trinkets and oddities — and perhaps going home with one — before you dig into mimosas and French toast. But it's also a packed depot of antique furniture that has options for pretty much anything you could be looking for. Either way, it's a local institution.
Honorable Mentions: Reinvintage, The Red Lion
Best Bakery — Tiffany's Sweets, Eats and Meeting Place
Second Place: Silver Spoon Bake Shop
Tiffany's recently took its cozy cafe and bakery and blew the concept up into a much larger place with a bigger capacity and a much bigger dessert case. The dazzling display of decorated cakes, cookies, petit fours, macarons, brownies, fruit pies and more is the first thing tempting customers upon their arrival. The scaling up has only made everything better, including a new bar area and drink menu, and an expansion of the food menu.
Honorable Mentions: Blue Flour Bakery, Ally & Eloise Bakeshop
Best Beer Store — Green's Beverage Warehouse
Second Place: Craft And Draft
Green's has two locations throughout the Columbia area and has libations for everyone between its local craft beer to its sprawling variety of spirits. Its South Carolina bred and its well-loved status in the Midlands and elsewhere reflects that.
Honorable Mentions: Morganelli's, Bottles Beverage Superstore
Best Bridal Store — David's Bridal
Second Place: Jo-Lin's Bridal & Formal Wear
Planning a wedding can stress you out so much that you don't want to actually have the wedding, so why not leave the wedding gown and bridesmaid dresses to the experts at David's Bridal? It's the go-to name for wedding threads that will make you look beautiful while you suffer through the best man's embarrassing toast.
Honorable Mentions: Evelyn's Bridal, New York Bride & Groom of Columbia
Best Butcher Shop — Ole Timey Meats Columbia
Second Place: Ole Timey Meat Market Lexington & St. Andrews
Sometimes you've just got to tend to your carnivorous side. When that's the case you want to go with a high-quality cut of meat. Ole Timey Meats Columbia can take care of you in that regard. It offers top-notch beef, pork, chicken and more, all minimally processed and without preservatives.
Honorable Mentions: New York Butcher Shoppe, The Royal Butcher
Best Children's Apparel — Once Upon A Child
Second Place: Duck Duck Goose
Look, your kid probably grew another inch or two while you were reading this. Does it really make sense to buy new children's clothing every two weeks? Rather than going broke for baby, consider the gently used kids' duds at Once Upon A Child. The clothes, shoes and other baby gear are all rigorously inspected and cleaned up before they go out for sale, and every member of the staff is trained to make sure these clothes are 100 percent safe.
Honorable Mentions: The Children's Place, Marigold Modern Kids
Best Consignment Store – Revente
Second Place: Roundabouts Consignments Inc.
Revente is a mainstay of Saluda Avenue in Five Points. For years it has been a go-to shop for stylish consignment. It sells women's boutique and designer clothing, shoes and accessories. Aside from consignment offerings, it also sells new jewelry and accessories.
Honorable Mentions: Sid & Nancy, Messie's Closet
Best Convenience Store — Circle K
Second Place: 7 Eleven
Convenience is at least 50 percent of the convenience store experience, right? When you need some chips, a tank of gas, a soda and a lighter and you need them all quickly, there are Circle K locations all over Columbia to help you get in, out and on with your day.
Honorable Mention: Shiv Mart
Best Cycle Chop – Outspokin' Bicycles
Second Place: ColaTown Bike Collective
For nearly 40 years, Outspokin' has been a hub for bicyclists of all ages and skill levels. It's a great place to purchase new bikes or gear, or have your current ride repaired. Outspokin' carries a number of noted brands, including Trek, State Bicycle Co., Bontrager, Saris and Garmin.
Honorable Mention: Cycle Center, Summit Cycles
Best Furniture Shop – Whit-Ash Furnishings
Second Place: Strobler Homer Furnishings
You need new furniture? Whit-Ash has furniture. Like, a 40,000-square-foot showroom full of it. From sofas and chairs to tables, beds and mattresses, Whit-Ash can help you reinvigorate your home with new pieces. It has been a trusted store in Columbia for five decades, and is located right in the heart of the Vista. Ready for a change in your house? Whit-Ash will help.
Honorable Mentions: Reinvintage, Marty Rae's of Lexington
Best Gamecock Store — Addam's University Bookstore
Second Place: Barefoot Campus Outfitter
This fall is probably going to look a little different in terms of Gamecocks sports, considering the pandemic. But when you are ready to purchase new gameday gear, Addams Bookstore is the place to be. The shop on Assembly Street is absolutely stuffed with USC paraphernalia of all types. If it's garnet and black and has the USC logo on it, you can probably find it at Addam's.
Honorable Mentions: Miss Cocky, Todd & Moore
Best Gaming Store — Firefly Toys & Games
Second Place: GameStop
With a cavernous space that allows for many visitors to play tabletop games, along with a sweet, pinball-heavy arcade (featuring nifty cameras and screens that display the action to those standing behind you), Firefly is more than just a place to buy games. It's a place to get immersed in the community and the culture surrounding them.
Honorable Mention: 2nd & Charles
Best Gift Shop — Uptown on Main
Second Place: Non(e)Such
Open since 2008, Uptown on Main is a great catch-all shop for those looking to pop in and grab a gift on a downtown workday. The selection lands at the intersection of local flair and fine homeware, emphasizing local food producers, particularly in the store's custom gift baskets.
Honorable Mentions: The Shoppes on Main, Gibson's
Best Gun Shop — Palmetto State Armory
Second Place: Shooter's Choice
If you're looking for a firearm, Palmetto State Armory can get you one, get you the parts you need to keep it in tip-top shape, sell you the ammo and get you a holster to put it in. It's a one-stop shop for all your gun and gun accessory needs.
Honorable Mentions: Barron's Outfitters, The Gun Vault
Best Hardware Store — Lowe's Home Improvement
Second Place: Boland's Ace
Sometimes you get yourself into a big project, like building a new deck onto the back of your home, or tearing out and totally remodeling a bathroom. But sometimes you just need something small, like an air conditioning filter or some line for your weed trimmer. For a big purchase or a little one, Lowe's will have what you need for work around the house.
Honorable Mentions: The Home Depot, South East Ace Inc.
Best Jewelry Store — Sylvan's Jewelers
Second Place: Unforgettable Fine Jewelry
Around longer than any of us can remember, Sylvan's Jewelers was founded in 1897 and there's a good reason it has stood the test of time. From Rolexes to repairs, Sylvan's has the gems and metals to make your partner's heart melt or make you the envy of your colleagues.
Honorable Mentions: Dems Fine Jewelers, Sugar & Lola
Best Liquor Store — Morganelli's
Second Place: Green's Beverage Warehouse
Morganelli's is more than just a liquor store, offering one of the city's most attentively stocked selection of beer and wine in the space adjoining its spirits outlet. But as a liquor store, it shines just as brightly, with stores that range from excellent budget options to more rare and expensive treats — and a friendly staff shows no judgement or condescension as they guide you through it.
Honorable Mentions: Bottles Beverage Superstore, Total Wine & More
Best Marine Store — West Marine
Second Place: Marine 360
If it's something you need for a day on the water, West Marine probably has it. From anchors to navigational electronics to safety gear to fishing gear to all of the sailing rigs you need, it's all there. Or, since it also sells small boats, you could just go ahead and get a boat so that you have something to use all those accessories for.
Honorable Mentions: Mountain Top Marine, Xplor Boatworks
Best Men's Clothing — Granger Owings
Second Place: Brittons of Columbia
Need to look sharp? Granger Owings can take care of you. From custom suits and sport coats to business attire, sportswear, dress shoes, accessories and more, this shop has all you need to look fresh and fashionable. Granger Owings also offers in-store fittings, so you can make sure everything looks just right.
Honorable Mentions: Belk, BP Skinner Clothiers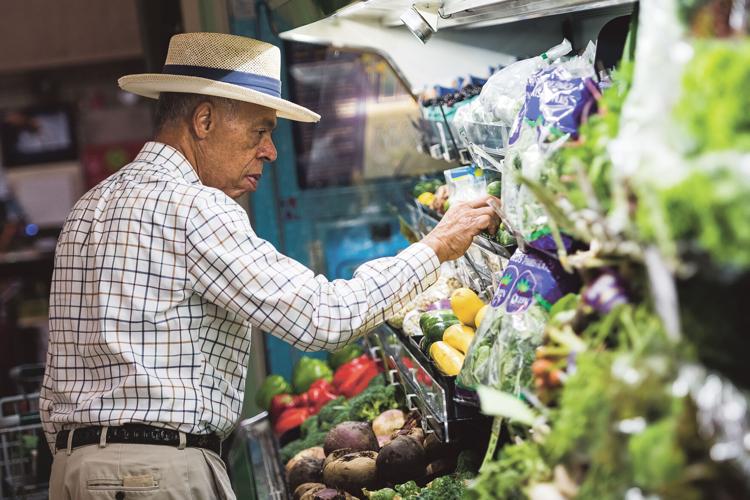 Best Natural Food Store — Rosewood Market
Second Place: Whole Foods Market
A Columbia staple, Rosewood Market can help you with every new health food trend that comes up, from dragon fruit powder to CBD, which continuously earns it  the title of Best Natural Food Store. Besides the trendy items and everyday health food necessities, it faithfully stocks local produce, local meats and dairy, and serves up three meals a day at the deli, using the same produce and other items for sale in the store.
Honorable Mentions: 14 Carrot Whole Foods, Garner's Natural Life
Best Place for Fresh Produce — Soda City Market
Second Place: South Carolina State Farmers Market
Fresh produce keeps you healthy, and it's got to be picked up often, so why not do it weekly at the city's best spot for getting fruits and vegetables, and more? It's become a weekly ritual for many in the Midlands to start their weekends with a trip to Soda City, for breakfast, local crafts and, of course, a big haul of fresh produce to last for the rest of the week.
Honorable Mentions: Cayce Farmer's Market, Rosewood Market & Deli
Best Place To Buy CBD Products — Charlotte CBD at Five Points
Second Place: Rosewood Market & Deli
Got something that's bugging you, either physically or mentally? There's a CBD oil for that, and Charlotte CBD at Five Points probably has it. Or you could just check out its selection of creams, concentrates, capsules and vape products. It's even got herbal relief on hand for your pets, up to and including horses!
Honorable Mentions: Garner's Natural Life, 14 Carrot Whole Foods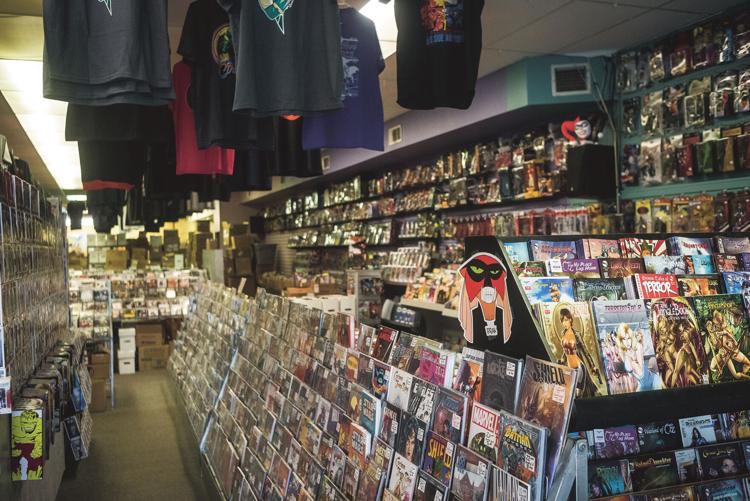 Best Place to Buy Comic Books — Scratch N Spin
Second Place: 2nd & Charles
Scratch N Spin sells much more than just comics. It's one of the area's last true record stores, and it also specializes in movies, video games and toys. But comics are definitely one of the big draws, a nice spot to buy local as the number of shops in the area dwindles.
Honorable Mentions: Heroes & Dragons, Cosmic Rays
Best Place to Buy Used Books – 2nd and Charles
Second Place: Ed's Editions
If you are looking for a place to lose a few hours on a weekend afternoon, look no further than 2nd and Charles. It has tons to offer, including records, CDs, movies, posters, comic books and toys. But the books are still the show. Thousands and thousands of used books, stacked on shelves deep into the store. If you love to read, and you still prefer to do it with an actual book (rather than a device), this is your spot.
Honorable Mentions: The Book Dispensary, Odd Bird Books
Best Place to Buy Used/Vintage Music Instruments — The Music Store on Devine Street
Second Place: Guitar Center
The Music Store on Devine Street is very much the opposite of your big-box instrument shopping experience. Featuring mostly instruments on consignment, there's a charming local feel and expertise that comes from shopping here. Plus, you can score the instrument you want and the price you can afford.
Honorable Mention: Barnyard flea market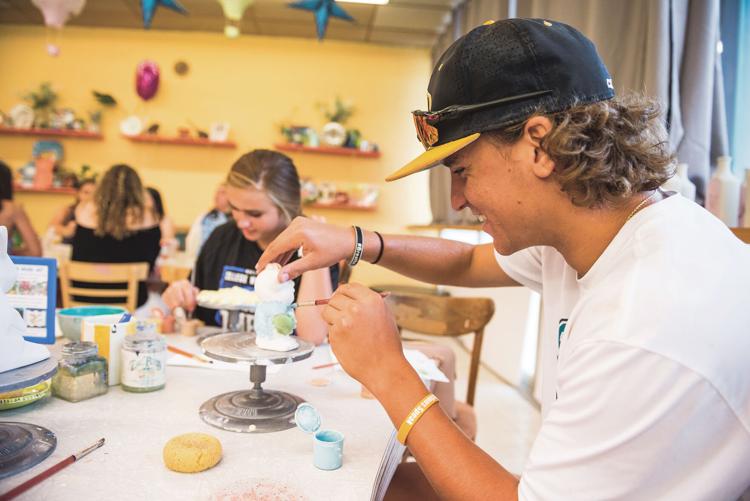 Best Pottery Studio — The Mad Platter
Second Place: Columbia Art Center
As welcoming to adults as it is to kids, Mad Platter is a lovely paint-your-own pottery studio. The helpful staff will happily direct artistic neophytes and experts alike as you paint at their tables. After a handful of days, they will have your creation ready for pick-up in all its glossy glory. It's a wonderful idea for a special occasion or just a fine spot to spend a weekend afternoon exploring your creative side.
Honorable Mentions: Pitter Platter, Southern Pottery Workcenter & Gallery
Best Shopping District — Harbison Boulevard
Second Place: Devine Street
Yeah, we know the traffic in the Harbison Boulevard area can be a pain, especially during the holidays. But it remains the Columbia area's key shopping district, with amenities such as Columbiana Centre mall, Walmart, Sam's Club, Best Buy, Target, Old Navy and many, many other national outposts and big box offerings. Brave the crowds, and maybe you'll find that new TV you've been looking for.
Honorable Mentions: Trenholm Plaza, Five Points
Best Smoke Shop — High Life
Second Place: Tobacco Merchant
If you've got the urge to burn one, High Life has you covered. Whether it's vapes, hookahs, e-cigarettes, or something more exotic, High Life doesn't just have the products, it's got the experienced and knowledgeable staff on hand to make sure you've got what you need.
Honorable Mentions: Seven Sense Intl., Maduro Room
Best Sporting Goods Store – Academy Sports & Outdoors
Second Place: Todd & Moore
Are you looking for a new hunting rifle? What about some gear to go kayaking? Or perhaps your kids have been bugging you to put up a basketball hoop out in the driveway? If you need something in the realm of sporting goods, Academy likely has it. From equipment to apparel and everything in-between, this big box can take care of your sporting desires.
Honorable Mentions: DICK's Sporting Goods, Sportsman's Warehouse
Best Sporting Goods Store — Goodwill
Second Place: 4 Paws Thrift Store (Formerly St. Paws Thrift Store)
What else is there to say about Goodwill? The omnipresent thrift store has clothes, home goods and so much more. It's known for its "hidden gems," but regardless of what you're looking for there's value to be found. A nonprofit, it does more than shell out used goods, it gives back to the community, too.
Honorable Mentions: Palmetto Thrift, Oliver Gospel Thrift Store
Best Vaping Store — High Life
Second Place: Palmetto Vapors
High Life celebrated its 10th anniversary this year. And in that time, the shop has done well changing with the times, maintaining a satisfying selection of vape products and accessories for those looking to inhale.
Honorable Mentions: Essential Vapors & CBD, Jay's
Best Wine Store — Total Wine & More
Second Place: The Gourmet Shop
It's all in the name: Total Wine & More is all about the wine. It stocks more than 8,000 varieties of wine, and the in-store wine experts can help anyone select the right bottles for any occasion. It also offers classes and tastings to help even the most novice wine drinker become more knowledgeable about their grape juice of choice.
Honorable Mentions: Morganelli's, Bottles Beverage Superstore
Best Women's Clothing — Copper Penny
Second Place: Just the Thing
There are plenty of options for women's clothing in Columbia, but the most stylish women all head to Copper Penny boutique for the latest trends. From glamming up in fun garnet and black rompers to stylish cocktail dresses for a night of dinner and dancing on Main Street, this Devine Street shop is the place to find the best dressed women in town perusing the racks for their next big retail score.
Honorable Mentions: Pink Sorbet, 2G's Clothing