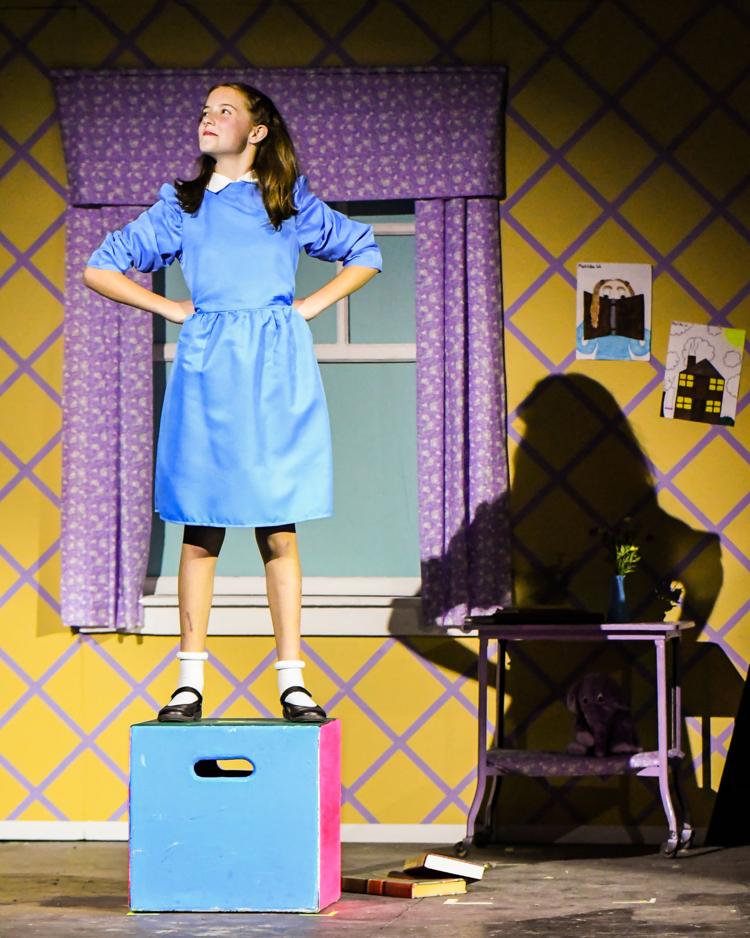 Matilda the Musical may be based on a book by beloved children's author Roald Dahl (Charlie and the Chocolate Factory, James and the Giant Peach), and it may be performed by a cast of adorable tykes, but make no mistake — there are dark deeds and serious messages hidden within. 
The stage adaptation currently in production at Town Theatre — with a script by Dennis Kelly and music and lyrics by Tim Minchin — was commissioned by no less than the Royal Shakespeare Company. The Broadway production ran for more than 1,500 performances, winning five of the 13 Tony Awards for which it was nominated, while the original production has been running in London's West End since 2011. Having seen a recent matinee at Town, I understand why.
Matilda (Juliet Gregg, who alternates with Louise Vipperman) is a precocious, remarkably literate first grader who is sadly born into a family of uncouth boors who make Harry Potter's Dursley relatives look like Rhodes Scholars. Realizing that "nobody else is gonna put it right for me / Nobody but me is gonna change my story," she sets out to do just that. School, however, is an even grimmer environment, ruled with an iron fist by headmistress Agatha Trunchbull (Billy Bishop, in prison matron-style drag), who disciplines children by locking them in a cupboard that resembles an iron maiden torture device, and snarls threats such as, "I shall consign you to the seventh circle of hell, child — you shall be destroyed." It's a child's worst nightmare come to life, with parents and school officials deserving of neither love nor their positions of authority, but rest assured, it all ends happily.
Director Shannon Scruggs cheats just a bit, with the principal child characters mainly played by middle schoolers whose acting and singing skills were more than up for the challenge of lead and key supporting roles, while the ensemble was fleshed out with older teens and young adults who also doubled as assorted grownups. The resulting mix of voices was pleasing and rich. Musical director Amanda Hines has done wonders with her youngest cast members, who projected and enunciated with more panache than many adult ensembles I've seen. 
Gregg, who bears a passing resemblance to Game of Thrones' iconic Lyanna Mormont, gave a strong performance imbued with fire and independence, fighting back against mistreatment first with amusing pranks, then with life-changing ingenuity. A number of Town regulars were given the chance to chew the scenery in broadly comic supporting parts, including Megan Douthitt (who ruled the stage as Matilda's brassy, trashy mother in the extravagant number "Loud"), Scott Vaughan (who visually channeled Ray Davies' hustler character from the Kinks' video for "Come Dancing" as the child's father), and Corey Langley as a sympathetic, hippie-ish librarian.
Danny Harrington's scenic design was colorful and eye-catching, with an abstract backdrop suggesting building blocks. Smaller, more realistic units were rolled in as needed to signify the fireplace in a living room, or the dungeon-like gates of the school. Kristy O'Keefe made an auspicious debut as choreographer, giving even the tiniest of dancers plenty of movements that made the stage lively at all times.
Top vocal honors go to Semaj Whitener (as both the doctor who delivered Matilda and an "escapologist" in a story Matilda tells) and to Jerryana Williams-Bibloni (as the aptly named Miss Honey, a sympathetic teacher who tries her hardest to nurture Matilda's talent and intellect). While both performers are young, their singing bordered on operatic in several moving numbers. 
There were, in fact, a lot of moving numbers, with themes that adults will likely find significant. Children in attendance were surely amused by a special effect involving Ms. Trunchbull tweaking one child's ears and stretching them out as if they were made of rubber, but ultimately, this was a depiction of child abuse. And when one full-figured child (Nathan Jackson, who alternates with Henry Melkomian) stole a slice of cake from Ms. Trunchbull and was then forced to eat the whole thing as punishment, younger audience members surely giggled and rooted for him to succeed, but I kept thinking of Paul Newman and the fifty hardboiled eggs in Cool Hand Luke. 
Motifs of rebellion and resistance to oppression were pervasive, and when the young ensemble broke into a joyous proclamation that the supposedly (adjective) "revolting children" were in fact (verb) revolting, I half-expected them to add, "We don't need no thought control." 
Obviously, this is the same Dahl who subjected children to torment for greed and gluttony in Charlie and the Chocolate Factory, but here, the children are the good guys. The darkness of the show's themes notwithstanding, however, Scruggs and her production team have embraced the freewheeling, free-spirited tone with gusto. The result is a chaotic and ultimately triumphant celebration of what it means to be a child.  
---
What: Matilda the Musical
Where: Town Theatre, 1012 Sumter St.
When: Through July 28
Price: $12 ($10 seniors and youth under 17)
More: 803-799-2510, towntheatre.com