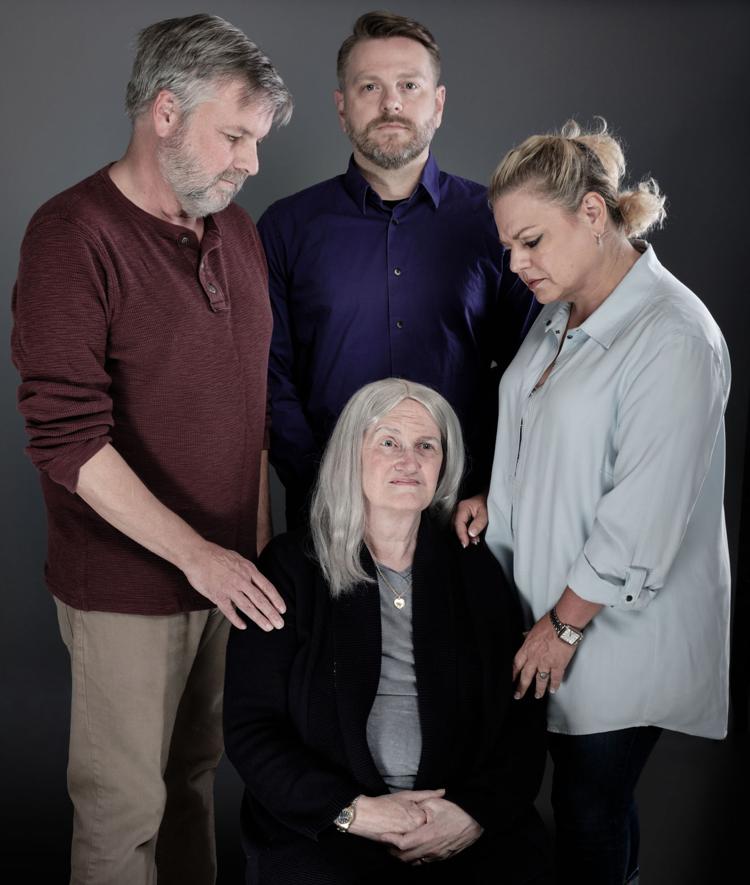 Veteran actor, director and theater educator Elena Martinez-Vidal isn't shy about telling Free Times how much she's enjoying working on Trustus Theatre's upcoming production of Marjorie Prime.
"This may be the favorite show I've ever directed," she says. "This cast allowed me to direct the way I like to act."
"We did all the stuff I do as an actor, but [usually that process is] within myself." 
Martinez-Vidal's statement about Marjorie Prime is powerful considering all that she has done on the local theater scene. Graduate school brought the Pennsylvania native to the Midlands in the 1980s, and she stayed to teach acting at Midlands Technical College, eventually taking over as chair of the humanities department in 2004. As a director, she has helmed productions of Fences and Wait Until Dark at Workshop Theatre, among other efforts.
Her acting resume includes diverse roles ranging from Martha in Who's Afraid of Virginia Woolf and the mother of Christ in the one-woman play The Testament of Mary to comic turns as Frau Blucher in Young Frankenstein and as a rural sheriff in Montgomery, this summer's winner of the annual Playwrights' Festival at Trustus. But she may be best known locally as one half of Parallel Lives: The Kathy and Mo Show, a collection of feminist-themed vignettes that she and colleague Dewey Scott-Wiley have performed repeartedly at Trustus and elsewhere. 
Having played the lead in Amazons and their Men at Trustus in 2012, Martinez-Vidal continued to follow the work of author Jordan Harrison, who became a finalist for the 2015 Pulitzer Prize in Drama with Marjorie Prime. She became fascinated by the play's exploration of the nature of memory and its connection to our identity as human beings. 
In the script, 85-year-old Marjorie (Len Marini) struggles with memory loss, and her family turns to modern technology for assistance. The cast also includes Clint Poston, Beck Hunter and Glenn Rawls.
"It's not heavy," the director says of the play's tone, "but many of the family issues will be familiar — some funny, some sad."   
While the work might be considered a domestic drama about a nuclear family of parents and children, Martinez-Vidal points out that there are definite elements of comedy, as well as some speculative fiction as to how emerging tech innovations might rise up to meet the demands of humans as they age: Could artificial intelligence be employed to help preserve or conserve our memories, or indeed to pass them along to the next generation? As we tell the stories of our lives — or listen to those of others — are there chapters we might choose to omit or rewrite?
Bringing the richly layered work to life started with "lots of table work," Martinez-Vidal explains — read-throughs of the script by the cast in a casual setting, followed by discussion, something the actors requested.
As a director, she jokes that she is always in gentle control. 
"I'm not a fascist, but I know how to herd cats," she quips. 
For her, preparing for a production is an intellectual process, full of line analysis, and thoughtful study of the script: Why does the author choose a particular word or phrase or expression for a character to say, and what does that choice reveal about both character's and author's intent? 
Martinez-Vidal feels that getting to the heart of the subtext — everything that is implied in the dialogue but never specifically written — is the key to understanding a character. 
"Once you have the subtext of the character, you can dive into the actual rehearsal process," she says. "That makes it so easy, when we're blocking and rehearsing lines, because we've all been on the same journey."
Her work with the cast should help tease out the play's many thematic nuances, as should the set by Trustus Technical Director Sam Hetler, who worked in tandem with the director. It's structured in a configuration rarely seen in the intimate, 50-seat, black box-style Side Door. Jokingly, the duo have invented a name for their creation: a "barbell set." There are spaces at either end, and a sort of aisle or passageway connecting them, with the audience situated on either side
Martinez-Vidal predicts that each audience member will bring their own perspective and life experiences to the show, and each will identify with some specific aspect of the production.
"Some will focus on the theme of dementia," she says, noting that others may find the depiction of the challenges of caregiving to be particularly resonant, or relate to observations on depression, the loss of a loved one or the mechanics of aging.
"Ultimately," she posits, "the play asks, 'What does it mean to be human?'"   
---
What: Marjorie Prime
Where: Trustus Theatre, 520 Lady St.
When: Nov. 8-16
Price: $20-$25
More: 803-254-9732, trustus.org