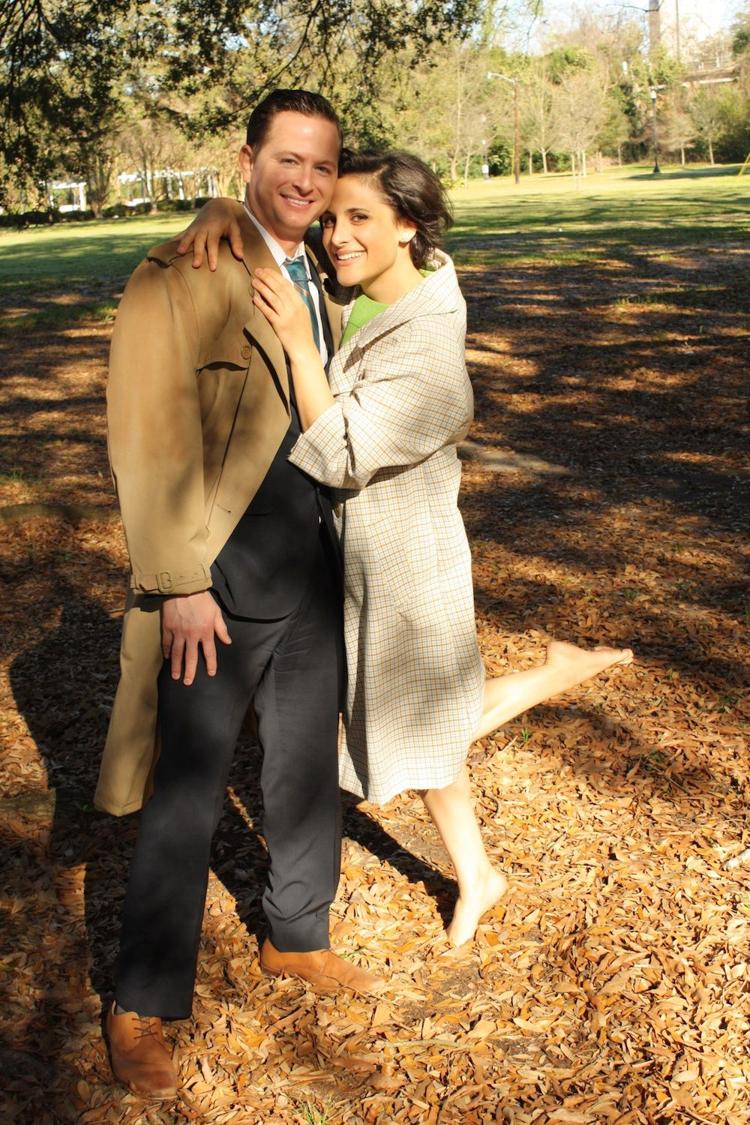 Amy Brower Lown could teach a master class in conveying emotion simply by walking across a stage. Her non-stop energy and ultra-naturalistic acting were but two of the highlights of Workshop Theatre's production of Neil Simon's Barefoot in the Park.
Workshop has successfully mounted four of Simon's best works over the last four seasons, all directed by David Britt, who appears here as a wise telephone repairman, but hands over creative reins to Hans Boeschen. For fans of Britt's productions of Simon's autobiographical Eugene trilogy, don't despair — male lead Paul (Lee Williams), a somewhat conservative, slightly neurotic newlywed with an understated and dryly ironic sense of humor, is not too far removed from Eugene; change his career from lawyer to television writer, and you've got the young Simon himself, in the first weeks of his marriage. 
Lown plays Corie, Paul's bride of six days, eager to begin nesting — even if the nest is a fifth-floor studio walk-up with no tub, a hole in the skylight and a converted dressing room repurposed into a bedroom only big enough for a single-size bed. Once the lovebirds settle in, we follow their first marital spat, stemming from an alcohol-fueled night out with Corie's widowed mother (Zsuzsa Manna) and upstairs neighbor Victor (David Reed), an aging roué who doesn't let his precarious finances impede his dapper European charm and joie de vivre.  
I've enjoyed Williams in a number of challenging roles (including the drill sergeant in Simon's Biloxi Blues at Workshop three years ago), but at last he is cast in the ideal role for his age and type. Paul's lines contain most of the script's jokes — often frustrated asides and commentary on the increasing chaos around him — but at the matinee I attended, Manna and Lown got most of the laughs, just by the nuances of their acting, subtle mannerisms, facial expressions and shifts in tone.  Manna proves that there are plenty of good roles for mature actresses, adding Corie's mother to multifaceted portrayals within the last year at Town Theatre (the mom Penny in You Can't Take It With You) and at Workshop (the mom M'Lynn in Steel Magnolias and Olive Madison, the sloppy one, in the female Odd Couple).
This is Boeschen's directorial debut — although he was the assistant director for Steel Magnolias — and he skillfully uses every inch of the stage in his blocking. Lown probably walks two or three miles per performance as she relentlessly paces, stalks, storms and skips, dominating the wide but shallow performance area. 
Boeschen also designed the set, with Dean McCaughan, and it's another good use of the space available in Workshop's temporary home at 701 Whaley's Market Space. Lighting by Barry Sparks illuminates an attractive New York skyline seen through a window, subtly changing with shifts in time of day. Alexis Doktor's costumes are authentic for the 1963 setting, but are also timeless, with Corie's short skirts, boots and bold prints achieving true retro-chic. 
But does this 54-year-old romantic comedy have any relevance for the troubled world in which we live today? It would be easy to say it's just escapism, but Barefoot is also an insightful look into the human condition by one of theater's master stylists. Anyone who has ever moved into a "fixer-upper," or who has experienced an argument over nothing that suddenly escalates should relate. 
Apart from the absence of cell phones — which might otherwise resolve a crucial plot twist — the script's dialogue could have been written yesterday. Minus PG-13 language, the story plays out like a good episode of Friends or How I Met Your Mother.
Workshop's Barefoot proves once more there's life still to be found in stage classics — so long as long as they're delivered with talent, commitment and energy.  
---
What: Barefoot in the Park
Where: Market Space at 701 Whaley, 701 Whaley St.
When: Through April 2
Price: $20 ($17 seniors/military; $14 students; $10 children)
More: 803-799-6551, workshoptheatre.com