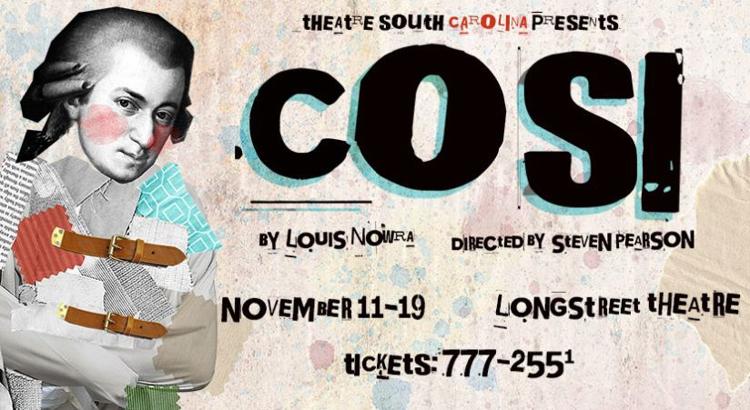 Louis Nowra's COSI takes its name from the Italian title of Mozart's opera Cosi fan tutte, meaning "so do they all." The final "e" in "tutte," however, signifies a feminine subject, and the usual translation is "women are like that." Tracing the obstacles and tribulations encountered by a young director as he attempts to stage a production of said opera with a cast of patients at a mental institution, COSI offers plenty of laughs, moments of poignancy and tenderness and, most importantly, diverse acting opportunities for a fresh new crop of departmental MFA students at the University of South Carolina making their Columbia stage debut.
A semi-autobiographical story from the playwright's youth, COSI follows the misadventures of Lewis, played with subtlety and nuance by Donavan St. Andre, a recent college drama graduate who takes the first job he can find in late-'60s Australia, over the objections of his live-in lover Lucy (Kimberly Gaughan) and best friend Nick (Nicolas Stewart). Stewart and Gaughan also double as inmates, with the latter especially successful at creating two distinct characters with only simple changes of hair worn up or down, and radically dissimilar body language.
As one might expect, the patients are a motley lot. Some are nearly catatonic from over-medication or just by nature, and others are scarcely able to control emotional outbursts and destructive impulses. Meanwhile, Lucy and Nick pressure Lewis to join their movement of artists protesting Australia's involvement in Vietnam, yet Lewis begins to find his own form of therapy in his interactions with the "mad" performers of the play within the play.
Matthew Cavender takes top acting honors as Roy, a histrionic control-freak whose obsession with the Mozart opera sets the play's plot into motion. On opening night, Stewart got plenty of laughs as the aggressively sexual pyromaniac Doug, while Kaleb Edward Edley generated sympathy for his older, soft-spoken character, Henry, who plays with toy soldiers as a tribute to his war hero father. Kimberly Braun was a veritable dynamo of emotion as the manic Cherry, while Libby Hawkins created perhaps the most tragic figure as the suicidal Ruth, whose obsessive-compulsive mannerisms give her tiny opportunities for control in a life that otherwise has spun out of control. The cast's sole undergraduate, Brooke Smith, captured the officiousness of the institution's social worker.
St. Andre's calm and placid demeanor anchored the tumult, but an argument scene between Lewis and Lucy, and an expertly timed punch to Nick, were both gripping. Realistic depictions of mental health issues notwithstanding, Nowra's script overflows with dark comedy, with Ruth's deadpan rendition of the song "I'm So Excited" — delivered without a speck of excitement — standing as a highlight.
Baxter Engle's set design, depicting a run-down rehearsal space and its tiny stage, was necessarily minimalist, yet completely believable, as was the suggestion of a fire escape landing outside Lewis's apartment, creatively placed in the middle of the audience. Director Steven Pearson elicited natural yet detailed characterizations from his actors, and the timing was excellent across the board. The audience surrounds the actors on three sides, meaning that at any given moment one or more actors' backs will be turned to a particular section — this led to some actors struggling to be heard, while others, especially Smith, Cavender, St. Andre and Hawkins, projected with vigor and clarity throughout.
My guess is that inherent challenges for the actors — including mastery of accents and the recreation of the mannerisms of various psychoses — and the opportunity for good ensemble work made COSI an attractive choice for the USC theater department's new class of MFA students more than any great literary merit in the material.
The closing image seen by the audience is a quote from the opera's final lines: "Make him laugh, and despite the tempest of his life, he will find serenity and peace." While in no way a deep philosophical work nor even a particularly profound piece of dramatic literature, COSI makes a clear statement about the meaning one can find within fiction, and the healing power of art and performance.