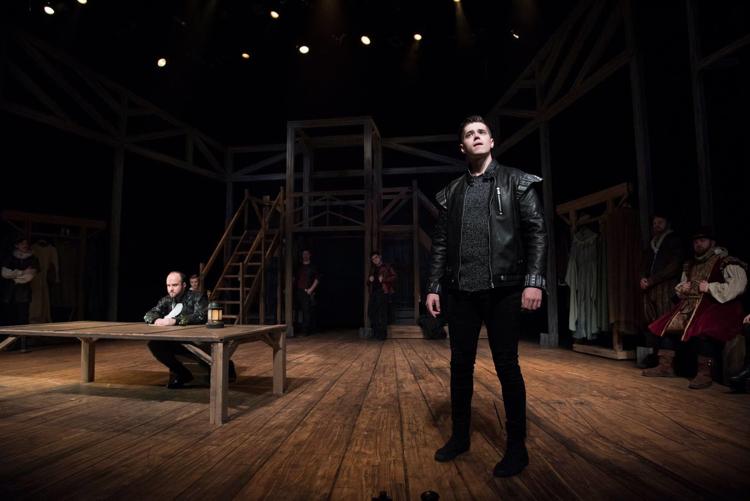 Often imitated, rarely if ever equaled or surpassed, and hugely influential, the works of William Shakespeare occupy a primo spot in the pantheon of great authors. Yet little is known about his personal life, leading to endless speculation as to what, if anything, may have been based on his own experiences.
Such is the premise of Lee Hall's 2014 stage adaptation of the 1998 film Shakespeare in Love, which took home seven of the 13 Academy Awards for which it was nominated, including Best Picture. Aided by skillful stagecraft, a vibrant cast comprised of all undergraduate actors are bringing this story of forbidden Elizabethan love and youthful mischief to life at the University of South Carolina's Drayton Hall. 
Following the storyline of the film closely, the play is set in a raucous, brawling 16th-century London of taverns, brothels, street fights and theaters that command little more respect than the brothels. Burbage (Nicholas Good) and his less successful rival Henslowe (Lochlan Angle) lead acting troupes that perform plays written, often for little or no compensation, by the rakish Marlowe (Riley Lucas) and his younger, not-yet-as-successful pal and protégé Will Shakespeare (John Romanski). 
Meanwhile, free-spirited noblewoman Viola (Olivia Hensley), seeking adventure and romance before an inevitable arranged marriage to foppish Wessex (William Hollerung), disguises herself as a man, "Kent,"  and auditions for Will's next play, a comic melodrama with the working title of Romeo and Ethel, the Pirate's Daughter. When Shakespeare crashes a fancy dress ball at Viola's home in search of Kent, he naturally falls for her, leading to the love scenes, poetry, duels and intrigue that become the text of Romeo and Juliet. 
It's a cute notion, if not profound, and works just fine as a sometimes funny, sometimes touching story of young love, as well as providing some insight into the nature of artistic inspiration and creativity. English majors and drama buffs, however, can expect a plethora of Shakespearean Easter eggs and inside jokes. Famous lines from future works by the Bard are spoken in casual conversation, people whom he meets become models for figures in his plays — including Amber Coulter as a charming, humorous character who's inspires Juliet's blustery Nurse — and mysteries about his life are explored. Was Marlowe the real author of Shakespeare's plays? What was the deal with Shakespeare's wife and children back in Stratford-upon-Avon? Even a surly teenage boy, played convincingly by Liv Matthews, has a significance that only hardcore literature fans will spot. 
[Online copy corrected.]
On campuses nationwide, undergraduate actors struggle to get stage time and good roles when there are graduate-level acting students in the mix, yet astonishingly, this marks the 10th role in which I've seen senior John Romanski shine within the last three years. I've enjoyed watching his progression from supporting player to scene-stealing clown — his Shatner-esque Bottom was a highlight of 2016's A Midsummer Night's Dream — to romantic lead. It also helps that he's a dead ringer for the Shakespeare we see in portraits. At a preview performance last week, Hensley made for a fetching Viola, while Sam Edelson was a sympathetic and swashbuckling Ned Alleyn, lured into playing Romeo's friend in what he thinks is a tragedy titled Mercutio.  
For me, the true stars of this production were the creative team of director Andrew Schwartz and scenic designer Nate Terracio. Terracio's set included rough-hewn wooden stairs, posts and platforms that signified the raw and rugged playhouses and taprooms where the action transpired, but with the help of Allison Newcombe's lighting design, these also became interiors of Viola's mansion. A couple racks of clothing, representing both Viola's closets and the costume banks where actors rehearsed, were frequently rolled and rotated by the performers to signify transitions of time and locale. Using these simple components, the effect of multiple locations was accomplished quickly, with none of the expense or clutter of actual construction. 
Schwartz's cast was adept in alternating between realistic one-on-one interaction in love scenes and arguments, and conscious stage tricks — going into slow-motion for an elaborate fight scene, for example — that whimsically celebrated anachronism and acknowledged the structure of a play within a play. A visual moment when the quill of creativity is passed both metaphorically and literally to Shakespeare was quite effective.  
Molly Morgan's costumes similarly embraced that duality, with "establishment" figures clad in all the ruffles and lace of the era, while the spiffy leather jackets, tight trousers and boots sported by Shakespeare, Alleyn and Marlowe reflected the period, but also suggested the rebel look of Marlon Brando, James Dean or the Hamburg-era Beatles.  
Going for the laugh whenever possible, figuratively winking at the audience whenever appropriate, and speaking the speech trippingly on the tongue in scenes of sorrow, passion and hilarity, Schwartz's all-undergraduate cast would surely have made Shakespeare proud.