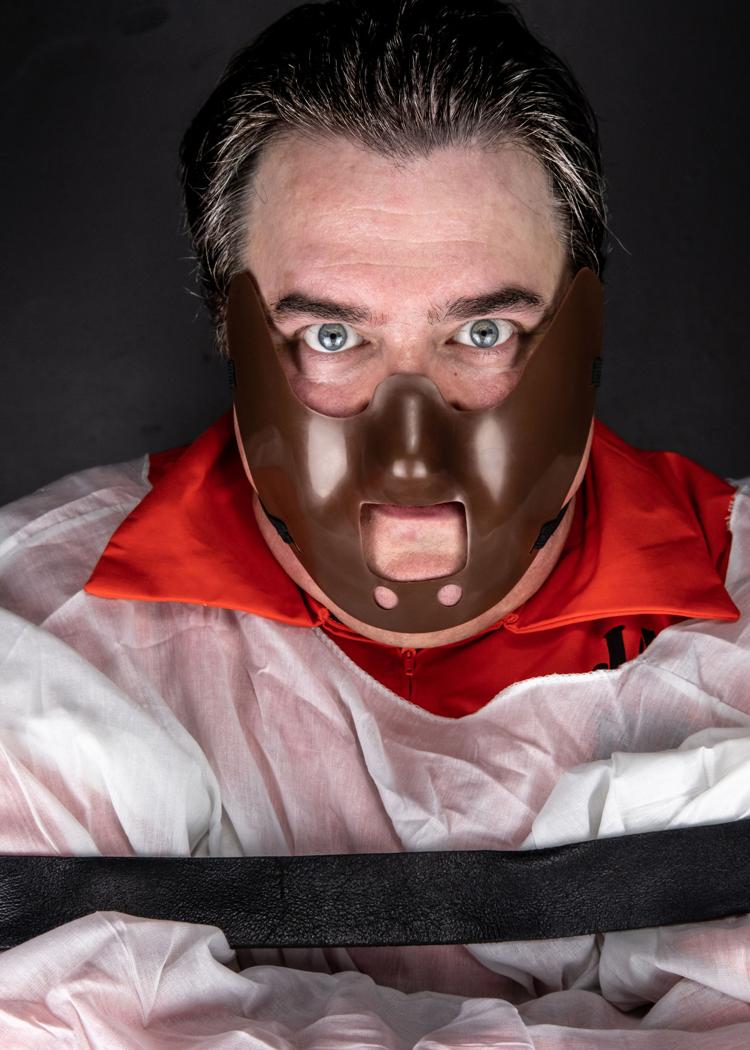 Somewhere at the intersection of broad sketch comedy, inventive parody and bad taste lies the quirky appeal of Silence! The Musical.
A scene-for-scene, character-for-character spoof of the Oscar-winning psychological thriller The Silence of the Lambs, Trustus Theatre's opening production for its 34th season could amuse or appall you, depending on your sensibilities. But if you're looking for musical madness and mirth, this show is for you.
The plot, for those unfamiliar: Cannibalistic inmate (Hunter Boyle as Hannibal Lecter) forms a bond with a naive FBI trainee (Kayla C. Machado as Clarice Starling) while they track the serial killer (Patrick Dodds as Buffalo Bill).
Running 90 minutes with no intermission, a performance last week offered none of the blood and guts of previous Halloween features at Trustus, such as 2017's Evil Dead the Musical. Instead, the shock derived from anticipation of how far some of the sexual references and R-rated language might go (the answer: pretty far) as well as from delight at the exuberant goofiness with which the story was presented. A tight ensemble comprising five singer/dancers appeared first as the lambs from Clarice's nightmares, complete with little lamb ears framing their faces, then returning in new wigs and costumes as all other characters — doctors, cops, FBI agents, victims, etc. — while still sporting their little ovine ears. Why? It's just that kind of show.
Some of the most effective jokes played with the conventions of mysteries, as when Lecter deduced facts about Clarice, except they were no more than the obvious — her hair was dark, she was wearing a suit, she had a briefcase. Other gags riffed on minutiae from the film, including Machado's slushy imitation of Jodie Foster's accent, causing her surname to come out as "Shtarling." Many were just good, old-fashioned shtick, with actors using bananas in lieu of cellphones, and an in-your-face employment of Silly String that proved impossible to unsee.
Often, the florid, ornate, keyboard-centric score by Jon and All Kaplan created a comedic contrast with the dark source material, as a brief tug-of-war over a rope and a pail became a macabre ballet, with Dodds and Abigail McNeely harmonizing like lovers from a vintage operetta, not maniacal captor and traumatized victim.
The greatest source of laughs, however, was the unexpected vulgarity. A random line in the film from a sex-crazed prisoner became Lecter's signature solo, a tender love ballad about a would-be mentor seeing potential and more in a young woman. Yet its title, referring to female anatomy, can't be printed, or really said anywhere, ever. So when the song continued, and the ensemble entered dressed as the anatomy in question, happily cavorting like grade-schoolers in some surreal Christmas pageant, the utter absurdity of it all became a comic highlight. Offensive? Gratuitous? Possibly — but intentionally so.
Director Jonathan Monk ensured that many of the most extreme references and gags were made by female actors, usually the always-appealing Robin Gottlieb, who clearly relished the chance to chew the scenery as a number of oddball male characters.
As the butt of many of the jokes in Hunter Bell's book, Machado largely played Clarice straight, channeling Jodie Foster's indefatigable spirit and steely resolve. Boyle, on the other hand, created a Lecter less scary and more sympathetic than Anthony Hopkins' iconic film portrayal. Both actors were in top vocal form for musical numbers that were far more complex than one might expect given the genre, and which were adeptly realized by Musical Director Randy Moore.
Sam Hetler's scenic design incorporated the suggestion of the killer's underground dungeon and stairs leading to the home above, with other scenes using parts of these units as needed. Rotating panels were wheeled across stage to become walls of offices and the bars of jail cells, while images of moths — a plot point from the film — adorned the dark walls to the rear. The result was spare and minimalistic, but all that was needed for what was essentially an extended comedy skit. Marc Hurst's lighting design added some nifty effects that approximated the pixelation of night vision goggles.
While the cast's performances vastly exceeded the depth of the script, their zeal took smile-inducing moments and amplified them into belly laughs. Overall, Silence! was amusing and entertaining, with the disclaimer that much of the humor stemmed from realizations like, "Yes, they really did just go there," and, "Yes, I really did just laugh at that."