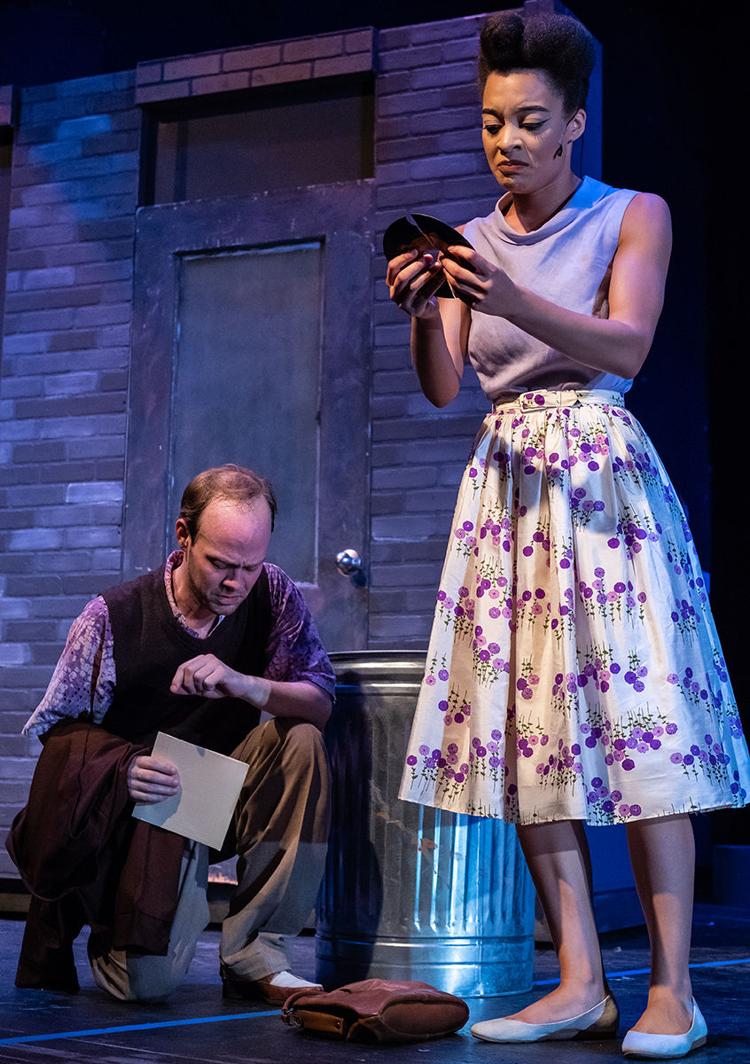 Much like its hard-luck protagonist, hard-drinking, soul music-loving Huey Calhoun (James Meador), the musical Memphis demands your attention, and its charm is hard to resist. 
Joe DiPietro's book chronicles the introduction of "race music" —  what we would now call R&B — into the previously segregated airwaves of the late-'50s, with songs from composer David Bryan recreating the musical vibe of the era. While the story's themes have been explored before and in greater depth, there's no denying or escaping the power and passion of the performances from the cast and accompanying band in the current Trustus Theatre production. 
Meador's character, based on real-life disc jockey Dewey Phillips, is given a fictional, interracial romance with aspiring singer Felicia (Sebastian Sowell), leading to the expected boy-meets-girl, boy-loses-girl storyline. Will Huey's annoying quirks and rash stubbornness lead to self-destruction? Will Felicia rise from his ashes to find stardom? Or will these two crazy kids overcome the odds and find happiness together? At a performance during the production's second week, the charisma and vocal talent of the leads lifted what could otherwise have seemed overly familiar —  even clichéd — material into a moving and tragic love story, set to the toe-tapping tunes of Memphis' raucous Beale Street. 
Meador's Huey is an unlikely romantic lead. Imagine a young Hugo Weaving playing Barney Fife, with Strother Martin's "failure to communicate" twang from Cool Hand Luke. A self-described illiterate cracker who lives with his irascible mama (Ashley Hayes, in her second bravura turn as a racist mom following Hairspray in May), Huey would be considered working class if he could only hold a job. His one redeeming virtue is good taste in music, although his embrace of a genre previously performed by and for an African-American demographic is more rebellion than any artistic statement.  Still, his determination to introduce white kids to forbidden "black music" strikes a chord, leading to success on radio, a TV show and a career as a concert promoter, while his oddball, hillbilly-on-acid persona attracts a cult following of teenagers of all colors.
Meador did a fantastic job at finding the character's sympathetic side, which was most often apparent as he sang, revealing Huey's inner sensitivity. Sowell found just the right balance between youthful naiveté and pragmatic acceptance of the realities of the segregated South as Felicia, singing with reluctant resignation of the "limits for dark-skinned girls in this light-skinned world." An emotional high point for the couple came in a climactic argument late in the second act, as Felicia reminded Huey that he could move freely between cultures, while she was "colored every time I step out the door."
Jon Whit McClinton, Mario McClean and Samuel McWhite provided solid support as Felicia's brother and friends, with McWhite channeling Little Richard on the lively "Big Love." Josh Kern convincingly played older as a station manager, while Rob Sprankle was amusing as a cornpone DJ, then urbane as a record label exec. The small ensemble of seven women and four men — often joined by McClean and Sprankle — doubled and tripled as teenage fans, club denizens and backup performers. Their small headcount notwithstanding, the ensemble created a big Broadway vocal sound under the musical direction of Christopher Cockrell, who also led the seven-piece band on keyboards. 
Director Dewey Scott-Wiley and choreographers Abby McDowell and Grayson Anthony made excellent use of limited space on stage. Much of center stage was dominated by a large sound booth which also represented a radio and its dial. As important as that image might be, I found its bulk to be distracting. Tone-on-tone gray brick walls comprised most of the rest of Brandon McIver's set, and I'd have much preferred to see some of the lively colors and neon signs of the Beale Street setting. At times, however, Laura Anthony's lighting design bathed one corner of the stage in lavender, creating the sultry interior of the main nightclub, and tightly focused spotlights usually made one ignore the drab backdrop.
Composer David Bryan is better known as the keyboardist for Bon Jovi, a band often derided for predictable lyrics and rhymes and generic melodies. Accurate criticism or not, those qualities work much better in the context of a stage musical, where lyrics need to be easily understood in order to convey important exposition, repeated motifs and refrains often accentuate thematic content, and the score is necessarily derivative from earlier styles, so as to faithfully recreate the sounds of a specific time and place.  
The play's core themes have been explored before in everything from Hairspray to Dreamgirls, but the performers on stage and the musicians — stashed high above in an orchestra loft — gave their all, ensuring for plenty of good reeling, rocking and rolling on a hot summer's night.
---
What: Memphis
Where: Trustus Theatre, 520 Lady St.
When: Through July 28
Price: $30 Thursdays and Sundays; $35 Fridays and Saturdays; $25 students; group rates available
More: 803-254-9732 x 1, trustus.org