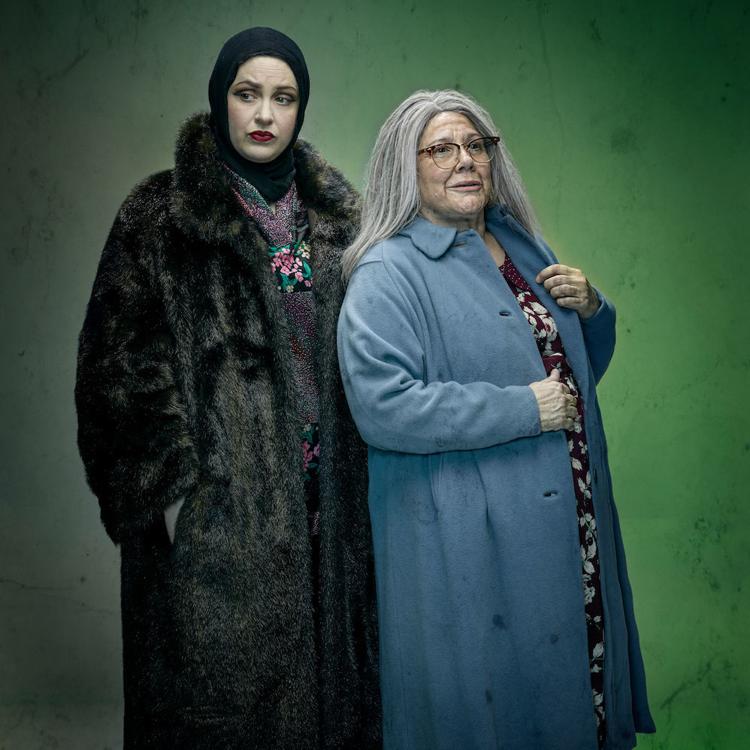 How fine is the line between uninhibited self-expression and actual mental illness? It's easy to write off the eccentricities of the rich and famous as harmless, while condemning similar behavior from the impoverished or homeless. 
Trustus Theatre's production of Grey Gardens, The Musical charts the tragic fall in status of two scions of the wealthy Bouvier family from society divas to crazy cat ladies. It's a plot that might stretch credibility — except that it's inspired by the true story of Jackie Kennedy Onassis' aunt and cousin, both named Edith Bouvier Beale, who were the subject of a cult-famous 1975 documentary.
The daughter, often called "Little Edie" (Haley Sprankle), is an eligible debutante about to become engaged to the young Joe Kennedy Jr. (Cody Lovell) in 1941. Her mother, "Big Edie" (Mandy Applegate Bloom, who also choreographs), fancies herself to be an accomplished singer, and keeps accompanist Gould (a droll Kevin Bush) on hand to support and enable her dreams, as both guzzle cocktails. Grandpa Bouvier (Rob Sprankle) sees her as delusional, and fears that free-spirited, headstrong Little Edie's similar dreams of becoming a performer will lead their family — and her prospects of landing a rich husband — to ruin. Stern with his daughter, Grandpa Bouvier warmly tutors his other granddaughters, little Lee (Clare Kerwin) and Jackie (Ella Rescigno) on proper behavior and patrician values in the amusing number "Marry Well." 
This part of the family's story comprises the first act, and the appealing score by Scott Frankel and Michael Kore emulates the frothy styles of the era's popular musicals. The second act fast-forwards to 1973, with the elderly mother (now played by Caroline Weidner) and her never-married daughter now virtual shut-ins, living in squalid poverty in the titular crumbling mansion, its name now evoking both decay and the ghosts of former grandeur.
Hallmarks of this production are the excellent voices of the entire cast, especially Bloom and Haley Sprankle, and the commitment both actresses have for exploring the murky and troubled emotional depths of their characters. Beneath the constant, shrill bickering of mother and daughter — much of which is taken nearly verbatim from the documentary — is undeniable love and indeed co-dependency. Trapped in a loveless marriage and fearful that her daughter isn't stable enough to survive on her own, the elder Edie sets up their eventual fate, while the younger, no matter how desperately she declares her misery, chooses to accept it. 
On opening night, Haley Sprankle's expressions and body language eloquently demonstrated pain, anguish and heartbreak, especially during the ironic and jarringly discordant "Daddy's Little Girl." The audience was clearly emotionally invested in the characters, and I noticed an audible gasp from at least a dozen patrons when a climactic decision was made. Director Milena Herring successfully structures the often-overlapping and argumentative dialogue in Doug Wright's book, sustaining emotional intensity throughout production. Musical director Randy Moore leads four other musicians, creating with three keyboards, bass and drums the sound of a much larger ensemble. 
Bloom not only plays the mother in 1941, but also the middle-aged version of the daughter in 1973. She and Weidner faithfully recreate the flamboyant nature and quirks that contributed to the documentary success. But the Edies weren't particularly pleasant ladies. Their wisecracks and caustic comments, as well as their piercing tones and harsh accents, may be difficult for some to embrace. Yet the opening night audience laughed non-stop at almost every word Bloom spoke or sang in the second act, seemingly rejoicing in her character's campy excesses.  
The trope of characters clinging to fading memories of a better former existence has been used by everyone from Faulkner to Tennessee Williams, and goes back at least as far as Dickens' Miss Havisham. Seeing the theme befall real people is troubling, and laughing at their misfortune to me seems a little creepy and voyeuristic. I also wonder how empathetic many viewers may be for the plight of women who assumed they would always be taken care of financially by others, and never took control of their own destiny. Then again, that's the real-life tragedy on display.
Overall, I enjoyed this excellent production, and recommend it highly for the production values, the score and the performances of the two leads, who flex their vocal and acting skills with this challenging material.