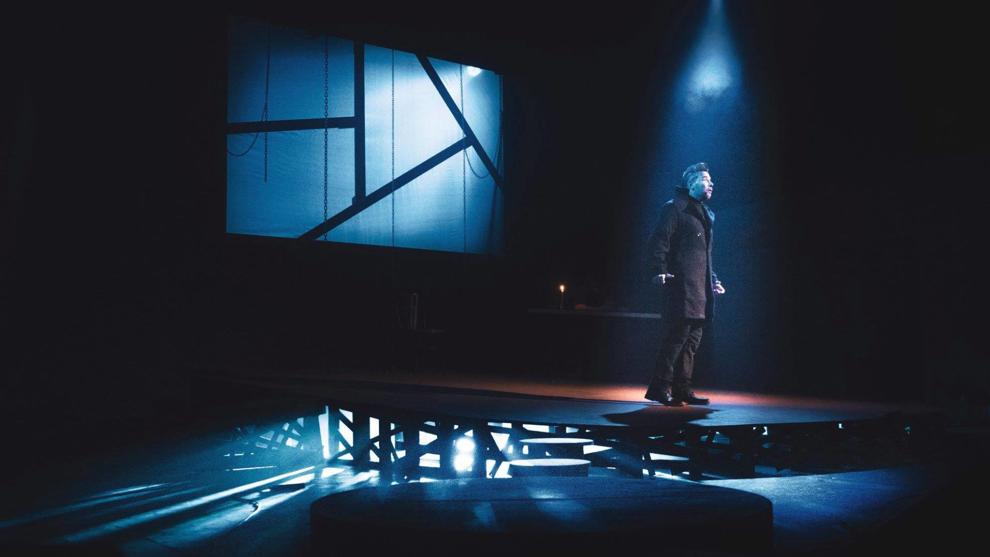 Ebenezer Scrooge has returned to Trustus Theatre, and as always, the ghost of his late partner, Jacob Marley, is scaring the dickens out of him. This time around, however, the story is told from Marley's viewpoint. With clear admiration for the tone and language of the classic 19th century novella, Jacob Marley's Christmas Carol delves deeply into the ghostly roots of the original, while also celebrating the power of storytelling.
This is not the Patrick Barlow adaptation presented at Trustus in 2013 and 2014, nor the musical version staged at Town Theatre in 2016, nor even the touring company from North Carolina that has performed at the Township. Author Tom Mula's homage to Charles Dickens began as a one-man stage play, and has since evolved into a novel, a seasonal radio presentation broadcast on NPR, and this current iteration, designed for four actors.
The plot is the one we know. Miserly Scrooge is haunted on Christmas Eve by spirits who teach him the true meaning of the season. At a recent matinee, Kevin Bush portrayed Marley as a crotchety, uptight bean counter. Scrooge Lite, if you will. Yet when confronted with the horrors of potentially eternal damnation for his sins, Bush allowed the crusty facade to crack, revealing the reluctant humanity of the man who followed Scrooge's lead for years. In a clever twist, Marley also assumed the personas of the ghosts of Christmas past and present, affording Bush the opportunity also to portray a young Cockney boy with charm and zest.
Richard Edward III took on a number of roles, but Scrooge was his primary character, and he gave the iconic skinflint a more assertive, vigorous nature than one might expect, frustrating Marley's initial plan simply to scare the old miser into becoming a better person. Krista Forster was along for the ride throughout as a "bogle" — the Celtic spirit that confounded people or "boggled" their minds — who was tasked with chaperoning Marley on his quest for redemption, both Scrooge's and his own. I suspect the bogle had no gender, but Forster played the creature like a mischievous but ultimately kindhearted Tinker Bell from hell. Jeff Driggers rounded out the cast as most other characters, including Bob Cratchit, Mr. Fezziwig, Marley's father, Scrooge's nephew, the Angel of Death, and an ancient bureaucrat in charge of contracts and obligation in the afterlife. This last portrayal was particularly impressive, as the character's age and demeanor was accomplished by vocal inflection and body language, with no aid at all from costume or makeup.
Sam Hetler's scenic design was an ode to the eeriness and stark simplicity of German Expressionism, with a steeply raked stage, walls and doors leaning in at odd angles like the Riddler's lair in the Batman TV series, and a massive window above that revealed imposing beams that created abstract geometric shapes. Curtis Smoak's lighting complemented and enhanced the mood, with shafts of illumination taking nearly tangible form and creating creepy shadows and silhouettes. Director Patrick Michael Kelly also designed the sound, utilizing lonely-sounding piano music to establish tone; audibility was excellent, with area microphones used in lieu of potentially distracting head microphones.
Mula clearly loves Dickens, dexterously replicating the florid prose of the early Victorian era; indeed, one could call the script Dickens fan fiction, fleshing out the minor character of Marley and seamlessly weaving together passages from the original narrative with new material. There's even a nod to a plot device from another Dickens work, A Tale of Two Cities. Much of the narrative was spoken by the actors in the third person, as if reading from a novel, followed by vignettes where they addressed each other, and the director adeptly ensured that the back-and-forth transition seemed natural.
Jacob Marley's Christmas Carol is completely family-friendly, and runs barely two hours, including intermission. Yet I would caution that this is a show for adults, and for literature-loving, theater-loving teens and perhaps tweens, but not for tiny tykes. There's no blood, no mayhem and no violence, but the production is quite intense. Solely through acting and the potency of imagination, the cast recreates hell on a virtually bare stage, and then re-enacts the emotional trauma that led to Scrooge and Marley becoming the heartless bastards that they were. I wouldn't say that the production is exactly scary, but it's dark and foreboding — although ultimately uplifting — with bits of comic relief here and there. Probably exactly what Charles Dickens would have wanted.   
Let us know what you think: Email editor@free-times.com.