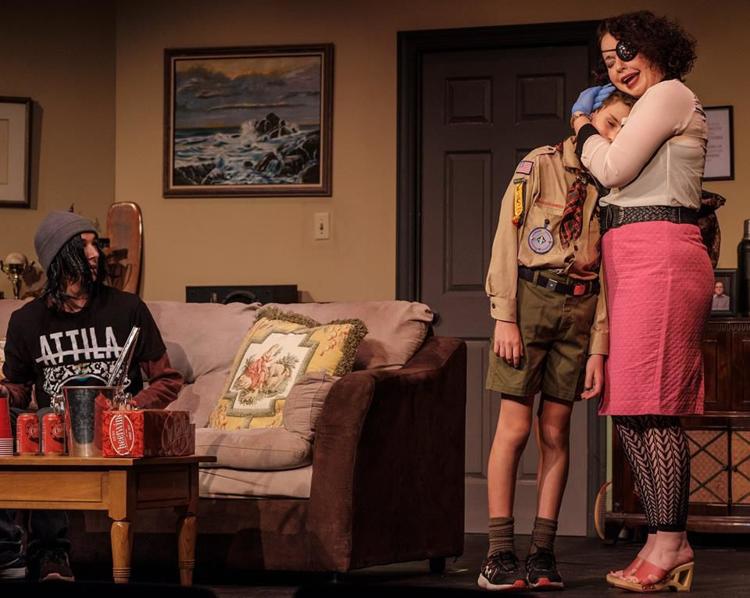 If Edward Albee were alive today, he might have created Boy About Ten, the most recent original play to debut as a result of Trustus Theatre's Playwrights' Festival.
Albee won multiple Pulitzer Prizes and Tony Awards for plays that often explored modern American marriage and family relationships, and South Carolina playwright Jon Tuttle has taken up the mantle. If Albee's works were dissections of dysfunction, then Boy About Ten is a vivisection, a painful journey of discovery into a living organism.
The story begins with a court-ordered parental visitation with a twist: mother Tammy (Jennifer Hill) and father Terry (Paul Kaufmann) each get a weekend alone with their son. No one wants this but Terry, who clearly loves his sons, as well as his ex, and a moment where both boys desperately begged social worker D'Loris (Lonetta Thompson) not to force them to comply was agonizing to watch. But that wasn't the last heart-wrenching moment.
Tommy Wiggins played Todd, a withdrawn, nearly non-verbal teen, who repeatedly tried to harm himself in the past, following trauma experienced when he was a boy about 10. Daniel Rabinovich played Timmy, an academically gifted, well-mannered, home-schooled Webelos Scout, now a boy about 10. Lest one think that the histrionic Tammy's Tiger Mom parenting might be responsible for her son's accomplishments, the subtle implication was that Timmy had to develop intellectually as a defense mechanism in the maelstrom of Tammy's emotional outbursts. Kaufman played Terry as an ostensibly good-natured goofball with the maturity of, yes, a boy about 10, eager to bond with his son over junk food, ghost stories and tales of his past life in a KISS tribute band.
At a recent matinee, director Patrick Michael Kelly's cast committed fully to the raw emotions which were laid bare. Pace, timing and a delicate balance between comedy and tragedy were among the tools employed to successfully blend the narrative's more fantastical elements with a razor-sharp insight into the reality of victims left in the wake of an ugly divorce. One cleverly-realized sequence involved the adult actors switching to silently mimed movements and gestures, as Todd donned headphones to blot out their shrill cacophony.
Hill in particular made the volatile Tammy into a three-dimensional human with genuine feelings, however extreme. While the visitation arrangement that propels the plot was hard to accept — most judges would likely have yanked custody from both of these twisted eccentrics — Thompson kept the story grounded with a sincere and sympathetic depiction of D'Loris. Both Wiggins and Rabinovich were ideally cast, with the latter holding his own in extended scenes with the always-excellent Kaufmann. Laura Anthony's lighting was nicely effective, closing in tightly to illuminate specific objects or areas of Lyon Forrest Hill's set at key moments.
I remain unsure of what broader theme or statement was intended by the author, if any. But as with any well-crafted work of art, the viewer is able to apply his or her own life experience and draw their own conclusions. I noted that as Mom and Dad spent the weekend trying to convince their sons that each was not the bad guy in the dissolution of the family, Todd repeatedly stammered, "I'm sorry," revealing how a child will blame himself when things go wrong. Would Dad really have engaged in the most reprehensible act of animal cruelty imaginable? Would Mom actually have set a couch on fire to make Dad get up? Tammy is undeniably a demanding, melodramatic witch, right down to wearing an eyepatch like a hag from some cautionary Grimms' tale. Terry is a headband-wearing, air guitar-playing, gray-bearded man-child whose irresponsibility certainly puts his children in harm's way. And while those are accurate descriptions of the parents in this fictional story, that's also an accurate summation of about 95 percent of the complaints I've heard divorced people make about their exes. Often with their children listening.
Boy About Ten is no dreamlike fable or allegory — the events playing out on stage, however surreal, are actually happening in the characters' fictive world — but I wonder if the bigger message might just be a challenge for us a society to reconsider the emotional damage we do to our children. The production is billed as a comedy, but I'd describe it as a darkly tragic drama involving flamboyantly comic characters who frequently generate lots of laughter. The show therefore is probably not for all tastes, but the cast and director's commitment to relaying the author's complex and thought-provoking vision in an accessible manner is both impressive and appealing.
---
What: Boy About Ten
Where: Trustus Theatre, 520 Lady St.
When: Through Aug. 25
Price: $25 ($20 students)
More: trustus.org