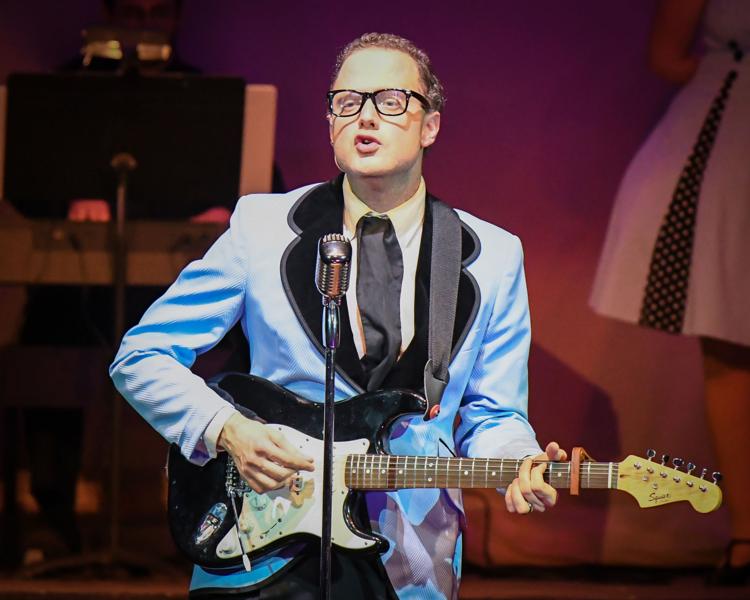 How often does an actor have a chance to portray both Buddy Holly and Johnny Cash? Charlie Goodrich is getting just that chance, rocking out as the lead in Buddy: The Buddy Holly Story, only a year after capturing Cash's unique sound and mannerisms for 2017's Million Dollar Quartet.
Columbia's Town Theatre has found box office success over the last decade with compact musicals that feature a country or classic rock theme, including jukebox musicals such as Honky Tonk Angels and the aforementioned Quartet, as well as stage biographies of Patsy Cline and Tammy Wynette. Buddy, last produced at Town in 2009, features an original script by Alan Janes, but parallels the plot of the 1978 Gary Busey film closely, charting the final three years of Holly's short but eventful life.
On opening night last week, Goodrich adroitly captured his character's down-home awkwardness and good-natured "Aw shucks" persona, showing assertive anger only when challenged on creative decisions in the studio. Holly appears to have been a royal pain to work with at times, but his enduring and iconic status as one of the great pioneers of rock 'n' roll is clear vindication. For those who may know his name only as one in a roster of dead white guys who are supposed to be important somehow, Holly and contemporaries such as Elvis Presley were among the first to take the disparate threads of musical styles they listened to on the radio — country and Western twang, the energy and beat of rhythm and blues, the richness of gospel, the sensuality of jazz and swing — and synthesize them into a uniquely American musical form that captured the imaginations of an entire generation of teenagers.
Billy Bishop on bass and Marshall Seezen on drums played live as the Crickets, backing Goodrich who played rhythm guitar, with James Seezen cast as a composite version of a number of lead guitarists who later joined the band. The Seezens are Goodrich's nephews, playing close to their own ages, and their youth added an important note of authenticity to the story. Musical director Lou Boeschen ensured a lean and authentic minimalistic sound from the quartet in the first act, as the Crickets began develop their distinctive style, right down to the quirky hiccup sound in Holly's vocals, and the substitution of hand-slaps and claps for actual percussion on some numbers. 
Two extended concert performances closed out the first and second acts, recreating the Crickets' barrier-breaking appearance as the first white act to play the Apollo Theatre, and Holly's last show as a solo artist before his death in a plane crash at age 22. Jessie Rivera as Richie Valens and William LaLima as J. P. Richardson, aka the Big Bopper — Holly's co-stars on that final tour — nearly stole the show, as each performed his character's signature song, "La Bamba," and "Chantilly Lace," respectively. LaLima in particular demonstrated how over-the-top delivery and a larger-than-life stage presence could turn a one-hit wonder into a teen idol, and his delivery of the famous line, "Hell-o-o-o, b-a-a-a-a-be-e-e-e-e", was just a delight. 
Lee Martin as Apollo performer and emcee Marlena Madison drew much applause with a bravura cover of The Isley Brothers' "Shout." The Apollo scene, of course, mined the racial divide of the era for laughs. The black emcee couldn't imagine that geeky, naive white boys from Texas could ever play authentic rock 'n' roll, while the Crickets were at first afraid to play for an African-American audience. The scene was handled tastefully, however, portraying Holly as wanting people of all colors to be able to enjoy his music.
Danny Harrington's scenic design was spare, quite appropriate for a show focused on rock 'n' roll performances. Hans Boeschen's direction allowed Goodrich to find subtlety in the script's straightforward, by-the-numbers account of Holly's rapid rise to fame. 
I cannot emphasize too strongly how impressively Goodrich, a baritone, replicated Holly's trademark tenor sound with the same ease that he once channeled the deep bass-baritone voice of Johnny Cash. Choreographer Shannon Scruggs created authentic American Bandstand-style dance moves for the backing ensemble in the climactic concert, and that ensemble is particularly deserving of praise for their palpable exuberance. Dancers are taught to smile at the audience, but I cannot recall a time when I've seen a cast so vividly and noticeably happy to be performing.
While the script offered a quick and cursory overview of Holly's short life, and there was no deep message beyond, "If you have talent, stay true to your vision," this production succeeded with its depiction of an influential rocker's creative journey, and its recreation of the live rock show experience of the 1950s.