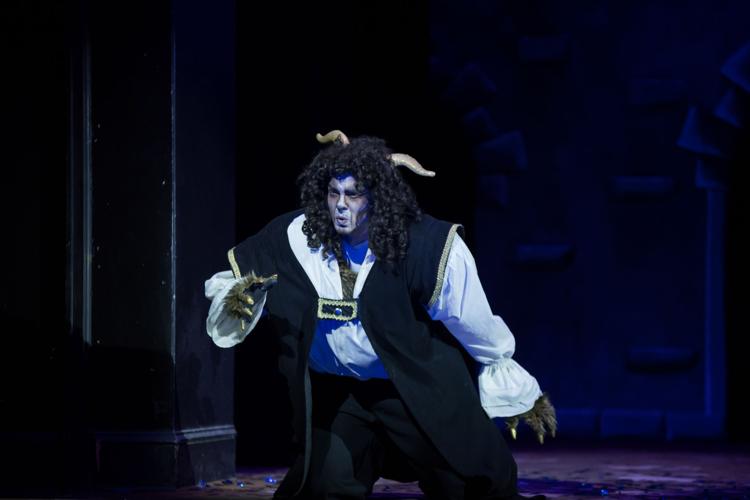 It's a "Tale as old as time / True as it can be / Barely even friends / Then somebody bends / Unexpectedly."
Those reflective (and Oscar-winning) lyrics kick off the title song of Disney's Beauty and the Beast, the stage musical adaptation of the successful 1991 animated film, and give an indication that this story may be more than a simple fairy tale for children. Linda Woolverton's book takes themes from a European folk tale retold by a number of authors, and gives them a modern makeover. Sure, plucky villager Belle (Courtney Reasoner at the performance I saw last week, alternating with Emily Moore) is a beauty — that's what her name means in French. But she's something of an outcast, with her bookish — OK, nerdy — and independent nature repelling all potential suitors save for one, the studly yet egocentric Gaston (Adam Bigony, singing beautifully with a confidence and assertiveness that I haven't seen from him in previous roles).
The Beast (Josh Finch, alternating with Jeremy Reasoner), however, was once a petulant young prince, who ran afoul of a witch — don't they always? — and was cursed to live as a furry, horned monster until he finds true love. Circumstances lead to Belle's imprisonment by the Beast, but when he risks his life to save hers, somebody bends, unexpectedly. And while the metaphorical lesson might be a little heavy-handed — like all of us, she needs to look beneath the surface to find someone who appreciates her unique qualities, while he needs to suppress his feral instincts and impulses — relationship counselors make a fortune advising tens of millions of love-lost souls to follow this very same advice.
Alan Menken's score and Howard Ashman's lyrics come straight from the film, part of a so-called Disney Renaissance, where cartoon features were crafted to resemble Broadway musicals. Those songs channel lively operetta tunes from an earlier era, and I was most impressed by "Human Again," a lilting waltz that was still humming two days later. Other numbers feature lyrics from Tim Rice, and have a slightly more contemporary feel, especially the moving ballad "A Change in Me," which was written for Toni Braxton and inserted four years into the musical's 13-year run on Broadway when she took over the role of Belle.
At last Friday's performance, Finch played the Beast like any tortured, brooding tragic hero, from Bronte's Heathcliff to Joss Whedon's Angel. As the son, Will, in January's Big Fish, Finch was a slender young millennial with a pleasing tenor vocal range, but with padding, facial paint, and a shaggy headdress of fur and horns, he conveyed the Beast's guttural tones, lurching animalistic gait, and fierce attitude with credibility and seeming ease.
Reasoner was an effervescent delight, hitting high notes with no visible effort whatsoever. Most of the show's lavish dance numbers do not involve but rather transpire around Belle, but Reasoner darted across stage with a dancer's grace and agility. Both she and Finch may have been cast as Disney characters, but the actors played their roles as if they were doing Shakespeare, with Reasoner especially effective in conveying joy, sadness and heartbreak.
This wouldn't be Disney, however, without whimsical supporting characters. The witch's curse transformed the Beast's servants into assorted household objects, led by the clock Cogsworth (Corey Langley), the candelabra Lumiere (Jacob Calder), and the teapot Mrs. Potts (Dell Goodrich, who did original voice actor Angela Lansbury proud singing the title song). Costume design by Jillian Carey — who does double duty, performing as the saucy feather duster Babette — faithfully replicates the original Broadway look, so I'll just say that it was successful and skillfully realized, even if this adult found it awfully hard to empathize with actors dressed as spoons, plates and mops, no matter how proficiently the actors embodied their parts. But of course, their outlandish, anthropomorphic costumes are intended as the main comedic draw for children in attendance.
Danny Harrington's scenic design relied heavily on colorful painted backdrops to create a tavern, a village square, the Beast's vast library and a spooky forest, while the main set piece was a solid and regal depiction of a castle interior, complete with three elegant and superbly lit stained glass windows. Director Shannon Scruggs filled the stage with youngsters in ensemble parts as slices of cheese, teacups and townspeople, but all were always engaged with the action on stage. Her choreography relied on several veteran dancers — including three "Silly Girls" and admirers of Gaston who stole nearly every scene with squeals and giggles — who led the cast in elaborate, Busby Berkeley-style movement. There was even an unexpected nod to Hong Kong-style martial arts wire-work in a fight scene with wolves, and that aerial wizardry made a dazzling return in the triumphant denouement.
Town's Disney's Beauty and the Beast runs a solid 2.5 hours, making it a potential challenge for younger theater-goers, but tweens, teens and adults will likely enjoy the rich score, vibrant performances and uplifting themes.
---
What: Disney's Beauty and the Beast
Where: Town Theatre, 1012 Sumter St.
When: Through July 29
Price: $25 ($20 seniors, active military, full-time college; $15 for youth 17 and under)
More: towntheatre.com