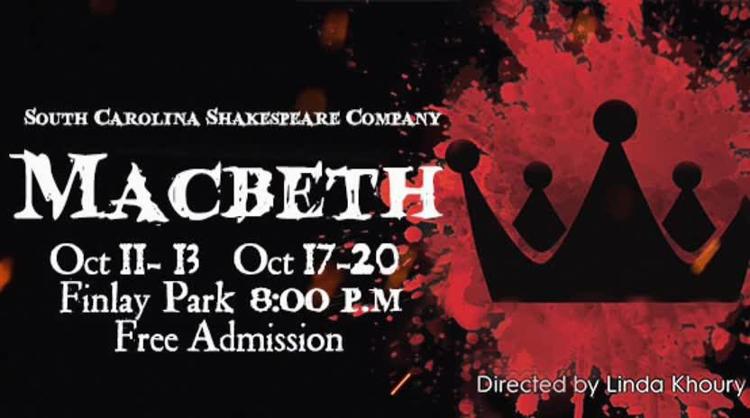 William Shakespeare's works lend themselves to reinterpretation by successive generations of directors and actors. At a performance last week, the South Carolina Shakespeare Company's no-frills, by-the-book production of Macbeth in the Finlay Park amphitheater adhered closely to the material as written, while including a few thought-provoking twists.
Directed here by Linda Khoury, Macbeth is a straightforward tale of a Dark Ages nobleman who murders the King of Scotland and seizes the throne, but is then brought down by his own shortcomings as well as some murky prophecies from witches. His hair dyed a fierce Celtic red, Chris Cook portrayed the title role on opening weekend as neither tragically flawed protagonist nor ruthless villain. Instead, his Macbeth was more of an undervalued bureaucrat who finds himself, like Breaking Bad's Walter White, desperately in over his head when he succumbs to temptation. Peevish and petty, Cook's Macbeth ordered assassinations to secure his power like a petulant middle manager laying off his least favorite employees in a lean budget year.
It was a risky portrayal, but completely in line with his wife's description of Macbeth as being "too full of the milk of human kindness" to grab power for himself — that is, until three witches revealed that he is destined to become king. That, combined with fierce encouragement from his wife, sent him on a course which he was ill-prepared to handle.
As Lady Macbeth, Katie Mixon was all fire and unbridled ambition, calling on any sinister forces that might be listening to support her thirst for power. Mixon created a multifaceted character, controlling her husband as much by sexuality as by harsh rhetoric, but failing to anticipate the trauma and guilt that might accompany dark deeds. With few scenes on stage or lines with which to foretell Lady Macbeth's ultimate breakdown, Mixon adeptly used facial expressions, body language and hesitancy in her delivery to signify how the character's confidence begins to wane.
References to death and the futility of life abound in the text. Listen closely, and Lady Macbeth reveals that she has nursed a child, implying that she also lost that child. The noble whose title Macbeth is given is described as dying more honorably than he lived, while a young warrior is said to have only lived long enough to die like a man. Macbeth's antagonist Macduff (Darion McCloud) loses his son, while onetime ally Banquo (Chris Harvey) dies defending his. Many of these lines and scenes are cut or at least trimmed in modern productions, but Khoury has retained most of the text. While the result sometimes caused scenes to drag, the overall message I perceived was that death is commonplace, and killing is easy, while living a good life is hard.
Another visual statement by Khoury allowed the witches and their queen, Hecate (an icily regal Janet Kile), to watch and perhaps instigate, or at least abet, some of the mayhem involving visions and spirits. This too was a bold notion, although one that never quite worked for me, however intriguing the concept.
Kile also provided costume design, which by and large suggested the mid-11th century setting, especially in the barbaric, half-clothed attire of Ross (Tracy Steele) and Lennox (George Dinsmore.) A dozen or more interchangeable supporting characters provided plot exposition, but the assertive visual statement of these two — including Braveheart-style facial paint — helped them to stand out, leading one to listen more closely to their dialogue. Other costumes ran the gamut from kilts to gowns to leggings to trousers, anachronistically spanning the centuries, but would surely distract no one other than a historian. Both Mixon and Mary Miles wore strikingly lovely formal gowns.
Miles, who also blended inconspicuously and convincingly into the assembled male forces as Prince Donalbain, gave a feisty performance as Lady Macduff, prompting a smattering of applause and some unexpected cheers from the audience as she dismissed the need for a husband's presence. Clark Wallace also drew a rousing round of applause, milking every moment as a drunken porter who provided comic relief, but also crucial time for Cook and Mixon to wash blood from their hands offstage.
Macbeth is said to be a cursed play, so much so that one is never supposed to say its title aloud in a theater. Hurricane Michael took that to heart, knocking down a portion of Lee Shepherd's set two nights before opening. Fortunately, a number of theater professionals collaborated quickly on a modified scenic design that was reminiscent of the somber starkness of Stonehenge. A nice added touch was the presence of mystical runes etched into the rocky facade that glowed with changes of lighting.
Fight choreography was somewhat disappointing, with punches pulled too obviously, blades missing their targets wildly, and a climactic death offstage appearing just a little too contrived for my tastes.
Still, convincing performances by the leads and principal supporting players, and the cast's respect for and exploration of the themes contained within the material, gave proof that there's still much life and truth to be found in this darkest tale of death and madness.