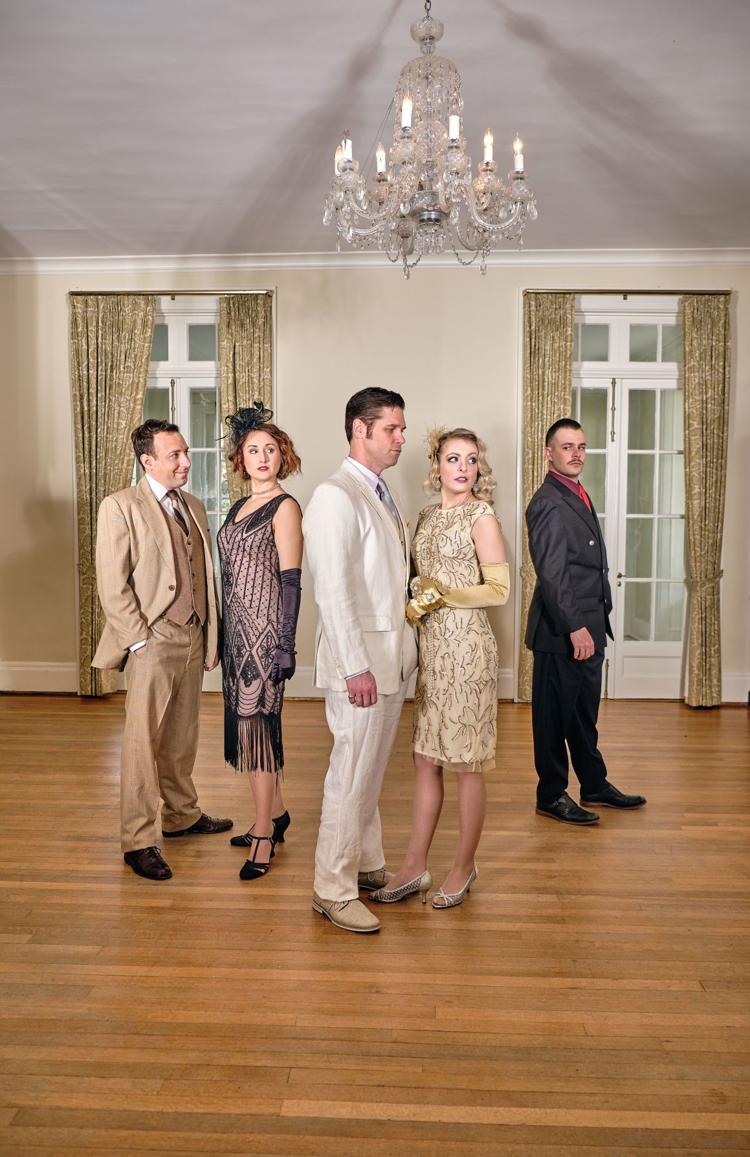 Don't let the title fool you. The Great Gatsby may have been one of those required reading assignments that you muddled through in high school with the assurance that it was Great Literature, but the stage adaptation by Simon Levy currently running at Trustus Theatre is a fun time that can be enjoyed for just the lively music and dance that unfold in front of striking visuals. A deeper message is there for the taking, depending on your mood and inclination.
This production's director, Chad Henderson, also Trustus' artistic director, often incorporates music into his work, but it's a particular emphasis here. Local jazz mainstay Mark Rapp composed an original instrumental score and led a five-piece combo from ColaJazz in performing it. The score ran throughout the production, vivifying the live bands that performed for Gatsby's lavish parties as well as music the characters would have been listening to on their phonographs. At a recent matinee, I found the score appealing and utterly appropriate for the story's 1920s Jazz Age setting, although it ultimately served as pleasant background music.
Henderson and Rapp also inserted several jazz arrangements of pop songs from artists including Billie Holliday, Chris Isaak, Phil Collins, and even Panic at the Disco, with vocals provided by select members of the cast. Five dancers from the Columbia City Ballet, dressed as flappers, led the cast's 11 actors in celebratory party scenes, with choreography by Stephanie Wilkins. At times, the songs reflected the inner conflict or turmoil experienced by the main characters.
Meanwhile, projections that were selected and designed by the director defined everything from waves in the Long Island Sound to the lush interiors of stately mansions, with no more than a few random props — a sofa here, a chaise longuethere, the occasional place from which bootleg liquor could be served — making up the rest of Henderson's inventive scenic design.
Jason Stokes made for a broody and tragic Gatsby, the self-made millionaire obsessed with reclaiming the girl that got away. Said girl, Daisy, was played by Katie Leitner, who portrayed her like a china doll — beautiful and fragile and, in many ways, artificial. Leitner gave a complex and multi-layered performance, inspiring much sympathy for a character that one realized, long after the show ended, didn't necessarily deserve that much sympathy. Richard Edward III embodied the brutishness of Daisy's husband, Tom, with his hair and mustache quite suggestive of styles from the Roaring '20s. Brittany Hammock gave a spunky, sassy turn as Daisy's gal pal Jordan, while Raia Jane Hirsch employed an authentically brassy and harsh accent and attitude as Myrtle, Tom's mistress, whom Daisy dismissively summed up in three words: "Well, she's common."  
Top acting honors go to Jared Rogers-Martin as Nick, the evermany figure thrown into the social dysfunction of society elites. While in many ways Levy's stage script is a condensed, CliffsNotes version of its source material, stretches of Fitzgerald's prose survive, and those were delivered as narration by Rogers-Martin in as good a bit of oral interpretation as I've seen in a long time.
Fitzgerald's novel is usually recalled as a tragic romance, a saga of doomed and obsessive love, and a chronicle and celebration of the lifestyles of the rich and famous in the posh Prohibition-era social scene on Long Island. More accurately, however, Gatsby is an indictment of that lifestyle.
While I have no memory of what I was supposed to learn when I read the book in 10th grade (please forgive me, Mr. Gasque) it seems pretty clear that Daisy is meant to represent the unattainable American dream, Gatsby is our struggle to attain it, Tom is the patrician establishment who always wins, and Tom is doing to Myrtle what the wealthy are doing to the country.
That's certainly an important message for our troubled times — but for me, it was an awfully heavy-handed allegory. I received the lesson loud and clear, but derived more pleasure from seeing three local performing arts entities joining forces in a fortuitous union of visual imagery, live jazz, rich vocals, solid acting and appealing choreography.