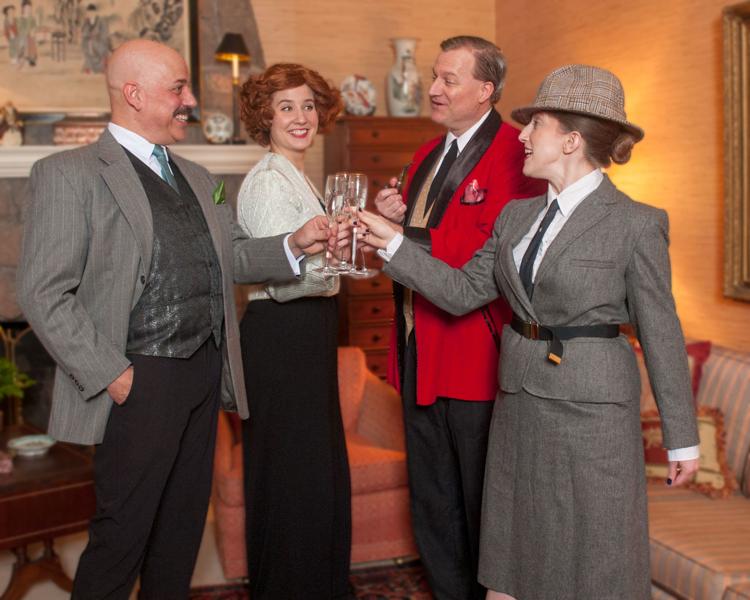 "I found it unlikely, illogical, far-fetched — and I enjoyed it immensely." That's how Police Inspector Goring (Allison Allgood) describes the famous play Sherlock Holmes to its lead actor and author William Gillette (Chip Collins), but it's an apt summary of the line's source: The Game's Afoot, a comedy/murder mystery waggishly sub-titled Holmes for the Holidays! by author Ken Ludwig. Lightning flashed, knives protruded from backs, secret panels opened and closed, past indiscretions were revealed, and red herrings abounded, all of which are conventions of the genre. And while the script explores no new dramatic territory, at the matinee I attended, Town Theatre's capable cast sustained a nice comedic pace that never disappointed.  
Gillette was an enormously popular, successful and influential figure in 19th and early 20th century theater, and is an answer on a midterm in just about every class on American drama ever taught. Widowed when young, the producer and matinee idol used his fortune later in life to construct a faux castle in Connecticut, filled with the Gothic flourishes and ornate interior decor often found in his stage mysteries.
Into that framework Ludwig inserts a fictional roster of usual suspects, including acerbic theater critic Daria (Zsuzsa Manna), Gillette's endearingly dotty mother Martha (Karen Herschell), posh married couple Felix and Madge (Clayton King and Sarah Strobolakos), and young lovers Aggie and Simon (Kira Nessel and William Ellis.) While the premise is "what if a famous Sherlock portrayer had to solve a mystery in his own home?" there's almost no other connection to the Holmes stories, or to the life of the historical Gillette, whose real mother Elizabeth was long since deceased by the time of this play's 1936 setting, when Gillette would have been some 40 years older than the dapper Collins.
Still, author Ludwig's forte in his lengthy, Tony Award-winning career has been to emulate and recreate the dramatic styles of earlier eras, including outrageous farces (Lend Me a Tenor, Moon Over Buffalo), light romantic musical comedies of the 1930s (Crazy for You), and family-friendly adventures adapted for the stage (The Three Musketeers, Tom Sawyer). This time, it's the turn for urbane, drawing room comedy and mystery.
Manna nearly stole the show with her broad characterization of the caustic Daria, of whom Martha says, "She was ruthless. She was evil. She was a theater critic, for God's sake." Ouch. She was the best among the cast at capturing the affected "Mid-Atlantic" accent of the era depicted. Collins made for a stalwart lead, and King added to his extensive repertoire of appealingly quirky character roles, although I wish that both had embraced more fully the flamboyance and dramaticism of Broadway actors in an era where histrionic exuberance was the norm. Nevertheless, punchlines, wisecracks and screams in the dark all flowed rapidly and were executed with precision timing, as was an extended scene of physical comedy involving a dead body that was reminiscent of Get Smart at its goofiest. Veteran director Milena Herring appears to have given her actors permission to enjoy themselves on stage as much as possible, resulting in a whole that was greater than the sum of its parts, i.e. a fast-paced romp that surpassed the ostensible potential of its stock characters and familiar storyline.
Danny Harrington's scene design is typical of his one-setting mansion interiors, with the customary double doors, sweeping staircase and a trademark half-moon window above. His lighting, along with sound effects by Amanda Hines and Kathy Seppamaki, are integral parts of the plot, and were accomplished without a hitch. Jillian Carey's costume design accurately captured the elegance of the time period, especially a chic pants outfit worn by Strobolakos, similar to one that Carey created for the same actress in Herring's production of last year's You Can't Take It With You.
Town Theatre, closing in on its 100th anniversary, traditionally produces five musicals each season, including a huge summer show aimed at a broader family audience, but only one "straight" show, i.e. non-musical. Milena Herring has helmed the last three of those, and in each instance she took material that might not have the marquee appeal of something like the theater's upcoming Hairspray, yet made the material enjoyable and accessible. The Game's Afoot is unlikely to take Broadway by storm, or form the basis of Robert Downey, Jr.'s next Sherlock Holmes portrayal, but the authentic tone of Ludwig's affectionate nod to the genre, and the energy and enthusiasm of Herring's cast ensured a perfectly pleasant afternoon's entertainment. 
---
What:  The Game's Afoot
Where:  Town Theatre, 1012 Sumter St.
When: Through March 18
Price: $25 ($20 seniors 65 and up,full-time college, active-duty military; $15 youth 17 and under)
More: 803-799-2510, towntheatre.com