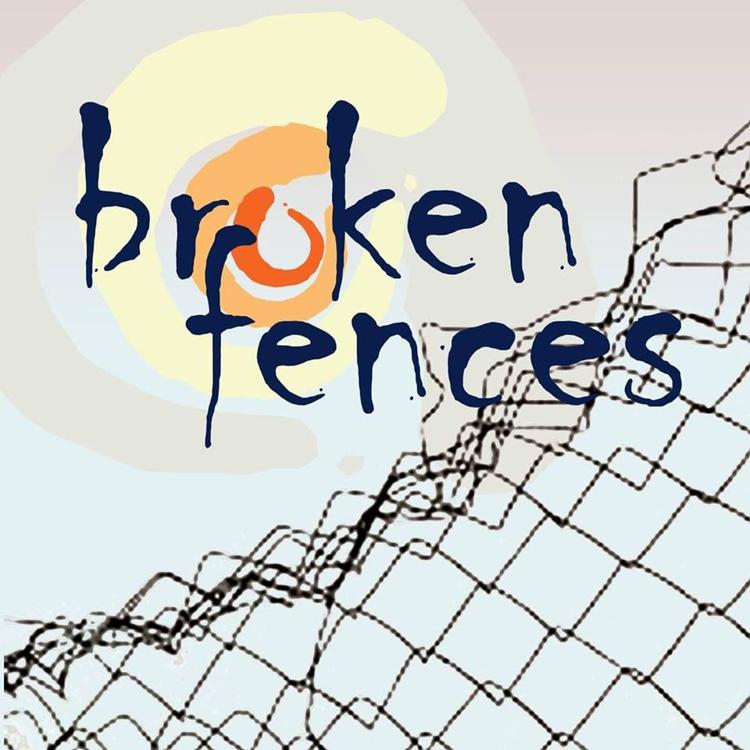 At one level, Broken Fences is a touching and straightforward account of two young families coping with issues of identity — who they are, who they want to be and how they may or may not be defined by where they live. At another level, the play is a cautionary and somewhat didactic tale of the perils of gentrification — the process where affluent professionals, often white, move to inner-city neighborhoods, driving up property values and therefore property taxes, and driving out working class families, often minorities, who have lived there for generations. While Steven Simoncic's script sometimes gets sidetracked, the play is an opportune vehicle to showcase the strengths, talents and goals of the NiA Theatre Company, Columbia's intentionally nomadic, multi-ethnic theatrical troupe — taking its name from the Swahili word for "purpose."
April (Heather McCue) still wears Nirvana t-shirts and colors her hair pink in her 30s. Her husband Czar (Nathan Dawson) sports tattoos, a bushy beard, a mustache with carefully-curled tips and hair closely cropped on the sides, enabling him to pull the rest up into man-bun while he does yoga. These visual cues instantly define this expectant couple as both hipsters and yuppies before they ever speak a word of dialogue.
Rejecting the homogeneity and privilege of the suburbs, they buy a newly remodeled home in an area where corporate chains and their customers are squeezing out the already struggling residents. Hoody (Darion McCloud) lives next door with his fiancé D (Ericka Wright) in the family home where he was raised, and where his troubled friend Esto (Tristan Pack) and restless, entrepreneurially minded brother Marz (Zach Woods) periodically turns up. Both couples try to reach out to each other, and, left on their own, might overcome cultural barriers to forge some bond. Thanks to new development and homes being "flipped," however, a tripled property tax bill threatens Hoody's already strained-finances, and he and D face the imminent danger of losing their home. Czar and April meanwhile find crack pipes and gang graffiti in their backyard.
Director McCloud anchored the play on opening weekend, stepping in to play Hoody at the last minute, and found nuance, meaning, and eloquence in a simple blue-collar worker's words. McCue mined the emotional depths of a self-described "B-cup, B-student" who assumed assorted personas as a way to rebel and attract attention, only to find unexpected potential fulfillment as a wife and mother. Pack faced a tough challenge as a small-time street hustler unable to transition into mainstream society, but the actor handled the character's rage and frustration nicely without falling into stereotype. Dawson was convincing as Czar, a decent guy who is uncomfortable with conflict he neither sought nor anticipated. Ericka Wright played D with fire and sass, juggling the character's resentment of April's overtures of friendship with her realization that April is just trying to help.
Many of the actors also deliver monologues, dropping some of the accents and mannerisms of their characterizations, and revealing the inner thoughts of their characters directly to the audience. While these speeches were delivered with passion and sincerity — especially by McCue — I felt these detracted from the natural flow of the narrative, as did a couple of awkward scenes of comedy intended to mock some of the characters' cultural differences. The core story would be a decent plotline at under two hours, but the monologues and comic relief added an additional — and I feel unnecessary — 30 minutes, although the cast nevertheless performed these scenes proficiently.
McCloud's direction was crisp, creating naturalism and credibility. The curtain-free, bare stage of the CMFA ArtSpace can pose a huge obstacle to verisimilitude, and McCloud has wisely opted for simple props — a few chairs, tables and doors — that were enhanced by natural blocking and movement. I never cared about the absence of an actual set because the actors commanded the audience's attention throughout. And the fence that separates the two family's yards is only mimed, making a statement in its own way: The sole barrier between the neighbors, and their respective cultures, is in their minds — and in ours.
Broken Fences tackles important issues in a believable and relatable manner, providing ample acting opportunities for the cast, and causing the audience to think — a long-time goal of NiA.