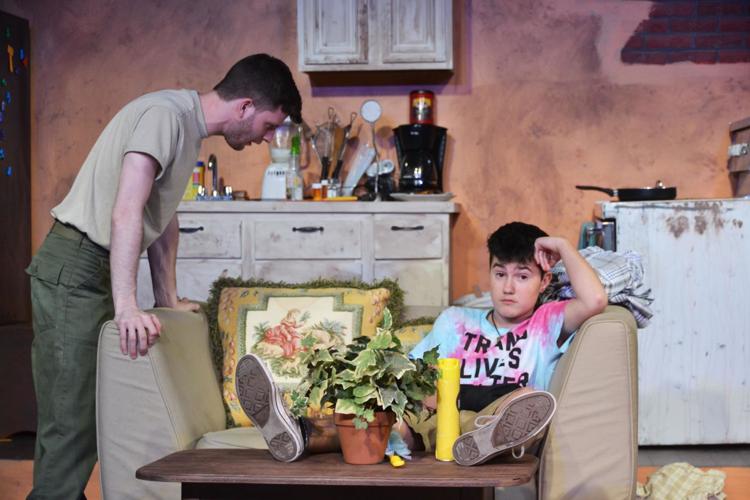 Taylor Mac's dark fable Hir deconstructs the traditional nuclear American family, as well as the fractured society in which we now live. Incorporating many of the divisive issues that make us the most uncomfortable — gender identity and fluidity, domestic violence, substance abuse and PTSD in the military — the play raises disturbing questions that are even more significant in the #MeToo era, gradually segueing from laugh-filled satire in the first act to tragic allegory in the second.
The title — a combination of "him" and "her" that's pronounced "here" — is the pronoun of choice for surly teenage rebel Max (Sebastian Liafsha), who is taking testosterone and transitioning away from his former life as the spunky tomboy Maxine. That's not the only surprise awaiting older brother Isaac (Tristan Pack) upon his return from the Marines. Aa stroke has left abusive dad Arnold (Ripley Thames) childlike and vulnerable, while mom Paige (Libby Campbell-Turner) has seized the chance to create a nightmarishly surreal domestic paradigm that is the polar opposite of her husband's 30-year reign of authoritarian terror.  
Campbell-Turner played the lead in Extremities, the first show Trustus produced in their original Assembly Street location over 30 years ago, as well as the Meryl Streep role in 2011's August: Osage County, and therefore lends an automatic gravitas to any production she appears in. At a recent matinee she adroitly delineated the many facets of her character, who could be seen as cold-blooded survivor, feminist icon, or comic stereotype. Paige's wisecracks were often reminiscent of Vicky Lawrence's acerbic Mama character.
Pack similarly did double duty as a surrogate for the audience as he stumbled into his family's shocking new circumstances, but also as a complex, broken young adult who was more of his father's son than he might have ever dared to admit. Given only a few lines and feral cries in the script, Thames managed to retain some level of pathos while suffering repeated indignities, yet one never forgot that this was once a violent tyrant. Liafsha, a young actor playing his own age, created a multi-dimensional character whose anger was rooted in both past and present.
The cast proficiently navigated jarring shifts in tone, with Isaac — perhaps not coincidentally the Biblical name of a son whose parent prepared to sacrifice him for the greater good — finding himself assuming a nurturing role for the father who mistreated him, and Paige discovering that her adorable, gender-neutral child was becoming an assertively masculine adult.  
Scenic designer Tyler Omundsen used every inch of the intimate Trustus Side Door space to create a realistic interior of a blue collar family's home where structural decay was both literal and figurative. The result placed the audience inside the house as if they were one more relative living there, bearing silent witness to the drama as it unfolded.
Director Lindsay Rae Taylor successfully met the challenge of making the script accessible to a mainstream theater audience while retaining the author's near-schizophrenic jumps in mood and theme. At times, laughter followed almost every line — the dialogue is quite witty, however dark the themes explored may have been. Moments later, however, the playwright shifts to near-poetic eloquence, usually signifying an idea or observation of import. When parents and children clashed over values and ethics, I was reminded of Tennessee Williams at his best.
Yet the stark vision of the downfall of patriarchal rule when taken to an extreme channels Samuel Beckett's vaguely post-apocalyptic works where characters are left to pick up the pieces, just as Isaac's military assignment in Mortuary Affairs requires him to recover body parts of fallen comrades. Indeed, the apocalypse depicted could be seen as the end of humanity defining itself via a binary gender model, and the rise of a more egalitarian society in which all lives and choices are valued.  
Its title notwithstanding, Hir isn't the journey of a trans youth's self-discovery that one might expect, or that the topic might deserve, although both Max and Paige speak eloquently on the ramifications of that issue. On one level, the author documents some twelve momentous hours in this deeply dysfunctional family unit's existence, affording plenty of intense and poignant acting moments for the cast, but on another, Mac seems to be asking how we, as a nation and as a species, got to where we are today.