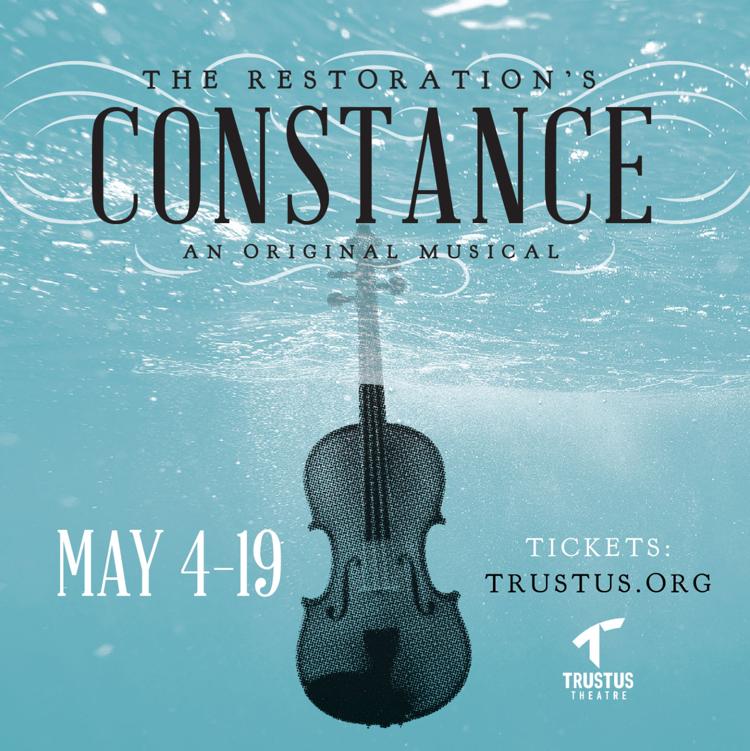 Late in the second act of The Restoration's Constance, Thomas Vale, the mistreated mixed-race son of a mistreated mixed-race man, is consumed by revenge. He sits with Willodean, his love that never was due to his white-and-black parentage. His mind is on the immediate future, on a rash act of violence he feels compelled to commit. Her mind is on the distant past, describing a picture in a magazine they gazed at as children.
The photo was of a sculpture depicting a puppeteer and his puppets. Their strings cut, the puppets smiled, while the puppeteer looked forlorn. Willodean loved the delight on the faces of the freed puppets. Thomas took satisfaction in the displeasure of the puppeteer who was no longer in control.
Contemplating his plan to exact vengeance on the man who ruined his father, Thomas can't see past his anger to realize the irony. He doesn't want to get free anymore, away from the people of Lexington, South Carolina, who have treated him and his mother Constance so poorly. He wants to get even, no matter the cost.
It's one of many moments in the script by Trustus Theatre Artistic Director Chad Henderson, who also directs the production, that deftly teases out the tragic inevitability of the story local folk-rock band The Restoration delivered in song eight years ago. Rendering that concept album of the same name into a fully fleshed-out stage musical, Constance, while far from perfect, tells its heartbreaking and deeply resonant tale with purpose and conviction, pushing past its faults on the night I saw it with rousing lead performances and songs that largely played just as well — or maybe a little better — in this dramatic setting.
The vast, time-hopping plot starts in the midst of the Civil War and ends during the Great Depression. A short opening sequence brings the audience into a fictional world in which Sherman burned Lexington and its St. Stephen's Lutheran Church to the ground — events that never happened in real life — and introduces Reverend Samuel Harper (Paul Kaufmann), who struggles to reconcile pressure to preach in support of slavery with his abolitionist leanings — and his romantic relationship with the black Susannah.
The remainder of the first act concerns a young Constance Owen (Brittany Hammock) falling in love with Aaron Vale (Mario McLean). Aaron is contracted by Colonel John Palmer (Stann Gwynn) to build him a mill and eventually a mansion. But as Constance and Aaron marry and welcome their son Thomas into the world, many in the town see their love as a sin, putting pressure on Palmer who makes a decision that sends the Vales to ruin.
The second act opens with a tender and moving song introducing the prejudice Thomas endures through the dismay and confusion of his best friend Henry — the boys talk across a can-and-string telephone before young Henry (Chris Hionis) plaintively sings, "Daddy calls Thomas a quadroon boy / Called Mr. Aaron a half-breed, Ms. Constance a whore / And I don't understand," the last line becoming a repeated musical mantra for the young characters who grapple with pervading prejudice and the consequences of their forebears' actions. Portrayed by Hazin as a young man, Thomas struggles to fit into a town that doesn't want him, while a middle-aged Constance (Vicky Saye Henderson) struggles just as mightily to help him.
In an arc that takes him from frustrated religious leader to heartbroken drunk, Kaufmann excelled as both an actor and a singer, ranging from tenderness to ferocity to lunacy at all the appropriate moments. Hammock and McLean were enrapturing as the play's central couple, sparkling with natural chemistry during shared dialogue and pleasing the audience with pristine harmonies during their musical numbers. Vicky Saye Henderson embodied the fluctuating determination and helplessness of the older Constance with passion and depth.
But Hazin probably had the hardest task, needing to portray a repressed and tormented young man in a way that both unsettled the audience and elicited their sympathy. He proved equal to the challenge. He imbued "Little Round Shoes" (a song that is maybe a little too creepy on the record, with Thomas undressing Willodean in his mind as she sits across from him at church services) with a believable mix of innocence and depravity. And he boiled over with howling, tormented rage during a climactic number I won't name for fear of spoilers, throwing himself to and fro across the stage, an insatiable fire burning in his eyes.
But the most impressive aspect of Constance was its narrative structure. Early in the first act, the middle-aged Constance sits down with a representative of the Reconstruction Finance Commission. As she related her history, her family (with Clare Kerwin portraying her as a young girl) walked onto the stage and began acting out her tale. A few moments later, the scene shifted to Hammock as the middle Constance. Her father found her old diary, and she sang "The Owens," recounting the death of her mother. All three Constances were on stage at various parts of the sequence, peeling back the layers of memory and offering a fascinating illustration of the way we process grief.
The simple but effective staging, with the band set up to the side and a backdrop of wooden boards with a staircase ably becoming a variety of locales, gave these narrative intricacies room to breathe, and the plain wooden benches used to fill out the scenes seemed to symbolize the rigid, inescapable march of the story's tragic events.
But there were also times when Henderson's script tried a little too hard. One sexually charged scene between John Palmer and a young black girl in his employ was a little too blunt and stilted to really land. And the ending goes out of its way to give one character the outcome they deserve, zapping some of the sting from the devastating climax.
It's overstuffed, holding onto some bits that, while interesting, also clutter the already elaborate narrative. Consider "Henry's Letter From the Front." Though it's a highlight on the album and Patrick Dodds' performance was electric, suddenly transporting the audience to the European theater of World War I zapped momentum from the second act just as it was starting to build.
The performance also brought up the question of how far a modestly appointed local theater should push itself. With a live band and various multimedia elements and sound effects used to set some of the scenes, balancing the sound proved a constant challenge, with some things coming across far too loud, while others could barely be heard. The actors' microphones also cut in and out frequently, particularly frustrating during ensemble numbers that explained vital plot points.
Ultimately, how much you enjoy Constance will likely come down to what kind of theater goer you are, and I'm the kind who appreciates big swings. The play's many resounding highlights wouldn't have been possible had Trustus not stretched itself to the very edge of its capabilities.
There's room to improve, but as it stands, Constance is a powerful and promising piece, one I hope to see workshopped and mounted again.
---
What: The Restoration's Constance
Where: Trustus Theatre, 520 Lady St.
When: Through May 19
Price: $30 Thursdays and Sundays; $35 Fridays and Saturdays; $25 students
More: 803-254-9732, trustus.org