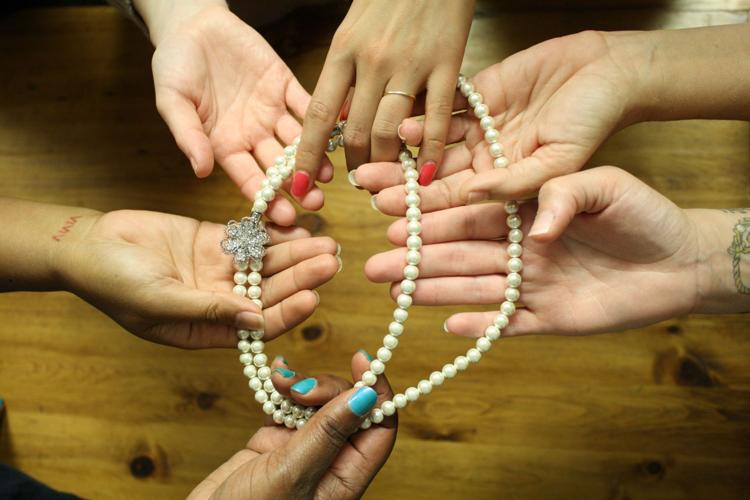 String of Pearls charts the passages in women's lives. Spanning some 35 years and two continents, the episodic storyline is told in a series of connected scenes by six actresses, embodying more than two dozen characters from diverse backgrounds, ethnicities and cultures, with a simple pearl necklace as the common linking device. Guided by Zsusza Manna in her Midlands directorial debut, the cast in a recent matinee performance found meaning and significance in simple yet universal life experiences.  
Closing out Workshop Theatre's 50th anniversary season in Columbia College's Cottingham Theatre — there will be an additional children's production of Shrek the Musical, Jr. over the summer at a location to be announced — String of Pearls benefis from an elegant minimalist set, designed by Manna, and beautifully illuminated by lighting designer Patrick Faulds. The acting space is framed by neutral-colored podiums, and tall drapes that ranged from lavender to mauve to gold depending on the lighting cues, with a lush aqua-hued backdrop far to the rear.
The absence of anything else beyond an occasional chair forced the audience to concentrate on the narratives of the characters, who spoke directly to the audience as they relayed significant episodes from their lives. Vignettes included a serene grandmother (Krista Forster) wanting her granddaughter (Christine Hellman) to wear her pearls at her wedding; a landlady (Sandra Hamlin-Rivers) watching a young mother succumbing to cancer; a daughter (Alyssa Velasquez) caring for a seemingly unappreciative parent (Cathy Carter Scott); and a housekeeper (Ellen Rodillo-Fowler) seizing on an opportunity to start a new life.  
To call these monologues would be a disservice to the material, which cleverly featured each scene's principal character telling her story in vivid present tense while other cast members carried out the described actions, sometimes speaking lines as much to the narrator as to the audience. 
Scott and Rodillo-Fowler, who played Ouiser and Annelle to Manna's M'Lynn in Workshop's Steel Magnolias in 2016, turned in the kind of fine work that local audiences have come to expect from them over the last couple of decades. From her bio, Hamlin-Rivers is a seasoned theater veteran making her first entry in Columbia theater, and was especially touching as a love-struck groundskeeper. Velasquez, Hellman and Forster are also relatively recent transplants to the Midlands, and have all made a splash in memorable roles at multiple theaters in the last two years; it's a testament to Workshop's enduring reputation for quality that performers with hefty professional resumes continue to turn up in its productions.  
Michele Lowe's script appears to have been written for four actresses, but the roles were divvied up evenly, with each of the cast given the chance to shine in at least two segments. Attractive costumes by Alexis Doktor reflected the multiple time periods depicted, and the cast managed some impressively rapid changes as they segued from one character to the next. 
For me, the stand-out in the cast was Forster, who provided bookends for the story as Beth, the titular necklace's original owner, as she reflected on two strikingly different awakenings at different stages of her life. I can't recall having enjoyed a better or more realistic vocal characterization of a woman in her 70s by an actress decades younger, who then softened in a flashback to Beth in her 30s. Forster was also convincing in a brief appearance as a bratty three-year-old, and as a long-suffering daughter whose mother told her things like "Your daughter dresses like a tramp, and your son dresses like a fairy."  Be forewarned, however — some of Beth's memories were decidedly and graphically R-rated. 
I've had some issues with audibility in previous productions in Cottingham, but at the staff's suggestion I sat in the middle of the ninth row, and could discern every word of dialogue just fine. That said, I will still give much credit to Manna and her cast, who between them easily have 150 years of stage experience, and therefore knew how to convey nuance while never forgetting to project. 
Workshop's very first season included a musical revue, a children's show, a broad farce, a classic American drama, and a lesser-known play featuring a dynamite cast. Their 50th season has featured exactly the same mix, with String of Pearls falling into that last category. Like many of the better-known masterpieces of modern drama, Lowe's work takes ostensibly ordinary moments to which everyone — especially women — can relate, and explores the greater import that may lie within. 
Connecting these chapters via a piece of jewelry and finding commonality among a varied assortment of tales is quite a trick, one that I found appealing, and, with a run-time of barely two hours including intermission, one that never got old.