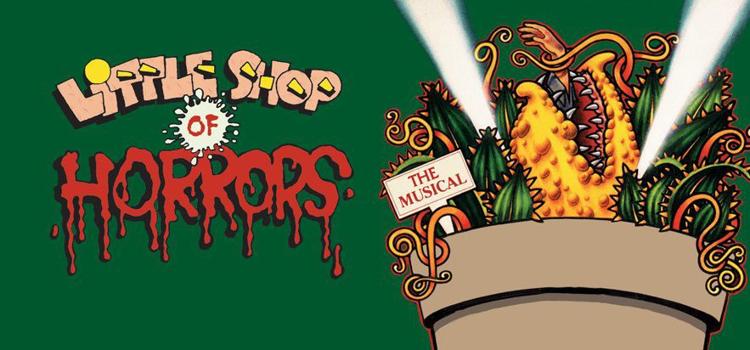 Like the appetite for blood of the story's carnivorous plant, Audrey II, the appeal of the campy musical Little Shop of Horrors is irrepressible. The play's small cast, simple settings and catchy, ear-candy songs make it a natural choice for productions at the local level, and Lexington's Village Square Theatre does right by the vintage material. 
Long before finding mainstream fame and fortune with soundtracks for Disney films such as The Little Mermaid and Beauty and the Beast, composer Alan Menken and lyricist Howard Ashman struck off-Broadway gold with this long-running musical adaptation of the Roger Corman-directed B movie from 1960. Filmed quickly and for next to nothing, Corman's Little Shop developed a cult following due to its mix of low-budget-horror and comic schtick, and while the central plotline of a man-eating plant remains, the emphasis here is on the comedy, set to an infectious score that channels the sound of girl groups of the early-'60s, right down to a trio of Skid Row denizens named Crystal (Keya Fowler), Ronette (Amy Hyde) and Chiffon (Jacklyn Mojica Colon) who serve as both Greek and literal chorus for the proceedings. 
Audrey II (voiced from offstage by Caleb Carson, who also makes a cameo as a flasher) begins as a tiny seedling, found under mysterious circumstances during an eclipse by good-natured nebbish Seymour (Nathan Gragg), an amateur botanist who conveniently works in a flower shop. An accidental prick from a thorn reveals the plant's nourishment of choice, but as Audrey II (named after Seymour's crush Audrey, played by Melissa Hanna) grows in size, its demands increase, leading to the famous line "Feed Me!" which Carson amusingly delivered in the manner of a baritone soul singer like Isaac Hayes during a performance last week.
As ordinary schmos, Seymour and Audrey don't need to be great singers or even particularly attractive, but it helps if they are, and Gragg and Hanna are a cute couple. They had a nice rapport as actors, and delivered lovely harmonies in the song "Suddenly Seymour", as they realized that the person each thought was "too good" for them was an available and compatible match all along. 
Robert Bullock, a mainstay of Midlands theater for decades who might have made a credible Seymour not so long ago, demonstrated the progression of an actor's life, finding humor and humanity in the role of the irascible shop owner Mr. Mushnik, after having played Audrey's boyfriend Orin only three years ago at On Stage Productions. While not credited in the program, Village Square Artistic Director Debra Leopard confirms the Audrey II puppet is the same one from that production, designed by Matt and Carrie Marks. Here, Troy Fite played Orin with Southern-fried swagger and an Elvis-style sneer, and also generated plenty of laughs as a series of visitors to the shop.
It's always nice to see a live band, and musical director Camille Jones on keyboard led three other musicians, providing lively accompaniment while never drowning out the singers or obscuring the clever lyrics. Director/choreographer T.J. Daley assembled an excellent vocal cast, although the overall pace at the matinee I attended was a tad sluggish, but that can vary from performance to performance. The director also collaborated with Daniel Woodard on scenic design, which included a rotating unit that allowed the audience to alternately see both the interior and exterior of Mushnik's shop. 
Community theater often faces challenges from the technical capabilities of the physical space, as well as budgetary restrictions. As a result, the play's finale, which chronicles a sort of plant apocalypse, was a bit of a letdown, while nevertheless hitting all the right musical and thematic notes with precision.  
Ultimately, that's where the enjoyment is to be found — in the satirical celebration of the play's drive-in movie roots and the can't-get-em-out-of-your-head musical numbers that you'll likelly still be humming days later.  
---
What: Little Shop of Horrors
Where: Village Square Theatre, 105 Caughman Ave., Lexington
When: Through Sept. 30
Price: $20 ($18 seniors 60 and up, students and military;
$16 youth 12 and under)
More: 803-359-1436, villagesquaretheatre.com