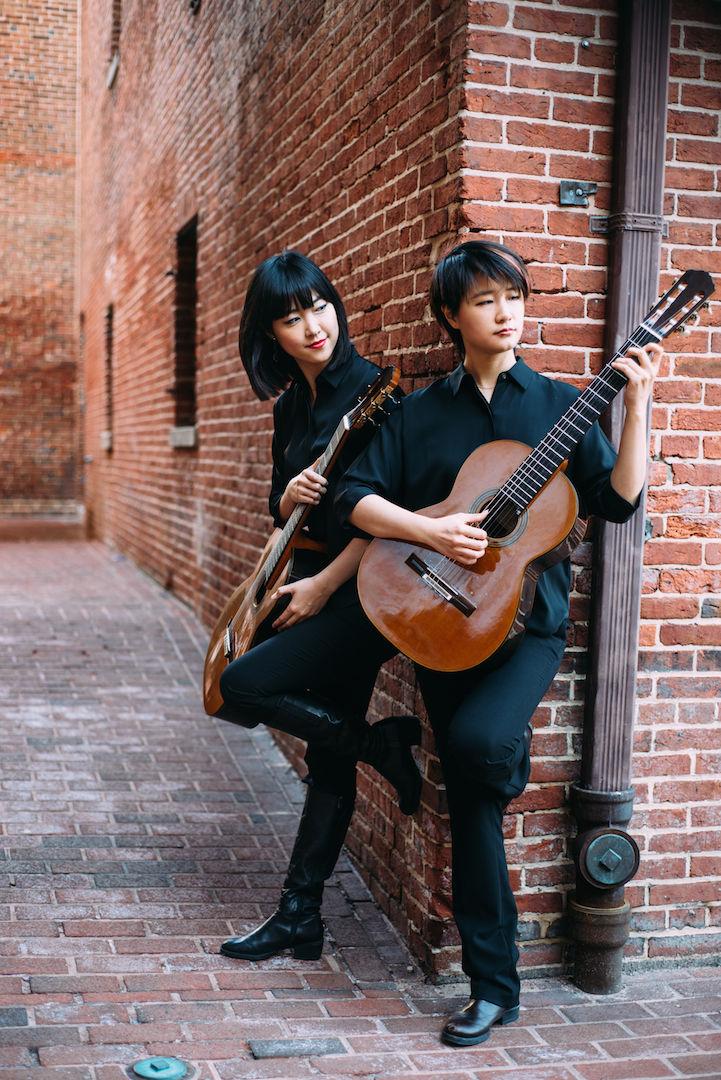 Marina Alexandra is an accomplished classical guitarist who began playing at a very young age — but it wasn't exactly her decision.
"I was born in the Soviet Union, in Ukraine," Alexandra says, "and I started taking guitar lessons at the age of six. I don't recall this to be necessarily my idea. I remember that I enjoyed singing a lot, and I think my mom was convinced that I need to learn how to play guitar so I could accompany myself. Also, in Eastern Europe, guitar was the most popular and probably the most affordable instrument." 
Thus began more than a decade of intense study that eventually led Alexandra to a bachelor's degree in guitar performance. But that was all before her family moved to the United States in 1998, which threw her for a loop.
"I had to adapt to a new culture and learn a new language," she says. "And honestly, I wasn't even sure what I was going to do next."
She still loved playing guitar, though, and when she met Christopher Berg, a guitar professor at the University of South Carolina, she asked if she could play for him. From that point onward, her career path was set.
"He highly encouraged me to apply to the master's degree program at USC, which I did," she says. "I am endlessly grateful for the opportunity and the support that I got 17 years ago from USC faculty and Christopher Berg personally."
Alexandra spent much of the next two decades as an acclaimed performer and guitar educator, releasing three albums and serving on the faculty at USC-Aiken, Columbia College, Wingate University and Furman University. She also performed at the Piccolo Spoleto festival in Charleston. That was an important touchstone for Alexandra because it inspired her to create her own festival in Columbia, the Southern Guitar Festival. 
"I have seen the great impact such events have on communities," she explains. "Classical guitar is a very unique instrument, but still not known to many. A festival and competition seem to be an ideal combination for inspiring guitar students of all ages and giving them an opportunity to display to the general audience some of the best guitar virtuosos in the world."
Back in 2011, Alexandra reached out to a group of her musical peers, including guitarists and instructors Christopher Teves, Steve Sloan and Joseph Ensley, and ultimately created what is now a three-day festival packed with performances, competitions, workshops and more. 
This year's festival, which begins on Friday at the main branch of the Richland Library, will include concerts by acclaimed guitarists like Dragos Ilie, Silviu Octavian Ciulei, the Beijing Guitar Duo and Jay Kacherski, along with youth guitar competitions for both ensemble and solo performers, and a series of workshops covering improvisation, stylistic diversity and more. 
The competitions are free to the public and include a Guitar Idol contest and various ensemble battles for ages 9 to the collegiate level, Alexandra says they could be some of the most intriguing events of the festival.
It's an expansive lineup of events that goes beyond the typical festival schedule, and Alexandra says that was very deliberate.
"It was very important for me to focus on what will make this festival different and unique," she says. "I decided early on that my main goal would be to inspire people and to show the outstanding capabilities of classical guitar. The workshops, for example, are a very important part of our festival, because we believe it's the best way for musicians of all backgrounds to come together and learn from each other."
Alexandra says she would never have been able to create such a multi-faceted event if it hadn't been for the people who believed in her vision back in 2011, and if not for the support of her adopted hometown, particularly since the festival is almost entirely funded by donations.
"I was very lucky to have amazing friends and colleagues," she says, "who believed in the mission of educating our community about the world of guitar."
---
What: Southern Guitar Festival & Competition
Where: Richland Library (main branch), 1431 Assembly St.
When: June 7-9 
Price: Free
More: southernguitarfest.com