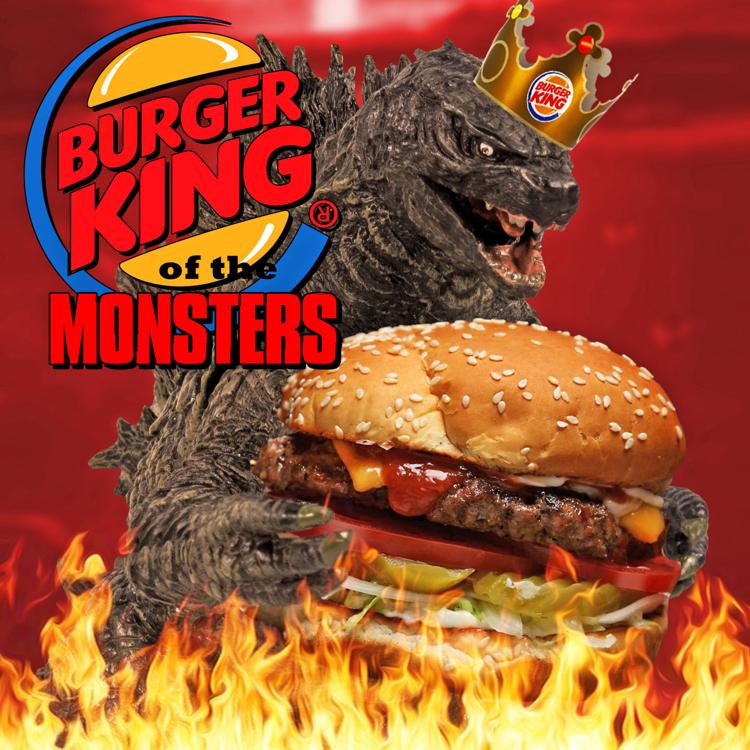 Chatting with Sean McGuinness the day before Godzilla: King of the Monsters opens in theaters and just over a week before the June 7 opening of his first curated gallery, his voice bubbles with excitement.
"This is the best time to be alive as a monster fan," he beams.
More than a year has passed since McGuinness left behind his locally famed That Godzilla Guy moniker after settling legal issues with Toho Pictures, the Japanese studio that holds the rights to the dino-esque kaiju that has long been the featured character in his work. While he has positive memories of the night he closed out the name with a show at Sakitumi last April, McGuinness acknowledges the forced change was a "bittersweet heartbreak."
"That still hurts when something you love so much says, 'Hey, you can't do that.'"
Forging on as the master of Neo Monster Island, a title borrowed from the longtime web domain used for sharing his creations, he was initially relieved to be allowed to continue making giant monster art in any capacity, aware that Toho could have come down much harder. Soon after, though, the gravity of nearly having his artistic identity stripped away began to weigh on him.
"For the rest of the year, when it comes right down to it, I think I only did, like, five pieces of artwork that entire year," he recalls. "I started having issues with depression, artist's block and just a very suffocating malaise of just not wanting to even be Sean anymore."
Citing the benefits of available mental health resources and the positive influence of his wife and four-year-old son, affectionately dubbed Kid Kaiju, McGuinness entered 2019 ready to battle the monsters in his mind and focus again on the ones in his art.
"It's really hard to be in a funk on Godzilla art when you have someone who's even more enthusiastic than you are about it," he says of his son's encouragement.
Reinvigorated, he entered one of the most prolific periods of his career thus far, churning out new pieces on an almost daily basis that live up to his own high standards of humor and quality. A recent Neo Monster Island social media post depicts Godzilla as the Burger King of the Monsters, wearing the iconic Burger King children's crown and clutching an ad-perfect Whopper, showing the artist is still more than willing to wade into the corporately owned gray area if it serves his vision.
Clearly back on a roll, McGuinness' work in 2019 has expanded his artistic footprint far beyond the classic photographed and photoshopped Kaiju-isms he's known for. He's in the process of cleaning up his current studio, with hopes of converting it into a multifunctional space with an integrated gallery. He's forayed into painted works for the first time, often live streaming his canvas sessions on Facebook and drawing inspiration from his online community. Taking stock of his more-than-17-year body of work, he sees now as his renaissance.
"I feel more alive now as an artist than I think I ever have," he declares without hesitation. "Even when I first started out."
Recent positivity aside, McGuinness is still quick to point out the shortcomings of being an artist in Columbia. In a lengthy May 28 Facebook post, he called out the city's art patronage, claiming he and other resident artists have to travel out of town to sell their work far more than their contemporaries in Greenville or Charleston and that Columbia residents are quick to dismiss the local art scene as "just a hobby." He's never been one to shy away from a possibly abrasive take, often using his social media platforms for political activism. He's long since come to terms with the ramifications of his opinions.
"If there was gonna be any blowback from people refusing to host my artwork or anything like that, they weren't gonna host me in the first place," McGuinness posits, specifying that he hasn't experienced any noticeable trouble selling his art as a result of his activism. "My whole attitude is, 'I'm gonna be true to myself.'"
"Artists aren't machines," he asserts. "People say, 'Hey, you're an artist, I like watching your stuff. No, I don't want to hear about your politics, I don't want to hear about your problems, I just want you to grind out art like a machine.' And we're not — we're human beings."
That human connection is what led McGuinness toward the curating of The Monsters of Our Time, hoping to share his love of kaiju with anyone willing to engage. Working with Mark Plessinger of West Columbia's Frame of Mind gallery has long been on his to-do list, so when the opportunity presented itself, he knew he wanted it to be more than just another solo art show. After putting out an online call for giant monster art submissions, he assembled a multimedia gallery from artists across the country aimed at both hardcore kaiju fans and intrigued newcomers alike. 
The exhibition purposefully opens on the heels of the new Godzilla film's release, as McGuinness knew he wanted to tap into the summer blockbuster feeding frenzy and keep riding his own personal high of seeing his monster hero back on the big screen.
"I really hope that theater's ready for me, because I'm going in full Godzilla costume," he exclaims. "I'm going to be wearing my Godzilla slippers and screaming like it's a wrestling match."   
---
What: The Monsters of Our Time
Where: Frame of Mind, 140 State St.
When: June 7-July
More: 803-988-1065, artofeyewear.com
Opening night party Friday, June 7, 6-9 p.m.