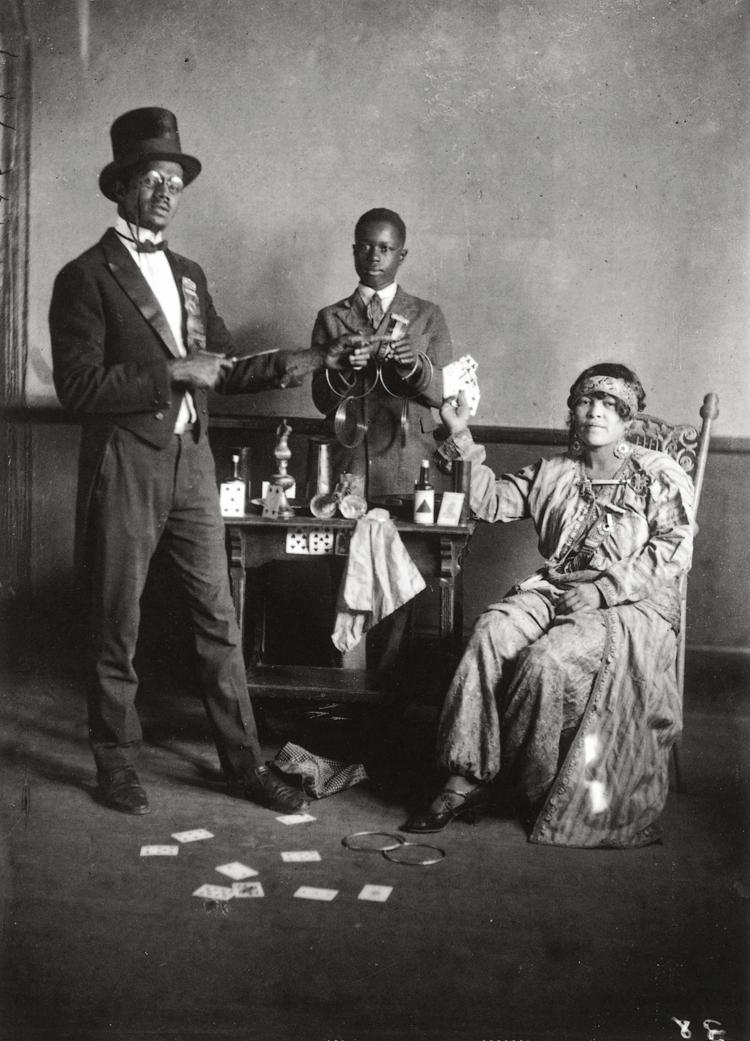 Thirty-three years ago, a book was published in Columbia that had a wide-ranging effect in the fields of photography and African American studies — and which made a posthumous celebrity of a Depression Era artist who died in obscurity a half-century earlier.
The book — A True Likeness: The Black South of Richard Samuel Roberts, 1920-1936, edited by Thomas L. Johnson and Phillip C. Dunn —is being republished this month by the University of South Carolina Press, with an official rollout and panel discussion Saturday at the Columbia Museum of Art.
First published by the local firm of Bruccoli-Clark-Layman in 1986, this collection of studio and field photographs of Columbia's segregated black community in the early 20th century quickly proved to have more than just local interest. Rather, it became one of the rare books that is both regional and universal. Readers and reviewers around the world, as well as people who saw the pictures in exhibitions, connected with images of a vanished counter-world to white society.
The pictures showed day-laborers and business people, soldiers and preachers, men in tailored suits and women in Jazz Age finery; one vivacious young woman is in a flapper dress, with a fur-lined jacket and Daisy Buchanan-style cloche hat. There were representatives of every social level, from a distinguished black woman doctor to a stern-faced landlady to a legendary woman who ran a series of "boarding houses" that charged by the hour.
Roberts captured the life of his time, with pictures that commemorated love (engagements and weddings), death (at home and at the funeral), childhood (with pets, at birthday parties and, in a couple of cases, arrayed for burial) and bravery (at least one interracial marriage).
The book offered a unique look not just at how black people were seen by others,  but how they saw themselves: proud and dignified, fighting — and often beating — the considerable odds against them.
Roberts knew those odds well, as he worked as a janitor on the night shift at the Columbia Post Office, and presumably divided the rest of his time between photography, family and maybe a few hours of sleep. When he died in 1936 at the age of 56, his mother stood over his coffin and said, "Son, you sure wore out; you didn't rust out."
Decades later, few people knew he ever existed, let alone that his legacy was literally waiting to be discovered. Fortunately for history, Roberts managed to ensure his own preservation.
At a time when roll film cameras were on the consumer market, Roberts did business the 19th century way, taking pictures with a large format camera that used glass plate negatives. After his death, some 3,000 of these negatives were stored for decades in the crawlspace under the family's Wayne Street home.
"If he had used the state-of-the-art materials, which was film on a celluloid base, the film would have deteriorated by staying under the house for 48 years," Dunn says. "So Roberts did us all a favor by not being current with the technology."
The plates also might have remained under the house indefinitely had it not been for Thomas Johnson, an archivist for USC's South Caroliniana Library, who heard about the pictures in the early 1980s. After making contact with Roberts' four children — who had kept the plates in hopes of one day restoring their father's legacy — and seeing what Roberts left behind, he quickly saw the potential for an exhibit and book. 
With the family's consent, Johnson pursued the project and brought in former USC art professor Dunn to restore the pictures. Johnson then spent two years visiting elderly neighbors to identify as many people in the pictures as possible, although some would still remain lost to time.
"The thing that really bowled us over, both Phil and me, was the sustained quality of so many of the pictures," Johnson recalls. 
Not only that, Roberts clearly respected his subjects, whoever they were.
"He would take pictures of anybody who came to him," Johnson adds, "and he treated all of them with equal dignity."
For Katherine Allen, research and archives manager at Historic Columbia, the pictures have since become vital artifacts of their time.
"Photographs of African Americans in Columbia in the Jim Crow period are relatively rare," she says. "The Roberts collection provides an absolutely unparalleled look into the black middle class in Columbia."
Johnson notes that the initial publication of the book was a signal event in the lives of Roberts' four children, who have all since died. He has little doubt what they would think of a new generation seeing their father's work.
"They would have been thrilled beyond words that the book was being republished in 2019," he posits. "It would have been an extension of the fulfillment of their dream."
---
What: Celebrating A True Likeness: The Black South of Richard Samuel Roberts 1920-1936 – New Edition
Where: Columbia Museum of Art, 1515 Main St.
When: Saturday, July 13, 2-4 p.m.
Price: Free with membership or admission
More: 803-799-2810, columbiamuseum.org