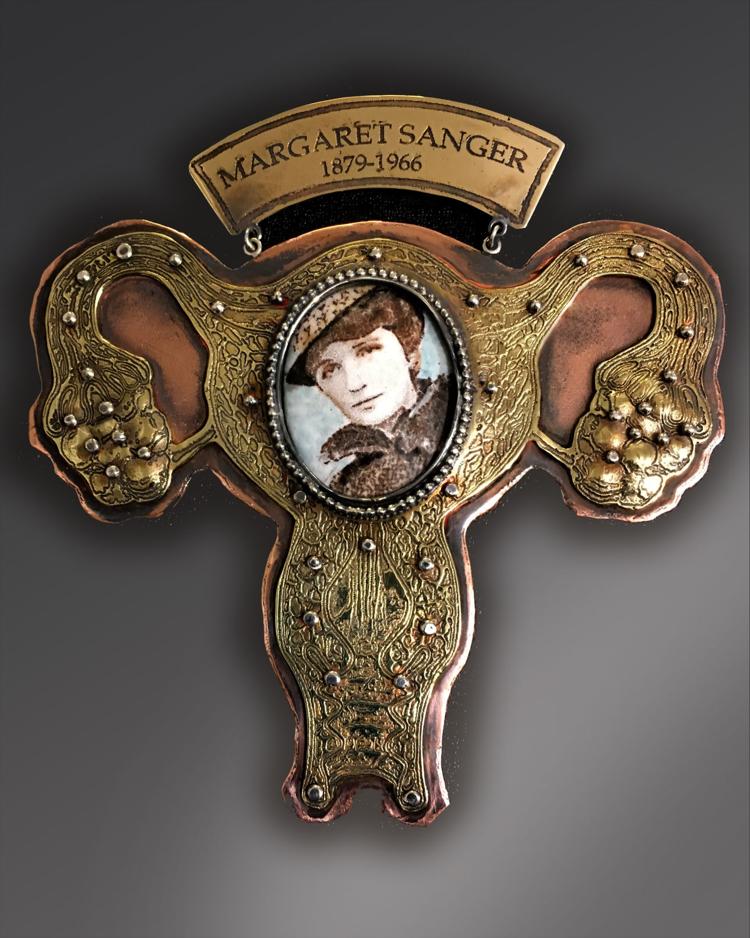 A few years ago, Columbia artist Mana Hewitt had a modest idea to honor two women who made significant contributions to human progress. 
Then the events of November 2016 raised the stakes.
"After the election," she says, "I had determined that I was going to make a series of medals to recognize women that have paved the way to where we are today."
Over the last two and a half years, Hewitt — in between her teaching duties as an art professor at the University of South Carolina — has devoted herself to creating a series of medallions, made of etched brass, copper, sterling silver and enamel, which tell the stories of iconic female trailblazers in politics, business, sports, the arts and culture.
The results — sixty so far, out of a projected hundred — comprise Hewitt's exhibition Persistence, which opens this week at the 701 Center for Contemporary Art.
The casing of each portrait features imagery unique to the subject, with significant biographical details on the back. First female Secretary of State Madeleine Albright's medallion features an attached eagle. Former slave and abolitionist Sojourner Truth is surrounded by a linked chain, with a key dangling below.
Children's author Beatrix Potter's medal features the distinctive foliage from her books. The medal for Uncle Tom's Cabin author Harriet Beecher Stowe — presented as a striking young woman, rather than the weary-looking writer from her standard photo — also uses an illustration from her famous novel. Queen Victoria is presented with a suitably regal design.
Harriet Tubman's medallion shows a map to the Underground Railroad, while aviator Betsy Coleman's shows a bi-plane.
Some portraits presented a challenge. What kind of image tells the story of Margaret Sanger? Hewitt's solution was to conjoin the portrait of the founder of Planned Parenthood, who revolutionized birth control, with the female reproductive system.
Although the name of the display echoes a recent comment associated with Elizabeth Warren, Hewitt says Persistence reflects a much longer historical struggle.
"Everybody has experienced in their lifetime something occurring where they felt slighted in some way or another," she explains. "Everybody does. But when you consider 52 percent of the population was not allowed to vote until August of 1920, you start to say, 'Well, maybe a large portion of the population does have some reason to want to be heard, and to persist.'"
As with most works of art, coming up with visual ideas for Persistence proved only a fraction of a much longer process, one that involves cooking, chemistry and computer imagery.
Hewitt begins by sprinkling finely ground glass into a copper oval, which is then baked in a kiln, creating an enamel piece with a shiny surface. The picture of her subject is laser-printed on a special dissolving paper and applied to the enamel surface, leaving behind only a pale image. She then delicately colors in the portrait with very intricate brushes, firing and re-firing the image as many as five to 10 more times to achieve the desired result.
Timing is essential.
"Literally if I leave an enamel portrait in the kiln five, ten seconds longer than it needs to be, it can wipe out the image," Hewitt says.
The design for the casing is created in Photoshop, printed on specially designed paper and applied to metal. The metal piece is attached to electrodes and placed in a tank of ferrous nitrate, which etches the pattern into the metal. From there, Hewitt physically saws, files and sands individual components before soldering them together with an acetylene torch. Both the portrait and metal piece are then welded together.
Part of the influence for Hewitt's work was Judy Chicago's massive — and highly controversial — landmark 1979 installation The Dinner Party, where a V-shaped table had place settings for women from throughout history, with each plate resembling female genitalia.
Hewitt sought to represent the history of women in a different way.
"My concept was I wanted to recognize these women, and give them medals," she offers. "I wanted it to be as respectful as possible of their memory. I see the importance of Judy Chicago's work; I'm not denigrating it. I'm just saying that from my perspective, I wanted to do it in this manner."
Also, after years of painting and working with large-scale models, she was attracted to the idea of working in a miniaturist form that could not only address social issues, but was made from materials that would endure.
"We're in an interesting time," she says, "because there are so many installation artists that do things that are so temporary. I am not drawn towards that. I want something that will last."
---
What: Mana Hewitt: Persistence
Where: 701 Center for Contemporary Art, 701 Whaley St.
When: July 25-Sept. 8
More: 803-779-4571, 701cca.org
Artist talk (6:30 p.m.) and opening reception (7-8:30 p.m.) on Thursday, July 25.