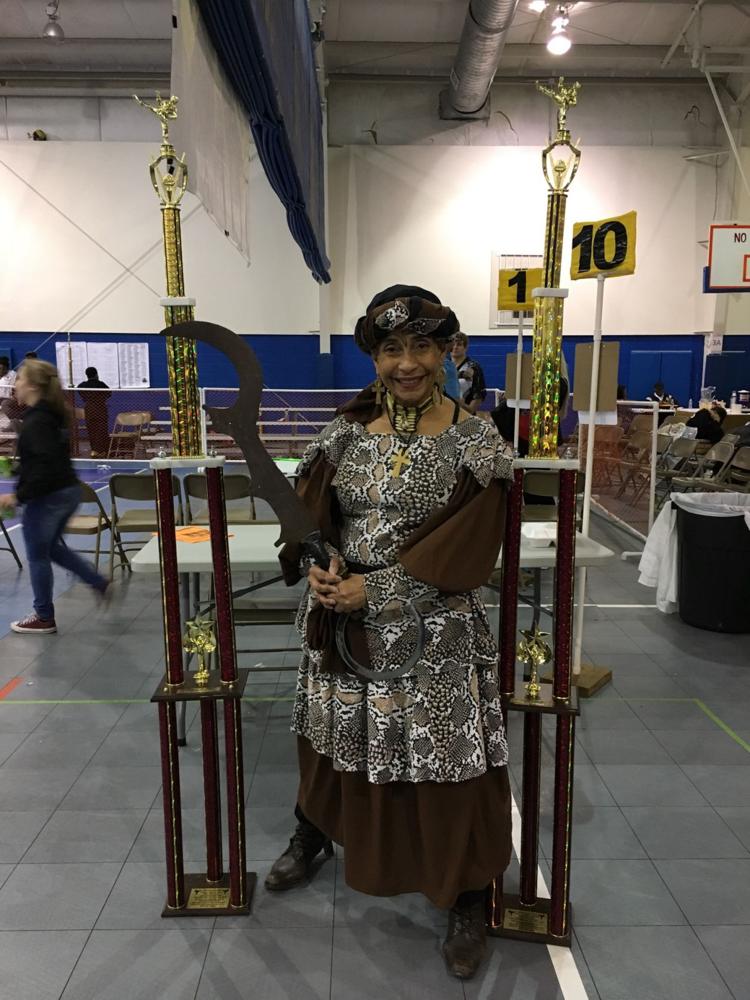 Germon "Mama G" Miller-Bey has one of the most varied and fascinating lives you'll find. The 66-year-old has a PhD in urban anthropology. She was a member of the Black Panthers. She spent much of the last 20 years working with the city of Columba, running the R.I.C.H. (Rebuilding Individual Character Habits) program, which works closely with the solicitor's office and the S.C. Department of Juvenile Justice, training mentors to reach out to incarcerated and troubled youth in the community and provide both cultural education and service opportunities for them.
And then there's her status as the only female 10th Degree Black Belt Grandmaster in the Afrikan Martial Sciences.
Mama G has been competing in martial arts events since 1980, winning more than 3,000 trophies in various categories including form, weapons, self-defense and fighting. Her trophy case includes four world titles and two gold medals at the World Martial Arts Games.
So it's probably not a good idea to mess with her. But that's what people will do at Tapp's Arts Center this weekend. The often outspoken Mama G will sit as her colleagues, the mentors she's trained and others roast her. There's even a prize for the best Mama G impression.
And it was all her idea, with a little help from the late singer/actor Dean Martin.
"I'm very close to my retirement," Mama G says. "In fact I retire on Sept. 1. And we were trying to come up with a fundraiser idea for my retirement, because the R.I.C.H. program wants to sponsor sending a pre-teen youth to summer camp. I needed something creative, and I remembered Dean Martin and the celebrity roasts he used to do. It would be an opportunity to say whatever you've got to say, and I can sit there and look at you and not say a word."
Truth be told, though, there are some friends of hers who think that Mama G won't be able to stay quiet. 
"There are bets going around that I'm not going to be able to do it," she laughs. "I think I'm going to be able to. I asked a very dear friend of mine who's going to be there, a martial arts colleague, 'Do you really think I'm going to do anything?' and he said, 'I'm going to wear my sneakers just in case, so you can't catch me.'" 
The roast will also serve as the release party for a book and a DVD chronicling Mama G's life, called A Sovereign Journey Of Self Preservation. 
"It's a biomythography," Mama G says of the book. "That term was coined many years ago, and it refers to how a person sees themselves. The DVD is the visual of me telling the story. I'm a domestic abuse survivor, and I tell how and why I got into the martial sciences." 
The summary of how that happened is both enthralling and disturbing.
"I was part of the Black Panthers," she remembers. "My abuser was 32 and I was 20 when we hooked up, so you can imagine all the problems that took place, and I had to learn the hard way. I ended up needing another group of Black Panthers to take me in. I changed my name and went underground to keep him from killing me."
Initially, she began training in Afrikan martial sciences as a method of protection, but around 1980, she says, she learned that "you could go into competition with this and win money. So I started travelling all over the world and competed in probably every major event that's out there. In the Afrikan martial sciences, I'm the only woman in the world that does this. People didn't even see Africa as having martial arts or combat sciences until recently. It was totally unheard of. And as a female, I had to work extra hard."
It's difficult to imagine Mama G ever really slowing down, even with her retirement looming. And she hints that she's got a lot more to talk about once she's "retired." She might have to be silent at the roast, but afterwards it's a different story.
"I can be more vocal about some things," she says, "because when you represent the city, there are certain things you can't say."  
---
What: Roast of Mama G
Where: Tapp's Arts Center, 1644 Main St.
When: Friday, June 28, 7 p.m.
Price: $30 ($25 advance)
More: 803-988-0013, tappsartscenter.com