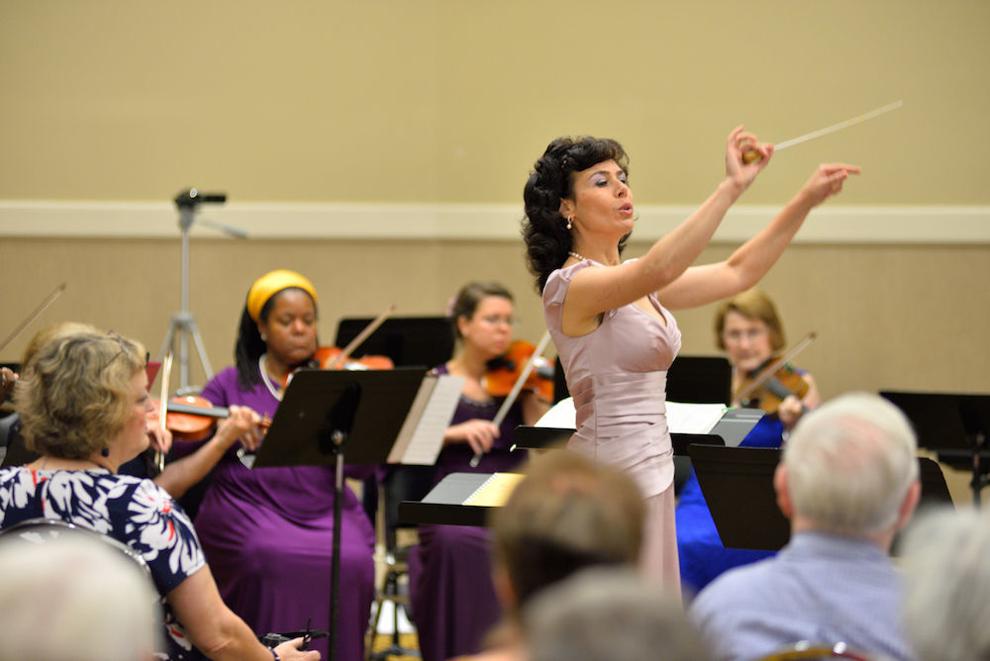 Holiday cheer is a feeling that can be ignited by a great many things — the hum of an upbeat tune, the smell of freshly baked cookies, the ritual of decorating your home, annual gatherings with rarely visited family and friends. Unfortunately, this jovial sentiment frequently gets quelled by an equally numerous array of stressors — some brought on by this hectic time of year, some mere realities of the day-to-day grind.
The Palmetto Chamber Orchestra will look to exorcise these nagging Grinch-y thoughts with this weekend's Celebrate Columbia event, the group's first holiday show since its inception in 2015.
It's a goal befitting this orchestra, a community ensemble made up of music educators, advanced students and dedicated musical supporters from the Columbia area. Besides their own dedication and weekly rehearsals, they'll have help spreading the good vibes this time out. Stalwart local saxophonist Robert Gardiner and his jazz quartet will join the performance, while Bert Ligon, director of jazz studies at the University of South Carolina, contributes an original composition to a program that also features works by Rossetti, Vivaldi and Corelli.
Much like Palmetto Chamber Orchestra Music Director Suzanna Pavlovsky's September event Ensemble Eclectica — an ambitious performance that sought to combine music, multimedia, film and theater — this program will seek to break down boundaries on the local arts scene, uniting the orchestra with some of the Midlands' most experienced jazz musicians. Pavlovsky is confident that the collaboration will go smoothly.
"I am trying to go beyond the regular concert going experience," she effuses. "We're a fully fledged orchestra and we are going full steam beyond the boundaries." 
Her connection to Gardiner's quartet came through a fortunate happenstance. 
"His wife, Betty Gardiner, is a wonderful flute player," Pavlovsky says. "I collaborated with her last spring when she soloed with Palmetto Chamber Orchestra."
After the show, she spoke with Robert, who was in the audience, and he accepted her invitation to play in the holiday concert. On Saturday, both Gardiners will perform together, while Ligon will play keys and bass in addition to contributing his piece entitled Cascade.
But the event's bid for inclusivity stretches beyond bringing in Gardiner and Ligon. The orchestra will also branch outside its normal membership to include more musicians from the larger Columbia area, including four students from River Bluff High School, Dutch Fork High School, Pelion High School and Chapin High School and three USC music students.
"[I'm] trying to get more community members involved in our production," Pavlovsky explains. "Our fall performance included a flamenco dancer."
For Ligon, the concert provided a welcome opportunity for his work to be performed.
"As a writer or arranger you want people to play your music," he reflects. "I sit and compose it in my room, sometimes late at night, by myself and you can only imagine what it will feel like and sound like with live musicians. ... So as soon as you get an opportunity you jump at it."
"I wrote that Cascades piece on the back of an envelope on my way back from the mountains while visiting Canada's Glacier National Park," Ligon continues. "I was trying to imagine James Taylor and a fiddle player in a Gershwin form put in a blender."
Ligon is open to the possibility of working with the orchestra again. Pavlovsky, too, would be happy to have him back. Her group, which started with nine players, now counts 26 among its regular membership. Inclusivity, as ever, remains the guiding principle.
"Our doors are always open to everyone regardless of their nationality or religious affiliation," Pavlovsky says. "It's for everyone, music is for everyone."
---
What:Palmetto Chamber Orchestra 
Where:Richland Library (main branch), 1431 Assembly St.
When: Sunday, Dec. 17, 3 p.m. 
Price:Free
More:803-799-9084, richlandlibrary.com