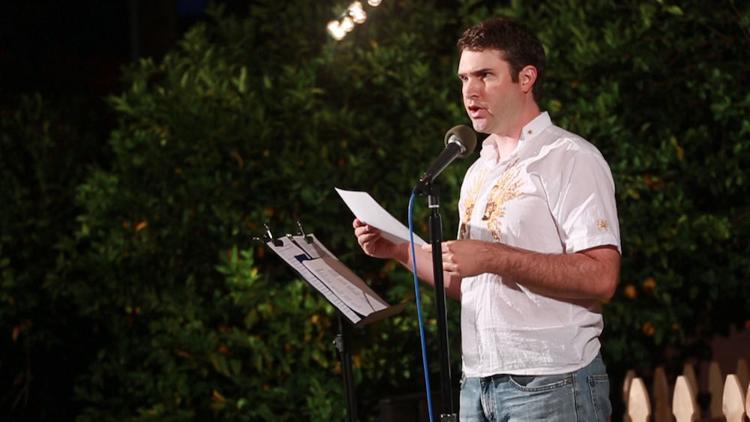 Bollards. 
That's what you call those often yellow columns of concrete outside departments stores or near the ends of gas station pumps. Target has red spheres for bollards. More official places have metal ground extensions or chess bishop-shaped structures strung together with chains at waterside. Where commoners see barriers in these humble objects, Andrew Choate sees one of man's most graceful architectural creations. 
"Bollards represent the things we see all the time, but don't pay attention to, and if you look with the right attitude, they are beautiful," Choate says. "They have rhythm and color and variety."
"When you've taken the thousands of photographs of bollards that I have, the pictures also become about what is surrounding the bollards, and what our world looks like. The bollards are always present in the frame, so it also becomes about what else is in the frame each time with the bollards."
Choate is an L.A.-based poet, visual and sound artist who spent his salad days in Columbia. He sees much of the world in a more skewed manner than your average individual. He manifests this outlook in his creations on the canvas. His visual art often reflects his predilection for words, the abstracted canvases often covered in nonsensical letters or verbiage. 
"I think it's important to think of language as just as much of a found object as bollards," Choate posits. "We're all born into a world we didn't ask for, with things we had no part in constructing. Figuring out how to make peace with what pre-exists us is necessary."
In the same vein, his word amalgamations jumble stream-of-conscious semantics into phrases that can be as challenging as they are comical. Absurd is what some might call his work. He wouldn't balk at that.
"I think of writing like problem solving, except that it's also up to me to come up with the problem," he says. "I think it's important to be accessible. So when I write for performance, I want the pieces to be accessible. As I'm often dealing with seemingly abstract emotional or existential situations, it's my job to figure out a way to let people in. I think a good foundation in comedy or absurdity helps with that."
In his latest book, Learning, he stomps into self-help territory with a story of a crime in his family, blending it with mystery elements and reinforcing his commitment to have no boundaries. The publication follows three prior compilations that push his particular Dada-Futurist vision.
The connection that runs from his visual art to his writing and sound work is recontextualization. Choate takes human tools such as language out of their context and rearranges these elements into an artistic absurdity. 
"The only thing I know that connects my various projects is that I am taking part in them," Choate offers. "Academics and their Ph.D. ilk typically don't like me because my readings are fun. And pop culture poets don't like me because I'm too interested in experimenting with formal variety. But I'm confident in the area I'm carving out."
Which brings us back to the bollard. Choate curates a collection of photographs featuring these sturdy, man-made stumps. During performances, he takes his audience on a sightseeing trip of his bollard pictures while spitting sturdy verses and non-sequiturs. Then the magic happens — these innocuous sidewalk barriers become objects of contemplation, more human than we may have ever thought.
"I want my audiences to experience pleasure at the sound and meaning of words, and also be challenged to think new thoughts," Choate says. "I want them to think about how they see what's around them, and to not only consider what is unique about their own perspective, but also to amplify it. I want them to have either found, regained or strengthened a confidence in their own way of looking at things. I want people to be interested in themselves."