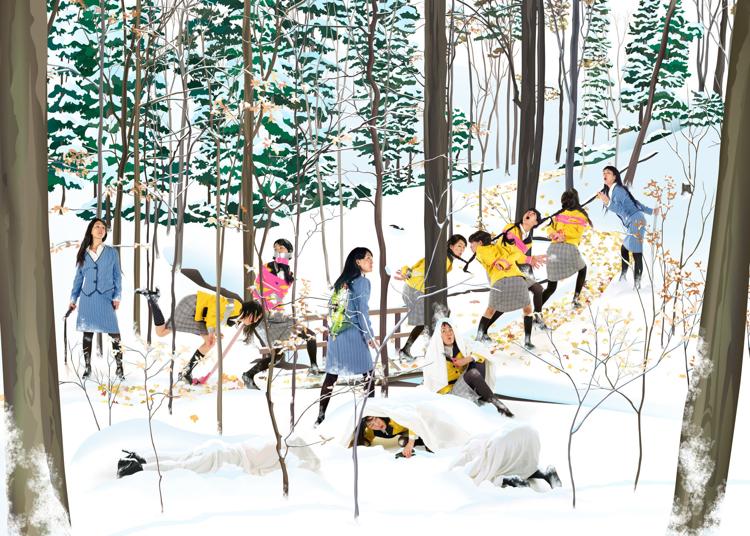 Mimi Kato and Jimmy Kuehnle don't do anything small, or similar. 
The Cleveland-based artistic couple — whose joint exhibitions open Friday at the Columbia Museum of Art — both have a taste for the absurd and the offbeat. 
But where her work is visual, his is tactile. 
Kato's work places young Japanese women (all photographic replications of herself) amidst both natural and civilized surroundings, where they are the lone inhabitants of a male-free world. 
Kuehnle makes a world of his own as well, except that his is 3D, and you can (and should) walk around in it — a series of enormous inflatable structures with billowy pillars, nooks, passageways, and a funhouse cavern that pulses with sound and light and color. 
Also, both work big. She has a mural that takes up an entire wall, while his show takes up four exhibition galleries. 
"Both of their processes are intensely rigorous and layered," says CMA curator Catherine Walworth. "The craft of both of them is really, really intense." 
The first thing you notice about Kato's work is that it's strange, funny and technically impressive. These odd tableaux of women in foreign and domestic environments all required Kato to photograph herself in a variety of guises and poses, sometimes even playing characters physically fighting with each other. 
Her latest series, Wild Corporation, depicts a group of young women in traditional Japanese office uniforms (some in blue, some in yellow) who seem to have taken a trip to a remote forest where they were deserted by their tour guide. On closer observation — and each painting invites a very long look at what all the characters are doing — there is also a story going on. 
Sometimes, they are simply enjoying each other's company in the great outdoors; free of the structures of polite society, some strip down to their underwear, strike unconsciously provocative poses, or adopt traditionally male roles. In one picture, the young women square off against an approaching bear. 
In another, they slay a deer. The lead hunter brandishes a pair of bloody office scissors — the weapon of choice, apparently — while another seems to be serving the beast's remains to a friend. One girl looks into a compact while rouging her lips with the deer's blood, and another is weeping over the lost life. 
Tribalism also becomes a theme in several of the pictures, as war breaks out between the blues and the yellows. 
In her most ambitious work, a mural of nine vertical scrolls titled An Ordinary Day of an Ordinary Town, the viewer may feel a bit like Jimmy Stewart in Rear Window — snooping on a Japanese neighborhood that is both urban and rural, where there's as much going on in the apartments as there is in the streets.  
For Kato — who was born and raised in Nara, Japan, but has long lived in America —  the mural is an imaginative memory of her homeland, while the Wild Corporation series is a mix of both her worlds, with the young women playing out their battles against scenes from Ohio parks.  
[Online copy corrected.]
"I decided to use the Ohio landscape and then create the story of women and their day-to-day relationships," she explains. "There are no men in my work, but the world is influenced by male power, and women have to deal with the power game within themselves."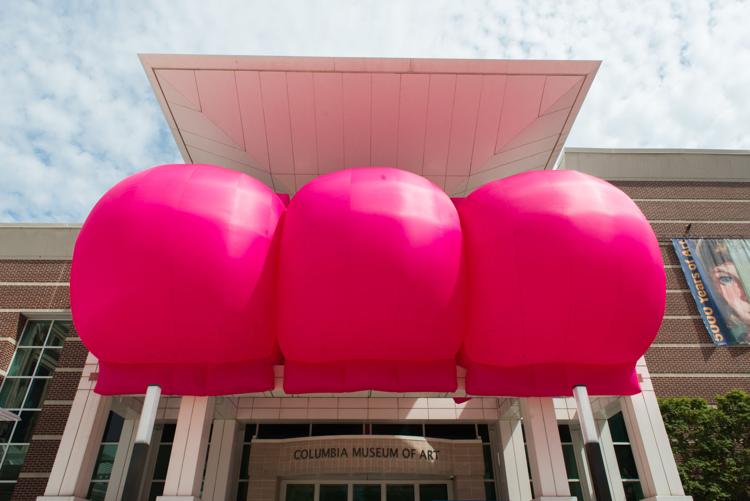 In Kuehnle's world, by contrast, the only power struggle lies in trying to take control of a huge space.
Museum visitors enter a kind of cartoony geodesic dome, where a thermal sensor casts spinning, flashing colors on the flouncy checkerboard walls based on the body heat of the occupants, scored to a blend of disparate recorded sounds. 
From there, you enter a bright red labyrinth upheld by inflated pillars nestled so closely together that walking between them means being gently smothered by nylon fabric. 
As Kuehnle describes it, these interactive installations are both determined and inspired by the building, whether that means the front entrance to CMA — currently decked out with what looks like enormous red overstuffed pillows — or the structure inside.  
"It's really a response to the architecture," he says. "My pet phrase is always 'between spectacle and the absurd.'" 
It's a phrase that could equally apply to his partner, but Kuehnle adds another element. 
"The biggest thread between our work," he offers, "is the performative aspect of it." 
"We kind of understand each other's process," Kato sys, "how we work, how we think about things. It's really great because it's so hard to work alone."   
---
What: Mimi Kato: Ordinary Sagas and Wow Pop Bliss: Jimmy Kuehnle's Inflatable Art
Where: Columbia Museum of Art, 1515 Main St.
When: June 15-Sept. 8
More: 803-799-2810, columbiamuseum.org