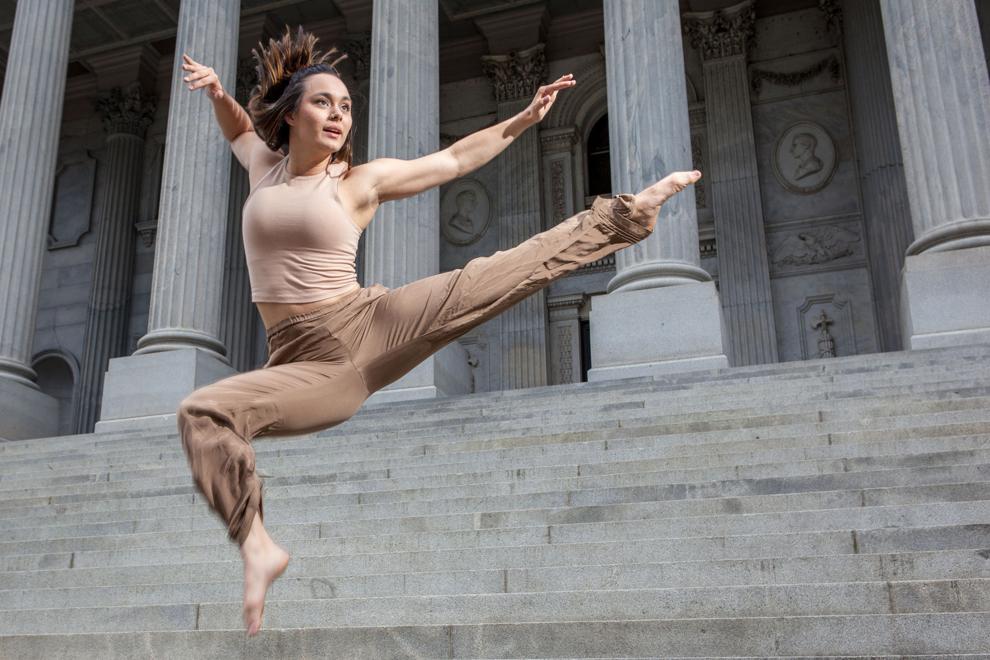 This Saturday, four young artists with disparate backgrounds but similar thirsts to express themselves via contemporary dance will have the chance to showcase their original work. Columbia's Emerging Choreographers Show at Tapp's Arts Center is the brainchild of Meredith Yuhas, principal dancer/choreographer of Yuhas & Dancers. A senior at Columbia College who will receive her degree in dance and psychology only a few hours before the show begins, Yuhas says that while her colleagues may differ slightly in style and aesthetic, one commonality is that their work is "very fierce and energetic."
Yuhas became inspired following a summer internship in 2017 with the American Dance Festival in Durham, North Carolina, which she describes as "the hub of modern dance," and where she was afforded the opportunity to work with international choreographers who came to the campus of Duke University. Returning to Columbia, Yuhas recruited fellow students to form Yuhas & Dancers, and began to develop her own postmodern choreography. At the Asheville Fringe Arts Festival, a multi-disciplinary performing arts event that seeks to spotlight new and original works, the fledgling troupe was voted Festival Fan Favorite. 
"People would come up to us on the street," Yuhas remembers, "and ask, 'Where are you from?' Everyone was amazed that we had all shapes, sizes and colors."
Jonathan Smith met Yuhas by chance through a mutual friend while both were exploring career opportunities in New York earlier this year. Smith has performed extensively in works created by local choreographer Terrance Henderson, who was originally his fourth grade teacher at Logan Elementary School, and with whom he now collaborates. Graduating from the University of South Carolina in December of 2017 with a degree in music, specializing in percussion, Smith was also the first male member of the Carolina Coquette dance team. When asked by Yuhas if he might have any choreography to contribute to a showcase of original works she was hoping to put together, Smith eagerly said yes. Yuhas then reached out to other artists, including Brailey Johnson, a member of the Fuse Artist Alliance, a collaborative group made up of dancers, poets, visual and performance artists, musicians and rappers. The fourth partner in this week's showcase is Jacquelyn Benthall, a graduating senior in dance performance and choreography at the University of South Carolina.
"All of us are creating from a very personal place," Yuhas explains, noting that the work of each stems from a "sense of wakefulness, and coming into adulthood."
Green adds that all four artists share a common thread of vulnerability in their self-expression. Yuhas is quick to thank Tapp's which is including this performance as part of their public programming, making it possible for these 20-something students and recent graduates to mount such an effort.
Each choreographer has 15 to 20 minutes to fill with one or more dance pieces. All will perform, some solo, some working with other dancers. Yuhas will include selections from the show she premiered in Asheville, as well as Running Bodies Empty, which she says is "rooted in honesty," and tackles "issues of body image and perception," particularly from the unique viewpoint of the dancer, whose only instrument is his or her body.
Smith will debut his solo performance piece, America to me?, which explores the theme of "America the Beautiful," juxtaposed with spoken word recordings of the poetry of Langston Hughes. The work, he reflects, "is a clear and concrete representation" of conflicting experiences he has had as a person of color, resulting in "a medley of America," united at last through the music of Bob Marley's "One Love."  
Johnson's contribution is M-F, described as "a series of movement vignettes" depicting "the mundanity of everyday adult life," and is inspired by the album The Ooz by King Krule. Set to the music of Fleetwood Mac, Benthall's project Crucial Ambiguity will feature fellow dancers from USC, and will portray "a journey through the stages of grief." 
Up next for Yuhas is working this summer on the American College Dance Association's National Festival in Washington, D.C., in an administrative role, followed by a journey with her troupe for an appearance at Maine's PortFest Fringe Festival. In the fall, she'll begin work on a masters of science degree in dance movement and therapy at Sarah Lawrence College, but she plans to retain ties with Columbia, possibly as a visiting artist and teacher. And she definitely wants to make this showcase an annual event.   
"We want Columbia to see that we have a voice," Yuhas stresses. "We're all very hungry for people to see what we're thinking, and what we're making."