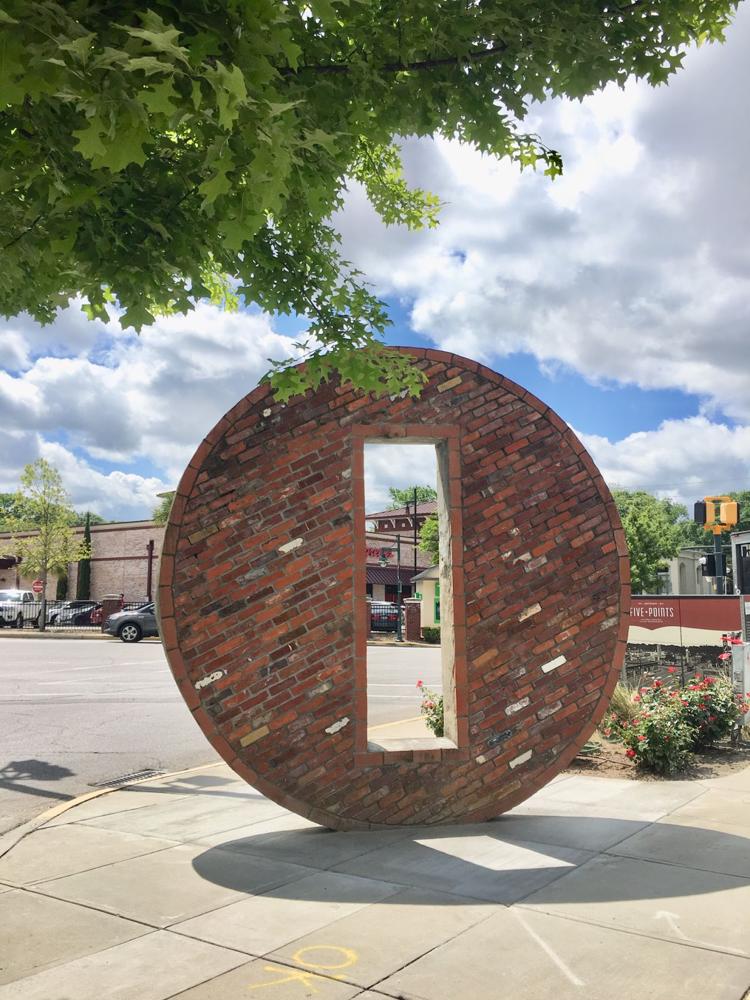 There's a new piece of public art in Five Points — but there's been none of the usual publicity about it yet, because people weren't sure it would make it there at all.
"We were trying not to have any fanfare because I was concerned the piece might not hold together," says developer and Five Points Association board member Richard Burts, who helped bring the work to Saluda Avenue. "We tried to excavate to see what kind of foundation was there, but when you lift it with a crane, we were worried it may just all fall apart. We were all flying a little dark. … And thus we didn't want to advertise we were doing this big public art project."
The masonry sculpture was built by Jay Hubbell, a Columbia artist and stoneworker who died last year. A veteran drummer in local punk bands including From Safety to Where, Hubbell built stone works across the Southeast and here in Columbia, including obelisks on Millwood Avenue and at Gervais and Oak.
Hubbell created the 15,000-pound brick wheel in the back yard of his Columbia home. It stands improbably on its end, like a coin, with a framed slot in its center like a door. The bricks run diagonally across one face, giving it a feeling of movement despite its mass.
After Hubbell died, Tracie Broom, a longtime friend of Hubbell, approached Burts to suggest he speak with Hubbell's family, who were looking to donate the piece as public art. Burts spoke with members of Hubbell's family, including brother Karl Hubbell, who lives in Denver.
Moving the piece to the center of Five Points was fitting, Karl Hubbell tells Free Times.
"[Jay] always said he wanted to be a public artist," he says, noting that Hubbell sometimes constructed guerrilla works around Columbia.
"I have no idea what the piece meant to Jay," Karl Hubbell says of the work. "Jay just had ideas in his head, and if he could make it happen he'd build them. A lot of times he couldn't quite make it happen. But he had this creative expression that had to come out.
"All I know is he was a very interesting and unusual human that I didn't really understand lots of times, but he made some beautiful artwork, and I'm really glad some of it is out in public."
It took about a year of behind-the-scenes work to get the piece ready to move, including surveying, permitting, a temporary encroachment permit and more.
"Nothing is ever easy," Burts says. "Even though it was a one-day process [to move the sculpture], it was a lot of work."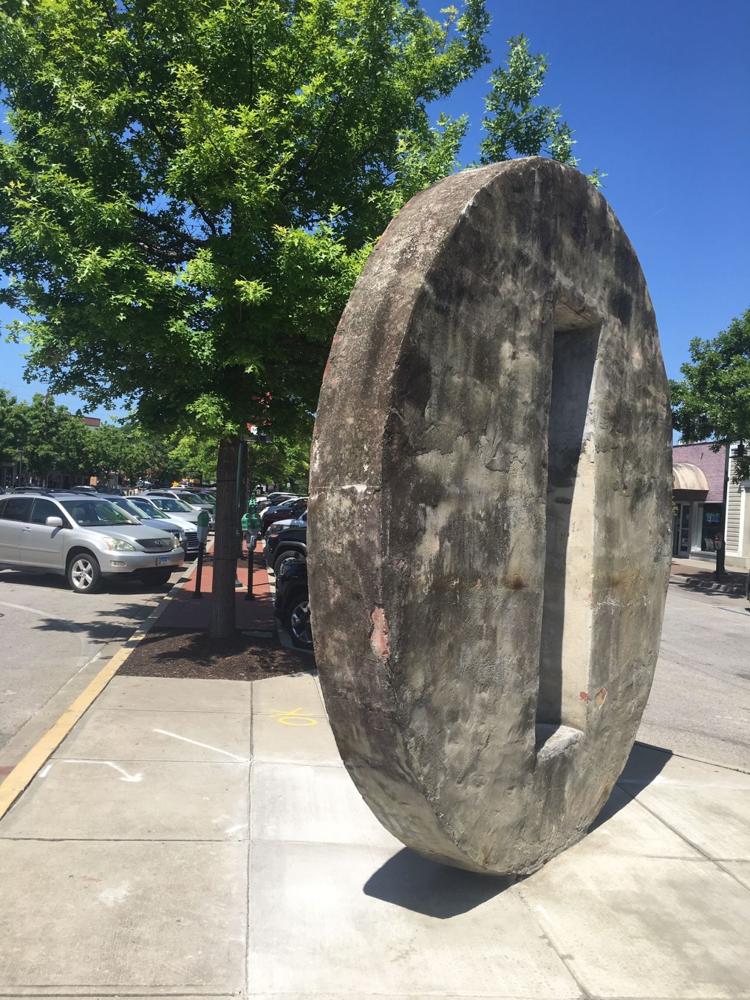 Local contractor AOS donated its services to the project, according to Burts. One of the trickier parts of the operation was getting a crane into Hubbell's back yard.
"It was so tight getting back into the yard, we had to remove a gutter," he recalls, which left just an inch or two on each side of the crane to maneuver.
The work showed up on Saluda Avenue just a few weeks ago. Later this year, Karl Hubbell will likely fly out to help install a plaque and dedicate the piece.
Jay Hubbell reportedly never named the piece — or any of his pieces, according to his brother, except one that he entered into an art show.
"Jay actually told different people it was different things," Karl Hubbell says of the work that now stands on Saluda Avenue. "He told me it was a wheel. He told somebody else it was an eye."
For now, Burts says he's recommended to the Five Points Association that they call it The Hubbell.
"If names start bubbling up organically, I think that's cool," Burts says.