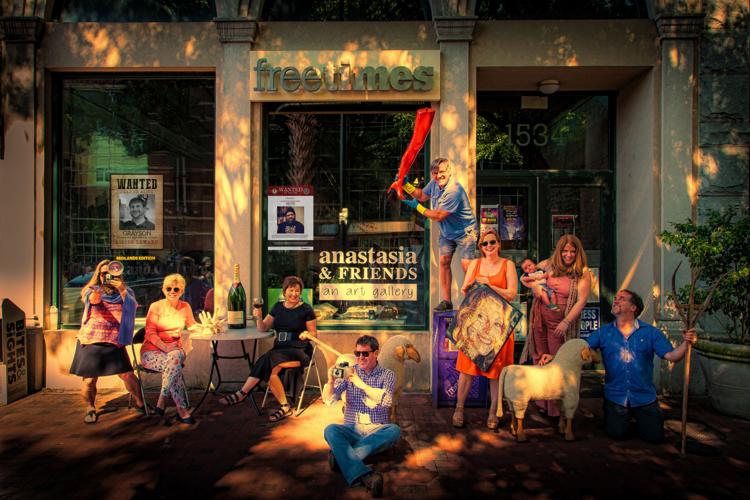 The local art gallery Anastasia & Friends will come to an end soon — but not without a going-away party.
The gallery, which has long occupied the front entrance of Free Times' Main Street office, will close at the end of June when the newspaper moves to its new location at the corner of Hareden and Gervais.
This Thursday, the venue — which has long been associated with Columbia's monthly art crawl and street party, First Thursday on Main — will host Last First: A Volcano of Art, featuring work from 40-plus local artists who have hung their art from the gallery's exposed brick and crumbling plaster walls during the past decade.
The bond between the gallery and local artists has always been strong, and longtime curator Bohumila Augustinova suggested it could have continued indefinitely. 
"When we learned that the Free Times is moving, I had to call five artists and cancel their shows," she says. "I usually have a show lined up about a year in advance."
Even more people were calling to get on the roster.
"I had so many artists coming to me with stuff I would love to show here."
Anastasia & Friends began after a 2009 show at the front of the Free Times building, when sculptor Anastasia Chernoff was asked to curate the space for First Thursday on Main. The gallery became an ongoing concern, and Chernoff — until her death from cervical cancer in December 2016 at 49 — became one of the city's most beloved art hosts.
"It was my second home away from home, especially on First Thursdays," offers local artist Michael Krajewski. "I loved going there. When it first started up, Anastasia's gallery was extremely instrumental in the growth of Main Street, First Thursdays, and even more important, I felt, the growth of artists. She was always welcoming to everyone she met, and the new artists she came across."
Augustinova, who creates intricate and imaginative art using different types of wire, had her own work on display in May 2015 when Chernoff was first diagnosed. Over the next few months, she and other local artists handled the duties for forthcoming shows.
After becoming Chernoff's successor, Augustinova maintained the gallery's funky, eclectic, free-wheeling vibe.
"This is not an art gallery where you necessarily want to see art that is going to sell," she says. "It would be great — I think all art should be accessible for sale — but art is not just about money. It's about experiencing something."
Getting the different types of art properly mounted in the aging building hasn't always been easy.
"The walls are beat up," Augustinova describes, "but I've never seen art that didn't look great on these walls. Although, let me tell you, hanging art here is a challenge, because there's not a flat surface. The floors are uneven. The walls are crooked."  
Lee Snelgrove, executive director of One Columbia for Arts and History, the city-backed nonprofit tasked with supporting the local cultural community, says Anastasia & Friends has been an asset to the city's visual artists. 
"Because of the nature of its rotating exhibitions, it's been a great spot for artists to showcase their work," he offers. "We don't have a whole lot of community gallery space in the City of Columbia, and having that as a sort of curated space, very prominent in a shopping district of the city, is valuable to many artists and their careers."
And Anastasia & Friends always brought the party at First Thursday.
"I remember the kinetic energy of some of the group shows where a lot of artists were in there at once," Snelgrove says, "and there was a buzz about the place — so much that people were spilling out on the street."
Augustinova is hoping for something similar this week
"We have connected with so many of the artists that have exhibited here over the years," she says. "It was fabulous to see how everybody reacted, like, 'Absolutely, count me in, count me in.' This show is going to be packed."
She looks at the walls, and considers the available space.
"I think we're going to go high up," she predicts. "I'm pretty excited about that."
---
What: Last First
Where: Anastasia & Friends, 1534 Main St.
When: Thursday, June 6, 6-9 p.m.