WEDNESDAY 4
Yes, we know that the Columbia Fireflies have fireworks, like, all the time. Like, after every Friday home game all the time. But today is Independence Day — the day in which we celebrate the sovereignty of our nation by blowing up a small part of it — so the fireworks following the Fireflies' 6:05 p.m. game against the Greenville Drive at Spirit Communications Park should be extra spectacular, what with it being America's 242nd birthday and all. Tickets start at $5 for a seat on the Bojangles' Berm, which, now that we think about it, would probably be a pretty rad place to see some explosions in the sky. Visit columbiafireflies.com for more information.
But wait! Remember that the Fireflies aren't the only baseball team in the Midlands. The Lexington County Blowfish will be setting off some red, white and boom tonight at Lexington County Baseball Stadium following their game against the Florence Redwolves. Ask to be taken out to the ballgame well before 7:05 p.m. — because that's when the game starts. Tickets run from $6 to $9. Visit goblowfishbaseball.com for more information.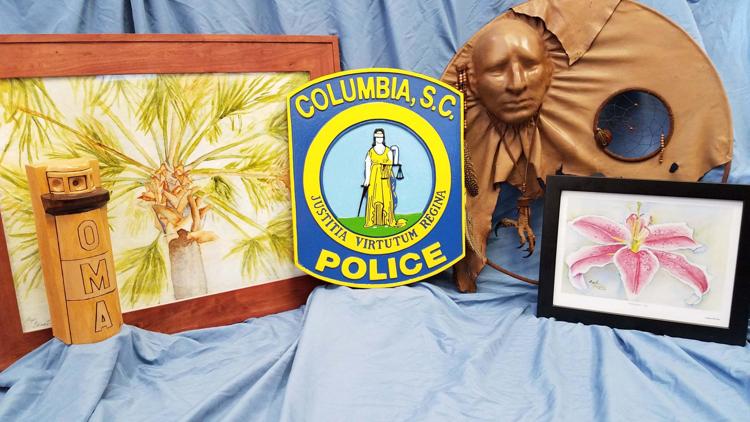 THURSDAY 5
We can't guarantee that today's installment of the monthly First Thursday on Main art happening won't have fireworks. It just seems unlikely. In addition to the usual lineup of arts and crafts and music and beer and other fun things up and down Main Street north of the State House, this month features the opening of the Behind the Badge exhibition at City Hall; the exhibition features works made by Columbia Police Department officers, plus some CPD retirees and family members. First Thursday events, as always, run 5 to 9 p.m., and admission, as always, is free. Visit firstthursdayonmain.com for more information.
There are two types of people in the world: those who thought that Beyoncé's 2017 Super Bowl halftime show performance was what is colloquially referred to as that fire, and those who are wrong. The Bring It! Live tour brings that kind of sizzling hip-hop hot-stepping to the Township Auditorium tonight; the show starts at 7:30 p.m., and tickets run from $32.75 to $59.75. Come on, girls, let's visit thetownship.org for more information.
FRIDAY 6
You don't need to tell us that it's hot outside. We don't need to tell you that it's hot outside. We all know that it's hot outside — maybe too hot these days to want to do things outside during daylight hours. But Saluda Shoals Park's Paddle and Pint happening offers two great ways to beat the heat: First, you'll paddle the Lower Saluda, then you'll sample an array of craft beer curated by the Vino Garage at the park's river overlook. The paddlin' begins at 5:30 p.m.; admission is $37. (A note: The trip, naturally, is dependent on weather and river levels.) Visit icrc.net/parks/saluda-shoals-park for more information.
SATURDAY 7
Imagine dragons. Just imagine them. Just for a second. Now turn to page 23 and read about Imagine Dragons, the pop group performing at the Colonial Life Arena today.
Yes, we already plugged one Columbia Fireflies game this week. We're going to plug another: Tonight is Superhero Night at Spirit Communications Park, and local comic-book artist Sanford Greene, whose illustrations have been printed by pretty much every major comic-book publisher (including Marvel, DC and Dark Horse), has designed special jerseys for that the Fireflies will wear during their game against the Charleston RiverDogs. The comic-themed kits will be auctioned off, with the proceeds benefiting the nonprofit HOPE Worldwide organization. First pitch is at 7:05 p.m.; tickets start at $5. Visit columbiafireflies.com for more information.
SUNDAY 8
Doo Doo Brown comes to the Comedy House a lot, and yet we still can't get over the fact that a grown-ass man of ostensibly sound mind and body has chosen to refer to himself as "Doo Doo." The mysteries of life. Brown closes his four-night stint at the Comedy House at 7:30 p.m.; tickets are $15. Visit comedyhouse.us for more information.
MONDAY 9
We're off to see the wizard, the wonderful Wizard of Oz — because the Nickelodeon Theatre is screening the classic 1939 Judy Garland film at 6:30 p.m. as the kickoff to its Everything Is Better in Technicolor Series, which celebrates big-screen blockbusters shot or printed by Technicolor, one of the companies that brought vibrant color to the cinema. Tickets are $5, and kids 12 and under get in for free. Pay no attention to that man behind the curtain. Visit nickelodeon.org for more information.
TUESDAY 10
There is comfort to be taken in knowing that some things will just always be there, rain or shine, sickness or health, richer or poorer, good times or bad. 'Round these parts, one of those things is Patti O'Furniture's Tuesday-night Ultimate Drag Show at PT's 1109. Columbia was founded in 1786, and it sure feels like O'Furniture's been dragging it up about that long. The show starts at 11 p.m., and admission is free. Visit pts1109.business.site for more information.
WEDNESDAY 11
Alexander Pushkin's Eugene Onegin is a classic piece of Russian literature; the unusual meter and rhyme scheme — a ping-ponging mix of alternating masculine and feminine rhymes — its verses are written in what has come to be known as the Onegin stanza. Pyotr Ilyich Tchaikovsky's 1879 operatic adaptation retains much of Pushkin's original poetry. You can see the Metropolitan Opera perform the opera tonight via a fun little bit of time travel; the Regal Columbiana Grande Stadium 14 and Regal Sandhill Cinema 16 movie theaters screen an encore of the Met's 2007 performance at 7 p.m. Tickets are $13.13. Visit fathomevents.com for more information.