Think restaurant accessibility doesn't apply to you? Wait a few years.
With the Charleston area graying faster than the rest of the country, thanks in part to the city's repeated appearances on lists of "Best Places to Retire" published by Kiplinger, Forbes and U.S. News, mobility experts say it won't be long before a significant portion of the population will need a cane, walker, wheelchair or other assistive device to go out on the town. And in a city lauded by those same magazines for "well-preserved antebellum architecture" and "cobblestone streets," that could present a problem.
"I've called a restaurant from inside the bathroom and asked them to let me out," says Marka Rodgers, an incomplete quadriplegic who was trapped behind a door too heavy for her to force open with her functional arm. "I don't expect the world to change 100 percent for me. I don't expect to take a tour of Charleston's old houses. But I just want to have a nice time."
Under federal law, which supersedes any aesthetic concerns raised by the Board of Architectural Review, restaurants are required to remove physical barriers when doing so is "easily accomplishable without much difficulty or expense." (New construction is subject to a different set of regulations so complex that local architect Reggie Gibson always has a lawyer make sure his plans are up to code). Yet, as the U.S. Department of Justice explains in an Americans with Disabilities Act handbook for business owners, "When profits are down, barrier removal may be reduced or delayed."
In a low-margin business like the restaurant industry, it's not hard for an owner to claim there's no money in the budget for reconfiguring booths or installing ramps. Furthermore, the law isn't enforced like rules governing food or fire safety, with checklist-toting inspectors making routine site visits: The Department of Justice only looks into a restaurant's compliance if it receives a citizen's complaint.
Janet Schumacher, the city of Charleston's ADA coordinator, will contact a restaurant owner if she's alerted to a possible violation, but she's only empowered to have a conversation. Typically, the most she can do is solicit an apology.
"There's not anybody that goes around checking out buildings, so there's no way to know how Charleston is doing," says Rebecca Williams of Syracuse University's ADA Center.
The Department of Justice wasn't able to supply a record of complaints originating from Charleston County, citing a backlog in response to a Freedom of Information Act request submitted last month by The Post and Courier. But it appears that if wheelchair users are to fully participate in the city's renowned dining scene, they're largely dependent on the spirit of hospitality that made it famous.
Dinner conversation
Restaurant owners are loath to talk about how they accommodate differently abled guests.
The topic is so touchy that the two downtown Charleston restaurateurs who agreed to talk on the record for this story – Steve Palmer of The Indigo Road and Kevin Johnson of The Grocery – both canceled interviews one business day before they were set to take place. Even restaurateurs hailed by wheelchair users for their accommodating attitudes declined to comment: Joseph Jacobson of Black Wood Smokehouse, a James Island restaurant that reportedly gave up part of its dining room in order to create an accessible bathroom, didn't respond to messages, despite his publicist labeling them "important" in all-caps.
Yet as the Black Wood Smokehouse example demonstrates, just because some restaurant owners are skirting the press doesn't mean they're all skirting the law. In certain cases, they're doing more than what the Americans with Disability Act demands.
"(Halls Chophouse owner) Bill Hall, of his own volition, just being a good citizen, put in a lift," recalls Gibson, whose other restaurant projects include The Obstinate Daughter and 492. "He said, 'We've got families that come here and bring grandmothers, and downstairs isn't necessarily the best place for them.'"
Still, Rodgers and fellow members of the city's Committee on Disability Issues are trying to encourage more open discussion of what it takes to make everyone feel welcome in a restaurant. They want the hospitality community to understand that seemingly arcane guidelines dictating the height of sinks and width of corridors determine whether they'll order a second drink or just nurse one, because the bathroom is essentially off-limits to them.
"We want to spend money, too," says Maria Saxon, who lost the use of her legs in a 1995 car crash.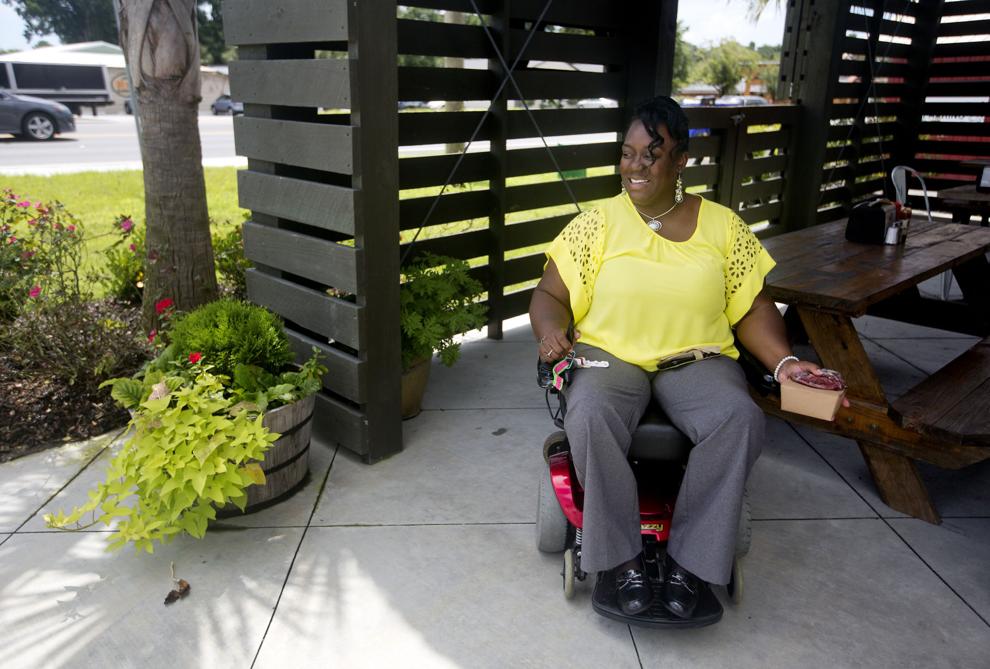 Gibson appreciates the sheer number of ADA regulations and legislators' propensity to change them can be daunting.
"I'll bitch about it," he admits. "We'll have something designed that we think is really nice, and then I'll spout off for 20 minutes, and then we figure out how to make it work. ... It's a sticky wicket, but it shouldn't have to be: We really do try to make it so it doesn't feel awkward just because they're in a wheelchair. Sometimes it's just damn awkward, and we hate that."
What registers as awkward from a wheelchair user's perspective isn't always what people without mobility issues might assume, or even notice. Little ledges projecting from a restaurant's front door; children's high chairs stacked in hallways and doors set at high tension are among the challenges most frequently cited by diners who don't have the option to stand.
While diners who walk without assistance might zero in on stairs as the main obstacle for wheelchair users, bigger frustrations are often invisible to them, such as being directed down a back alleyway to wait outside an accessible door alongside a Dumpster or being coldly received by a hostess.
"It's done very, very subtly," Rodgers says. "They'll say, 'Well, we don't have a table right now' or 'Can you move so she can get by?'," emphasizing 'she' so other customers can identify who's responsible for them having to move their chairs.
Ultimately, Saxon says, "It's discrimination. Disability rights are civil rights." 
To give those who aren't yet coping with disabilities a better sense of the difficulties they encounter, four members of the Committee on Disability Issues recently agreed to take turns joining this reporter for lunch. The restaurants were chosen without the committee members' input; the idea was to discover how wheelchair users would experience a few of the county's most celebrated lunch spots.
I. The Obstinate Daughter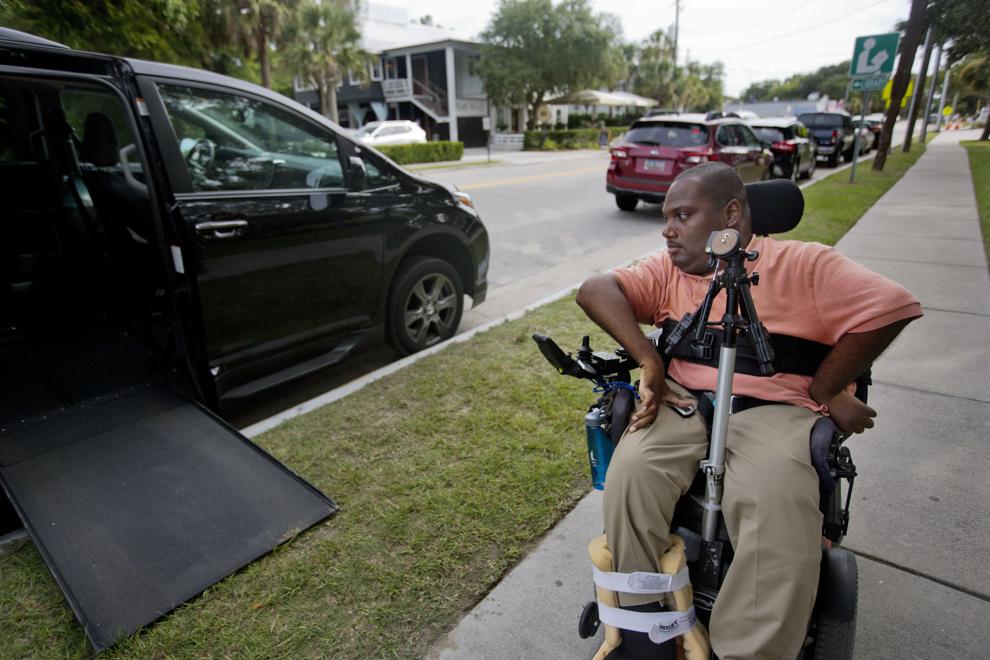 The only designated handicapped parking space at The Obstinate Daughter is taken, but Alex Jackson is able to park his modified Toyota Sienna directly across the street from the popular Sullivan's Island restaurant. Still, it takes him a minute to maneuver the van into position so his ramp will line up with the sidewalk; he shifts by rotating a wooden spoon he holds in his mouth; it's a contraption he invented, freeing up his functional right arm to work the steering, accelerator and brakes.
Jackson, 31, has been quadriplegic since he was 9 months old, when he was riding in a car and hit head-on by a drunken driver. His mother was temporarily paralyzed by the crash, but she regained use of her limbs, allowing her to carry Jackson around until he was 4 years old. Then, he got his first electric wheelchair.
"My mom says when I was younger, I used to say I was born to drive a power chair," Jackson says.
Jackson's current chair is modified with lateral padding, which "makes it easier not to have to fight to hold yourself up." It's also furnished with a tripod, because he's an amateur photographer; he keeps his tennis racket in the van.
Altogether, the wheelchair measures 24 inches across, which is just shy of the width of the aisle between The Obstinate Daughter's elevator and its front door. To reach the hostess stand, Jackson navigates between the restaurant's bar stools and high-top tables, most of which are occupied. "Excuse me," he says, as other patrons inch their stools forward. "Excuse me."
Being disabled is time-consuming. Jackson, a writer and editor in SPAWAR's public affairs office, estimates he devotes about four hours a day to showering and getting dressed. Still, he doesn't let those tasks detract from his socializing. "I'm an outgoing person, and I love hanging out with friends and family, so for me, it's very important that a restaurant caters to people of different abilities," he says.
After the meal, Jackson sends a follow-up e-mail.
"I'm not sure if you want us to grade the restaurant, but I'd give it an A-minus," he writes. He couldn't give The Obstinate Daughter a perfect grade, he explains, because he didn't see any signs directing people to the elevator, and even though he asked a server on the outdoor patio to show him the way, nobody greeted him when the elevator doors opened on the dining room. "I'll give them points for having an elevator though!"
II. Chez Nous
Wheelchair users quickly learn that people who aren't in wheelchairs tend to have a liberal definition of "accessible." A restaurant may describe itself as accessible because there's only one step leading to the door, or because it has low-top tables. Marka Rodgers remembers being told Taziki's Mediterranean Café in Mount Pleasant was accessible, only to discover before dessert that there wasn't a bathroom she could use. Since then, she says, she's always called restaurants before visiting to go over their amenities in detail.
At Chez Nous, though, nobody answered. And when she called back, an electronic voice informed her that the voicemail box was full.
So Rodgers arrives without a reservation, or any idea if she'll be able to get into the restaurant, housed in a two-story cottage along a side alley. Rodgers doesn't necessarily believe things will all work out, but she's confident she can work them out: The 61-year-old dance instructor proudly describes herself as "mouthy."
"I've always been good at defending myself, but I've gotten better," she says.
Rodgers has suffered two devastating spinal cord injuries, the most recent in 2012. "A girl ran a red light in Mount Pleasant," she says. "So I hate Mount Pleasant." Much of the ensuing time at the hospital is a blur, but Rodgers recalls crying out "stop" when she was poked in her left shoulder, only to learn the medical team had been poking away at her feet. Determined to win back her body's cooperation, Rodgers ordered the doctors to "just put me on the mat, and see what I can figure out."
Within weeks, Rodgers was back to teaching dance. Two years ago, she finished the Cooper River Bridge Run. But within the confines of a dining room, there are certain things she can't do: She can't wield a fork and knife at the same time, and she can't wrap her hands around a water glass.
"Do you have a straw?" she asks the server at Chez Nous. "I forgot my straw."
No, the server tells her, the restaurant doesn't have any straws. Rodgers asks for her water to be poured into a wine glass.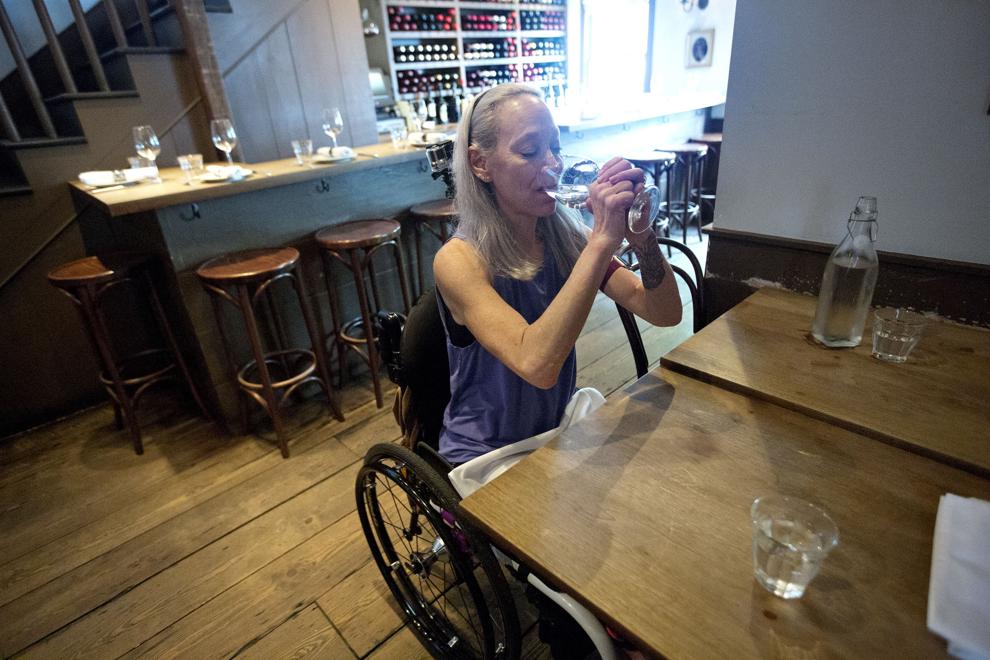 Later, Rodgers has another question for the server. With the exception of two tables near the entrance, all of Chez Nous' indoor seating is at a bar or upstairs. What if the two accessible tables had been taken when Rodgers arrived?
The server nods. "We suggest calling first," she says.
Following Jackson's lead, Rodgers assigns a grade to the restaurant: Chez Nous gets a B. "The food outweighs the phone, the (lack of) tables and the huge bathroom door," she rules.
III. Minero
"Hi, Claudia," Annette Nielsen, 62, says when her second call to Minero is answered. "I'm at your front door. I'm in a wheelchair. Do you have a wheelchair ramp?"
When Minero first opened on East Bay Street, it had a street-level location. But the restaurant in 2015 moved upstairs, which means customers have to clear a step in order to access an elevator.
Within one minute of Nielsen's call, two employees appear with a metal ramp. "I was very impressed," recounts Nielsen, an ordained minister who in 2004 was diagnosed with transverse myelitis, a disorder caused by spinal cord inflammation. "Some people just cobble together plywood."
Neither of the employees is entirely certain how to position the ramp, though: One of them has worked at the restaurant for four years, and this is only the second time anyone's requested a ramp during his shift. They lay the ramp down backward, creating a steep lip that the rain-soaked wheels on Nielsen's chair can't climb.
Sweating furiously, the two men try to push the chair forward. Nielsen, embarrassed by their effort, apologizes.
"No, ma'am," one of the employees says sternly. "It's not your fault."
And then the wheelchair skids partially off the ramp. As it bangs against the doorjamb, the joystick Nielsen uses to drive her chair comes loose. The embarrassment that Nielsen felt at "being on display" is now compounded by anxiety that the wheelchair won't ever be righted. Together, Nielsen and her chair weigh 450 pounds, all 450 of which are now slanted at an awkward angle.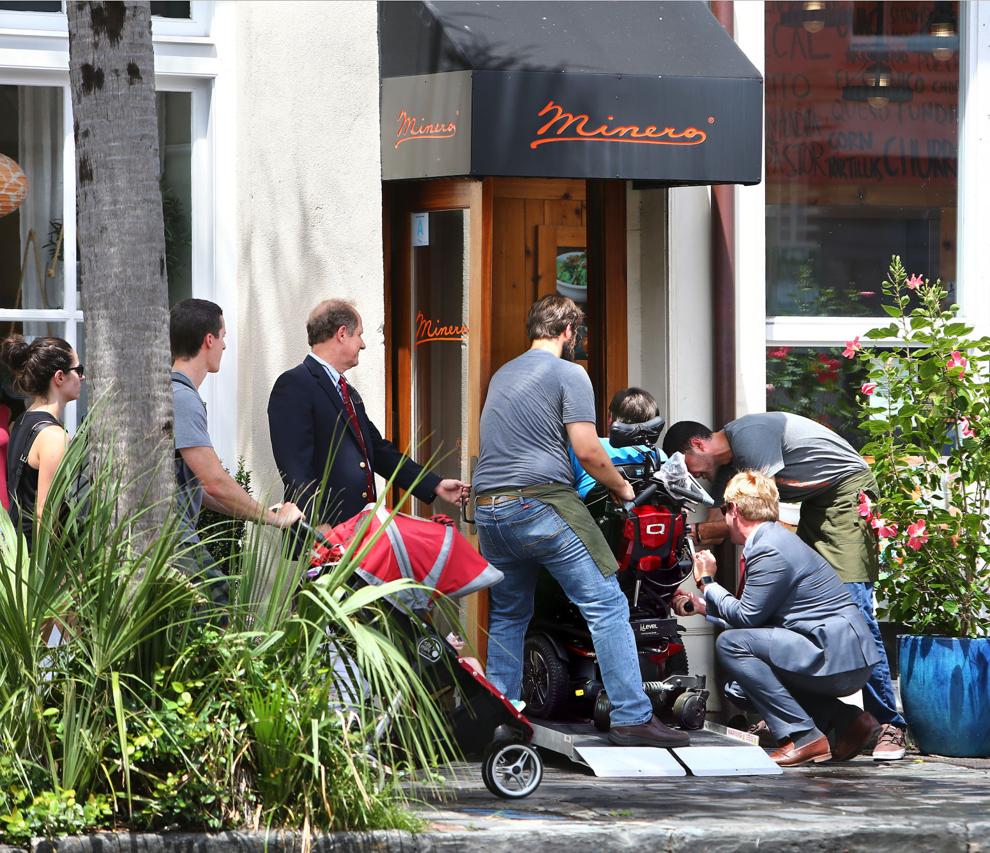 It takes the assistance of two passers-by, but Nielsen finally makes it into the vestibule.
In general, the whole ordeal was the kind of event that discourages Nielsen from trying new restaurants: "I don't want to be the bull in the china shop. I don't want to take away two employees in the middle of lunch rush." In this case, though, Nielsen was so thrilled by the employees' graciousness – along with the grab bars in the bathrooms; uncluttered passageways and ample space between tables – that she gives Minero an unqualified A-plus.
After getting home, she e-mails Neighborhood Dining Group to commend them.
"If the definition of hospitality includes such descriptors as helpfulness, warmth, kindness, and courtesy, then Minero and its staff certainly fit the bill," she writes. "These qualities cannot be mandated by any law, but display any establishment's true heart and spirit."
IV. Hen and the Goat
Housed in a James Island building that was constructed with modernity in mind, Hen and the Goat isn't beset by any of the tight alcoves and narrow doorways that recur in downtown Charleston's 19th century buildings. Maria Saxon wants to look at the bathroom anyhow.
"Even if I don't have to go, I'll check out the restroom in case I ever want to come back," she says.
Saxon, 38, has been paraplegic since she was 15. She was in a van with her mother and sister when they were struck by a woman who passed out on the way home from dialysis. "I thought an airplane landed on us," she says. Saxon's mother directed her daughters to get out of the vehicle before it blew up; when Saxon tried to stand, she fell down flat. She's never walked again.
But she's been places. Saxon, a schoolteacher, has visited 17 states, and plans to see them all. Her next trip is to Orlando with her sister, Alaina; like many close relatives of wheelchair users, she's become vigilant about accessibility. Saxon remembers her standing guard in front of a bathroom because the door to the handicapped stall swung inward, preventing Saxon from closing it.
Other customers howled when Saxon's sister wouldn't let them in. "There's three stalls," they protested. "One person using three stalls?"
"She's using one, but she wants privacy like everyone else," she responded.
At Hen and the Goat, the bathroom is technically accessible. But the door isn't closing properly: It's developed a hitch. Someone with typical upper-body strength might not give a second thought to the extra tug it takes to shut the door fully. Saxon would have to find someone to close the door for her, which is why she grades the restaurant a B-plus.
"I try not to let it take away from my experience," she says. "I always assume they don't know."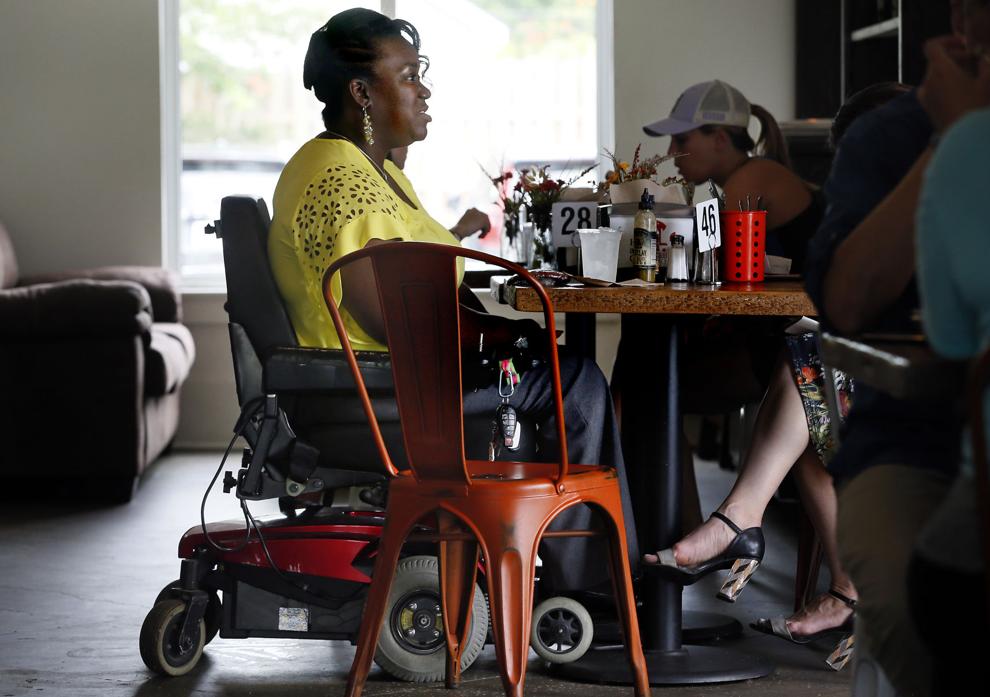 If a restaurant is aware of accessibility problems and doesn't fix them, Saxon won't go there. But she'll make an occasional exception for the right flavor: At Haagen-Dazs, which is a few insurmountable steps up from Market Street, Saxon will park her wheelchair in front of the store until a worker comes outside to take her order. "They're good at looking," she says.
Saxon wishes she could go to the bar at Outback Steakhouse. The chain runs a half-off appetizer deal, but it's only available at the bar, which doesn't have a lowered counter for wheelchairs.
"I don't even drink," she says. "But just to meet other people. I dine out with my family 98 percent of the time, but I'd like to be able to socialize with someone new. I'd like to be able to have my little mocktail and appetizer."
Really, Saxon says, that's not so much to ask.