South Carolina law prohibited distilleries from serving food until last year, when the passing of the Micro-Distillery Parity Act loosened restrictions.
When Gov. Henry McMaster signed the bill into law in May 2021, South Carolina distilleries were able to increase tasting limits, expand operating hours and serve beer, wine and food, among other easements.
This meant tourists and locals stopping in for a tour or a taste could now stay longer, sipping on curated cocktails like they would at a downtown Charleston bar. Following a few drinks, some were likely ready to order food if the opportunity presented itself. 
It wasn't quite that simple for South Carolina distillers, but some have found a way to launch food programs that offer more than just sustenance. 
Pointing back to the brand 
After years of operating without food programs, most distilleries in the state did not have in-house kitchens, prohibiting them from capitalizing on this new opportunity.
High Wire Distilling was one of few that did. But still, it's difficult to lift up another venture within your business, as co-owner Scott Blackwell put it.
Following a trial-and-error food program that featured mostly artisanal store-bought snacks, Blackwell and his wife Ann Marshall leaned into the added service at their Charleston distillery with help from friends in the industry.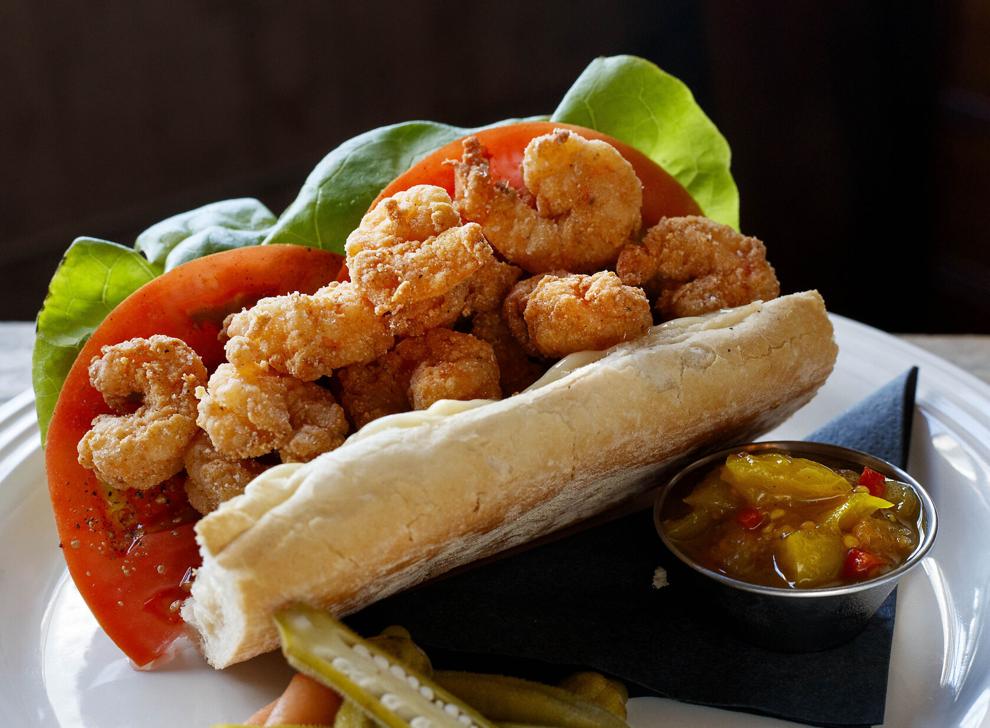 "We basically surrounded ourselves with some people that could help us just get it off the ground," Blackwell said. "The whole idea for us is we want things that we serve pointing back to the brand of High Wire and how we approach our business. So that's the mission first."
Before Bethany and Dano Heinz opened Vern's, they helped the couple develop High Wire's initial food menu and wine pairings. (Dano is responsible for the barbecue-spiced almonds — covered in Rodney Scott's barbecue rub he left behind after filming a commercial at High Wire — that are still on the meu.)
Former Melfi's chef de cuisine Alex Rozycki is now in charge of what has turned into a relatively nuanced food operation. 
Those who walk into High Wire's spacious, 2-year-old facility will find a menu riddled with local farmers and purveyors, such as Tarvin Seafood, Anson Mills and Kurios Farms. 
Shrimp dust and bacon fat popcorn, a shrimp po'boy, hickory-smoked ham sliders and a turkey club are among the recent additions at High Wire, founded in 2013 in an Upper King Street painting contractor's warehouse before Blackwell and Marshall in 2020 relocated to 311 Huger St.
"To be able to create something from the ground up was something I always really wanted to do," Rozycki said. "It's not reinventing the wheel; its just making sure that every single part of it is done perfectly."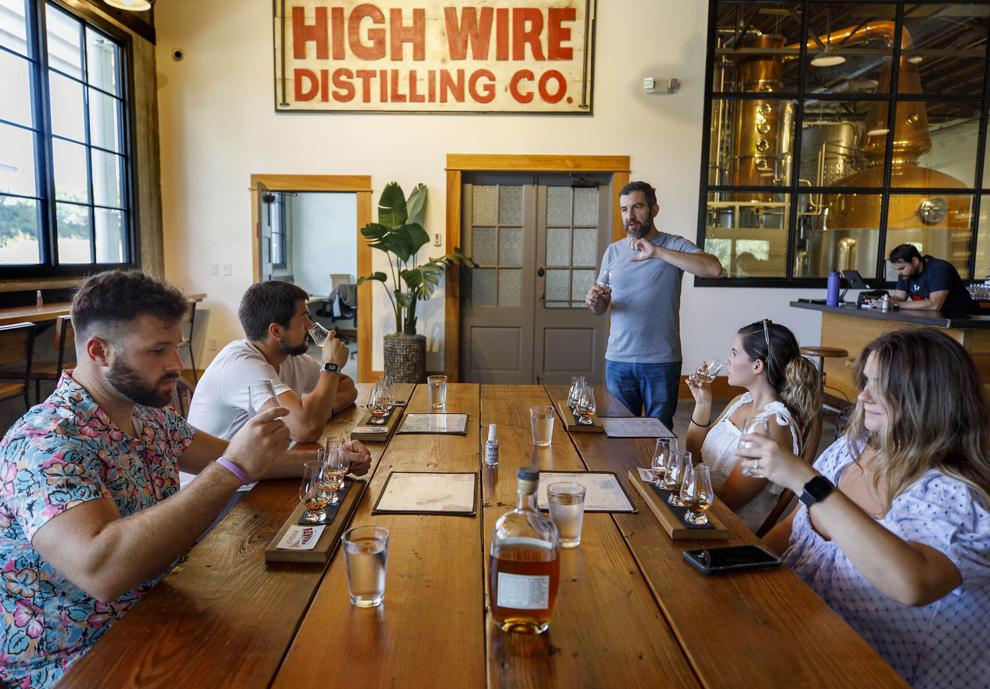 Examples of High Wire food that point back to its spirit brand include the lavash crackers served with the cheese plate. The thinly sliced, sturdy crackers are made with Anson Mills flour, baking powder and spent grain from the distilling process.
"We are generating right now 20,000 pounds a week of this stuff, so we can't make enough crackers," Blackwell said. "It's kind of like a corn chip meets a cracker."
High Wire's cornbread, made with the same earthy Jimmy Red corn used in the distillery's New Southern Revival straight bourbon whiskey, is another dish Blackwell and Marshall say connects customers to their spirits. The dense loaf arrives in a piping hot Smithey Ironware Co. skillet and is served with thin slices of Benton's ham and whipped sorghum butter that instantly melts into each savory slice.
On the lighter side, a Lowcountry panzanella salad features pads of little gem lettuce topped with small square cornbread croutons, halved cherry tomatoes, thinly sliced cucumbers and butterbeans from Josh Johnson, owner of Old Tyme Bean Co. in Cameron.
Vegetables are sourced from South Carolina farmers, GrowFood Carolina and the Green Heart Project's Urban Farm at Enston Home, located steps away on Huger Street.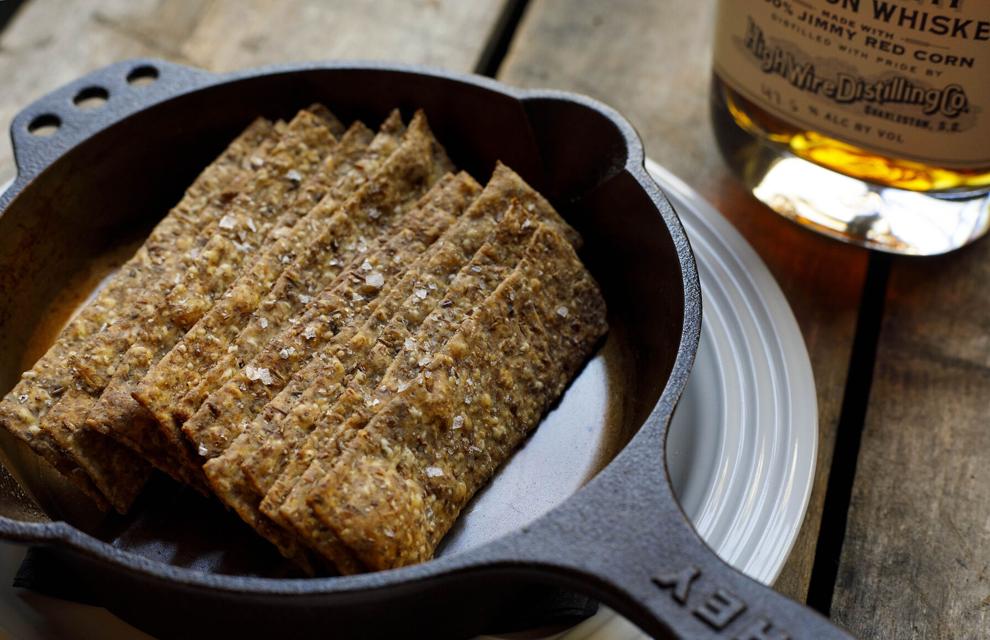 Neighborly love 
High Wire isn't the only South Carolina distillery that's successfully navigating this new era for spirit makers. 
Less than 10 miles away on Johns Island, Charleston Distilling Co. has found a way to add food without stressing operations. A stationary truck run by Tobo Sushi serves sushi rolls, dumplings and hibachi outside of the distillery's 2-year-old compound that, like High Wire, is located next to a brewery.
Farther south in Bluffton, a distillery that saw the laws change less than three months after opening has found its food service footing with help from a friendly neighbor.
Burnt Church Distillery, located in a 25,000-square-foot compound at 120 Bluffton Road, converted a bar area into an open-air kitchen overlooking the production facility last summer.
Smokey goat cheese spread with pita, a BLT with maple bourbon glazed pork belly and bourbon jerk sauce drizzled pork nachos are among the options served at Burnt Church alongside the spirit selection.
"It's been a pivotal moment for us in our young history," said General Manager Chris Crowe, who admitted the added operation is not without its challenges.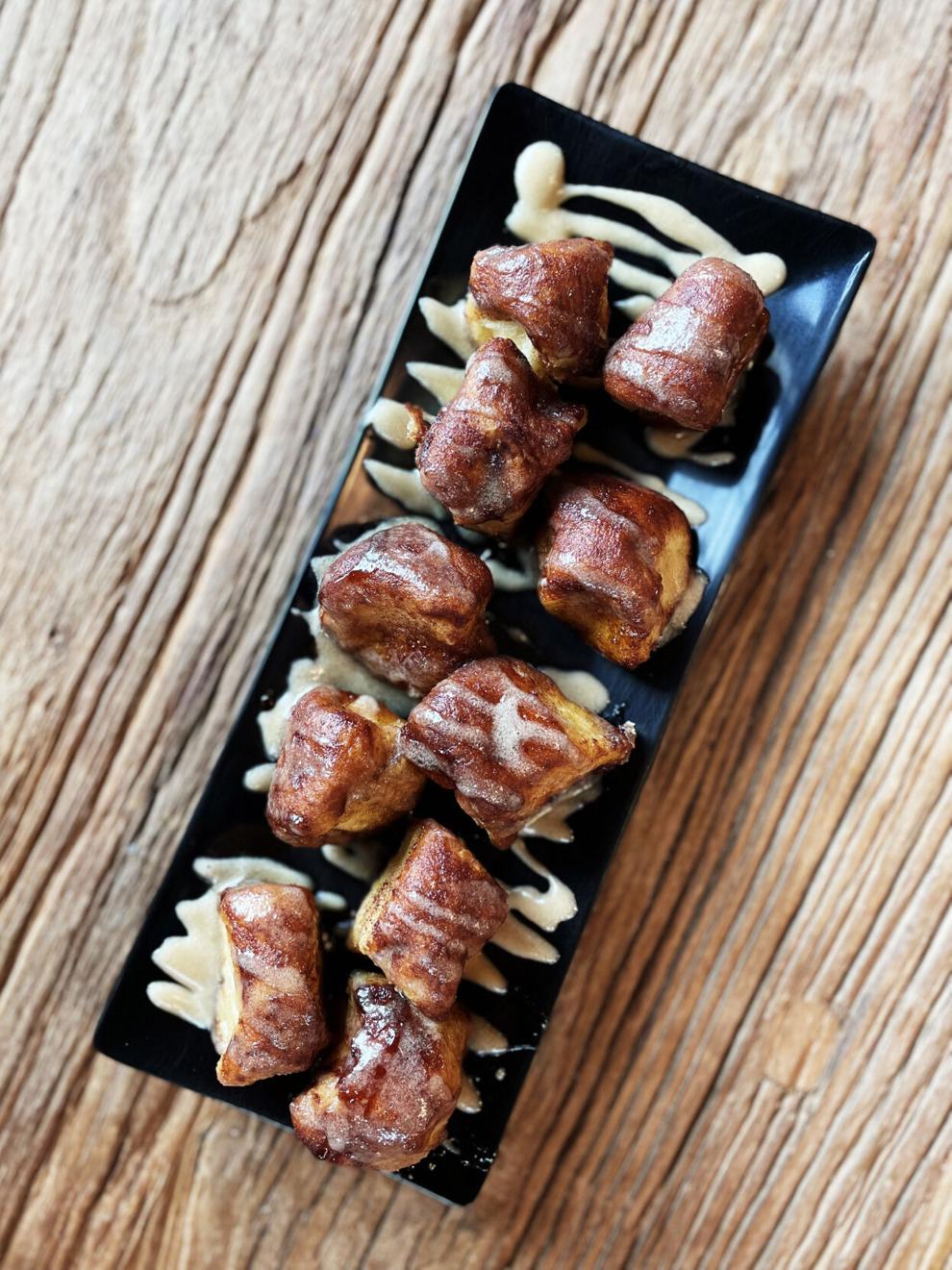 The kitchen is without a range hood, meaning Crowe's staff can't use a fryer, flat top and other kitchen equipment that produces heat and smoke. The menu of small plates and appetizers relies on pre-cooked meats and dishes that are warmed in a TurboChef ventless oven.
Like Blackwell, Crowe said it was important to incorporate their spirits into the food menu. The jerk sauce topping the nachos is infused with Burnt Church's Anita's Choice bourbon, and a monkey bread dessert is glazed in a cinnamon whiskey-infused frosting, for instance.
A new partnership has added more food to the menu, too.
Burnt Church patrons can now order from Pizza Co., located next door, using QR code menus at the distillery. Guests can choose from an assortment of pizzas and other shareable options, all of which can be delivered to tables inside the distillery. 
"It gave us the ability to be able to serve more than just light bites," Crowe said. "It's really been received really positively."
South Carolina distilleries like High Wire, Charleston Distilling and Burnt Church now have the freedom to operate as bars and breweries have for years. Beside the obvious benefit of offering food for people indulging in high alcohol-by-volume beverages, Crowe and Blackwell are hopeful these new food programs will bring in more local clientele.