When Patrick Properties Hospitality Group last summer announced plans to revitalize its signature King Street restaurant, the company presumably had no idea how drastically different its employee directory would look by the time Parcel 32 finally opened.
In the months following the closure of Fish, Patrick Properties' chief executive officer and chief operations officer resigned in connection with allegations of sexually suggestive behavior, and two successive executive chefs were booted over what the company called "creative differences."
In short, it was as though a homeowner started wondering if the guest bathroom could use a new set of hand towels, and then ended up swinging a sledgehammer at it.
Because of the various personnel changes, it's impossible to know exactly who's responsible for exorcising the spirit of Fish: Executive chef Shaun Brian Sells, a protege of predecessor Digby Stridiron, was promoted just weeks before Parcel 32's early June debut, for example. (Asked about the transition via e-mail, Sells says he scrapped all of Stridiron's dishes, which were in line with St. Croix cooking traditions, in favor of dishes showcasing his St. Kitts and St. Johns lineage.)
But there is no remaining trace of the 17-year-old workhorse at 442 King St., which now pops with brisk energy and brims with culinary pride. Even the clientele is unrecognizable from the restaurant's former incarnation: Parcel 32's customer base is dominated by well-dressed women who don't appear old enough to have legally partaken of the happy hour wine pricing that was considered Fish's greatest asset in its waning years.
Parcel 32, by contrast, isn't dependent on any gimmicks. There is a light breeze of Caribbean influence wafting through the cooling colors of its decor and the baking spices woven into its savory dishes, but the theme is more mood than organizing principle. What ultimately distinguishes Parcel 32 is that it's the most fully realized restaurant to open in Charleston since Rappahannock Oyster Bar came to town. And on top of that, it's terrific.
As national magazines are quick to remind the world, the Charleston area isn't running low on deliciousness. Yet the latest flashes of excellence haven't clustered together in any one place: Even in the most rarified dining realm, locals have consigned themselves to restaurants that can be trusted with meat, but not seafood; restaurants that ace entrees, but somehow can't swing a single baked dessert, and restaurants that expect their patrons to place orders at a counter.
Officially, Parcel 32 is named for the designation given to its surrounding block on an 1888 fire insurance map. Nowadays, though, "parcel" is synonymous with "whole package." The name still applies.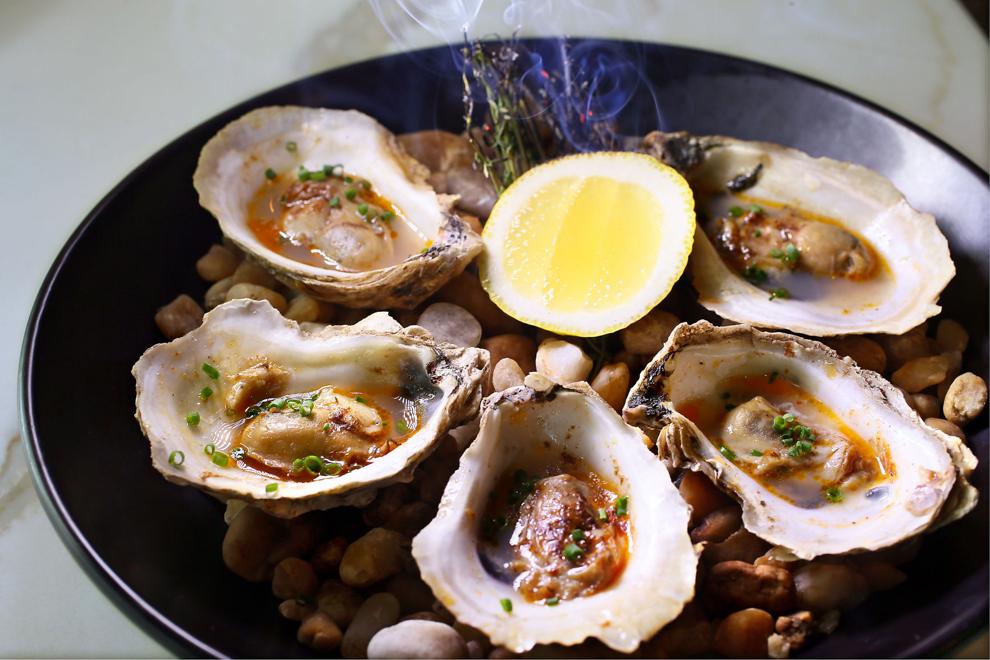 One tip-off that you're in a restaurant that intends to provide dinner, as opposed to a collection of dishes, is bread service. Parcel 32 smartly sources its loaves from Normandy Farms Bakery and, notably, makes sure the thick crusty slices are warm when they reach the table along with vintagey floral-print plates. Accompanied by salted butter flavored with just enough honey and vanilla to echo the bread's natural sweetness, the course sets a hospitable tone for the evening.
Maybe we're getting ahead of ourselves here, though. Parcel 32 is one of the few downtown restaurants at which you'll want to consider carving out cocktail time in advance of your reservation, since the bar serves a few snacks that aren't available in the main dining room, including pickled quail eggs spiked with chili. (Skip the over-buttered grilled oysters, which are puny for the price.)
The bar also offers a perch from which to take in the airy design of the interlocked rooms, which lost a few tons of outdated neutral paint, brick and dark wood in the renovation process.
Now the decor at Parcel 32 skews clean and beachy, with visual references to coastal regions in this world and the Old one: While muted greens and glass surfaces were likely inspired by the West Indies, geometric tilework that begins outside the restaurant's front door recalls the Mediterranean. It all reads as fresh, a style convention shared by the very good drinks.
Nothing on the list is overly complex: Cardamom bitters are the only unexpected ingredient in a mix of Hat Trick gin and Jack Rudy Cocktail Co. elderflower tonic that's relatively common up and down King Street. But Parcel 32's version is yogically balanced, as well as made extra pretty by a griddled lime slice and a striped corn-based straw. As for the wine list, it presents a fun opportunity to dip into local importer Grassroots Wines' catalog of German whites.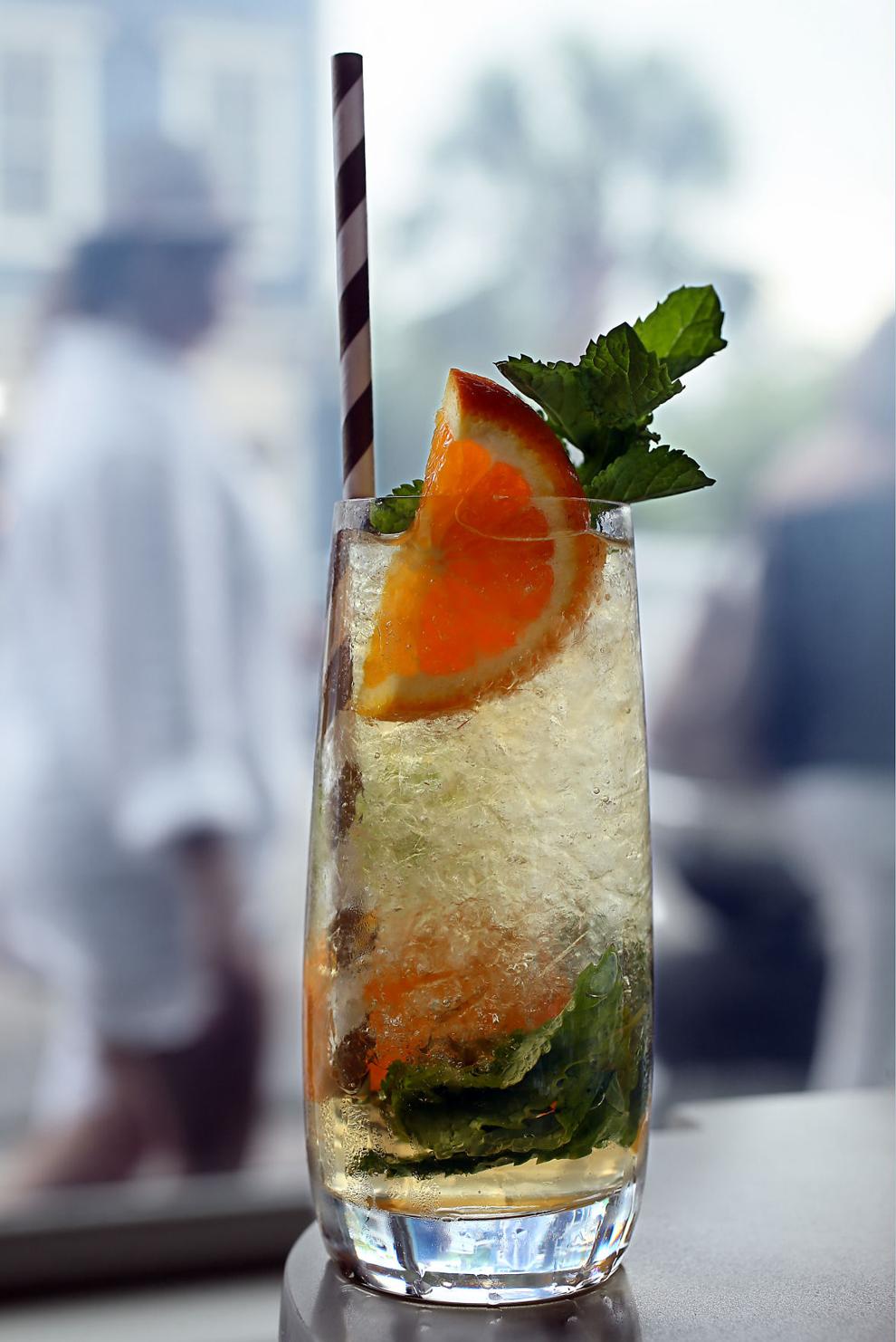 Those wines harmonize nicely with Parcel 32's smoked fish spread, a standout appetizer on a menu that's a mite harder than necessary to navigate. The main menu spells out various preparations, but there's also a daily insert with elaborations on the same: The titles don't carry over, though, so diners have to figure out what's called steak fish on one menu is swordfish on another.
In any case, the fish spread is made with triggerfish, amberjack or mackerel, depending on what Mark Marhefka is catching, but it's red meat for food editors on the prowl for recipes to request. The dip is so assiduous about not putting on airs that its menu description name checks both Duke's mayonnaise and Ritz crackers. Trademarks aside, it's downright entrancing in its simplicity. Pickled watermelon radish slices, featuring acid so bright that it borders on neon, provide an ideal foil. That willingness to perk up palates also benefits a vibrant green salad dotted with strawberry vinaigrette.
From an ingredient perspective, there's not too much to the salad: Radishes, a few curls of carrots and clumps of feta round out the list. But it's arranged with more care than many kitchens exercise: Its silhouette looks nothing like the straight-edged figure that most restaurant salads cut.
Still, if forced to choose between salad and soup, go with the latter. Specifically, you want the ethereal cold cucumber soup, furnished with a mound of picked blue crab that exceeds the definition of a dollop. (Well aware that restaurant kitchens are apt to go hard on luxury ingredients if there's any suspicion of a food critic on the receiving end of the spoon, I took the chance to spot check Parcel 32's performance on my third visit. Friends coincidentally dining across the room were kind enough to let me try their food: The rice grits beneath their cinnamon-rich braised short rib were much saltier, but everything was otherwise as my table experienced it.)
Among the entrees, Parcel 32's perloo reflects Caribbean interpretations of the rice dish, meaning it doesn't want for pink-eyed field peas. It's a fine setting for tender local clams and the restaurant's own cured lamb belly. And unlike some of the more straightforward proteins, the perloo doesn't require any add-on starches: Side dishes are the weakest portion of Parcel 32's menu, down to a dried-out mac-and-cheese.
Perhaps the most special entree at Parcel 32 is an impeccably grilled pork chop, smeared with tangy sweet potato mustard and capped with a summery tingle of pickled green tomatoes.
Green tomatoes reappear in the best of Lauren Yerrick's gently creative desserts, which include a chocolate tahini cake and banana beignets. The lattice-topped tomato-filled pastry, warm enough to welcome the buttermilk ice cream served with it, tastes like apple pie with an education.
If you order an after-dinner drink, it's likely to arrive with a cocktail napkin bearing the restaurant's tagline, "First Class Fare." Since Patrick Properties under its previous regime had a reputation for being status conscious, that motto sounds like it could date back to the early stages of Parcel 32's development. But that's pure speculation on my part: I have no idea who deserves credit for coming up with the restaurant's assorted components. What is clear is the current team is executing them magnificently.